The XK X251 is a fantastic little ready to fly high speed-racing drone that?s by far one of the most fun quad copters I?ve ever flown.
Our XK X251 review will be focusing on the second version of this model, which differs slightly from the original release.
The original version, praised for its affordable price and excellent acro-mode has been updated to be more beginner friendly. The acro mode has been replaced with ?ratitutde mode? and one key flips, which we shall go into more on detail later.
This isn?t to say that the XK X251 is any worse, just that its intended audience may have changed slightly in order to accommodate for those pilots who are less experienced.
If you?re looking for a drone that has a full acro mode then you can always check out the XK 252, which is perfect for more intermediate level pilots.
??XK X251 ?Review
?Flight Time
Camera
?Range
?Price
What We Like:
check

?Lightweight ? No FAA registration

check

?Super fast

check

?Great value for money

check

?Fun to fly
What We Don't Like:
?All black props ? hard to know which way the drone is facing

?Dim LED lights

exclamation-triangle

?No full acro mode (a con if that?s what you?re looking for)
?Summary: ??WOW… What a ridiculously fun drone! For such a small sized quad copter this thing really soars! Unfortunately, the acro mode isn't quite as good or as in-depth as the XK 252, but it's a great progression drone if your looking for a step up from toy grade quads.
With a pretty impressive range of 300m paired with the drones' brushless motors, you can really open this thing up. I just wish the flight time was a bit longer so I could have had more fun in the air. I'll definately be getting some spare batteries for this beast as it's hands down one of the funnest quads to fly.
What's more, the XK 251 costs less than 100 bucks, a frickin' bargain!
What?s in the box?
Inside the box you will find:
1 x X251 Quadcopter
1 x XK X7 Transmitter
4 x spare propellers
1 x 7.4v 950 mAh 25C Battery
1 x Balance charger
1 x Charging adapter
1 x Screwdriver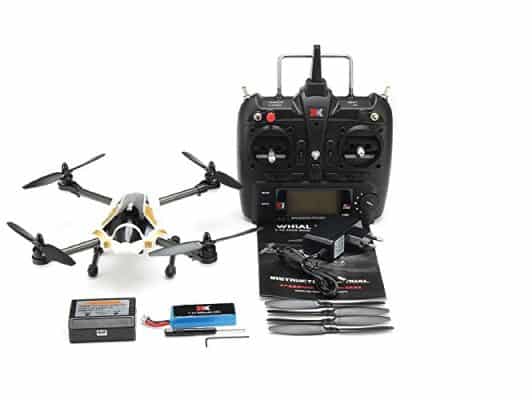 ?XK X251 Specs & Features
Specs:
Flight Time: 8-10 minutes
Camera: 720p
Maximum Distance: 100m
Built-in gyro: 6 Axis Gyro
Battery: 550mAh
Size: 225*225*60mm
Features:
Auto take off and landing
One key return to home
Follow me
Waypoints
Altitude hold
GPS positioning
See Also: Hubsan H507A Review
XK X251 Review
Overview
Let?s have a quick overview before we get into the XK X251 review.
The X251 is the perfect drone for pilots looking to progress from brushed toy grade models, to speedier more agile quad copters.
The drone comes ready to fly and only weighs 205 grams, meaning that it doesn?t need to be registered with the FAA. Although it comes RTF out of the box, it?s still recommend that you check all screws are fasted properly and that the propellers are attached correctly.
The drones? brushless motors paired with its? lightweight build give it a serious amount of power, allowing it to reach some pretty impressive speeds for such a tiny drone.
If you?re looking for a fun and exhilarating piloting experience, without having to fork out some serious cash for both a heavier drone and it?s upkeep, the X251 is the perfect answer.
In order to fully utilise the XK X251 and get full enjoyment from it, I strongly recommend buying a couple of spare batteries and a couple of sets of propellers.
The great thing about the X251 is that any spare parts are extremely cheap. So if the unfortunate does happen and you are to crash it, it shouldn?t cost too much to get repaired.
Getting Started
The XK X251 is extremely easy to set up and doesn?t take long for it to be up in the air.
You simply insert the battery (fully charged) into the bottom of the copter and place it down on your take off location.
It?s a good idea to have all the switches on your transmitter in the rear position.
If you want to have your drone in ?throttle hold mode?, which prevents the props form auto starting, simply pull the switch in the top right hand corner of your transmitter forward.
?The props will not start until you are ready to fly and release the switch.
Pull your left joystick to all the way down, so that it is in the no throttle position and turn on your transmitter.
Once the lashing LED lights on the back of the drone go green, your transmitter and quad copter are bound. You?re now ready to take off!
Quick tip: As there is no auto take off and landing with this model, you?re going to have to do this yourself. When you?re taking off, give the drone a good amount of throttle so that it is able to get up and in the air quickly and with less chance of it toppling over.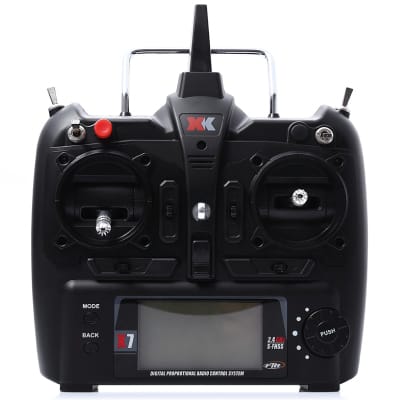 In The Air
Once the XK X251 is in the air, that?s where the fun really begins. The drones? range allows for you to really open it up and wiz about at some ridiculous speeds.
I was honestly taken back by how fast it was able to fly around, the brushless motors provide it with so much power that you most definitely could not fly indoors, or even in a small yard.
If you?ve not flown this drone before, I recommend trying it out in a pretty open area like a field or park.
I flew on a moderately windy day as well and considering how light the drone is; I hardly noticed it affecting the drones? performance at all.
The only time I noticed the drone losing control slightly was when I was turning pretty sharply. The X252 wobbled slightly but its 6-axis gyrostabilisation allowed it to regain control nicely.
Design
Moving onto the design of the XK X251, which in my opinion is an awesome looking quad copter. It?s got this whole futuristic aesthetic going on that just seems to work.
The drones? unique body shape is made from durable plastic that can withstand minor bumps and crashes.
Although, if you crash at full speed the chances are something is going to need repairing.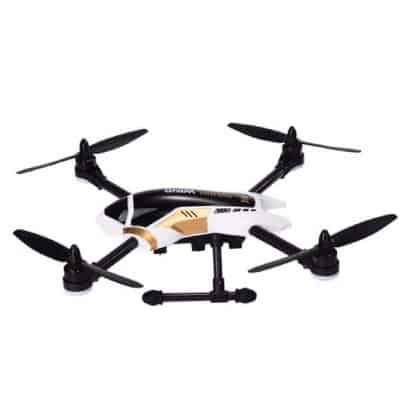 That?s ok though, these things happen and spare parts for the XK X251 are easy to come by and are extremely cheap. To get a replacement body for the X251 will set you back less than $15!
Unfortunately, when it comes to the practicality of the design, it does lack in some areas. For example, all the drones? propellers are black, which can make it hard to know which way the drone is facing when it?s in the air. If you were to connect the drone to a camera and fly it using FPV, that would help.
As well as this, the XK X251 does feature some LED lights that are supposed to help with orientation. The problem is these lights are very, very dim and hard to make out from a distance.
Luckily, these are the only real flaws that I noticed with this drone and to be honest for the price you?re paying, they?re pretty minor.
Flight range
One of the best aspects of the XK X251 is its whopping 300m maximum range. For a drone at this sort of price range to have a 300m range is awesome and allows you to fully utilise the XK?s power and speed.
Considering how small the drone is, you probably wouldn?t even want to take it 300m away as the chances are you won?t be able to see it.
This thing handles so well that it?s easy to forget that it?s just a small copter and you can easily get a bit carried away.
Flight time
Thanks to its 7.4V 950mA Li-Po batteries and its lightweight build, the XK X251 is able to stay in the air for around 12 minutes, depending on the conditions.
I found that I usually got around 10 minutes with it, but I was blasting it about all over the place.
Camera
The XK X251 does not come with any camera attached, but is compatible with certain cameras for some FPV flying.
It?s worth noting that when you attach a camera to the drone, it will have a direct effect on how stable it is in the air and how affective it will respond to commands.
You will almost definitely loose the sharp acrobatic feel that the XK X251 provides.
However, if you?re looking for an affordable and fun way to dip your feet into the waters of FPV flying, the XK X251 will certainly do the job.
Located on the underside of the copters body, you will find a 4 pin 1.25mm mini-JST port that will allow you to connect your camera to the drone.
On the top left hand side of the transmitter, you will see a red button. This is the control for remotely starting and stopping the camera you have attached to the XK X252.
What Happened to Acro Mode?
As I mentioned earlier in the review, the original version of the XK X251 had full acro mode, which has since been replaced with ?ratitude mode? in the hopes that the XK X251 would be more beginner friendly
So, what is this ratitude mode?
When ratitutde mode (also known as stagility mode) is activated, the drone still makes use of its 6-axis gyro stabilization. However, when the joystick is pushed fully in one direction, the X252 will perform an acrobatic flip in accordingly.
The drone will then make use of its gyro stabilisation and automatically correct itself and continue in the direction it was flying before the flip.
Although not quite the same as acro mode, this provides a perfect platform for less experienced pilots to get the hang of performing acrobatic manoeuvres.
?Check out this video of Quadcopter 101 reviewing the XK X521. Bear in mind that this is the older version with full acro mode, but apart from that the two drones are incredibly similar. You can get a pretty good idea just how fast this thing is able to go.
Useful Accessories
Spare battery
Spare props
Spare motors
Battery & charger sets
XK X251 Review Round Up
Overall the XK X251 is still a fantastic drone, although slightly different to its first release. The drone itself is fantastic value for money and is the perfect transition between toy grade copters and hobbyist level drones.
It flies well, it flies fast and it is one of the most fun drones around.
I hope you?ve found our XK X251 review helpful and informative. As always, if you?ve got any questions or thoughts, please feel free to comment them below.
Happy Flying!
Summary
An awesome and fun drone that offers a great bang for your buck. If you're looking for a high speed and thrilling drone that won't break the bank, I think you've found it.