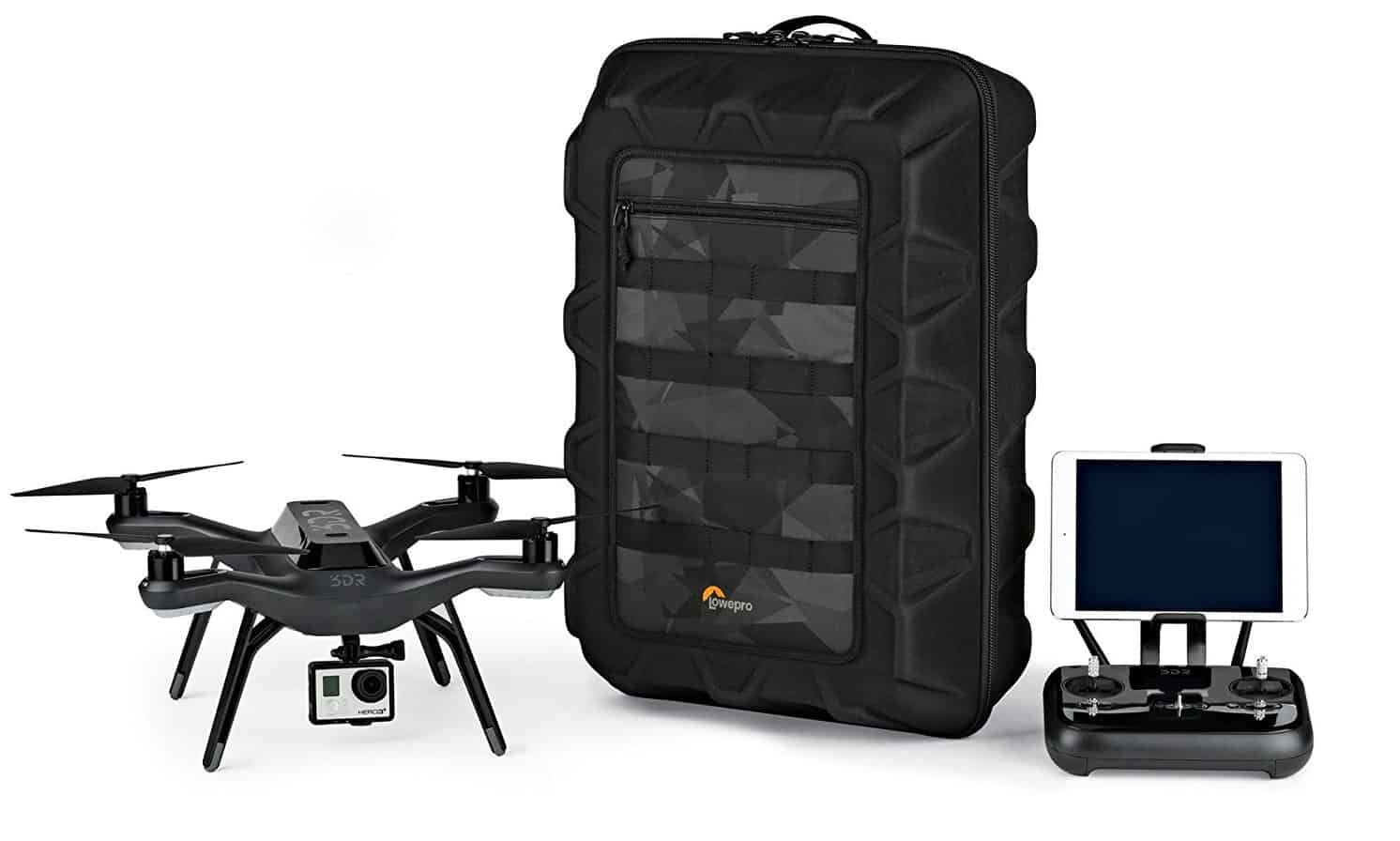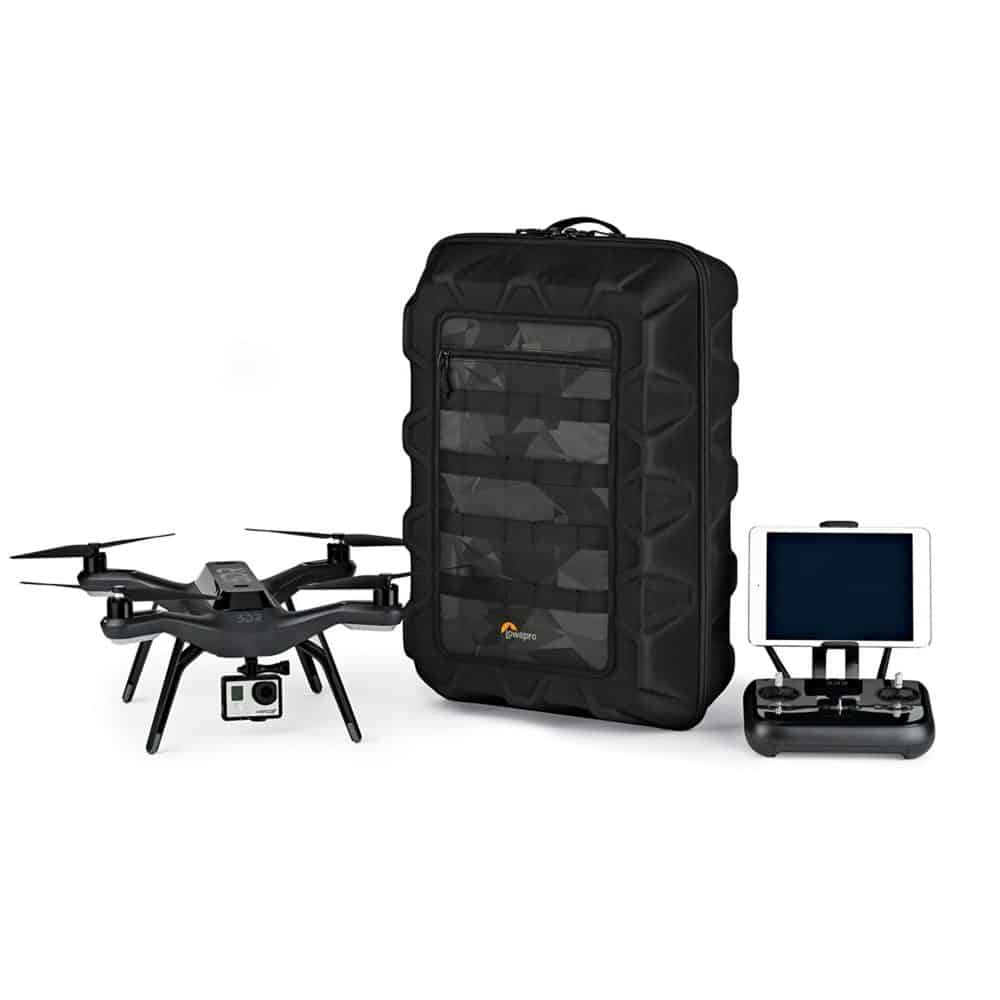 Lowepro DroneGuard CS 400 Review
The Lowepro DroneGuard CS 400 is the largest of the three backpacks in the CS series (see CS 300 & CS 200 here) and is designed to carry all DJI Phantom models, 3dr Solo and any other similarly sized camera drone/ quad copters.
As Lowepro like to remind us, this series is ?designed by pilots, for pilots?, which is clearly visible in the Lowepro CS 400.
The bag features sufficient storage space for your basic drone needs, with room for spare props, batteries, charger and a number of other accessories.
Its FormShell? exterior makes this a sturdy and lightweight backpack ideal for transporting your drone safely from A to B.
Lowepro DroneGuard CS 400 Pros & Cons
?Pros
check?Inexpensive
check?Customizable inside
check?Detachable shoulder straps
check?Space for tablet & spare batteries
check?Provides workspace for repairs
check?Can fit as airline carryon luggage
?Cons
?Can?t fit DJI Phantom 4
?Can?t fit a drone with propellers attached
?Needs more Velcro on battery case
?Items can become loose if not fastened down
Main Features
The perfect, out-of-the-box solutions for carrying, organising, storing and protecting your drone gear and all essentials.
Designed by serious quadcopter pilots at Lowepro for serious quadcopter pilots.
FormShell? technology with lightweight, yet sturdy composite-shell construction offers superior protection for gear without adding weight or bulk.
A lightly padded backpad includes attachable backpad straps. Use for treks out to your flying location, or detach and pack away for less bulk or for long-distance travel.
Patent-pending DroneGuard system of organisation features flexible dividers and compartments for all large and small accessories.
DroneGuard system is easy to customise. Change your flight plan; change your set-up!
Includes dedicated storage for blades, props, GoPro or other action video camera, batteries, cables, chargers, mounts, manuals, etc.
Handled and removable storage panel with accessory straps helps to keep small and fragile parts secure and neatly organised. Easy to grab, go and fly.
Exclusive, tactical ?fractal camo? print on top of case for a rugged and unique aesthetic.
Sturdy grab handle.
Ideal for storing in the boot of car for transporting or in a garage, closet or workshop for an organised storage option.
?DroneGuard CS 400 Break Down
Design
The CS 400?s exterior is constructed out for DroneGuard?s FormShell technology, which creates a strong and rigid structure.
?The bag features a grab handle at the top and two straps either side that are detachable.
This gives you the option to carry it as either a backpack or a shoulder bag.
?Alternatively you could remove the straps all together and use the CS 400 purely as a drone case.?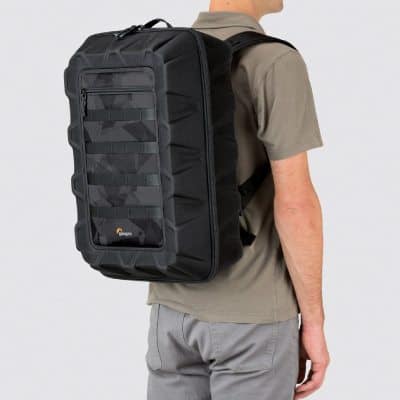 One design element I really like is the way the bags interior can be used as a work space for repairs, the curved edges of the bag mean that nothing will roll out, whilst the flat bottom provides the perfect work area.
?Storage
?Located at the front of the bag is a zip pocket that can be used to store smaller items such as a phone or wallet.
Next to this is an elasticated ladder system that can be used to attach extra items to the CS 400. I really like this ladder system as it allows you to easily and quickly access tools you may need.
When you open the Lowepro DroneGuard CS 400, you are greeted with a nicely laid out design.
Along the top of the back is another elasticated ladder system that can be used to store up to 8 propellers.
If you are using a large drone such as the DJI Phantom 3, you may find that the propellers rub against the drone.
Try to position the drone so that this doesn?t happen, if not try storing the props in a different section of the bag.
?Behind this is a zipper pouch that can be used to store things like a tablet or manual.
One thing that I should mention is that the Phantom 4 drone is a very tight fit in the DroneGuard CS 400. This means it is pressed against the side of the bag, so if it were to get knocked, it could possibly get damaged.
If you have a Phantom 4, I would recommend using Lowepro Droneguard BP 450 AW as your drone backpack. I would also suggest always removing your propellers from your camera drone when storing your bag, as they can get bent if the bag were to take a big bump.
The padded back panel provides some level of comfort when carrying the LowePro DroneGuard CS 400, however I would not recommended this bag if you are looking to walk long distances with it, as it does not have supportive chest and waist strap.
At either end of the Lowepro DroneGuard CS 400 are two slightly padded removable boxes that are used to store your drone accessories. The bottom box has a lid that can be zipped up and is used to store batteries. This also has an elasticated ladder system around it that can be used to store your tools.
The two customisable DroneGuard dividers inside of the backpack allow the user to optimise space for their specific equipment. This means that if you have a number of different sized drones, you are able to alter the inside to fit them.?
The Lowepro GroneGuard CS 400 ?can fit:
DJI Phantom 1, 2 or 3, or 3DR Solo, or similar drone, quadcopter or flying camera form factor
RC/transmitter
8 Propellers
GoPro or other action video camera,
Batteries
Cables & chargers
Mounts,
Tablet
Tools
?Comfort
Protection
?The exterior FormShell moulded foam provides the softness of a backpack with the rigid sturdiness of a case?.
The customisable DroneGuard dividers inside the back means that the drone is securely held in place at all times.
As I mentioned earlier, this bag does not offer great protection for the Phantom 4 models, their motors are simply to big and will push against the side of the bag.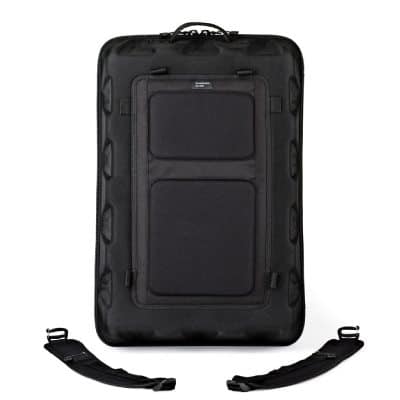 ?However, weighing 2.2kg (4.84 lbs) the DroneGuard is fairly light and wont weigh you down when walking with it.
Price
One of the best things about the CS 400 is its price. ?At the time of writing this review, the backpack currently costs $99, which is signifcantly cheaper than some of the other high quality bags out there.
Specs
| | |
| --- | --- |
| Internal Dimensions | 36 x 21.8 x 54.4 cm (14.17 x 8.58 x 21.42 in) |
| External Dimensions | 38.1 x 25.5 x 55.7 cm (15.00 x 10.04 x 21.93 in) |
| Weight | 2.2 kg (4.84 lbs) |
Thanks for reading the Lowepro DroneGuard CS 400 Review, if you would like to leave anything please comment below and we?ll get back to you as soon as we can.