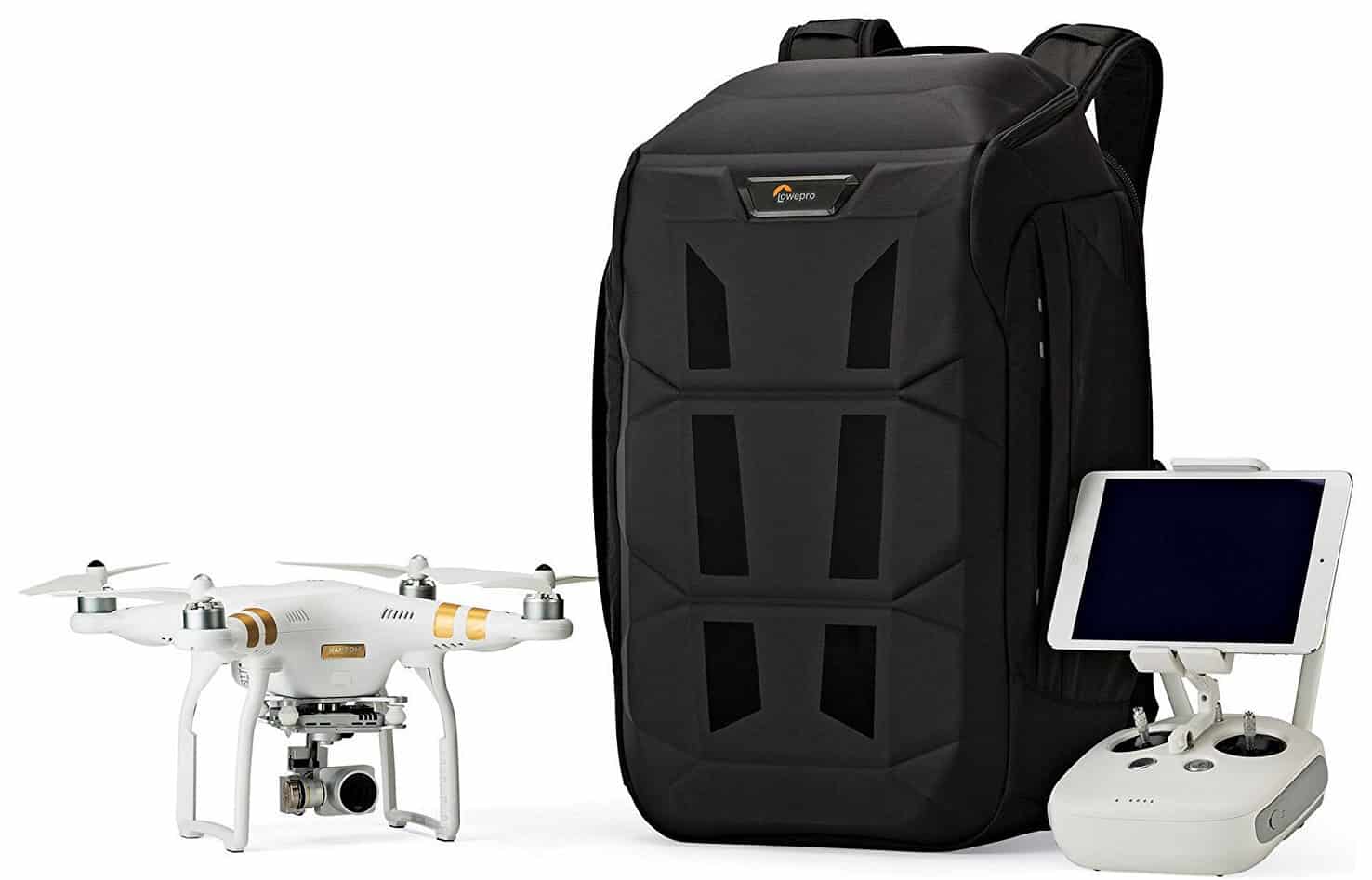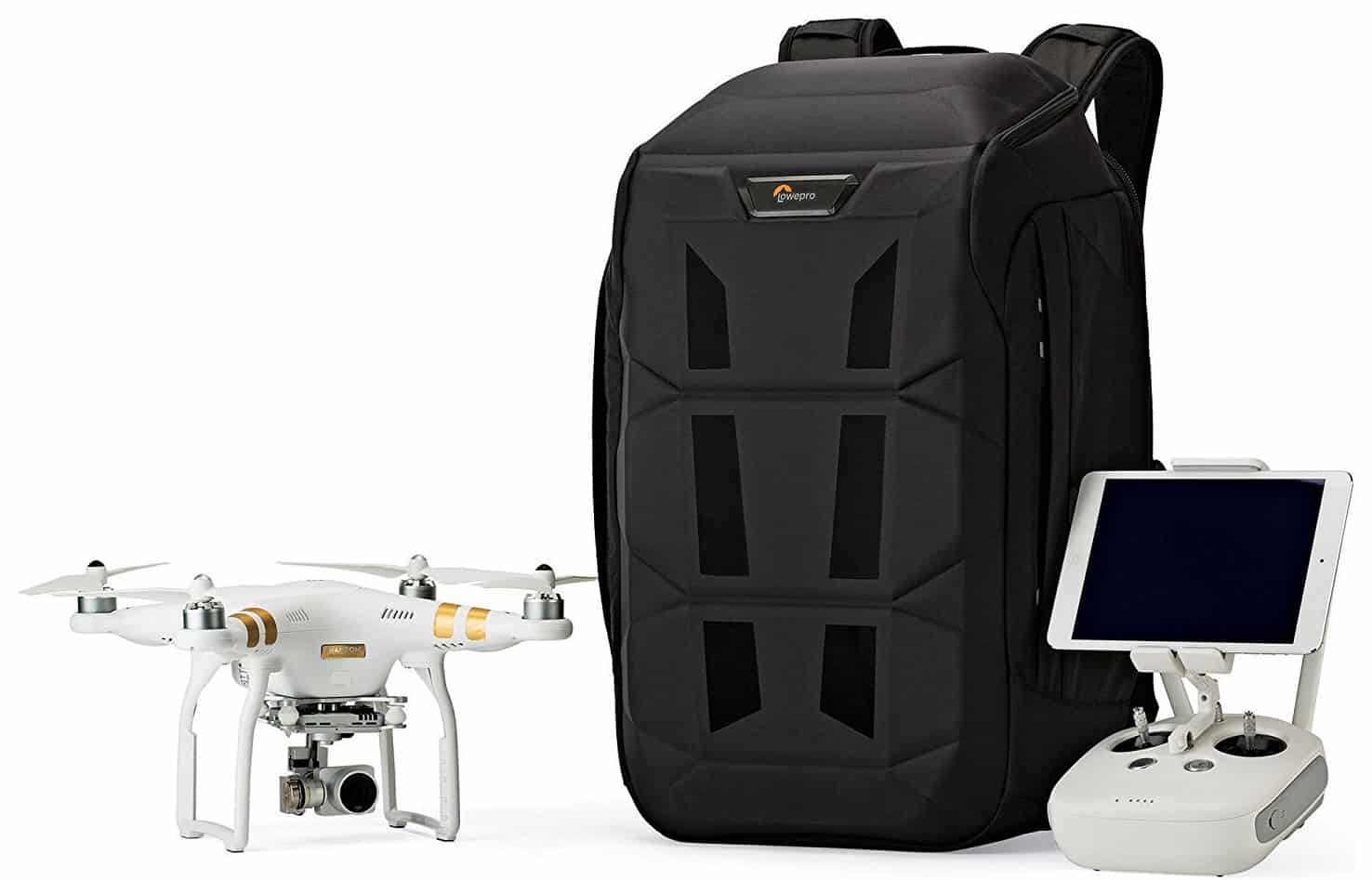 Lowepro DroneGuard BP 450 AW Review
Welcome to Drone Riot, we hope you enjoy our review of the Lowepro DroneGuard BP 450 AW.
As always, if there's any products you would like us to review, contact us and we?ll be sure to do the best we can to review them for you.
Overview
The Lowepro DroneGuard BP 450 AW ?is built to house all DJI Phantom models and the 3DR Solo drone.
The BP 450 AW comes as a more secure and protective alternative to its predecessor ? the DroneGuard Kit, which was designed primarily for transporting drones short distances.
Thankfully LowePro have learned from their previous models and have built upon them. Through trial and error Lowepro have delivered a drone pilots dream backpack in the form of the DroneGuard BP 450 AW.
The backpacks design is well thought out with a solid and secure exterior and plenty of space inside for a drone and its accessories. The bag is nicely sized to rest comfortably on your back during long walks to a shooting location.
With its built in All Weather cover, you can traverse extreme conditions, confident that your drone is safe. The BP 450 AW retails for ?220 (249.95 USD).
Lowepro Droneguard BP 450 Pros & Cons
Pros
check?Extremely sturdy
check?Customisable inside
check?Can be used as a takeoff/ landing platform
check?Designed for comfort
check?Can be taken as airline carryon luggage
?Cons
?Heavy
?Pricey
?Limited storage space
Lowepro DroneGuard BP 450 AW Main Features
Purpose-built backpack for DJI Phantom, 3DR Solo and similar form factor drone and quad kits
Provides a place for a fragile drone, plus all essential accessories, a tablet and personal items
Built by drone enthusiasts for drone enthusiasts
Customizable interior offers a secure fit and optimized workflow via DroneGuard? interior dividers: padded, adjustable, lined with soft tricot and hook/loop attachment points
Be comfortable for long treks and all-day comfort thanks to the Lowepro ActivZone? harness with breathable and perforated EVA back panel, contoured shoulder straps, sternum strap and hip belt
Deploy the built-in All Weather AW Cover? to protect pack and gear from rain, snow, dust and sand. When not needed, tuck it back into the zippered pocket at the bottom of the pack
Store up to a 10-inch tablet in the CradleFit? pocket. This cleverly constructed compartment suspends and safeguards the device within the pack.
Keep your batteries safe and secure in specially made boxes with molded tops and padded interiors
FormShell? armoured construction provides a structured frame for DroneGuard BP 450 AW, protecting the fragile gear inside
A FormShell molded top pocket offers easy access to sunglasses, headphones and other essentials
Additional features include: SlipLock? attachment loops on straps to expand capacity, plus zippered side pockets
Lowepro DroneGuard BP 450 AW Break Down
Design
?The Lowepro DroneGuard BP 450 AW
opens up at the back to reveal a?neatly arranged workspace, making it easy to get your camera drone in and out.
You can get your drone up and running in as little as 2 minutes from arriving at you?re location, which is extremely helpful if you?re in a rush to shoot.
In terms of the BP 450?s aesthetics, it isn?t the nicest looking bag, very bulky and bland.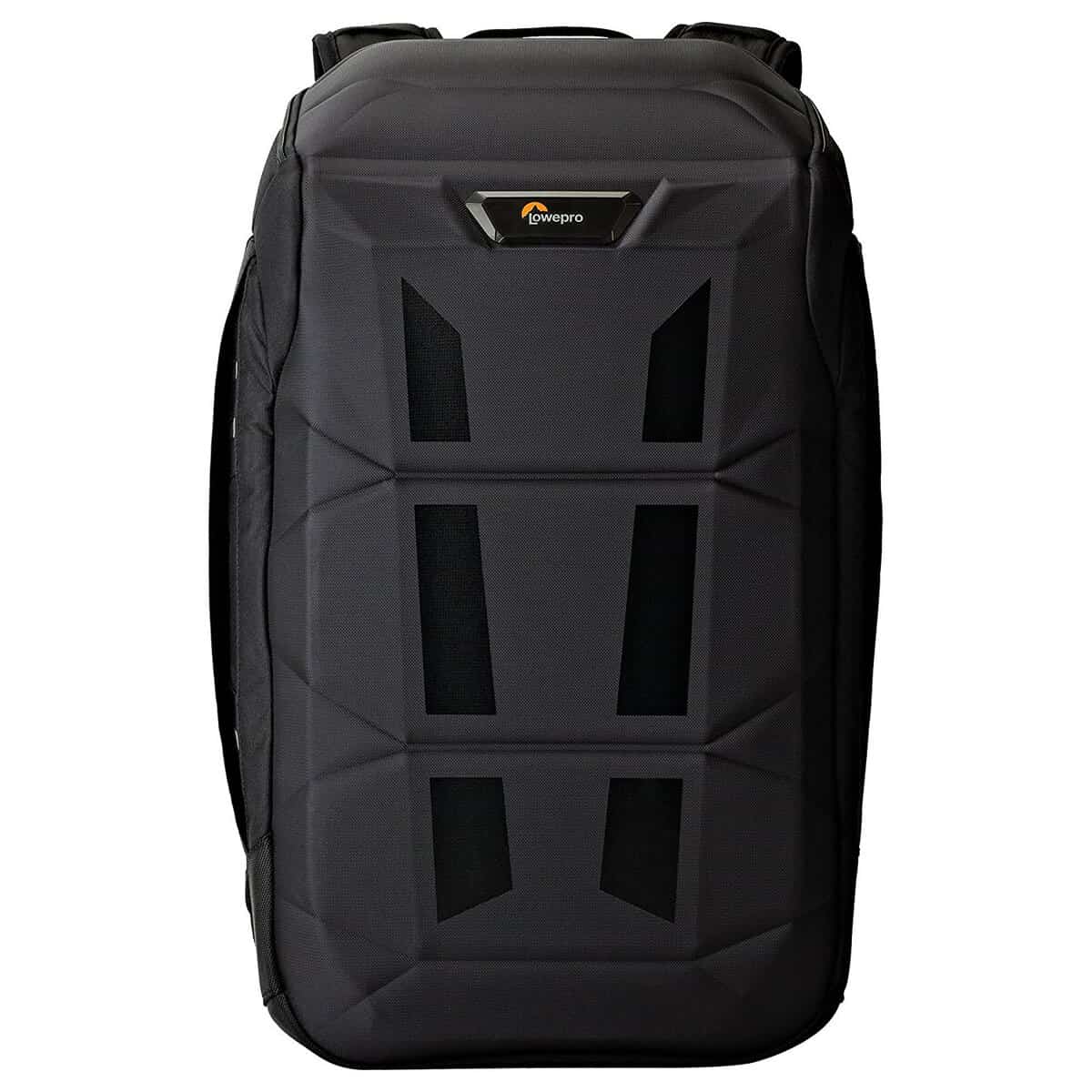 But at the end of the day, what does it matter when its keeping your precious drone safe?
Storage
The LowePro BP 450 AWs exterior features a number of compartments that you can store your accessories in.
?It has 2 large zip pockets?at the sides that you can store items such as your phone or GoPro.
Concealed next to these zip pockets are attachment loops, these allow you to fasten any other equipment to your bag.
There is a top axis pocket that is perfect for storing items such as sunglasses or perhaps your FPV goggles if you have them.
Other than that, there isn?t much extra storage space on the outside of the bag, this is something to note as you have to think carefully about what equipment you wish to bring with you.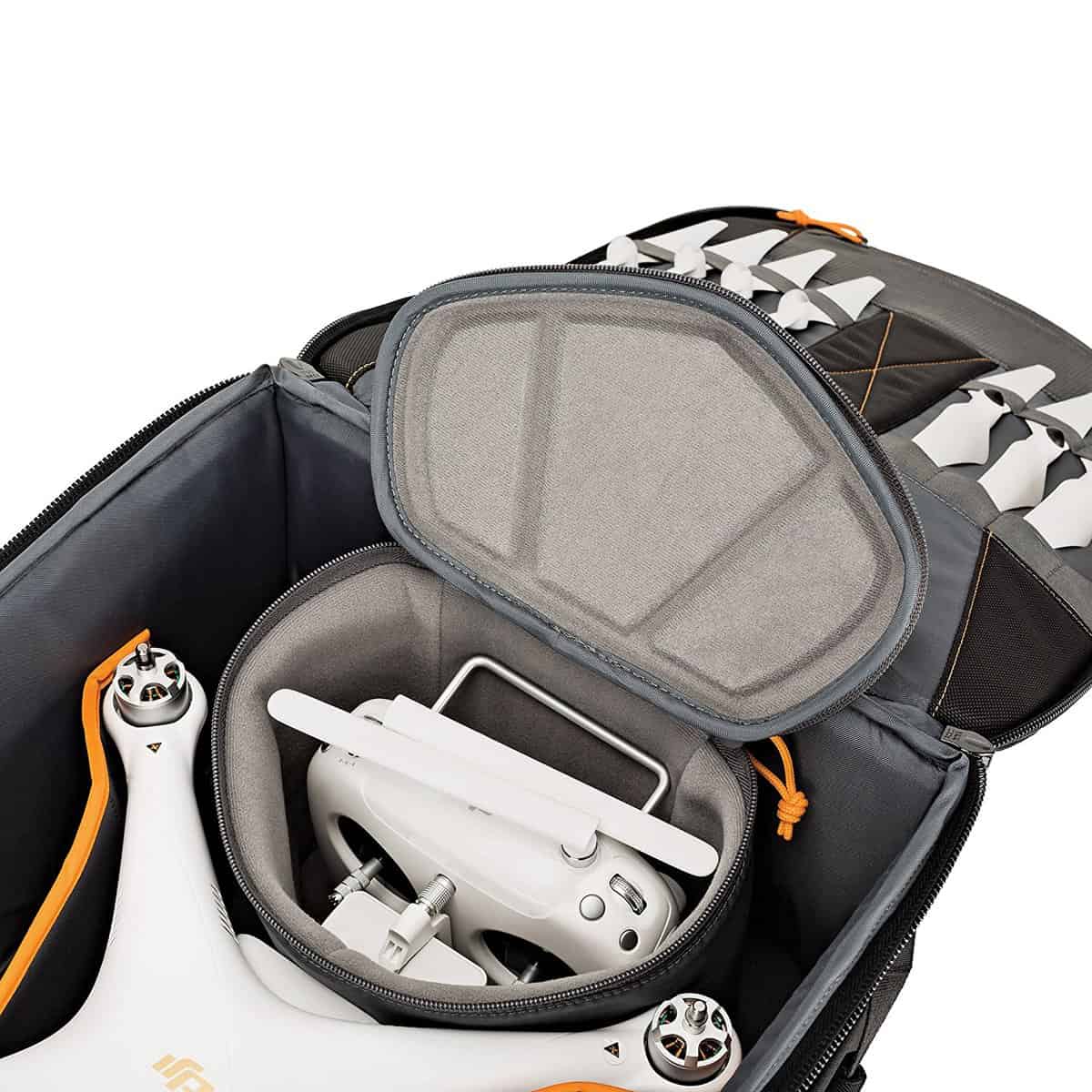 The DroneGuard 450 AW?s?interior is customisable,?with two padded and adjustable dividers?that are attached via Velcro for extra safety.
At either end of the backpack are two detachable boxes with padded interiors?that can be used to store your controller and batteries.
These boxes fit the Dji Phantom 3 and 4 batteries very well, however the 3dr Solo?s batteries are a tighter fit. ?The drone then rests in between these boxes and can be clipped into place.
There is a pocket located at the top that?can hold a tablet?up to 10?. Attached to the front of the bag are?8 elasticated prop keepers, which allows you to securely bring a spare set of propellers (always a good thing to have).
These prop keepers fasten the propellers tightly against the front of the bag so that they do not touch the drone when the bag is closed. ?There isn?t an abundance of space in the DroneGuard BP 450 AW, so if you?re looking for a drone backpack that can fit a DSLR for example, check out the Manfrotto Aviator D1.
We?ve also got a full Manfrotto D1 review that you can check out.
DJI Phantom Phantom models), 3DR Solo or similar quadcopter form factor.
Up to 10? tablet
2 sets of props,
4 batteries (if one is in drone)
Controller
Cables
Tools
Personal items i.e. sunglasses or FPV goggles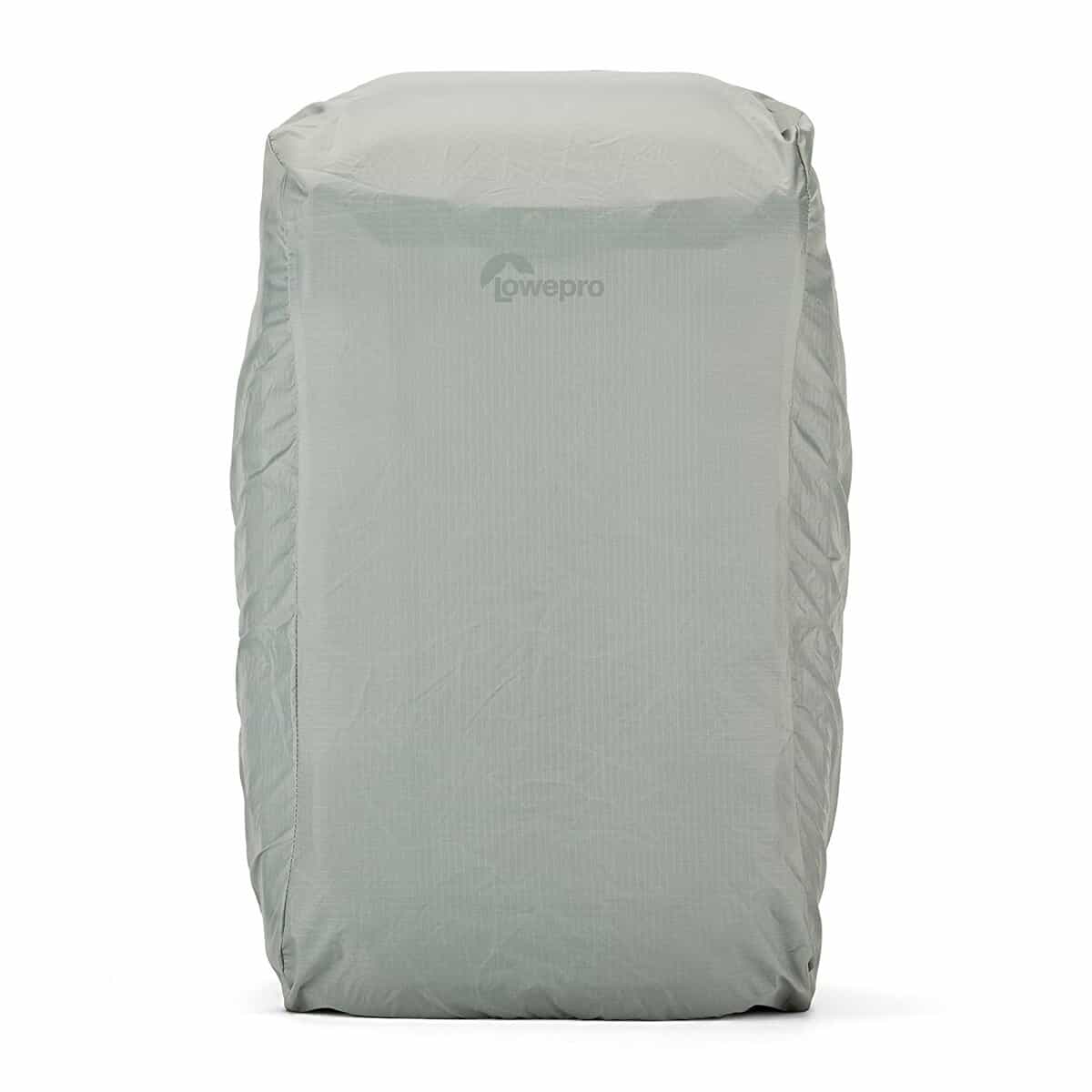 Protection
The outside of the bag is reinforced by an armored FormShell?, which creates a rigid and sturdy exterior.
This provides excellent protection for your camera drone as it can withstand a large amount of knocks and still keep your equipment safe.
The DroneGuard 450 has a built in All Weather AW Cover?.
This fits around the outside of the backpack to protect it from the environment during different weather ?conditions i.e rain, snow, dust etc?
Comfort
The back of the DroneGuard BP 450 AW is lined with Lowepros?breathable ActiveZone? back panel, making the bag more comfortable when covering long distances.
Lowepro have obviously designed this bag with comfort in mind, with its contoured shoulder straps, a sternum strap and a hip belt to ease the pressure off your body as your walk. If you are looking for a drone backpack to accompany you on long hikes ? this is the one.
Having said that, it would have been nice to see Lowepro add some form of mesh side pocket to put a bottle in, for now a CamelBac will have to BP 450 AW is fairly heavy but considering that you can?t bring too much equipment, I can?t imagine the backpack would ever too heavy to carry.
Price
?At the time of writing, the Lowepro BP 450 currently costs $189. This is on the more expensive side of things compared to other backpacks on the market. That being said, you really do get great value for money as you know with a reliable brand like Lowepro, the quality is built to last.
Specs
| | |
| --- | --- |
| Internal Dimensions | 31 x 22 x 41 cm (12.20 x 8.66 x 16.14 in) |
| Tablet Compartment | 27 x 2 x 17 cm (10.63 x 0.79 x 6.69 in) |
| External Dimensions | ?34 x 26 x 56 cm (13.39 x 10.24 x 22.05 in) |
| Weight | ?2.81 kg (6.18 lbs) |
Thanks for reading the Lowepro DroneGuard BP 450 AW Review, if you would like to leave anything please comment below and we?ll get back to you as soon as we can.