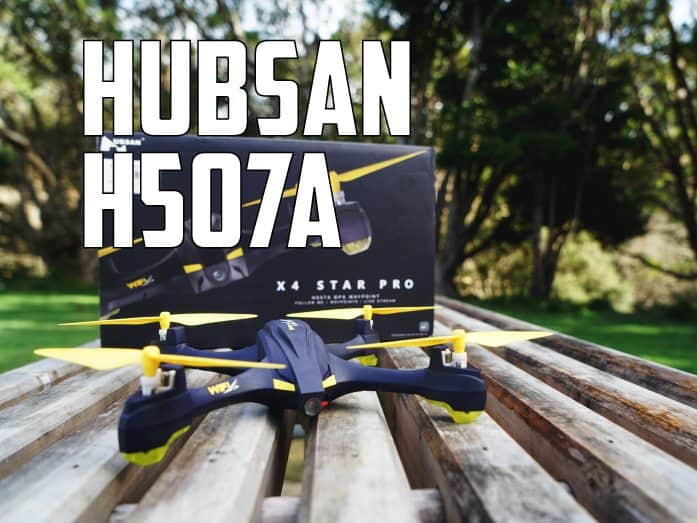 With the drone market developing at an exponential rate, the demand for affordable drones with high functionality has never been higher. Well known drone manufacturer Hubsan are looking to cater to these demands with their release of the H507A, the latest version of its predecessor ? the H502S.
In this Hubsan H507A review, we?re going to be taking an in-depth look into what the drone has to offer, what makes it special and whether or not it?s worth the investment.
Lets get to it.
?Hubsan H507A ?Review
?Flight Time
Camera
?Range
?Price
What We Like:
check

?Affordable

check

?Follow me & way points work well

check

?Easy to fly

check

?Responsive to controls
What We Don't Like:
?Short battery life

?Need to buy spare batteries
?Summary: ?I've always been dubious about flying drones directly from my smartphone. Being unable to feel the sticks below your fingers takes a bit of getting used to to say the least. Luckily, the Hubsan app is incredibly well laid out and the drone responds rapidly to the slightest finger movements on screen.
I would say that the Hubsan H507A is a perfectly suitable for those of you who haven't flown a drone before and are looking for a budget friendly model to start flying with. It's safe to say I had a pretty great time flying the Hubsan, with the only real downside being its pretty short battery life.
What?s in the box?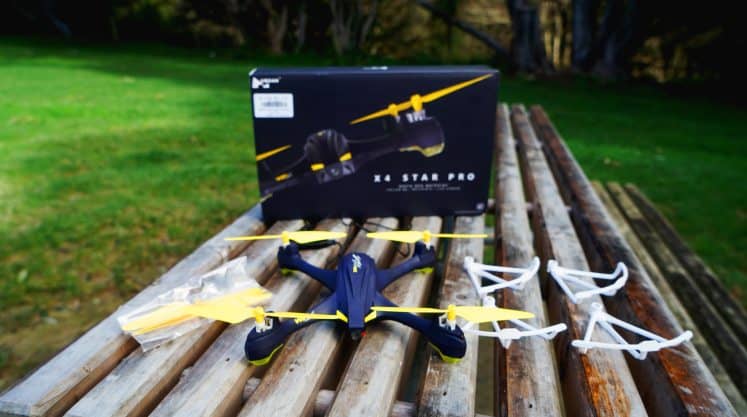 Inside the box, you will find:
1 x Hubsan H507A (with a 2S 550mAh LiPo)
1 x USB charging cable
2 x Sets of propellers
1 x Set of prop guards
4 x Screws
1 x Screwdriver
1 x Quick start guide
Hubsan H507A Specs & Features
Specs:
Flight Time: 8-10 minutes
Camera: 720p
Maximum Distance: 100m
Built-in gyro: 6 Axis Gyro
Battery: 550mAh
Size: 225*225*60mm
Features:
Auto take off and landing
One key return to home
Follow me
Waypoints
Altitude hold
GPS positioning
Hubsan H507A Review
Overview
Hubsan have upped their game with the H507A bringing some fantastic features for a very affordable price.
The drone itself is piloted via a smart device such as a phone or tablet and is connected via the X-Hubsan app using a Wi-Fi connection. The layout of the virtual joy sticks is the exact same as a regular transmitter.
?I?ve heard a few people say they had trouble finding the app, but I was easily able to locate it in the Play Store on my Samsung.
The Hubsan app is extremely simple and easy to use and I had no issues connecting it with the drone.
Before flying the drone I was slightly apprehensive about how the drone would fly when being piloted with a smartphone
Once I got it up the air I was pleasantly surprised at how responsive it was and how easy it was to control.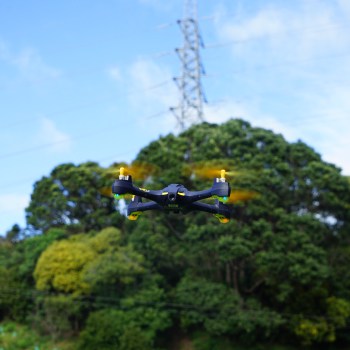 It?s worth noting that each time I have tested the Hubsan, the weather has been pretty windy. It managed to handle the wind well for such a small drone and only wobbled a couple of times as it was descending.
Design
Hubsan have upped their game with the design their of H507A, opting for a prominently blue color with a yellow trim. The shape of the body is also different from other Hubsan models, with the nose of the drone being pointier than its rounded predecessor.
Features
The Hubsan H507A is unbelievably feature rich for the price you are paying; it was not too long ago that a drone with these types features would set you back a fair amount of money.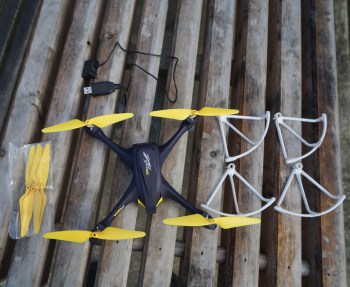 Let?s have a look at it?s most impressive features, its? follow me & way point modes.
The drones GPS positioning allows it to autonomously follow you, providing you with some awesome looking selfies and some pretty cool tracking shots.
Its follow me feature worked pretty well and I was surprised at how well the drone was able to keep up with me.
Similarly with the way point feature, the drone was able to accurately follow the path I had drawn, however a couple of times the drone didn?t make it all the way back to me and stopped about 8m short.
The Hubsan?s altitude hold worked a treat; I was able to leave it in the air whilst I took a few pictures. Its GPS positioning held it in place nicely and didn?t move around too much. It was easy to forget that the Hubsan is toy grade copter, feeling more like a premium product than a toy.
The drones? return to home function worked well, although not returning to the exact location it took off from, maybe a couple of meters off, nothing too major.
The drone also sports a headless mode, which can be turned on to prevent the pilot from experiencing a loss of orientation. I find this is pretty handy especially when you?re flying on a smartphone.
You can also make use of the Hubsan?s Altitude mode, which is where the drone maintains its altitude using its barometer, leaving you with just the horizontal movement to control.
Camera
The Hubsan H507A?s camera is able to record 720p HD video and is able to capture some pretty nice looking footage.
Unfortunately, the camera isn?t mounted on a gimbal; neither does the app have any digitalised stabilisation.
This means that you?re footage may end up looking shaky, however you can?t really complain about that, with a drone so reasonably priced.
Asking for some form of stabilisation may be a bit much of Hubsan at this price range, but who knows what they will release with future updates?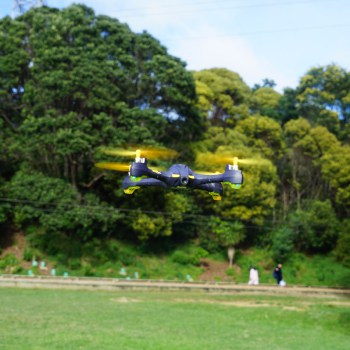 A live feed from the camera is displayed via the smartphoneapp. The transmission signal was pretty good with minor latency, however as you use the screen to pilot the drone, you don?t have the best view as your hands are kind of in the way.
It wasn?t too bad for me as I was using an S8, which has a decent sized screen, but smaller smart phones wouldn?t be ideal for flying FPV.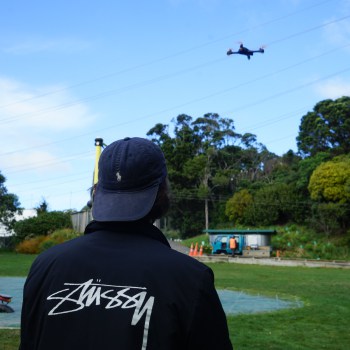 Flight range
As I?ve previously mentioned, the Hubsan H507A is piloted using a smartphone via a Wi-Fi connection.
Due to this, the maximum range of the drone is around 100m, however this is completely expected. Even a DJI Spark controlled with a smartphone can only reach 100m.
I felt that 100m was plenty of range, the drone itself is pretty small so even if it could go further, you probably wouldn?t be able to see it very well.
Flight time
This is where I was a bit disappointed with the Hubsan, its 550mAh battery provides it with an 8-10 minute flight time. I reckon I only got about 8 minutes of air time with it, however the batteries are pretty cheap so you can always pick up a couple of spares.
Hubsan H507A Review Round Up
It?s safe to say that the Hubsan H507A is a fantastic drone, offering some impressive features for an affordable price. The drone itself is high quality, very responsive in the air and easy to fly.
The one downside is the flight time, if you really want to utilise the drones? features you will need to buy some spare batteries. Having said that, the Hubsan?s pros out weigh it?s cons considerably and I highly recommend it.
I hope you?ve enjoyed our Hubsan H507A review and have found it informative.
Happy flying!
Summary
A fun and easy to fly drone for all skill levels. Multiple flying modes paired with an intuitive mobile controller makes for an interesting flying experience. Unfortunately the fun is short lived with a relatively quick flight time of around 8 minutes.