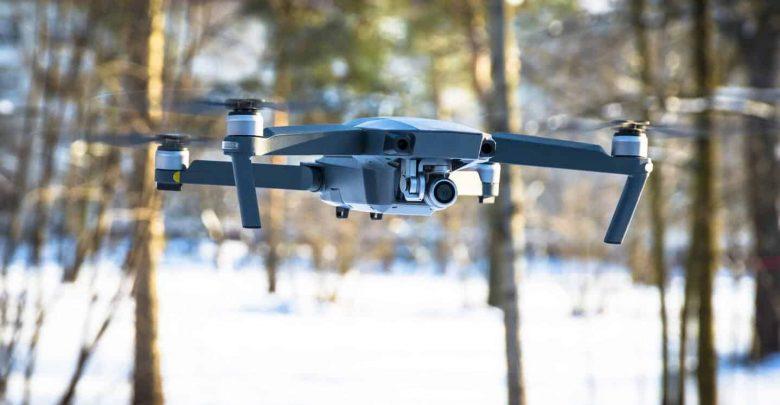 The use of drones has become quite popular in recent years, which has motivated companies to keep innovating new features for these drones. While previously used for photography and videography, they can now also be used for surveillance, remote sensing for agriculture and mapping, oil exploration, and even before constructing on new land.
While recreational use is still there, it should be kept in mind that this is an expensive machine that needs to be cared for and is not just a toy in your collection. It is easy to lose track of the drone if you are not paying proper attention. But, worry not, this article lists down ways to recover your lost drone.
How to Find a Lost Drone
You have two options, which depend on whether your drone has a tracking system or not. If it does not have tracking, you will have to manually search for it and look at the screen captures to identify the location. If it does have monitoring, you can use the find my drone and flight log features on your application. In both cases, ensure that your controller remains on to reconnect.
Preventing Losing a Drone
It would be best to consider a few factors before taking your drone out into the wild. These will help in minimizing the chances of losing the drone.
Pick a time of day when there is ample light to ensure complete visual clarity.?
Check the weather before going out. While some drones have built-in weather shielding and waterproofing, harsh storms can damage your drone.
Ensure that your drone is fully charged and know the time it will run on a full battery. Call the drone back when you see the power getting too low.
If you are flying your drone in tricky areas such as mountains or a dense forest, try to keep it in your line of sight, or at least in range of your controller, so it does not have an accident and crash.?
When flying over bodies of water, make sure you do not go too far out and lose the connection. Your drone will drop into the ocean and be unrecoverable.?
Finding a Lost Drone Without a Tracker
This process will take a lot of manual labor, but there are several methods you can try to find the drone.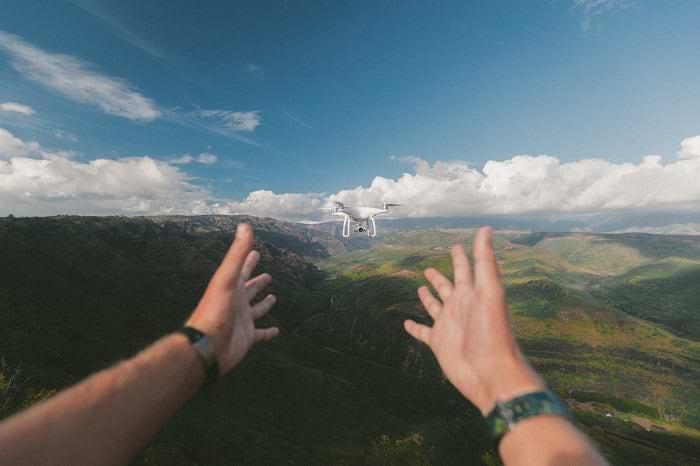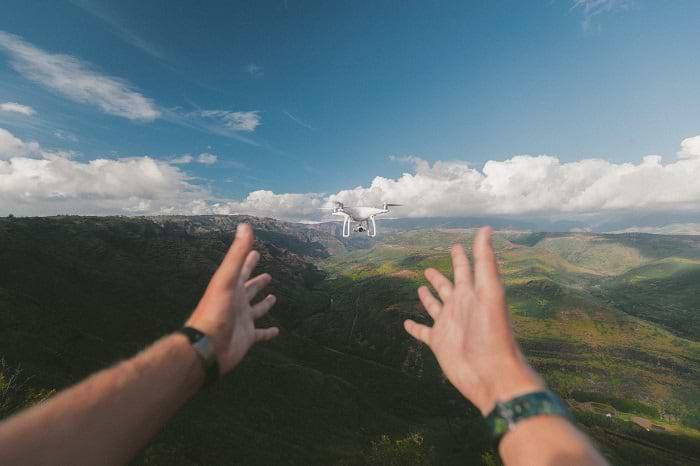 Mapping the area?
You will have a general idea of where you were flying your drone, even if you do not know the exact location of where you saw it. You can make a map of the area and divide it into sections. You can then move from section to section, crossing out the places you have already checked. If there are high up trees, do try to look through them to see if your drone is stuck there. You can even enlist the help of some friends who can help you search if the area to cover is too large.
Capturing the Screen
If your drone has a camera, it would be wise to take screenshots of the surrounding area visible through your drone at regular intervals. Doing this will ensure that if you lose connection to your drone, you can trace the path it took and look for any identifying structures the camera may have captured. These pictures act as a last known location for your drone.
Drone Controller Remains Functional
This is very important unless your drone has run out of battery. Whenever you get close to the drone, the remote will reconnect. Most controllers can call the drone to return, which will be very useful in case of a lost drone.
Even if your controller does not have that option, or it does not seem to be working, if the drone is connected to the remote, you could try flying your drone again and bring it to a place where it would be visible, from where you can steer it back to you.
If the drone is damaged or stuck somewhere, the propellers will still be making a lot of noise trying to get itself free, and some drones also have lights that will flash.
Finding a Lost Drone with a Tracker
Drones that have GPS tracking usually come with an application on your phones. Ensure your application is up to date and connect the drone with the app beforehand to ensure data is synced. You can also try the following features on the application:
Find My Drone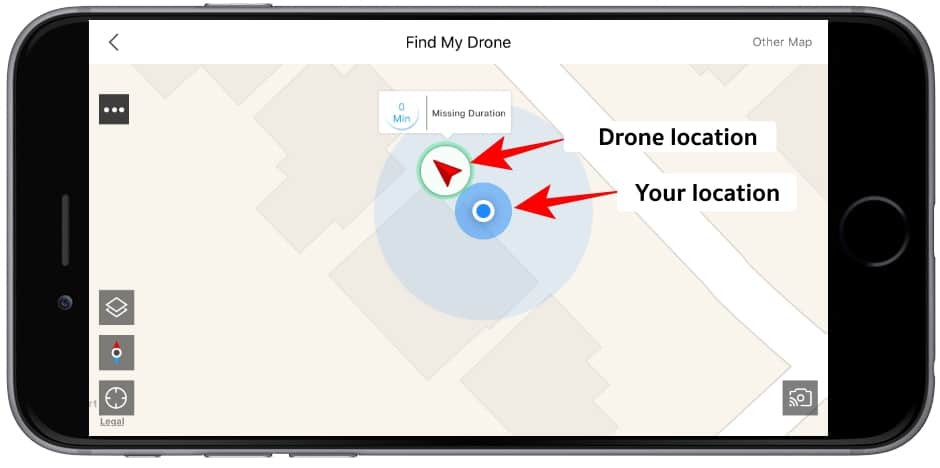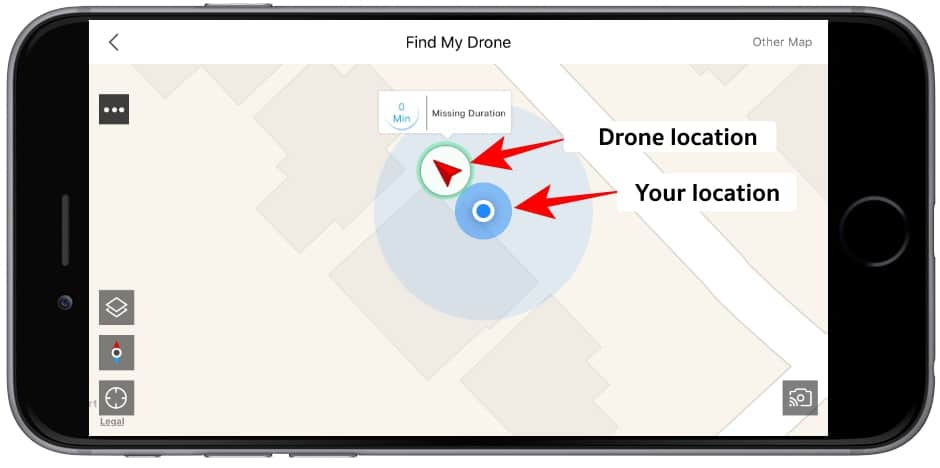 The benefit of this feature is that it keeps recording the location coordinates of your drone. When you open your app and enable this, it will show you a map. This map will have two locations being shown. There will be a circle around you, which is your current location. There will also be a circle around the last site recorded for your drone. All you will need to do then is follow the map to reach your drone.
Your controller will also be handy here as when it reconnects nearby; you will know and be able to control your drone again.
Flight Logs
While the find my drone feature only told you the drone's location, flight logs chart the exact pathways your drone will have taken. Inside your app, you will have to select your most recent flight, and you will see the route along with satellite images. These images of trees or buildings will help identify the place your drone is closest.
What Else Can You Do if the Drone is Still Not Found?
These may seem a bit old-school, but you can create a missing poster for your drone with a reward for finding it. You can add pictures of your drone, as well as the location it was last seen. You can place these posters near the site you lost the drone, as well as in grocery stores and the residential area you reside.
It might also be that someone already found your drone and put it up for sale on an online marketplace. Scour your local sites and Facebook posts to find a drone resembling yours. It would help if you had a customized marking on the drone to make it identifiable.