Drones Used For De-Icing Wind Turbines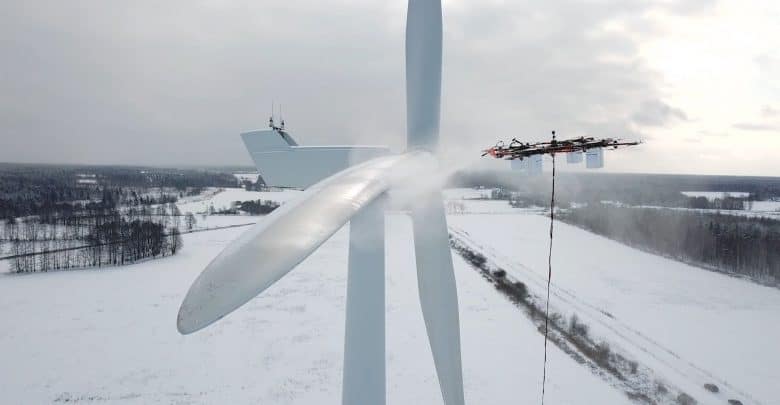 It seems that every day a new, innovative way of implementing drones comes into the limelight.
The latest breakthrough method to utilise the incredibly handy power of drones is de-icing wind turbines. Check out the video below to see what I'm talking about.
Latvian company ​Aerones has created this specially designed UAV for the sole purpose of de-icing wind turbines.
Although still in its early ​stages, they're seeing massive success in their work, with demand for their service continually increasing.
The drone itself sports a whopping 36 propellers and is able to lift weights up to 100kg. With a payload capability of that much, the possibilities stretch far beyond that of de-icing, including search and rescue, delivery, emergency response and much more.
In the video, you can see the heavy duty UAV tethered to the ground, which connects a water supply to a remote controlled hose located on the front of the drone. This hose is able to disperse 100liters of water a minute.
Also attached by a tether is a power line, meaning that the drone is able to stay airborne non-stop until the task at hand is completed.
Not only is using a drone for these types of tasks a lot safer than doing it by hand, it's a heck of a lot cheaper too. In fact, cleaning with a drone costs about $1000, when compared to the much heftier price tag of a $5,000 for someone to climb up there and do it by hand.
As drone technology continues to develop, I'm sure we'll see more surprising uses of drones' popping up in the not too distant future.