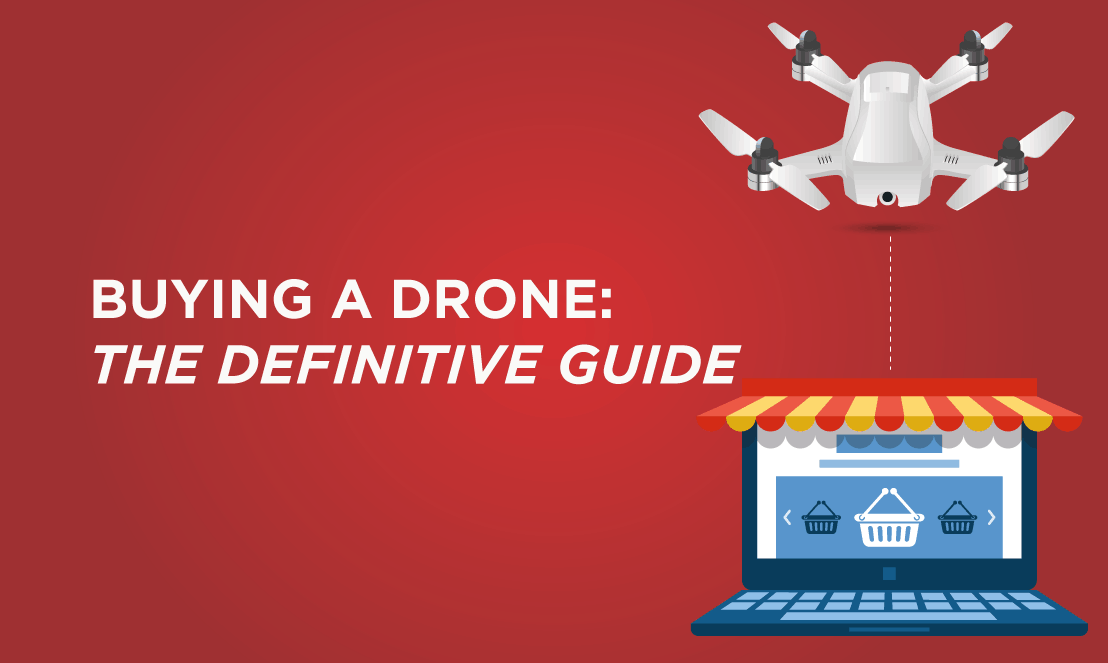 Drone Buying Guide
We know how incredibly difficult it can be deciding which drone to buy. Whether you?re a complete beginner or a veteran drone pilot, the sheer number of drones available can be pretty daunting.
That?s why we?ve put together this ultimate drone buying guide, providing you with everything you need to know to pick the right drone.
What is a drone?
A ?drone? is the term used to describe an unmanned aerial vehicle, also known as a UAV. The aircraft is usually flown by a pilot located at ground level using a remote transmitter.
?Drones can come in all shapes and sizes, whether is be a micro-quad copter that can fit in the palm of your hand, or a meter-long fixed wing aircraft that requires a runway to take off.
We?re going to be taking a look at all the different types of drones and who they are meant for, allowing you to determine which UAV is right for you.
?For all information regarding owning, buying and flying a drone, I highly recommend you check out the Know Before ?You Fly website. Anything you need to know about owning a drone, it'll be on there.
Where ?Can I Buy A Drone?
There are a number of different places where you can buy a drone, some of the most popular choices are:
Amazon
DJI
Gearbest
Bangood
Drones Etc.
Different Types Of Drones
Lets kick off our guide to buying a drone by taking a look at some of the different types of drones out there.
As you're probably aware, there's a number of different drone models designed for different uses and skill level pilots:
Beginner/ Toy Grade
Beginner and toy grade drones are often peoples first choice of drone. This is due to a number of reasons.
Firstly, and most importantly they?re cheap. The chances are if you?re a first time pilot, you could very possibly crash your drone, and that?s not good. By practicing on an inexpensive drone, you won?t waste a tonne of money in the event that you crash your aircraft.
Secondly, more expensive, higher grade drones tend to come with a lot of bells and whistles. What I mean by this is that they often come with features that make piloting the drone a heck of a lot easier. Some pilots become reliant on these features, and if for some reason they fail to work, you want to be comfortable with the piloting basics.
Having said that, beginner drones are becoming more and more feature rich and you can now get a fair amount of features, whilst not spending a lot of money.
I myself learnt of on a DJI Phantom, and haven?t had any issue piloting any other drone which has far less safety features. Neither did I crash what was at the time a fairly heft investment, it?s really down to you what you want as your first drone.
Camera DronesÂ
?Camera drones could possibly be the most popular type of drone. Depending on how much you're willing to spend, will determine a number of factors. For example, higher budget drones will come equipped with a 4k camera, a gimbal stabiliser as well as a number of intelligent flight modes.
A cheaper camera drone may only be able to shoot 720p and posses far less features. If you?re aim is to shoot high quality aerial photography or cinematography, acamera with a gimbal is pretty much a must have.
If you're new to piloting, having a drone with intelligent flight modes is incredibly handy as this will allow the drone to do most of the work whilst still shooting some awesome stuff.
FPV Racing DronesÂ
Over the last year or so, drone facing has exploded. With the Drone Racing League now televised on Sky Sports, more and more people are getting involved with the sport.
As demand for racing drones continues to increase, we?re also seeing more models flooding the market.
Racing drones are incredibly very fast, agile and insanely fun to fly. Unfortunately, they tend to have a pretty short battery life, so if you?re interested in buying a racing drone, I would advice on purchasing some spare batteries.
Fixed Wing VS Rotary Drones
Despite the sheer number of drones out there, we can fit each one into two, very different categories ? fixed wing drones and rotary drones.
What is a fixed wing drone: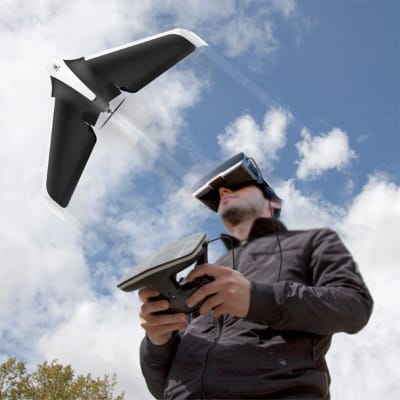 ?Fixed wing UAVs consists of a rigid wing that has a predetermined airfoil that make flight capable by generating lift caused by the UAV?s forward airspeed. This airspeed is generated by forward thrust usually by the means of a propeller being turned by an internal combustion engine or electric motor
?Quest UAV
What is a ?rotary drone: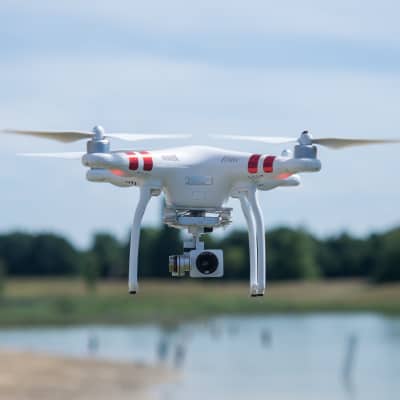 ?Rotary wing UAVs consist of 2 or 3 rotor blades that revolve around a fixed mast, this is known as a rotor. Rotary wing UAVs also come in wide range of setups consisting of a minimum of one rotor (helicopter), 3 rotors (tricopter), 4 rotors (quadcopter), 6 rotor (hexacopter? etc… as well as more unusual setups like 12 and 16 rotors!
?Quest UAV
You must be thinking:
Which one of these is better? Well to be honest, neither one is better, as it completely depends on what you?re looking to get out of your drone. I will quickly discuss some of the primary differences between the two types of drone:
Taking Off
Taking off with a rotary drone is often easier and requires less space. This is because the drones? rotors are able to create uplift that allows the drone to fly vertically in the air. Unlike rotary drones, fixed wing drones often require some form of runway or to be thrown manually into the air.
Maintenance
Due to the fact that fixed wing drones tend to have a simpler build, they?re a lot easier to take care of. You?re much more likely to break a part of a rotary drone if you crash, due to the fact that they have far more vital components.
Efficiency
As fixed wing drones sport a much more aerodynamic build and structure, they tend to be more efficient in the air. High quality fixed wing drones are able to stay airborne for a very lengthy amount of time, for example the Parrot Disco, which has a 45-minute flight time.
That being said, as drone technology continues to develop, rotary drones are getting longer and longer flight times.
Should You Build Your Own UAV?
What drone buying guide would be complete without discussing the option of building your very own UAV?
When it comes to buying a drone you have three options, RTF, BNF, ARF. I will quickly discuss what each one means and who they are designed for.
RTF ? Ready To Fly ? This is when the drone comes fully built alongside a battery and transmitter. This is ideal for pilots who are looking to buy a drone that can be flown out of the box, with minor to no work being needed on them.
BNF ?Bind & Fly ? This is where the drone comes without a transmitter. You must bind (connect) your own controller to the drone before you can fly it.
ARF ? Almost Ready To Fly ? This is a pretty broad term and is used to describe a drone that requires some form of assembling first. This could be building a drone from the frame up, or simply needed to add a few components yourself, such as motors.
Building your own drone is an incredibly fun and rewarding experience, however if you?re a first time pilot, it may be better to buy a ready to fly model.
Time, patience and a willingness to learn is key when building your own drone. It also helps if you know how to fly, as the last thing you want is to spend hours and hours constructing your drone, only to crash it in your first flight.
What Should You Look For In A Drone?
?Flight Time
One of the most vital aspects to be considered when looking to buy a drone is the flight time. Trust me, it?s incredibly annoying have to change batteries every 10 minutes. A good flight time would be 18 minutes plus, with the longest you?re really going to get with a rotary drone being about 27 minutes.
Having said that, I do always like to get a spare battery or two in order to double or treble my flight time.
Camera & Gimbal
The quality of a drones camera is going to be massively important if you?re looking to shoot aerial photographs or videos.
When looking to purchase a camera drone, it?s incredibly important that the drone is fitted with either a 2 or 3-axis gimbal stabilizer.
This will keep the camera steady and level when your drone is in the air, allowing you to shoot some nice and smooth looking shots.
Maximum Range
This is another key factor that will determine the amount of freedom you have once in the air.
I find having a long maximum range is great for shooting aerial video as it gives you more room to explore and scope out some awesome shots.
Similarly, if you?re flying a racing a drone, a good maximum range will allow you to let it rip and reach some awesome top speeds.
Intelligent Flight Modes
These days, higher end drones come packed with intelligent flight modes, such as follow me, way points, point of interest and a tonne more.
This is where the drone is able to autonomously pilot itself in a pre-determined flight pattern.
?This is great for new pilots as it allows you to focus solely on the camera movement, or perhaps even film yourself.
Drone Glossary
?There?s a whole lot of drone lingo that?s thrown around a lot, and if you?re new to drones it can be pretty hard to sell what people are on about. Down below is a glossary of some of the important terms that you should be aware of.
Headless mode: This is a setting on a drone that sets the drones forward location as the direction the drone is facing when it takes off. This helps to prevent disorientation when flying a drone, as pushing forward on the right stick will always send the drone in the same direction, no matter which way the drone is facing. Check out our full guide on headless mode for an in-depth break down.
FPV: This stand for first person view and is a method of flying a drone by looking at a live feedback from the on board camera. You can also get FPV goggles which make the experience more immersive and puts you in the cockpit of your drone.
Line of site: Line of site simply means being able to see your drone. When you?re flying, it?s incredibly important that you keep your drone in line of site at all times.
Return to home: A return to home function is where a drone records it?s take off location and is able to return to this point at a push of a button. This is handy during a fly away experience, or if you accidentally lose line of site with your drone.
Yaw: Is is the name used to describe rotating the drone clockwise or counter clockwise. The yaw is controlled by moving the left stick on your transmitter side to side.
Pitch: This is the term used to describe the drone moving forward and backwards, which is controlled by the right stick on your transmitter. Pushing the stick forward will make the drone go forward and pulling it backwards will make the drone move backwards.
Roll: This is also controlled using the right stick of your transmitter. Roll is the side to side motion of the drone, which is done by pushing the right stick in the direction you want the drone to move.
Throttle: Throttle is the amount of power given to the propellers to make the drone move either up or drone. To increase the throttle, you push the left stick forward, to decrease it you push the left stick backwards. This essentially controls the altitude of the drone.
Best Drones For Beginners
?Ryze Tello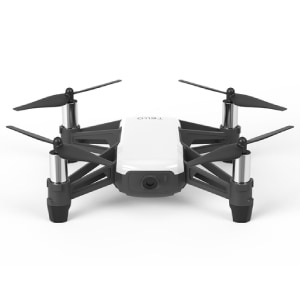 Flight Time: 13-minutes
Maximum Range: 100m
Camera: 720p
The Tello drone by Ryze Robotics is a fairly new drone to hit the market and is a fantastic beginner drone for pilots looking to spend less than $100.
Ryze actually partnered with big players DJI and Intel to create the Tello drone, which is glaringly obvious once you get it up in the air, as it feels more like a high end drone than a beginner quad.
The drone comes with some incredible flight modes that make piloting the Tello insanely fun to fly. The quad copter itself is piloted using a smartphone over the Tello app, which we found to work incredibly well.
With a flight time of 13-minutes, it blows any similar priced drone out of the water, pair this with it?s 720p on board camera, and you?ve got yourself one heck of a drone. You can read our full DJI Tello review here.
?Hubsan X4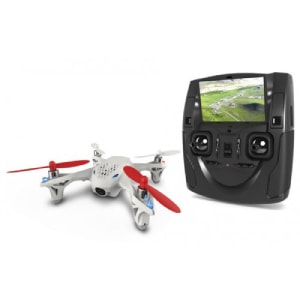 Flight Time: 6-8 minutes
Maximum Range: 100 meters
Camera: 2 Megapixel
The Hubsan X4 is an insanely fun drone to fly, no matter your skill level. The drone is incredibly small and lightweight and as such, doesn?t really sustain much damage when you crash it.
The drone comes alongside a transmitter that features a built in 4.5-inch screen that displays a live feedback from the on board camera. The transmitter also has a video and audio output jack that can be used to connect the transmitter to FPV goggles.
Although the Hubsan only features a 6-8 minute flight time, the drone can charge fully within half an hour, which is petty reasonable. You can also buy a spare battery or two for incredibly cheap to double, or even treble your flight time.
The drone also features beginner and expert speed modes that allow you to adjust the speed to suit your skill level of piloting. Add this to the drones headless mode and you?ve got one of the best beginner drones on the market.
?UDI U818A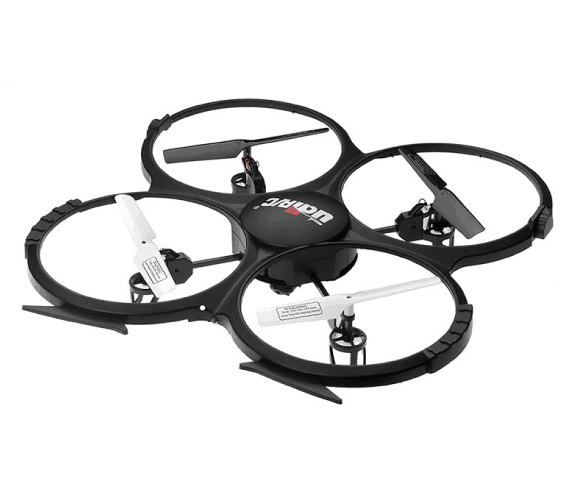 Flight Time: 8-10 minutes
Maximum Range: 50-100meters
Camera: 720p
UDI are a well known manufacturer of drones, with the U818A model becoming one of the go to beginner drones. This is primarily due to the fact that it is incredibly cheap, alongside its built in prop guards.
These guards prevent any serious damage from the inevitable bumps and knocks that come with learning to fly a drone.
The drone also comes alongside a transmitter that can be connected to a smartphone for FPV flying. Although it?s flight time is roughly 8-10 minutes, the UDI comes alongside a spare battery, allowing you to double your time in the air.?
With a 720p camera and a 50-100m maximum range, you really couldn?t ask for more from such an affordable drone.
Best Camera Drones
?DJI Mavic Pro Platinum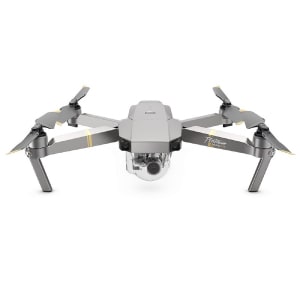 Flight Time: 30 minutes
Maximum Range: 7km
Camera: 4k
The DJI Mavic Pro Platinum is the ultimate portable drone for filmmakers and photographers.
The Mavic?s rotor arms fold into it?s body, which reduces it to an almost pocket sized drone, allowing it to be easily transported from one place to another.
The Platinum comes packed full of incredibly high quality intelligent flight modes and features that not only make it extremely easy to fly, but allows the pilot to easily capture stunning aerial imagery.
With a maximum range of 7km, a 4k camera, and a whopping 30-minute flight time, there really are very few drones that are able to rival the Mavic Pro Platinum.
?For a full breakdown of the Mavic Pro Platinum, check out our in depth review here.
DJI Phantom 4 Pro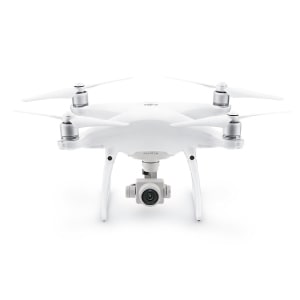 Flight Time: 30-minutes
Maximum Range: 7km
Camera: 4k
?The Phantom 4 Pro is an incredible drone featuring a camera able to shoot 4k video in up to 60 frames per second and take stunning 20 megapixel photographs! The camera is attached to the drones? body via a 3-axis gimbal that keeps it stable during flight, resulting in silky smooth footage that looks extremely professional.
As with all DJI drones, the Phantom 4 Pro comes with a plethora of flight modes that make recording high quality video incredibly easy. Thanks to the drones? 5 direction obstacle avoidance sensors, the Phantom 4 Pro is also pretty damn hard to crash.
The Phantom 4 Pro features a 30-minute flight time, 7km maximum range and is able to reach a whopping maximum speed 72kph! The Phantom 4 Pro is currently one of the best drones on the market and if you?re looking to shoot professional standard aerial imagery, the P4 Pro can more than deliver.
DJI Mavic Air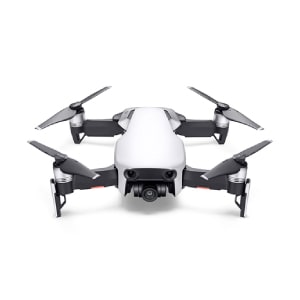 Flight Time: 21- minutes
Maximum Range: 4km
Camera: 4k
The Mavic Air is DJI?s latest instalment in their Mavic series and maintains the ultra-portable aspect that we?ve seen throughout the Mavic?s history. The Mavic Air features a camera capable of recording at 4k at 30 frames per second, which is attached to the drone via a 3-axis gimbal.
Unfortunately, the Mavic Air lacks in terms of flight time when compared to other high-end DJI drones, with a 21-minute maximum air time. Unlike the other DJI models however, the Mavic Air features an internal 8gb of storage that lets you record your footage directly onto the drone itself.
The Mavic Air is by far the most portable, high end drone currently available. When folded, the drones? body is comparable to that of a smart phone? and not a vey big one. If you?re looking for a drone that?s easy to use, shoots fantastic photographs and videos and is extremely portable, look no further.
Best Mini Drones
DJI Spark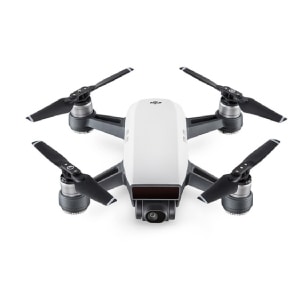 Flight Time: 16-minutes
Maximum Range: 2km
Camera:1080p
The DJI Spark is by far one of the most popular camera drones around, and for good reason.
Apart from being extremely well price, the drone sports a portable design alongside some seriously impressive specifications and features.
With a 16-minute flight time and a maximum range of 2km, not many other drones this size can compete with the Spark. Pair this with the drones 1080p camera and you?ve got one of the best mini drones on the market. The camera itself is attached via a 2-axis gimbal that does a fantastic job of keeping it stable during the flight.
As well as this, the Spark comes packed full of features and intelligent flight modes that make it both insanely fun and easy to fly. If you?re a beginner looking for a budget friendly camera drones that?s easy to use, look no further.
Yuneec Breeze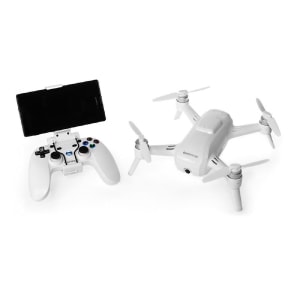 Flight Time: 12-minutes
Maximum Range: 100m
Camera: 4k
I?ve always been torn with the Yuneec Breeze, it has some awesome aspects, and some not some awesome aspects.
For example, the drone features an incredible 4k camera, however utilises digital stabilisation as opposed to using a gimbal, which means the footage isn?t incredibly stable.
It?s range of 100m isn?t ideal either, however the Breeze has a plethora of features that make it more than capable of shooting some fantastic looking aerial photographs and videos.
Plus, the Breeze is insanely affordable for a 4k camera drone, which is pretty rare considering the DJI Spark only has a 1080p camera.
All in all the Yuneec Breeze isn?t a bad little drone and is more than capable of delivering some awesome aerial imagery that?s sure to take your Instagram feed to the next level.
Zerotech Dobby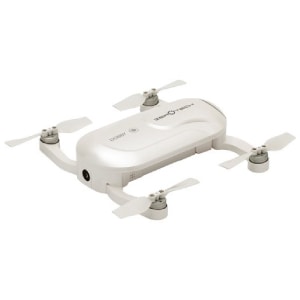 Flight Time: 9-minutes
Maximum Range: 50m
Camera:1080p
The Zerotech Dobby can fit into multiple drone categories; it?s a pocket drone, a selfie drone and a mini drone. This is all thanks to its ultra-portable design and collapsible rotor arms that when folded down, make the Dobby about the size of a smartphone.
For such a tiny drone, the Dobby has a lot to offer. Its camera can take 4k videos, 13 megapixel photographs and features digital stabilisation. Unfortunately, this doesn?t work as well as a gimbal, however some sacrifices need to be made for the drone to sport such a portable design.
Although the Dobby has a pretty awesome camera, it?s definitely not designed for high end cinematography. If you want to tilt the camera, you have to do it manually before you take off. Having said that, the dobby has a fair few intelligent features up its sleeve that make capturing aerial video exceptionally easy.
Best Drones By Price
Best Drones By Other Criteria
Do I Need To Register My Drone?
?Different countries will have their own individual rules about registering a drone, so make sure you check with your countries regulations before you take off.
If you?re in the US, you must register your drone if it weighs more than 0.55lbs, which the chances are it probably will.
The process is really easy, you just need to head over to the FAA website and be willing to spend $5 on a registration fee.
If you?re in the UK and planning on using your drone strictly for Hobby purposes, you do not need to register your drone or have a license. If you?re planning on using your done for commercial purposes, you will need to acquire a CAA Approved Drone License (click here to learn more).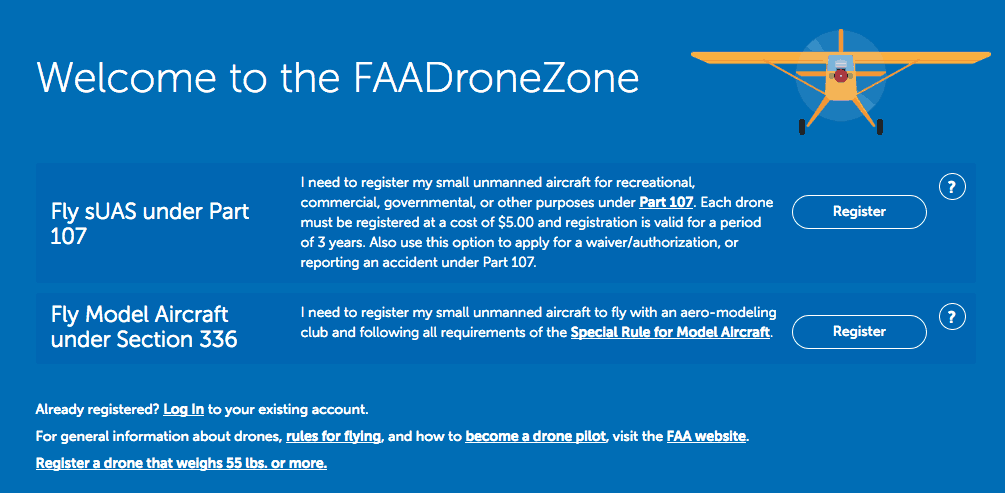 Drone Piloting Guidelines
?Similarly to registering your drone, different countries will have their own drone piloting guidelines. Make sure you brush up on your countries rules before you take off, as the last thing you want is to be on the receiving end of a nasty fine.
In the US, the following guidelines are in place:
Fly your drone at or below 400 feet
Keep your drone within your line of sight
Be aware of FAA Airspace Restrictions
Respect privacy
Never fly near other aircraft, especially near airports
Never fly over groups of people, public events, or stadiums full of people
Never fly near emergencies such as fires or hurricane recovery efforts
Never fly under the influence of drugs or alcohol
How Can I Make Money With My Drone?
?There are a number of ways that you can use your new drones to make a bit of extra cash. I?ll list some of your options below, however we have a FREE ebook that you can download that will walk you through 10 different ways you can generate an income with your drone.
Sell stock photographs and videos online
Start a YouTube channel
Wedding Videography
The Skies the limit!
The possibilities are endless when it comes to making an income with your drone. Think outside the box, offer a high quality service and you?ll be making bank in no time at all.
Drone Buying Guide Round Up
Well, if you?ve made it this far well done! This has been a pretty hefty drone buying guide, but I hope it helped!
If you?ve got any questions please feel free to comment them below and I?ll get back to you as soon as I can.
Happy Flying!