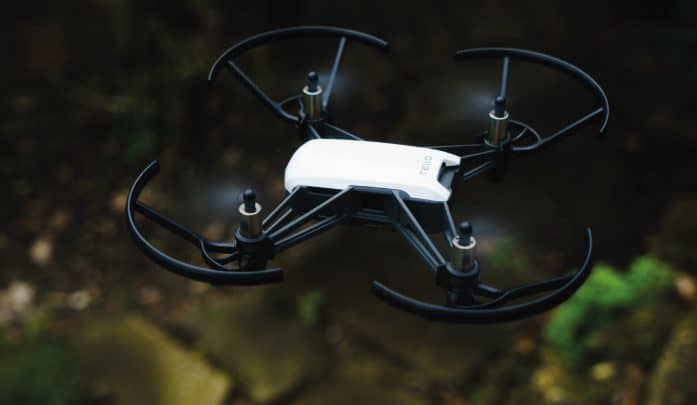 The DJI/ Ryze Tello drone is a micro quadcopter designed for all skill-level pilots.
For such an incredibly cheap drone, the Tello boasts some incredible specifications and features that make it by far the best drone under $100. Read our full DJI Tello review for more information.
We've been having fun playing with the Ryze Tello Drone from DJI, and to be honest, we've been having a blast! We've been incredibly impressed with the drone and as such have decided to write a DJI Tello review.
Ryze Tech Tello - Mini Drone Quadcopter UAV for Kids Beginners 5MP Camera HD720 Video 13min Flight Time Education Scratch Programming Toy Selfies, powered by DJI, White
Equipped with a high-quality image processor, the Tello drone shoots incredible photos and videos. Even if you don't know how to fly, you can record pro-level videos with EZ Shots and share them on social media from your smartphone.
Camera features 5MP (2592x1936) photos and HD720 videos at a maximum flight time of 13 minutes.
Tello has two antennas that make video transmission extra stable and a high-capacity battery that offers impressively long flight times.
Thanks to all the tech that Tello's packing, like a flight controller powered by DJI, you can perform awesome tricks with this mini drone. Flying has never been so fun and easy.
What you get: RyzeTech Tello powered by DJI, 4x Propellers (Pair), Propeller Guards (Set), Battery, Micro USB Cable, Propeller Removal Tool
---
But first, what exactly is the Tello drone?
There seems to be a bit of confusion out there about who actually makes the Tello drone, with some (most), calling it the DJI Tello and some calling it the Ryze Tello. Which one is right?
Well, I guess you could say that both are right, in a sense. Ryze Robotics is the official manufacturer and producer of the Tello drone. However, they've also worked alongside DJI to implement their technology into the Tello drone.
As most people call it the DJI Tello, we'll be going along with that in our Tello drone review.
What we'll be covering:
Flight Time
Camera
Range
Price
What We Like:
Extremely cheap
Fantastic flight modes
Easy to fly
Great flight time for such a small drone
Incredibly responsive
What We Don't Like:
Doesn't come with a charging cable
Can't fly if it is windy
Slow charging time
The Tello is a fantastic micro-quad copter designed for any skill-level pilot. Suitable for both indoor and outdoor flying, its 13-minute battery life provides ample time for enjoyment in the air. The drone is flown directly from a smartphone or tablet using the Tello app. The application itself is incredibly easy to use and the drone responds promptly to any commands.
Who's the Tello Drone Meant For?
To be honest, the drone is meant for absolutely anyone. Its lightweight design paired with its pre-installed prop guards make it extremely difficult to break.
This means that kids, teenagers, pensioners, first-time pilots, anyone can have a go at piloting the Tello (providing you have a smart device compatible with the Tello App).
As well as this, you also have the choice of slow and fast mode, so depending on your confidence levels, you get to decide how fast the Tello is able to go.
What's In The Box?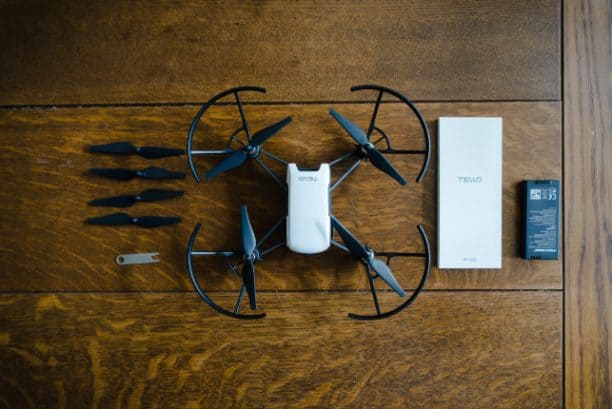 Inside the box, you get the following items:
Drone (with propellers and pop guards already installed)
4 X spare propellers
Propeller removal tool
Battery
Tello start guide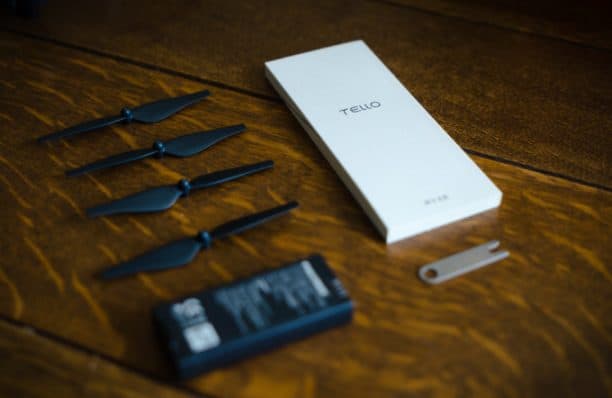 DJI Tello Drone Specs & Features
Specs:
Dimensions: 3.9×3.6×1.6 in.
Max Flight Time: 13 min
Max Speed: 17.9 mph
Camera: 5MP (2592×1936)
Battery: x1
Features:
Multiple flight modes
Throw & go take off
Auto take off and landing
8D flips
Electronic image stabilisation
Vision Positioning system (allows the drone to hover in place)
Low battery protection (warns your battery is low)
Programmable with scratch and SDK
Getting Started
Charging tello drone
To charge your Tello, you first insert the battery into the drone. This is done by simply slotting the battery into the back of the Tello.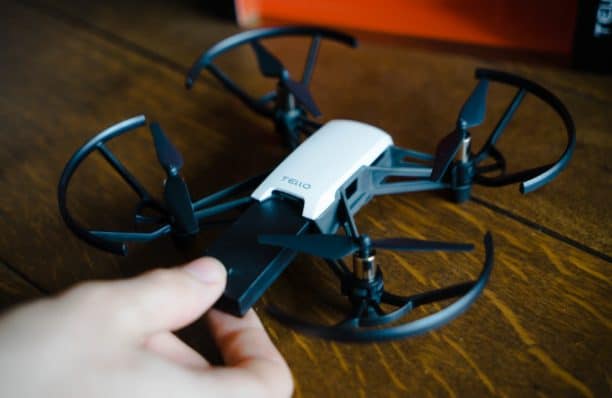 Before you plug in the drone, make sure that it is off. Then using a micro-USB cable, plug your drone into a computer, power bank, plug socket, etc.
Again, it's worth noting that the drone doesn't actually come with a charging cable. I luckily had one lying around from my portable speakers.
According to the drone's quick start guide, you should always use an FCC/ CE USB adapter that is rated at 5 V and 1.5 A or above.
Once you've plugged the drone in, you'll see a blue flashing LED light next to the camera. The flashing light means that it is charging, whilst a solid blue light means that it is fully charged.
It took my drone about 1 hour and 15 minutes to charge, which wasn't too bad.
Connecting tello drone to a Phone/ Tablet
Before I talk about how you go about connecting your device to the drone, it's probably a good idea that I list out Tello's compatible devices.
If you don't see your device on there, don't worry. Support for additional devices is continually being tested, so it might not be long before you're good to go.
Apple (Requires IOS 9.0 or later)
Requires iOS 9.0 or later. Compatible with iPhone 5s, iPhone SE, iPhone 6, iPhone 6 Plus, iPhone 6s, iPhone 6s Plus, iPhone 7, iPhone 7 Plus, iPhone 8, iPhone 8 Plus, iPhone X, iPad mini 4 and iPad mini 4 Wi-Fi + Cellular.
Android (Required Android version 4.4.0 or later)
Android version 4.4.0 or later. Compatible with Samsung S7,Samsung S6 edge,Samsung S5,Samsung Galaxy note 4,Samsung Galaxy note 3,Huawei Honor 8,Huawei Honor 9,Huawei P8 Max,Huawei P10,Huawei Honor V8,Huawei P9,Huawei nova2,Xiaomi 6,Xiaomi Note3,Redmi 4A,OnePlus5,vivoX6,Google Pixel1 XL,Google Pixel2.
You can download the app here for Android and here for IOS.
---
When your first open up the Tello app, you will be greeted with a set of instructions on how to connect your drone to your device.
If you've ever flown a DJI drone or something similar, you'll already be pretty familiar with the process.
You can connect your device to the drone by following these steps:
Install the app on your device
Turn on the drone (press the power button on the side of the drone)
Go to your Wi-FI options on your phone/tablet and connect to the Tello wifi
Launch the Tello application on your device. You will know if your device is connected as you will see a live video feed on your screen as well as a flashing yellow LED light next to the drones? camera.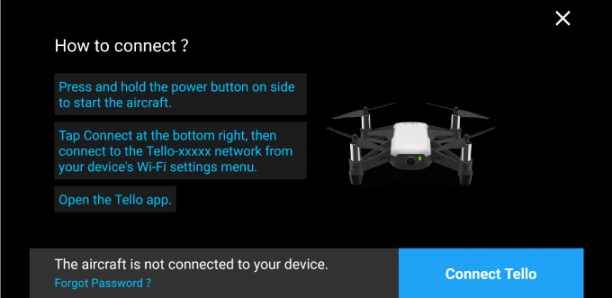 DJI Tello Drone Review
Now onto the Tello drone review itself!
Design
The Tello sports a very sleek and minimal design, slightly reminiscent of the DJI Spark with Remote Control Combo (White) . I knew the drone was going to be small, but I couldn't quite believe how small it was when I opened up the box.
The drone is just 98 x 92.5 x 41mm and weighs only 80g with the propellers and battery attached.
For such a small drone, it really does have a lot to offer.
It's also worth mentioning that the drone comes with the pop-guards attached. This is probably because the drone is designed to be flown by all skill-level pilots, including those who are not yet experienced in piloting and are more likely to crash.
If you don't like the look of the prop guards, you're able to remove them using the tool that comes alongside the Tello drone.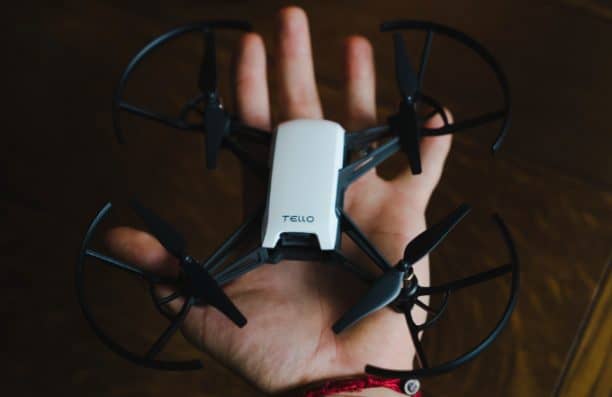 ---
Usability
How Does Flying With a Smart Device Feel?
Fortunately, I've had a bit of experience flying a drone directly from a touch screen device. Some drone companies really nail it, whilst others seem to make it extremely difficult to use.
I'm happy to say that the Ryze Tech Tello - Mini Drone Quadcopter UAV for Kids Beginners 5MP Camera HD720 Video 13min Flight Time Education Scratch Programming Toy Selfies, powered by DJI, White  is one of the easiest drones I have ever flown from my phone. It was incredibly easy to set up, the controls were responsive and I had no issues keeping the drone under control.
The layout of the app is very simple and easy to use. If you are unsure of any of the controls, you're able to get a rundown of all the controls and what each button is responsible for.
To take off, you simply slide the take-off button and the drone will get itself in the air. Once in the air, you can select from a range of flight modes, speeds, and camera functions.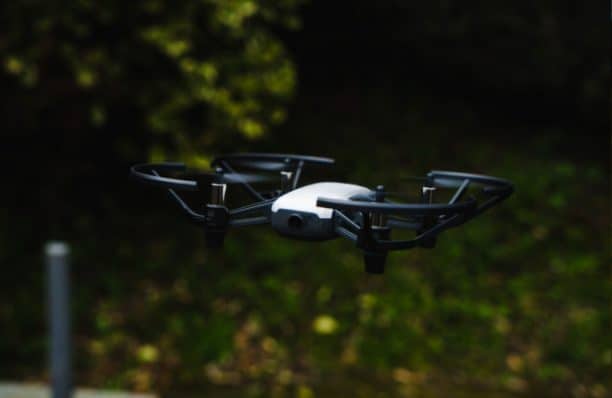 On my first flight, I kept the drone in slow mode, however, I thought for my second flight it was time to turn it up a bit. I swapped into fast mode and was taken back by just how fast this little guy is able to fly.
I did however notice this depleted the battery down quicker, but that's to be expected when you're pushing a drone to its limits.
I noticed a slight delay between the drone's movement and the feedback displayed on the camera, but you can't really complain when the connection is established by Wi-Fi. Similarly, its 10m altitude cap is slightly annoying but comes with flying a drone over a Wi-FI connection.
One thing I do love about the Tello is how it's both an indoor and outdoor drone, whether you bored in the office or looking to hone your piloting skills outside, the Tello can suit any occasion.
If you are planning on flying the drone outdoors, make sure it is not too windy of a day. Because the drone is so light, it does get blown around a bit in high winds.
There was a pretty mild breeze when we tested out the Tello and although handling it pretty well, you could definitely notice the effects of the wind.
Incredible Flight Modes For Such a Cheap Drone!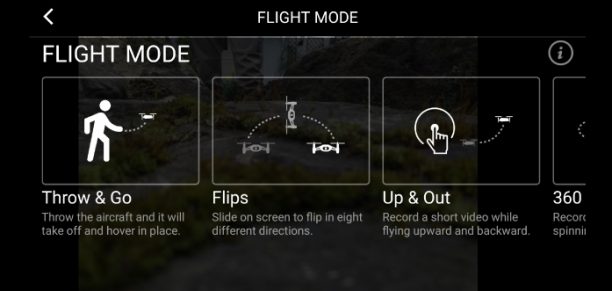 For a drone costing less than $100, the Tello has a fantastic amount of different flight modes and features that make it an absolute blast to fly. Below I've listed Tello's flight modes, and what exactly each one does:
Throw & Go Throw the aircraft into the air and it will take off and hover
8D Flips  You slide on the screen to flip in 8 different directions
Up & Out This is essentially a drone. Where the drone flies itself upwards and backward at the same time whilst recording a video
360 Records a video whilst spinning around
Circle Records a video whilst flying in a circle
Bounce Mode The drone automatically flies up and down within 0.5 and 1.2 meters of a surface below the aircraft (can even be your hand)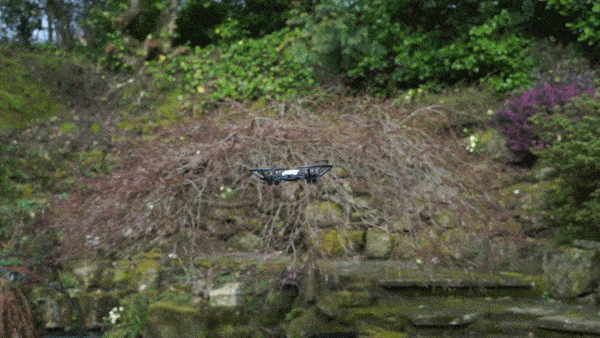 How To Use The Throw & Go Feature?
The throw & go feature was both extremely exciting but nerve-racking to try out. Fortunately, it worked perfectly all the time that I used it! (Thank the lord!)
All you have to do is select the throw and go feature from the flight mode menu. Then, place the Tello in the palm of your hand and throw it upwards and outwards.
The drone will then balance itself in the air and hover in place. If you are planning on utilizing this feature, I would start by doing it over grass first just in case something goes wrong.
VPS Vision Positioning System
If you take a look at the bottom of the drone, you'll see a couple of sensors. These are able to detect the surface below the drone and allows the drone to hover in place.
This meant that the Tello was able to hold in place extremely well and barely moved when I was not inputting any controls.
If you increase your altitude closer to the 10m limit, a prompt appears on screen notifying you that the VPS position will not work as well. This is definitely noticeable, as the drone swayed from side to side a lot more when I was not inputting any controls.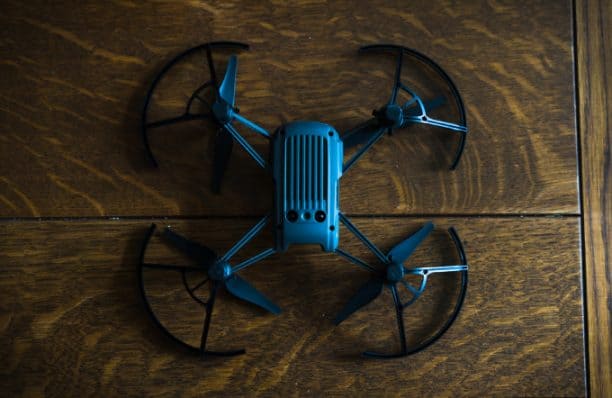 Camera
To be honest, the Tello is definitely not the drone you want to be used for high-quality cinematography/ photography.
Due to the absence of a gimbal, the camera makes use of digital image stabilization, similar to that of the Parrot Bebop. This does work kind of well, however, if a gust of wind blows the drone, it is definitely noticeable in the recording.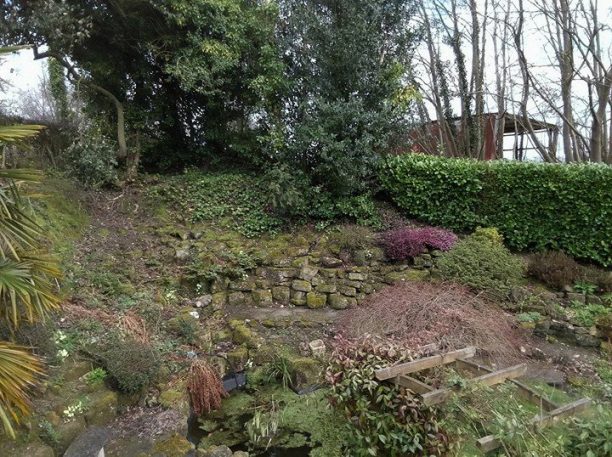 An image was taken on the DJI Tello drone
Although equipped with a 5-megapixel camera and able to shoot 720p footage, its camera can't really rival that for higher-spec drones. That's not surprising considering that it costs under $100, so bearing that in mind the camera really isn't that bad.
I think the photo quality is definitely better than the video quality, as when I watched the video back it did seem a bit laggy.
This is probably because the drone records straight onto your smart device's storage, not onto an SD card. I guess whatever latency appears when flying the drone, will be visible when playing back the saved recording.
Having said that, if you're looking to take a few snaps to populate your Instagram feed, then the Tello is more than capable of delivering.
Range & Flight Time
I was extremely impressed by the Tello's 13-minute flight time, for such a small drone this really isn't bad at all. Especially when you consider this is just 3-minute less than the DJI Spark, which costs at least triple the price!
You can always double (or even triple) the flight time by buying a few spare sets of batteries, which you can pick up for less than $20 here.
As I mentioned earlier in our Tello review, the drone establishes a connection with your smart device over Wi-Fi. If you've ever flown a drone like this before, you'll know that this greatly limits the aircraft's maximum range.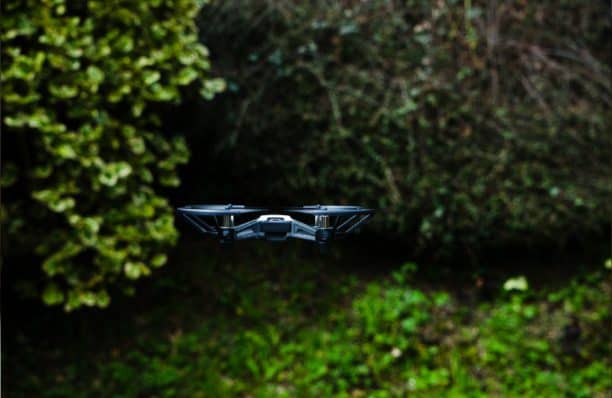 For this reason, the Tello has a maximum control range of 100meters, which may not seem like a lot, but definitely this.
Considering that you're not allowed to fly a drone out of the line of sight, seeing the tiny Tello drone beyond 100m would be pretty tough anyway!
The only real annoying part of the Wi-FI connection is its? 10m altitude limit. I would have liked to take it slightly higher, but I was prompted with a warning message saying that the connection was getting bad.
Gamepad connection
One of the most awesome aspects of the Tello is its gamepad compatibility. We, unfortunately, don't have a controller as of yet, so will be updating our review once we've tried it out.
Also, we weren't able to try out the VR Headset Compatibility, but please let us know how you felt if you go to try it.
Programmable with Scratch
The Tello drone is also programmable by Switch, which is a software developed by MIT that helps those who do not know how to code learn the basics. You may even remember using it whilst at school during IT class!
If you're a bit more advanced than a beginner, you can even develop your own software for the Tello drone using the Tello SDK.
Useful Accessories for the Tello Drone
Although the Tello comes with everything you need to fly (minus charger), it can never hurt to have a few accessories. Especially considering how cheap the Tello's accessories are! I've listed some useful accessories below:
Tello Alternatives
DJI Spark (More Expensive)
DJI Spark, Fly More Combo, Alpine White
Intelligent Flight ModesSmart, reliable, and incredibly intuitiveQuickShotVideos with a Tap
High-Performance CameraAmazing images and stabilized videoMechanical Gimbal StabilizationShake-Free Shots
Flight PerformanceAwesome potential, immersive experiencesPowerful Propulsion Speed and Precision Control
Flight SafetyWorry-free flight in the palm of your hand ; Propeller guards are recommended when using these functions.
2-Axis Stabilized Gimbal Camera. Voltage - 100-240 V
The DJI Spark is a bit of an upgrade from the Tello drone.
It features a much longer flight time, a better camera, and significantly more features.
Unfortunately, it does cost a fair bit more than the Tello but is definitely worth the price.
The Spark is also compatible with a transmitter that makes piloting the drone a lot easier!
Specs
Flight Time: 16 minutes
Max Range: 2km
Camera: 1080p (video)
Features:
Quick launch
Gesture control
Follow me
Other autonomous flight modes
2-axis gimbal stabilization
Obstacle avoidance
Holy Stone HS160 Shadow (Similar Price)
Holy Stone HS110D FPV RC Drone with 1080P HD Camera Live Video 120°Wide-Angle WiFi Quadcopter with Gravity Sensor, Voice Control, Gesture Control, Altitude Hold, Headless Mode, 3D Flip RTF 2 Batteries
1080P FOV 120° HD FPV Camera: You can capture memorable moments with distortion-free and view images on your phone from the wide-angel lens. The app enables you to expand your creativity further and share it on social media with ease.
Altitude hold: When you focus on shooting images, you may set your hands off the joystick and the drone still suspend in mid-air with locked altitude. A perfect drone for beginners, kids, starters, or newbies to have a easy and stable flight experience.
Headless Mode: The pilot will feel easier to control, especially when the drone is out of sight, under headless mode while the orientation of the drone is in relation to the pilot. The drone are also equipped with 3D flips to make your day.
Mobile Control: Through the APP, multiple functions, Voice Control, Gestures Control, Trajectory Flight and Gravity Sensor Control can be activated. Instruct the camera to take photos by gestures of Scissor and videos by Paper.
2 Modular Battries: 2 batteries can support a 20 Minutes flight which makes it easy to replace battery and safe to charge battery.
The HS160 is of a similar price to the Tello, however, posses a few differences.
The Holy Stone comes alongside a transmitter, which can be connected to a smartphone and used to pilot the drone.
The drone itself is also foldable, however even folded the two are pretty similar in size.
You also get a few more accessories alongside the drone, including 2 spare batteries, landing pads, a USB charger, and a dustproof bag.
The HS160 has a significantly shorter flight time though of just 7-9 minutes, so those spare batteries are extremely important.
Specs:
Flight time: 7-9 minutes
Max Range: 30 meters
Camera: 720p (video)
Features:
Foldable design
4-speed modes
Gravity sensor mode
Automatic take-off and landing
Altitude hold function
DJI Tello Drone Review: Final Thoughts
So, the big question?
Should you buy the Ryze Tello Drone?
Our verdict: A HUGE YES.
It's safe to say that the Tello drone is by far the best drone we've ever flown under $100. It features an incredibly flight time, can be flown by anyone indoors or out and its accessories are extremely cheap.
No matter the skill level, the Tello is suitable for anyone. Whether you're a first-time pilot, a teenager or a child, or even a long-time hobbyist, the Tello has something special to offer.
I hope that you've found our Ryze Tello review helpful, and as always if you have any questions, please feel free to comment below.
Happy flying!
DJI Tello Review: Summary
The DJI/ Ryze Tello drone is a micro quad copter designed for all skill level pilots. For such an incredibly cheap drone, the Tello boasts some incredible specifications and features that make it by far the best drone under $100. Read our full DJI Tello review for more information.
Last update on 2023-12-03 / Affiliate links / Images from Amazon Product Advertising API