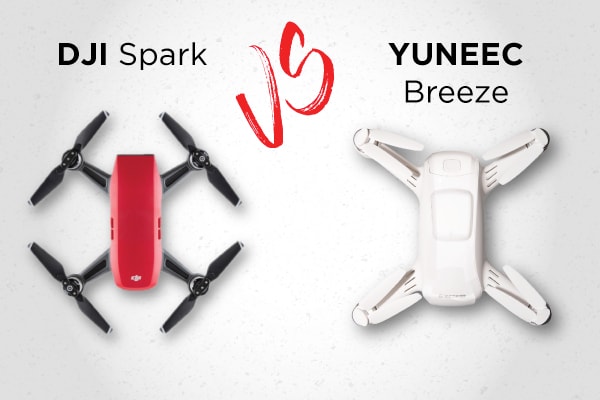 ?It?s pretty crazy how portable drones are becoming. Not too long ago getting your drone from one place to another was a pretty annoying challenge.
Now, drones are smaller than ever. Not only are they small, but they?re also now coming packed with impressive features that make piloting your UAV and absolute breeze.
But, which one should you buy?
Both the DJI Spark and the Yuneec Breeze are fantastic mini-quad copters that allow you to capture some pretty incredible aerial imagery.
In this DJI Spark VS Yuneec Breeze comparison, we?re going to be taking a look at the similarities and differences between the two drones, determining which drone is right for you.
| DJI Spark | ?Yuneec breeze |
| --- | --- |
| | |
| ?Flight Time: 16-minutes | ?Flight Time: 12-minutes |
| ?Maximum Control Range: 2km | ?Maximum Control Range: ?100m??? |
| ?Camera (Video): 1080p | ?Camera (Video): 4k |
| ?Camera (Photo): 12 Megapixels | ?Camera (Photo): 13 megapixels |
| ?Maximum Speed: 50kph | ?Maximum Speed: 18kph |
| ?Weight: 300g | ?Weight: 385g |
| ?Gimbal: 2-axis | ?Gimbal: No |
| ?Obstacle Avoidance: Yes | ?Obstacle Avoidance: No |
| Our Rating: | Our Rating: |
| | |
DJI Spark VS Yuneec Breeze: Camera
Let?s start by discussing the cameras on both these drones. It?s a big deal for many people, and so it is important to know what you?re getting with each.
The more established DJI Spark boasts of a 1/2.3″ CMOS, 12 megapixel, 1080p, 30fps camera.
That?s supported by the addition of a two-axis mechanical gimbal, which ensures silky smooth footage, especially when flown during windy conditions.
The other perhaps killer feature of the Spark is its ability to add DOE or the much-loved depth of field effect which blurs the background while keeping the subject in crisp focus.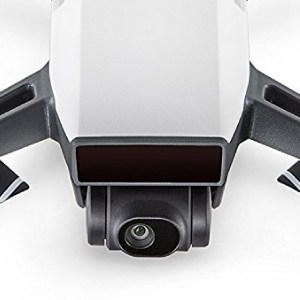 Make no mistake the Spark has an excellent camera for those who want to take some serious photos and shoot professional quality video.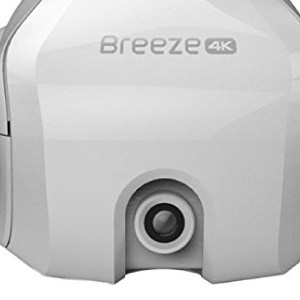 The Yuneec Breeze looks drastically better on paper with a 1/3.06 CMOS sensor capable of 4K recordingat 30 frames per second.
The resolution can also be dropped to 1080p at a smooth 60 fps.
The Breeze like the Spark also takes good stills but at a slightly higher 13 megapixel. Though unlike the Spark, the Breeze does not have a mechanical gimbal. The lack of a gimbal is perhaps made up for with its 117-degree FOV for wide shots.
Not having a gimbal means that you can only rotate the camera across a single axis instead of the usual 3 (basically you can't remotely tilt the camera). Plus, there is no mechanical stabilization, and the camera has to solely rely on software stabilization which is ?no where near as good.
The other issue is that the software stabilization does not kick in when shooting 4K video which renders the so-called 4K camera pointless. Getting the conditions right to shoot in 4K is near impossible, some????t????h????ing that I learned from numerous forum threads lined with disappointed Breeze owners.
If its pure specs you?re looking at the Yuneec Breeze?s camera looks like a winner, but in practical applications, it leaves a lot to be desired.
Software stabilization simply does not work as well as mechanical stabilization on drones. That?s just the way it is, and so you?ll be dealing with a lot of shaky videos with the Breeze as a result.
Though the Yuneec Breeze has a good enough camera for anyone who wants to take selfies or will settle for amateur looking video.
Key takeaways
?The Yuneec Breeze has a great ?but underutilized camera
?The Spark is great for professionals while the Breeze will work well for regular people
?The Breeze offers 4K recording in a tiny drone
check?The Spark offers much better stabilization and overall video quality thanks to a 2-axis mechanical gimbal
| Specifications | DJI Spark | ?Yuneec Breeze |
| --- | --- | --- |
| Gimbal | ?2-axis | ?No |
| ?Sensor | ?1/2.3″ CMOS | ?1/3.06 CMOS |
| ?Megapixels | ?12 | ?13 |
| ?FOV | ?81.9? | ?117? |
| ?ISO Range (Photo) | ?100-3200 | ?100 – 12800 |
| ?ISO Range (Video) | ?100-1600 | ?100 – 12800 |
| ?Shutter Speed | ?2-1/8000 s | ?1/30 – 1/8000s |
| ?Photo Format | ?JPEG | ?JPEG |
| ?Video Format | ?MP4 (MPEG-4 AVC/H.264) | ?MP4 |
Check out the DJI Spark in action:
Check out the ?Yuneec Breeze in action:
Battery & Flight Time
When it comes to flight time the DJI Spark is the clear winner with a 25% larger battery.
So, you?re obviously able to fly the Spark 25% longer than the Breeze which is a pretty significant difference.
The DJI Spark can be flown for a good 16 minutes versus the Breeze?s 12 minutes. However, this is all under perfect conditions.
The wind tends to have a significant impact on these small drones so you?d certainly not want to fly these through the eye of a storm!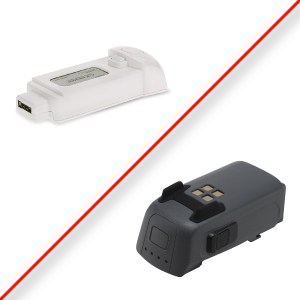 The Breeze?s rather short battery life is a bummer for anyone who enjoys flying and hates having to land, pull out a charger and wait for another hour.
Though the saving grace, if you may, for the Breeze, is that it comes packaged with two batteries giving you a solid 20 minutes of airtime.
The Spark will certainly save you time and frustration in this department. After all, we could all do with more persistent air time.
Though any and all serious drone pilots know that you should at least have an extra battery, fully charged on hand. I personally have two extra batters which for the Spark will translate to a good 48 (total 3) minutes of airtime.
DJI Spark VS Yuneec Breeze: Maximum Flight Range
In the distance department, the Spark clearly comes out on top.
Both the Spark and the Breeze come without a controller out of the box ?and require a smart phone or tablet to be flown.
When piloting with a smart device,?? the Spark ?has around 100m of range, which is virtually identical to the ?Breezes 99m range.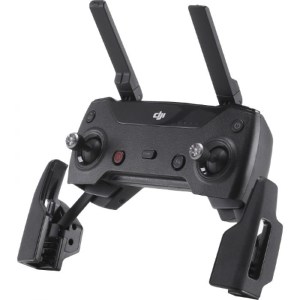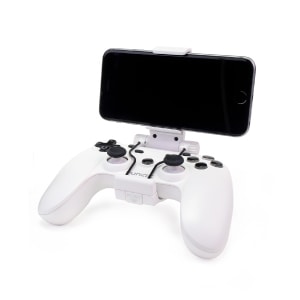 The external controller (purchased separately) ups the Spark?s range by 16x,putting it at around 1.2 miles.
The Breeze also ?has an external remote controller, ?which that has no effect on its range.
This is becuase the connection is still established from the smart device using a Wi-FI connection.
Yuneec Breeze VS DJI Spark: Size & Design
Now both the Spark and the Breeze are pretty compact. Though the differences despite being subtle become apparent when they are put side by side.
The DJI Spark is slightly more compact weighing just under 11 ounces. Plus, the short arms and a recessed camera works like a layer of armor over the tiny camera.
Once folded and in your bag or pocket, the Spark can withstand some serious blows without taking too much damage. Something that I found both impressive and useful.
The Breeze is bigger than the spark weighing just under 14 ounces with cleverly hinged propellers to reduce the storage footprint and offer collision protection.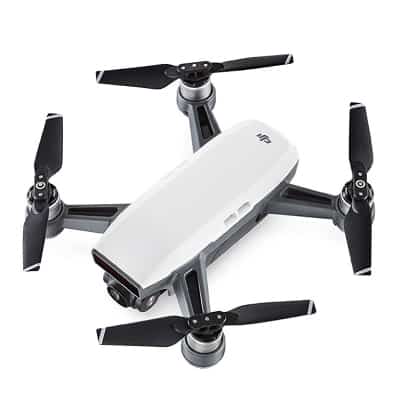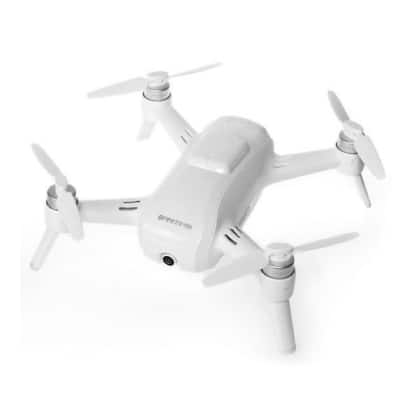 When folded the entire drone can be carried in a 10 x 10 x 2.5-inch case. That is small enough to fit just about anywhere. Though both designs are incredibly compact, I?d personally prefer the perfectly crafted svelte frame of the Spark over the Breeze.
Its just one of those things that enhances durability and who doesn?t want a durable drone?
The other important distinction between the two is in storage their options. The Spark comes with a nifty little SD card slot while the Breeze records directly onto the smart device.
The Spark allows you to record a great deal of video depending on the size of your SD card (maximum 64GB). Though with the Breeze, despite its 4K recording feature, not having an SD card slot severely limits its capabilities.
Maximum Speed
When it comes to drones speed matters especially if you want to film or follow a fast moving object like a car, motorcycle or perhaps a hummingbird! So, you obviously need a drone that?s able to keep up.
The other reason why you?ll want to buy a fast drone is because its fun! Strap on a set of FPV goggles, and you?ll soon understand what I?m talking about. Plus, it may help you win a few bets.
When it comes to speeds, both these drones are pretty darn fast, but the Spark is hands down the fastest of the two.
The Yuneec Breeze reaches a top speed of 11 mph, ?which is nearly 3x slower than the Spark?s 31 mph.
There are a number of reasons for this speed difference one reason that comes to mind is the Spark?s lighter frame. The other reason is perhaps the use of brushless motors on the Spark that spin faster propelling the drone at higher speeds.
Intelligent Flight Modes
Both the DJI Spark and the Breeze come with built-in intelligent flight modes that make piloting easier. It is especially meant to lower the barrier to entry for beginner drone pilots.
DJI Spark Intelligent Flight Modes
Dronie
Rocket Mode
Gestures
Circle
Helix
Return to Home
Follow Me
Yuneec Breeze Intelligent Flight Modes
Follow me
Return to Home
Selfie Mode
Orbit Mode
Journey Mode
The great thing about DJI drones, in general, is that they keep adding new flight modes. I certainly can?t say the same for Yuneec though I?m willing to be delightfully surprised!
??Related Reading: DJI Spark VS DJI Phantom 3 4K
Obstacle Avoidance
The DJI Spark is the clear winner in the obstacle avoidance department. A series of sensors located at the front and underneeth the drones body make flying the Spark ?a lot safer.
The Spark can detect and avoid solid objects with 95% accuracy at 6.7 mph from 1-16 feet away. So, beginners will not be crashing into walls, but you need to be careful around wires, fences, and branches.
While these sensors are not perfect and we wouldn?t advise that you rely solely on the when piloting a drone but not having them is a bummer. I simply cannot stress how bad of a decision it has been on Yuneec?s part for not adding some sort of obstacle avoidance mechanism.
Yuneec?s Breeze uses what?s called an optical flow vision positioning system which basically just means that it can hover both indoors and outdoors. But it's no where near as good when compared to Spark?s system.
The ultrasonic sensors used by the Optical Flow system uses pattern identification. Which in my opinion and many who own this drone can confuse the drone itself and lead to some very interesting situations.
DJI Spark VS Yuneec Breeze: Price
When it comes to pricing both the Breeze and Spark are pretty budget friendly, though the Breeze is much cheaper than the Spark.
However, with the Spark?s FlyMore bundle (which costs more) you get everything from an extra controller to replacement propellers. Unfortunately, a similar package is not available when considering the Breeze.
The Spark is a clear winner in just about every category, and so, in my opinion, it offers the best bang for your buck. Though if you are looking for a budget-friendly, tiny drone don?t overlook the Breeze.
Useful Accessories
?Below are some useful accesories that will make transporting and flying your drone a lot easier.
Useful DJI Spark Accessories
Useful ?Yuneec Breeze Accessories
Possible Alternative ? DJI Mavic Air
Now after reading our unbiased comparison of the DJI Spark Vs. Yuneec Breeze, you may be thinking of perhaps buying another drone altogether. Why not consider the Mavic Air? It has all the bells and whistles of the Spark but takes things one step further.
Perhaps the most significant feature of the Mavic Air is its 4K camera. It is amongst one of the very few drones of its size with a camera of this resolution built into it.
Its excellent optical capabilities make it a favorite amongst filmmakers who also want to travel light.
The Mavic Air also boasts of a good 21 minutes of airtime making your 4K recording as blissful as possible.
Plus, the steady 3-axis gimbal almost guarantees steady shots regardless of the conditions. If anything, panning is buttery smooth.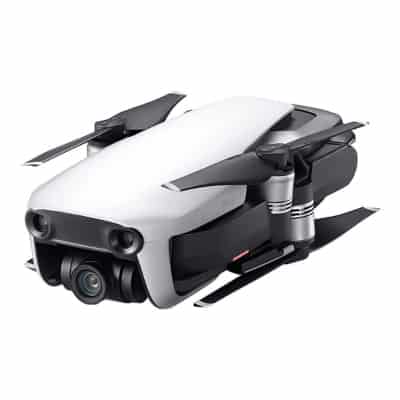 ?You get all of the features mentioned above with the added advantage of it being as easy to fly as the Spark. So, even beginners can take breathtaking shots out of the box.
Specs
Flight Time: 21-minutes
Maximum Range: 4km
Camera: 4k @ 30 fps, 1080p @ 120 fps
Camera (Photo): 12 megapixels
Features
Many intelligent flight modes
A Spark like foldable design
A pilot assistance system
32-megapixel sharp stills.
Video Comparison
Below is an excellent comparison video by Ivan of the DJI Spark and the Yuneec Breeze. If you are still undecided at this point, the video may be the tiebreaker for you.
Our final verdict should also help nudge you in the right direction.
DJI Spark VS Yuneec Breeze: The Verdict
So, which is better? Who wins the DJI Spark Vs. Yuneec Breeze ?throw down?
Honestly speaking the DJI Spark comes out on top with its excellent set of features, lightweight, durability, and ease of use. However, the Spark costs significantly more.
The Yuneec Breeze is the cheaper drone of the two but lacks some essential features. Yes, you are treated to a 4K camera, but without a 2 or 3 axis gimbal, it's pretty pointless. Also, subpar battery life isn?t too thrilling either.
Though there are a number of reasons for choosing a Yuneec Breeze, i.e. you have a smaller budget, need a drone for selfies and don?t care much more taking professional quality shots.
So, which is it then?
I think the Spark is a clear winner. I?d rather spend a few more bucks and get the Spark, but that?s just me.