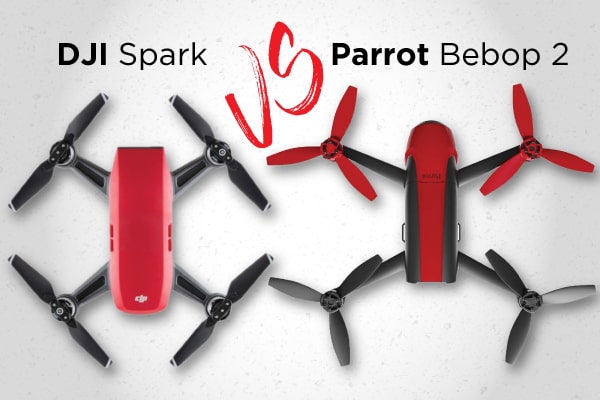 So, you?re looking to buy a new drone?
Awesome!
I?m guessing from the fact that you?re here that you?ve narrowed down your options to these two drones.
BUT.
Which one is better? Understandably, it?s pretty hard to tell at first glance. Both have their pros and cons.
Fortunately, we?ve compiled this DJI Spark VS Parrot Bebop 2 comparison, where we?re going to be taking a look at both the similarities and differences between these two drones.
So sit back, get reading and hopefully, by the end of this comparison, you?ll know exactly what drone you?re going for.
Let?s get to it.
DJI Spark VS Parrot Bebop 2: ?Overview
| DJI Spark | ?Parrot Bebop 2 |
| --- | --- |
| | |
| Flight Time: 16-minutes | ?Flight Time: 25-minutes |
| Maximum Control Range: 2km | ?Maximum Control Range: 2.1km |
| Camera (Video): 1080p | ?Camera (Video): 1080p |
| Camera (Photo): 12 Megapixels | ?Camera (Photo): 14 Megapixels |
| Maximum Speed: 50kph | ?Maximum Speed: 60kph |
| Weight: 300g | ?Weight: 500g |
| Gimbal: 2-axis | ?Gimbal: No |
| ?Obstacle Avoidance: Yes | ?Obstacle Avoidance: No |
| ?Vision Positioning: Yes | ?Vision Positioning: No |
| ?GPS/ GLONASS: Yes | ?GPS/ GLONASS: Yes |
| Our Rating: | Our Rating: |
| | |
DJI Spark VS Parrot Bebop 2: Camera
Ok, lets kick things off by taking a look at their cameras, which to be honest are pretty similar.
The DJI Spark sports a 1/2.3″ CMOS sensor, able to shoot 12.25MP pictures with an 81.9? field of view (FOV).  
In terms of video, the Spark does a pretty great job for such a cheap drone. It?s able to shoot 1080p videos, which thanks to its? 2-axis gimbal, look incredibly steady and fluid.
Moving onto the Parrot Bebop 2s camera.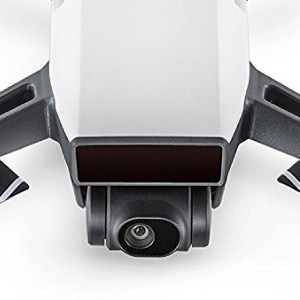 ?DJI Spark Camera & Gimbal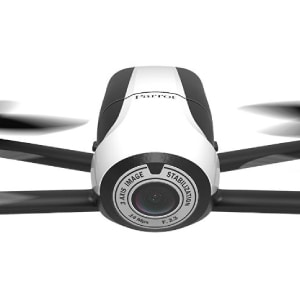 ?Parrot Bebop 2 Camera
Similarly to the Spark, the Parrot Bebop 2 is able to shoot full HD 1080p videos, however has a slight edge in terms of photography, with a 14MP camera.
A couple of things worth mentioning about the Parrot Bebop 2s camera.
Firstly, the Bebop 2 does not posses a gimbal stabiliser, instead it opts for digital stabilisation. To be honest, this is nowhere near as good as using a gimbal and is one of the biggest issues with the Parrot.
?Secondly, the Bebop 2 has a fish eye camera, which obviously creates a fish eye distortion in the footage.
?If you?ve ever filmed on a Go Pro, the footage looks very similar to that, which unfortunately isn?t the most cinematic looking.
Because of these two reasons, the DJI Spark is by far the better option for aerial photography and cinematography.
That being said, if shooting videos and photographs isn?t what you?re looking for in a drone, then it shouldn?t matter to much.
Key Takeaways
The Parrot Bebop 2 doesn?t have a gimbal
The Bebop 2s footage will have a fish eye distortion
| Specifications | DJI Spark | ?Parrot Bebop 2 |
| --- | --- | --- |
| Gimbal | 2-xis | NO |
| Sensor | 1/2.3″ CMOS | CMOS 14 Mpx |
| Megapixels | 12 | 14 |
| FOV | 81.9? | 180? |
| ISO Range (Photo) | 100-3200 | – |
| ISO Range (Video) | 100-1600 | – |
| Shutter Speed | 2-1/8000 s | – |
| Photo Resolution | 3968?2976 | 4096 x 3072 |
| ?Photo Format | ?JPEG | ?JPEG, RAW, DNG |
?check out the dJI Spark in action:
?Check out the parrot bebop 2 in action:
Parrot Bebop 2 VS DJI Spark: Battery & Flight Time
There?s a pretty significant gap in these two drones flight times.
With the DJI Spark featuring 11.4 V, 1480 mAh LiPo battery, it is able to sustain a flight time of 16-minutes.
?This may not seem like a lot, but when you take into account the tiny size of the Spark, it?s actually pretty impressive.
The Parrot Bebop 2 however, possesses a 2700 mAh battery that provides the drone with an awesome flight time of roughly 25-minutes.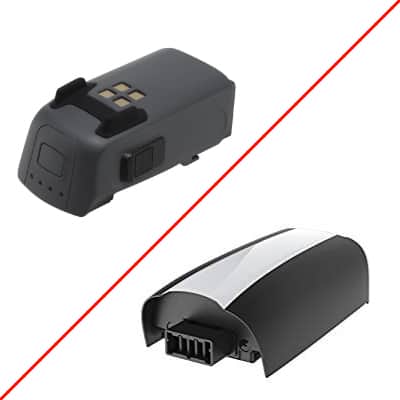 With any drone, I always recommend getting at least one spare battery. If you?ve never flown a drone before, trust me it sucks having to stop flying because your batteries died. Getting a spare battery or two will double or even treble your time in the air, which is well worth the extra investment.
DJI Spark VS Parrot Bebop 2: Maximum Flight Distance
Ok, lets take a look at their maximum control ranges.
For me, this is a fairly important element to look for in a drone, as this will determine the amount of freedom that you have in the air.
The DJI Spark, when being piloted via a transmitter, has a maximum range of 2km.
This is awesome and far, far longer than any drone of a similar size.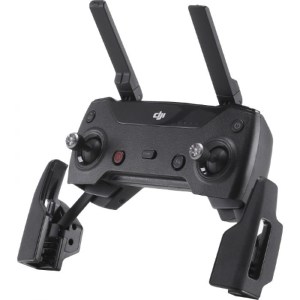 ?DJI Spark Transmitter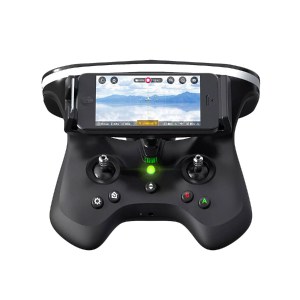 ?Parrot Bebop 2 Transmitter
The Parrot Bebop 2, when piloted with a transmitter, has a pretty similar maximum range of 2.1km.
To be honest, I?ve flown the Parrot Bebop 2 a fair number of times and I think 2.1km is pushing it.
It often has a connectivity issues when you break the 500m mark, so I would say its maximum range is realistically 500m.
I?m not the only one either, I?ve seen a fair few people mention this in forums, so it?s something to be aware of.
When piloted by a phone, the DJI Spark has a maximum range of 100m, where as the Bebop 2 has a maximum range of 300m.
Both drones can be bought with and without a transmitter, so it?s up to you which you would prefer. I personally like using a transmitter, as you can actually feel the sticks under your fingers, which allows you to be more precise with the controls.
DJI Spark VS Parrot Bebop 2: Size & Design
Both drones are a pretty similar size and weight, however there are a few differences between the two.
The DJI S??park for example, is fairly smaller than the Parrot, measuring 143?143?55 mm (L?W?H).
This makes the DJI Spark one of the most portable, high quality drones on the market.
The Spark is also 200g lighter than than the Parrot, which may not seem like a lot, but when you pair that with the larger build of the Parrot, it makes the Spark the far more portable option.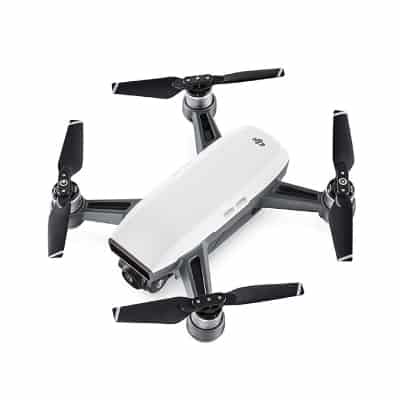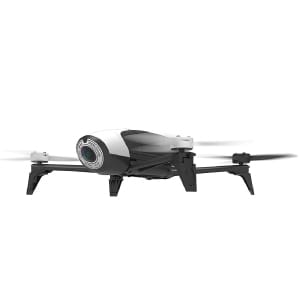 Another pretty big difference between the two is their storage methods. The DJI Spark features an external storage port that allows you to insert a micro SD card of your choice. This in turn allows you to have up to 64GB storage inside the DJI Spark.
Whereas the Parrot Bebop 2 is limited to its 8GB internal storage. I guess this is both a pro and a con in one. It means you won?t have to remember an SD card every time you want to do some filming; however, it does limit you to the amount you can film.
Maximum Speed
If making this decision wasn?t already hard enough, the two drones have a pretty similar maximum speed as well.
Having said that, the ParrotBebop 2 has a slight edge over the Spark, offering pilots a 60kph maximum speed, as opposed to the Sparks 50kph max speed.
The Parrot Bebop 2 is definitely designed for a more fun flying experience than the DJI Spark, which in turn is designed to be an affordable drone for capturing aerial imagery.
I?ve even heard of some people using their Parrot Bebop 2 for drone racing. Whilst I?m not sure if it?ll be able to keep up with the faster pace racing drones, it definitely goes to show that the Bebop 2 is a pretty fast little drone.
Intelligent Flight Modes
Intelligent flight modes are when a drone is able to autonomously pilot it self, without you having to input any controls. These are typically designed to allow you to capture some awesome aerial photographs and videos, without having to pilot the drone yourself.
DJI Spark Intelligent Flight Modes:
Advanced Gesture
QuickShot
ActiveTrack
TapFly
Tripod
Parrot Bebop 2 Intelligent Flight Modes:
Follow me
Tornado
Parabbola
Boomerang
The DJI Spark also has a ?gesture control mode?. This is where the drone is piloted using hand signals directed at the drones? camera. This is a pretty cool feature that definitely isn?t present on the Bebop 2.
Obstacle Avoidance & VPS
The Spark hands down beats the Parrot Bebop 2 in terms of safety and ease of use. Thanks to it?s VPS (vision positioning system), the Spark is able to hover precisely in place. If you look under the Spark, you?ll see two sensors.
These are able to detect the ground below the drone, which in turn allows it to hover in place more accurately.
Alongside its VPS, the DJI Spark also possesses forward facing obstacle avoidance sensors that allow the drone to detect an object between 0.2 ? 5metres away. This means that if you?re flying towards an object, the drone will stop itself before it collides with whatever is in front of it.
Both drones do however use GPS positioning, which allows the drone to hover in place without swaying from side to side. This is pretty effective on the Parrot, however is incomparable to the hovering accuracy of the Spark thanks to its additional VPS positioning.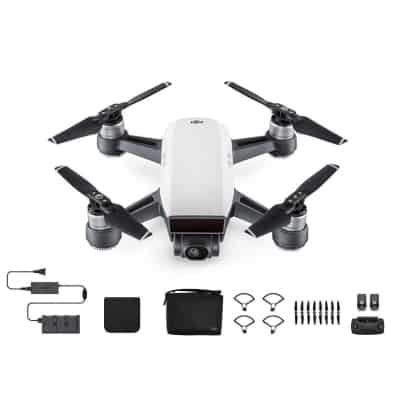 ?DJI Spark Fly More Bundle (Click to check price)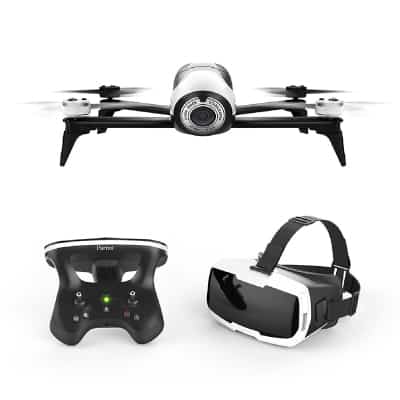 Parrot Bebop 2 FPV Bundle
Useful Accessories
As always, there are a lot of handy accessories for both drones. I've listed some handy accessories for these drones below. Of course, you don't NEED to get accessories, but they make carrying and flying your drone easier.
Useful DJI Spark Accessories
Case
Spare Battery (at least one)
Spare Propellers
ND Filters
SD Card
Parrot Bebop 2 Accessories:
Case
Backpack
Battery
Spare propellers
Possible Alternative ? DJI Mavic Air
So, neither of those drones take your fancy? What about the DJI Mavic Air?  It?s basically just a soup-ed up DJI Spark on steroids.
?The Mavic Air is DJI?s most portably 4k camera drone and is designed for filmmakers who are looking to travel light, yet still record high quality aerial imagery.
The drone sports an awesome 21-minute flight time, 4km maximum range and possesses a stunning 4k camera, attached via a 3-axis gimbal.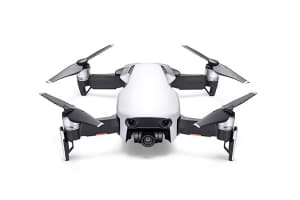 It?s also one of the easiest drone in the world to fly, so any skill level pilot can capture some incredibly aerial photographs and videos.
Specs
Flight Time: 21-minutes
Maximum Range: 4km
Camera: 4k @ 30 fps, 1080p @ 120 fps
Camera (Photo): 12 megapixles
Features
Plethora of intelligent flight modes
32 MP sphere panoramas
Foldable design (similar to that of the Spark)
3-directional obstacle avoidance sensors
Advanced pilot assistance system
Video Comparison
?If you're still struggling to decide, check out this video by Fernando Lecaros. Bear oin mind that the video came out a while ago, so the prices of the drones will have changed by now.
DJI Spark VS Parrot Bebop 2: The Verdict
Ok, so we?ve reached the end of our DJI Spark VS Parrot Bebop 2 comparison.
So, the big question. Which is better?
To be honest, both drones are designed to serve different purposes.
The DJI Spark is aimed at first time drone pilots looking to shoot aerial photographs and videos on a budget.
Where as the Parrot Bebop 2 is kind of a grown ups toy, designed to be flown around at a fast pace using an FPV headset.
For me personally, I have to give it to the Spark. It?s just a way more advanced drone in almost every sense. Despite the fact it has a shorter flight time, it?s just way easier to fly and feels more high tech than the Parrot Bebop.
Both are brilliant drones in their own right, but the Spark is the winner of our comparison.