DJI Spark VS DJI Phantom 3 4K: An In-depth Comparison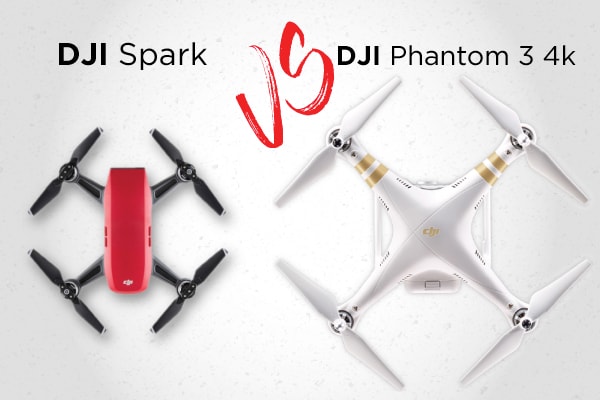 Deciding between the DJI Spark and the Phantom 3 4K can be a little tricky, especially if you're a first-time buyer. Fortunately, we've compiled this DJI Spark VS DJI Phantom 3 4K comparison, which should hopefully provide you with all the information you need.
Choosing between the DJI Spark or Phantom 3 4k requires going beyond just your budget especially if you're looking to get the best bang for your honest buck. Each has its own set of pros and cons, but you need to choose one that is most suited to who you are and what you're hoping to achieve.
Which feature rich drone is right for you? Read on as we explore both drones in detail. By the end of this article, you'll know exactly which one to buy!
---
​DJI Spark VS DJI Phantom 3 4k: Overview
| | |
| --- | --- |
| | |
| | |
| Maximum Control Range: 2km | Maximum Control Range: 1.2km |
| | |
| Camera (Photo): 12 Megapixels | Camera (Photo): ​12 Megapixels​​​ |
| | |
| | |
| | |
| | |
| | |
| | |
| | |
| | |
---
DJI Spark vs. Phantom 3 4k: Camera
We'll kick things off with a look at their cameras​, which to most pilots, is the most important part.
First up is the Phantom 3 4K which as its name implies, features a 4K camera. When it comes to camera capabilities, the Phantom 3 4K is a clear winner over the Spark.
The 4K at 30 frames per second video recording is ideal for both professionals and enthusiasts alike.
The Phantom 3 features of a rock steady 3-axis gimbal which ​results in the capturing of silky smooth footage. This also allows you to capture some long exposure ​shots that's just not possible with the Spark.
Dropping the resolution down from 4K to 1080p allows owners to shoot video at 60 fps. Thus, video from the Phantom looks and feels smoother and allows you to create some slow motion footage in post production.
Now we move to the DJI Spark's camera, which shoots video at 1080p at 30 fps. The Spark's 2.3" CMOS sensor also shoots excellent 12.25-megapixel pictures with a wide 81.9° FOV.
The Spark's 2-axis gimbal is unable to stabilize yaw, though that isn't a huge issue since it is already a pretty steady drone.
What that means is that the 2-axis gimbal is incredibly steady and tends to be quite jitter resistant in slightly windy conditions. Though don't expect a steady shot in a moderately windy environment.
Most people will find the DJI Spark's 1080p video at 30 fps more than adequate. Though it may lack smoothness when compared to the Phantom 3's 4K camera, as long as you're not looking to shoot professional video it shouldn't matter.
A mysterious problem with the Phantom 3 4K is that it only streams video in 480p, while all other models stream in 720p. Why DJI made this decision to lower the resolution is a mystery to me and many who are complaining about it on DJI's forums.
Key takeaways:
| | | |
| --- | --- | --- |
| | | |
| | | |
| | | |
| | | |
| | | |
| | | |
| | | |
| | | |
| | | |
| | | ​MP4, MOV (MPEG-4 AVC/H.264) |
Check Out The DJI Spark In Action:
Check Out The DJI ​Phantom 3 In Action:
---
Battery & Flight Time
The difference in battery and flight time between the two​ drones is fairly significant.
The DJI Spark comes equipped with an 11.4 V, 1480 mAh Lipo battery, ​which​​​ translates to around 16 minutes of flight time.
Now, this isn't a lot of flight time, but when you also take into account the size of this drone, it's a pretty impressive feat. Technically, you can't really add a large battery in a compactly sized drone like the Spark.
The Phantom 3 is capable of much longer flight time. That's thanks to its 15.2V, 4480 mAh battery, ​​the Phantom 3 can sustain a flight time of about 25-minutes.
If you want to fly either drone for longer, you can buy additional batteries to help extend your flight time. Personally, I'd recommend getting at least one backup battery because it sucks to having to stop flying due to a dead battery.
---
DJI Spark VS DJI Phantom 3 4k: Maximum Flight Distance
Whether you choose to buy either the DJI Spark or Phantom 3, the drones' maximum distance ​is an important consideration. It's perhaps one of the most important ​aspects of a drone due to the fact that ​the maximum range will determine the amount of freedom you have in the air.
The DJI Spark has a 100 meter range when used with a smartphone, though that can be extended to around 2km via a transmitter. ​If you take into account the Sparks tiny size, this is seriously impressive.
If you want to do some serious flying with the Spark, i'd highly recommend getting a transmitter, as with ​a transmitter, the Spark easily beats the Phantom 3 4K in terms of distance.
The Phantom 3 4k has a 1200 meter range out of the box which is clearly 10x that of the Spark when piloted without a transmitter.
​If you're in the UK​ you can use the DBS Mod and change ​your CE to FCC to get another 1K of range out of ​your transmitter. Though it does require some skill to pull off and may void your drone's warranty

---
Phantom 3 VS DJI Spark: Size & Design
When it comes to size, the DJI Spark is clearly the smallest of the two. Weighing a feathery 300g and measuring a diagonal distance of just 170mm​ without the propellers. This is by far the best drone on the market for that size and looks to be that way for some time.
In terms of size and portability, the Spark wins hands down. It's pretty ridiculous how small DJI managed to make the Spark and is by far the better choice for those looking to travel with their drone.
The Phantom 3 4K, on the other hand, weighs 1300g and measures 350mm diagonally without the propellers. When I put the two side by side, it's like David vs. Goliath.
When it comes to storage both the Phantom 3, 4K and Spark have room to add a micro SD Card. That means you can have up to 64GB of onboard storage on both drones.
However, if you decide to record 4K video on a micro SD card make sure that it's at least a Class 10 micro SD card. ​
---
DJI Spark VS DJI Phantom 3: Maximum Speed
Testing the max speed of both drones is the best part, maybe that's because I'm somewhat of a speed junkie!
In the speed department the Phantom 3 4K clocks in a top speed of 35.8mph​, ​descends at up to 6.7 mph and ​ascends at 11.2mph.
The DJI Spark tends to be a notch slower clocking in at 31mph under the best conditions. Though it ascends and descends at 6.7mph which is comparable to the Phantom 3.
If anything, you're not going to be buying either of these drones for their speed capabilities, ​otherwise you should probably consider a some form of racing drone (or the Mavic Air).
​WANT TO MAKE MONEY WITH YOUR DRONE?
​Download our ​FREE ​eBook for 10 actionable ways you can generate an income with your drone today!​​​
---
Intelligent Flight Modes
​Intelligent flight modes are a set of autonomous pilot features that don't require any user input. These are usually meant to allow the user to focus on capturing aerial videos and photographs without having to actively pilot the drone.
​Whether you chose the Phantom 3 or DJI Spark, you'll be greeted with a plethora of high quality intelligent flight modes that I'll list below.
DJI Spark Intelligent Flight Modes
Rocket Mode
Dronie
Gestures
Helix
Circle
DJI Phantom 3 4K Intelligent Flight Modes
Point of Interest
Waypoints
Home Lock
Follow Me
Course Lock
The DJI Spark also ​features a gesture control mode, which is not available on the Phantom 3, due to the fact that the Phantom 3 is a fair bit older than the Spark.
When using the Gesture control mode, you control the drone by making had signals at the camera. The drone is able to recognize these signals and react accordingly.
DJI are always adding new flight modes to their drones, so don't be surprised if you see some other ones there. The video below illustrates what exactly each mode does and how to use it.

---
DJI Spark vs. Phantom 3 4k: Obstacle Avoidance & VPS
The DJI Spark is the winner in this category thanks to its high-tech sensors capable of detecting objects up to 16 feet in front. This ensures that pilots can quickly evade obstructions like fences, power lines, and mesh.
Again, ​the reason that this isn't present on the DJI Phantom 3 is due to the fact that the Spark was released a lot more recentyl. ​As such, you should be extra careful when piloting the Phantom 3. ​
Fortunately, both the Phantom 3 and Spark have DJI's awesome VPS (Vision Positioning System). The system allows the drone to hover steadily in one place thanks to the two sensors located ​underneath the drones' body.
---
DJI Phantom 3 VS DJI Spark: Price & Extras
So how far are these drones going to set you back?
The prices are ever-changing as new models are released almost every few months. At the moment you can buy the DJI Spark for $300 less than the Phantom 3 4K, however that's thanks to a special promotion.
Generally, expect to find a $200 or so price difference between the two.
Whether you decide to buy the DJI Spark or DJI Phantom 3, there are a number of different buying options available that I'll list below.​

​DJI Spark
Drone on its own

Drone & transmitter

DJI Spark Fly More Bundle

​DJI Phantom 3 4k
Drone & Transmitter
Phantom 3 Flight Bundle

---
Useful Accessories
​Below I've listed some useful accessories for both drones. Of course, you don't have to get any accessories, but it sure makes owning a drone a bit easier,

Useful DJI Phantom 3 ​4k Accessories
Spare Battery (at least one)
---
Possible Alternative – DJI Mavic Air
If for some reason neither ​the DJI Spark or DJI Phantom 3 is what you want, then why not consider the DJI Mavic Air? The Mavic Air is​ DJI's latest edition to their Mavic line up and has taken the drone world by storm.
The Mavic Air ​features one of the most portable ​designs ever seen with a 4K camera. It's ​tailored for filmmakers who want to travel light ​but not sacrifice quality.
​Being able to record in 4K is a blissful experience thanks to 21 minutes of flight time and a maximum 4km flying range. Also, the 3-axis gimbal ensures steady shots even in windy conditions.
Specs
Flight Time: 21-minutes
Maximum Range: 4km
Camera: 4k @ 30 fps, 1080p @ 120 fps
Camera (Photo): 12 megapixels
Features
Various intelligent flight modes
A very convenient foldable design similar to the Spark
An advanced pilot assistance system
32-megapixel sphere panorama shots.
---
Other DJI Phantom 3 Models VS DJI SPark
Don't worry if you think we've forgotton about the other Phantom 3 models out there. Below we'll list the differences between each model so that you can decide whether to get the DJI Spark or DJI Phantom 3.

---
DJI Spark VS DJI Phantom 3 4k: The Verdict
Our Phantom 3 vs. DJI Spark article has finally come to an end but not without our final verdict.
First-time buyers or those who have never piloted a drone before ​may want to choose the DJI Spark. It's portable, easy to use and difficult to crash. Plus, it is easy on the pocket and quickly fits in your backpack.
If photography and cinematography is your thing, then the Phantom 3 is an excellent choice. ​Though, unfortunately you will be sacrificing portability in favor of a high quality camera and stabilization system.
Both DJI drones are some of the best available today. In terms of performance neither will disappoint. ​