DJI Mavic Air VS DJI Mavic Pro Platinum: Which Is Better?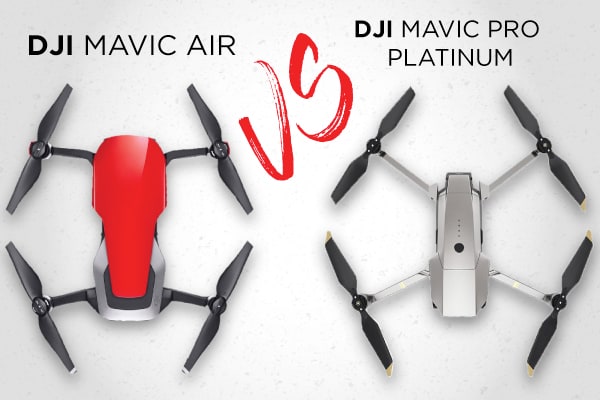 With DJI dominating the consumer drone industry in such a fierce fashion, it leaves us with some confusing and sometimes hard to make decisions.
As DJI continue to release more drones, the differences between each model is becoming smaller and smaller. Back in the day, the different between a Mavic and Phantom was glaringly obvious.
Now we're left to look into the tiny details, do a bit of pixel peeping and hope we've made the right decision.
Fortunately, we've complied this in-depth DJI Mavic Air VS DJI Mavic Pro comparison, where we're going to provide you with all the information you need to know.
What's The Difference Between The Mavic Pro & Mavic Pro Platinum?
Before we begin I just want to highlight the differences between the Mavic Pro and the Mavic Pro Platinum model (we've got a whole article on it here). The key differences are as follows:
Mavic Pro Platinum has a 3-minute longer flight time of 30-mintutes
Mavic Pro Platinum is significantly quitter
The two drones are slightly different in color
The DJI Mavic Pro is around $100 cheaper
---
DJI Mavic Air VS DJI Mavic Pro Comparison
| | |
| --- | --- |
| | |
| | |
| Maximum Control Range: 4km | Maximum Control Range: 4km |
| Camera (Video): 4k @ 30fps, 2.7k @ 60fps, 1080p @ 120fps | Camera (Video): 4k @ 30fps, 2.7k @ 30fps, 1080p @ 96fps |
| Camera (Photo): 12 megapixels | Camera (Photo): 12.35 megapixels |
| | |
| | |
| | |
| | |
| | |
| | |
---
DJI Mavic Pro Platinum VS DJI Mavic Air: Camera
First up, lets talk about the two drones' cameras, which are very, very similar.
The DJI Mavic Pro Platinum features a 1/2.3" CMOS sensor, capable of shooting 12.25MP photographs with a 78.8° field of view (FOV).
The Platinum is able to record 4k video at 30fps, 2.7k at 30fps,1080p at 96fps and features a max bitrate of 60Mbps.
Now taking a look at the DJI Mavic Air camera, we'll notice a few differences.

​The Mavic Air features the same size 1/2.3" CMOS sensor capable of shooting 12MP photographs, however with a slightly wider FOV of85°.
The Mavic Air can shoot in 4k at 30fps, 2.7k at 60 fps and 1080p at 120 fps.
The Mavic Air also has a much faster maximum bitrate of 100Mbps, which will allow the camera to record more details, resulting in a more vibrant, higher quality image.
What makes the DJI Mavic Air really stand out is its 8GB internal storage capabilities alongside it's SD card slot. I don't know about you, but I've forgotten my SD card a fair few amount of times, which quite frankly sucks.
You won't have that issue with the Mavic Air, which is a fantastic feature that DJI have added and I hope continue to implement in future drones.
One feature they both have in common is that their cameras are attached to the drones' body via a 3-axis gimbal. This keeps the cameras steady during flight, resulting in smooth and fluid looking footage.
Key takeaways:
The Mavic Air can shoot in higher frames per second at both 2.7k and 1080p
The Mavic Air has a wider field of view (FOV)
The Mavic air has a faster bitrate by 40Mbps
Both feature a motorised 3-axis gimbal
​What is bit rate? – A cameras bit rate is a key determining factor in the overall quality of the image. The higher the bitrate, the more detail the camera is able to record and therefore the better the image will look. Check out this article for more information
DJI Mavic Pro platinum Camera

100 - 1600 (auto)
100 - 3200 (manual)

100-1600 (auto)

100-1600 (manual)

Electronic Shutter: 8 - 1/8000s

Electronic Shutter: 8 - 1/8000s

4:3: 4056×3040
16:9: 4056×2280

MP4/MOV (H.264/MPEG-4 AVC)

MP4/MOV (H.264/MPEG-4 AVC)
Check Out The DJI Mavic Air In Action:
Check Out The DJI Mavic ​Pro Platinum In Action:
---
Battery & Flight Time
This is perhaps where the biggest difference lies between the two drones.
The DJI Mavic Pro Platinum has a maximum flight time of 30-minutes, where as the Mavic air only has a maximum flight time of 21-minutes.
That's a pretty big gap in flight time, which is kind of annoying for the Mavic Air, as it means you're really going to need an extra battery to get the most out of it.
That being said, I always like to get a spare battery or two no matter how long a drones' flight time. It just allows me to be more relaxed in the air knowing I'm not against the clock.
---
Mavic Air VS Mavic Pro Platinum: Maximum Flight Distance
This is another element where there's a pretty big gap between the two models.
Thanks to the Mavic Pro Platinum's OcuSync technology, the drone is able to cover a whopping 7km without losing signal.
This unfortunately, is significantly further than the Mavic Airs maximum range of 4km, which is due to the fact that the Air establishes a connection via Wi-Fi.
It's worth noting here that you're not supposed to pilot a drone out of line of site. With both these drones being so small in size, whether you're flying 4km or 7km away, you're not going to be able to see the drone. So it really shouldn't make much difference.
---
Build & Design
With both of these drones being in DJI's Mavic line, they both feature an incredibly portable design.
The Mavic Pro Platinum is the larger and heavier of the two by a fair amount, weighing 734g and measuring 19 X 8.3 X 8.3cm (LXWXH) when folded. When unfolded the Platinum measures 30.5 X 24.4 X 8.5cm (LXWXH).
This is by no means a large drone, in fact it's one of the highest quality compact drones on the market, it is however noticeable larger than the Mavic Air.
With the DJI Mavic Air weighing just 430g and measuring 12.8 X 8.3 X 4.9cm (LXWXH), it's clear that it's by far the more portable of the two drones.
This will be an important deciding factor for some, however both drone's are incredibly small and lightweight when compared to other high quality drones on the market, which is worth bearing in mind.
Another important design element is the Mavic Pro Platinum's far lower noise level, thanks to its quieter ESC's (electronic speed controllers) and newly designed propellers.
If you're wanting to fly as stealthily as possible and avoid those inevitable questions from a nosey passer by, the Mavic Pro Platinum is by far the best bet.
---
DJI Mavic Pro Platinum VS DJI Mavic Air: Flight Speed
There's a number of different reasons why a drones flight speed is an important aspect. Firstly, when shooting aerial video, we sometimes need to track objects such as cars or boats that are moving pretty fast. Without a drone that can keep up, you're going to have a hard time getting your shot.
Secondly, for a good old bit of fun. Piloting a drone soaring through the air can be a pretty exhilarating experience, especially if you've got FPV goggles.
Fortunately, both drones have pretty impressive top speeds and have a number of different speed modes for you to choose from.
The Mavic Pro Platinum can reach 65kph in sports mode, whilst the Mavic Air can reach 68.4kph in sport mode. This slight speed advantage is probably due to the Mavic Air's lightweight build, allowing its brushless motors to propel it faster than the heavier Mavic Pro.
| | | ​DJI Mavic Pro Platinum Top Speed |
| --- | --- | --- |
| | | |
| | | |
| | | |
---
​WANT TO MAKE MONEY WITH YOUR DRONE?
​Download our ​FREE ​eBook for 10 actionable ways you can generate an income with your drone today!​​​
Intelligent Flight Modes
As with all DJI drones, these to models come packed with intelligent flight modes that make piloting a drone a lot easier, especially if you're a beginner.
DJI Mavic Air Intelligent Flight Modes:
ActiveTrack
Tripod Mode
Gesture Mode
Cinematic Mode
Fixed-Wing Mode
TapFly
Terrian Follow
Point of Interest
Couse Lock
Waypoints
Home Lock
DJI Mavic ​Pro Platinum Intelligent Flight Modes:
ActiveTrack
QuickShot
SmartCapture
TapFly
Tripod Mode
Cinematic Mode
Point of Interest
DJI are always updating their drones and introducing new flight modes, so these lists will always be changing. Take a look at the patch notes of any updates to see if any new flight modes have been installed.
The video below will go over what some of these flight modes are and how to use them.
---
Obstacle Avoidance
Both drones are fitted with obstacle avoidance sensors, which are an extremely handy safety feature that tends to work pretty well. I've noticed that the drone is able to pick up solid objects pretty well, but things like branches and wire fences sometimes get missed by the sensors.
Try not to rely on these too heavily, as although they're designed to save your drone, they may not always work as well as you'd expect.
The DJI Mavic Pro has forward facing obstacle avoidance sensors that are capable of sensing an object between 0.7-15m way. Again, this is only forward facing, so if you're flying backwards towards and object, you're going to crash.
The Mavic Air however has both forward and downward facing obstacles avoidance sensors. With the forward facing sensors capable of detecting an object 0.5-12m away and the downward sensors able to detect an obstacle 0.5-10m away.
---
DJI Mavic Air VS DJI Mavic Pro Platinum: Price & Extras
So, which one costs the most?
It's fair to say that the DJI Mavic Pro Platinum costs significantly more than the Mavic Air by a few hundred bucks.
Now to me, this price difference seems pretty dramatic considering that the Mavic Air has the debatably better camera.
Then again, the extra 9-minute flight time and 7km range of the Mavic Pro Platinum could have something to do with this significant price difference.
As DJI tend to do, both of these drones are available in a number of different bundles that come alongside some pretty handy accessories.
You can either buy the drones on their own, or in the 'Fly More Bundle'. I personally recommend getting the fly more bundle as it comes with some spare batteries that I guarantee you'll end up buying down the line anyway.
DJI Mavic Air Fly More Combo:
DJI Mavic ​Pro Platinum Fly More Combo:
---
Useful Accessories
---
Possible Alternative - DJI Spark
Ok, so we've taken a look at the differences between the DJI Mavic Air and the DJI Mavic Pro Platinum. ​
What about the DJI Spark?

If you're unaware, the DJI Spark is the smallest drone in the DJI range and is significantly smaller than even the DJI Mavic Air.
The Spark is also by far the cheapest DJI drone, however possesses a 1080p camera, 16-minute flight time and a maximum range of 2km.
If either the Mavic Air or Mavic Pro Platinum are slightly out of your budget, then the DJI Spark is a fantastic alternative.
Specs
Flight Time: 16 minutes
Max Range: 2km
Camera: 1080p (video)
Features:
Quick launch
Gesture control
Follow me
Other autonomous flight modes
2-axis gimbal stabilization
Obstacle avoidance
---
Video Comparison
This great video by The Everyday Dad sums up perfectly the differences between the two drones and is definitely worth a watch if you're still not convinced.
---
DJI Mavic Air VS DJI Mavic Pro Platinum: The Verdict
So, which drone's better? The DJI Mavic Air or the DJI Mavic Pro Platinum?
To be honest, there is no definitive answer.
It's completely down to personal preference.
You've got the ultra-portable aspect of the Mavic Air, paired with it's slightly better camera.
Compared to the Mavic Pro Platinum, with it's insanely long flight time and maximum range.
If you've got the budget, the Platinum is a fantastic choice, however if you're looking to spend slightly less money, there's nothing wrong with the Mavic Air either.
So, what will it be?
Thanks for taking the time to read out DJI Mavic Air vs DJI Mavic Pro Platinum comparison, if you've got any questions please drop them in the comment section below.