News
Trending
DJI Release Mavic 2 Pro & Mavic 2 Zoom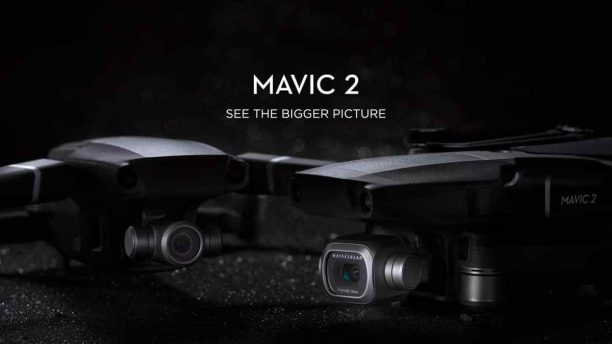 It's always exciting when a new high quality drone is released, even more so when it comes from the likes of DJI.
On the 23rd of August, DJI released two new additions to their highly rated and well received Mavic Pro line. These come in the form of the Mavic 2 Pro and the Mavic 2 Zoom.
Before we begin taking a look at each of these two drones and comparing them to the current Mavic Pro Platinum and the Mavic Air, it's worth mentioning that these are essentially the same drone, just with different cameras, which in turn causes a slight weight difference.
There has been speculation as to whether or not these cameras will be interchangeable further down the line, but as it stands you are stuck with the camera you choose.
Maybe "stuck" isn't the right word as both of these two cameras are incredible in their own right and are potentially some of the highest quality drone cameras on the market.
Also, this isn't going to be an in-depth review as we haven't yet had a chance to get our hands on one of these bad boys. We're just going to be taking a look at the specs, comparing them to similar drones and deciding whether or not we're happy with DJI's latest release.
If you haven't already, check out DJI's announcement video for the Mavic 2 below.
DJI Mavic 2 Specs
Flight Time: 31-minutes
Control Range: 8km
Max Speed: 72kph
Obstacle Avoidance: Omnidirectional
Mavic 2 Zoom Weight: 905g?
Mavic 2 Pro Weight: 907 g
Size Folded: 214?91?84 mm (length?width?height)
Size Unfolded: 322?242?84 mm (length?width?height)
It seems as though DJI have taken their old Mavic Pro Platinum and improved on it in nearly every single way. Unfortunately, the only downside in doing so has made the Mavic 2 slightly larger and heavier than older models.
We've seen a 1-minute improvement in flight time from the Mavic Pro Platinum and a massive 4-minute improvement from the original Mavic Pro. The Mavic 2 also has a whopping 10-minute longer flight time than the Mavic Air, which in itself is longer than some other drones' flight time.
Thanks to DJI's latest OcuSync 2.0, the Mavic 2 is able to sustain 1080p video connection up to 8km away from the transmitter. It almost seems an unnecessary improvement considering the Mavic Pro Platinum's 7km range and the fact that you shouldn't fly a drone out of line of site. Even so, it's nice to see DJI pushing the boundaries and continuing to develop drone technology even further.
So, I'm sure you're thinking "what the heck does omnidirectional obstacle avoidance mean"? Well, for the first time ever, DJI have implemented obstacle avoidance sensors facing every direction on the drone.
Auxiliary Lights are featured on the bottom of the drone in order to help the down facing sensors in low light conditions. This is again a first for DJI and goes to show they do listen to their customers who have previously complained about poor performance of VPS in low light settings.
Specs

Mavic 2 Pro

Mavic 2 Zoom

Mavic Air

Mavic Pro Platinum

Mavic Pro

Flight Time

31-minutes

31-minutes

21-minutes

30-minutes

27-minutes

Maximum Range

8km

8km

4km

7km

7km

Maximum Speed

72kph

72kph

68.4kph

65kph

65kph

Size Folded (MM)

214?91?84

214?91?84

168?83?49

198?83?83

198?83?83

Size Unfolded

(MM)

322?242?8

322?242?84

168?184?64

305?244?85

305?244?85

Weight

907g

905g

430g

734g

734g

Obstacle Avoidence

Omnidirectional
Omnidirectional

3 Directional

Forward & Downward

Forward & Downward

Price
DJI Mavic 2 Pro Camera
Now that we've had a look at the drones' specifications, lets take a look at what sets these two news models apart. We're going to start off by taking a look at the more expensive model, the Mavic Pro 2.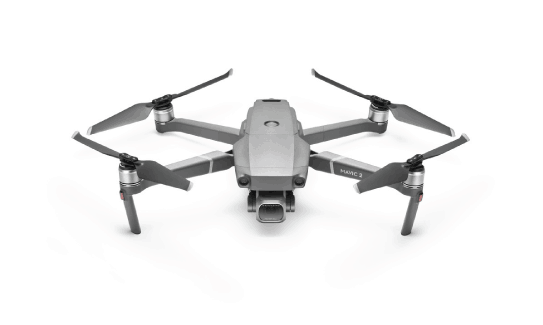 Last year DJI announced that it had invested in a majority share of the camera manufacturer Hasselblad. Until now, DJI hasn't implemented any Hasselblad products into their drones. That being said, they've decided now is the time and have fitted the Mavic 2 Pro with an incredible 1″ CMOS Sensor that can capture 20-megapixel photographs, shoot in 4k (30fps) and shoot in 10-bit Dlog-M. 
To understand how significant this sensor upgrade is, see the image below, courtesy of DJI. It's clear how much more information the sensor is able to pick up and record compared to the now dated sensor of the original Mavic Pro.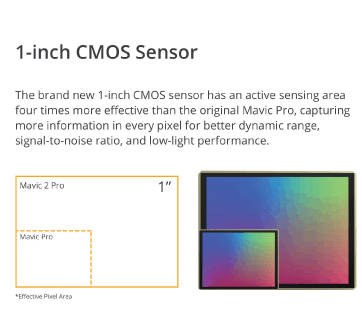 DJI.com
It's also worth mentioning here that the Mavic 2 Pro is able to shoot in the same 100mbps speed as the Mavic Air, resulting in vibrant and crisp footage. When you combine this increased speed with the larger sensor, it's clear just how higher quality the Hasselblad camera is compared to previous models.
For me, it's just a shame there's no option for shooting in 4k at 60 fps, but I assume DJI have purposely done this to create a distinction between this camera, and the camera featured on their Phantom 4 Pro.
DJI have redeemed themselves for this by implementing an adjustable aperture into the Mavic Pro drone. This allows you to adjust the F-stop to either decrease or increase the brightness of your shot. This in turn improves the quality of footage when filming at night, especially when compared to drones with a fixed aperture, such as the Mavic Pro Platinum and Mavic Air.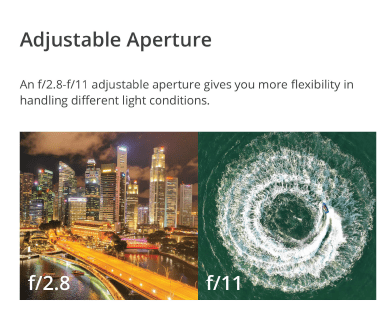 DJI.com
From this clear and frankly awesome upgrade, the Mavic Pro range is definitely a possibility for professionals looking to shoot the highest quality work.
Before, it seemed that professionals leaned more towards the Phantom 4 range due to it's superior camera. Now that DJI have created a portable drone with one of the highest quality camera available, the Mavic range is no longer for the travelling filmmaker.
It does make you wonder what's in store for their Phantom range, as the gap between the Mavic's camera and the Phantom's camera is getting smaller and smaller.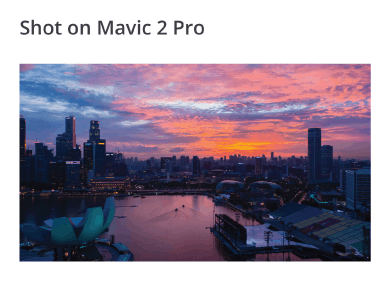 DJI.com
I would highly recommend checking out this unboxing video made my Philip Bloom if you want to see a hands on video about the new Mavic 2 Pro.
>>> See Mavic 2 Pro Price <<<
DJI Mavic 2 Zoom Camera
Now moving onto the second, cheaper addition to the Mavic range – the Mavic 2 Zoom.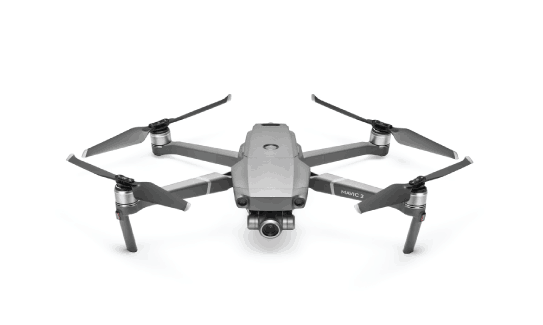 >>> See Mavic 2 Zoom Price <<<
This is something I've wanted on a consumer drone for a while now – a zoom lens. The Mavic Pro 2 features a 2X optical zoom lens, with a 1/2.3″ CMOS Sensor capable of taking 12-megapixel photographs and shooting in 4k (30fps).
The Mavic 2 Zoom features a very interesting intelligent flight mode named "dolly zoom", which essentially creates the "vertigo" effect often associated with horror movies (it was made famous by a horror movie named Vertigo, hence the name).
Normally this requires a bit of work in post production, however now thanks to its 4k camera and zoom capabilities, you're able to capture this in camera without the need of editing. Pair this with the fact that these are aerial shots and you've got yourself some incredibly professional looking footage.
The zoom lens featured on the Mavic 2 Zoom is essentially the same as a 24-44mm lens. This allows you to create some extremely dynamic perspectives and frame your shots more to your taste, without having to get nearer of further way from the subject.
When you're shooting in the widest angle possible (24mm), the Mavic 2 Zoom's camera can take 9 separate photographs and patch them together to create a stunning 48-megapixel photograph with a serious amount of detail.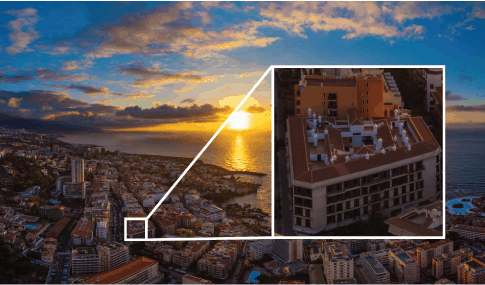 The Mavic 2 Drone Features
So, what can these two drones do that the other Mavic models can't?
First of all, the Mavic 2 drone is able to shoot aerial hyper lapses either with you piloting the drone, or with a number of autonomous piloting options such as circle, way points and course lock.
If you're unsure, a hyper lapse is essentially a moving time lapse, where there is slight movement in between each frame of the shot.
You are also able to save your drones flight path so that you are able to recreate the same motion and movement in a different location. This will allow you to cut with visually similar movement, which again will result in a high quality looking film.
Both drones are able to shoot HDR photographs, which is done by taking a number of different pictures at different light settings and blending them into one photograph. This allows for all areas of the picture to be perfectly exposed and looks incredibly high quality.
DJI have also improved their Active Track software, allowing the Mavic 2 drones to more accurately and smoothly track the subject of the shot. The drone is able to follow at higher speeds, implement it's use of obstacle avoidance, and predict the object's trajectory if it goes out of shot.
This is by far the most advanced version of Active Track released to date and I'm incredibly excited to try it out. Most drone pilots are often stuck behind the transmitter and rarely feature in their own films. Hopefully with the improved tracking software, us pilots can get some awesome tracking shots of ourselves.
Final Thoughts
It certainly is an exciting time to be an aerial filmmaker or photographer. I'm already trying to get my hands on the new drones, so hopefully with have a full in-depth review for you shortly.
Happy Flying
?Click here to see Mavic 2 Pro Price