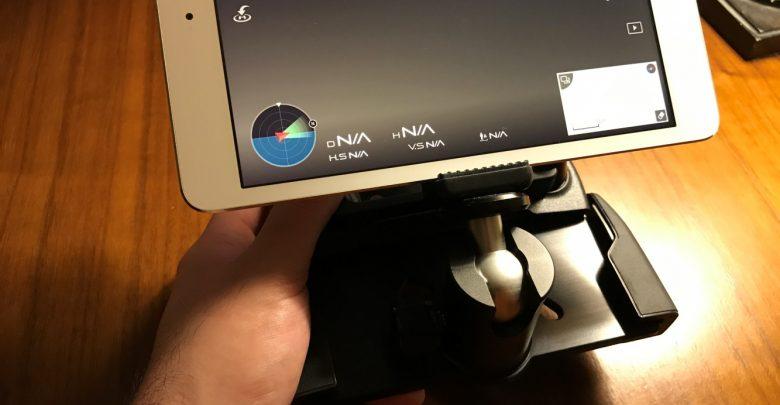 iPad mounts for the DJI Mavic Pro make your life easier by giving you a simple way to upgrade your setup. Mounting an iPad on the remote controller using a mount greatly improves your shooting experience as you can view what is being recorded on a larger screen.
It's always a better option to go with a Mavic Pro mount that comes with a lanyard. It will significantly reduce the chance of a cracked tablet or smartphone due to physical damage.
A mount comes in handy especially in challenging flying conditions such as strong winds or bad weather. In fact, it's almost impossible to locate a far away drone during night time. A mounted tablet or smartphone will give you an idea of the drone's proximity which improves the chances that you can land your drone safely.
Best Mavic Pro iPad Mount

Skyreat Mavic Mini Air Pro
The Skyreat Mavic Mini Air Pro is an iPad mount holder which supports multiple DJI Mavic models. It comes with a remote controller for added convenience. You can rotate your phone or tablet up to 45 degrees up and down or 360 degrees horizontally using this holder. It features a 2 step snap on/off process which makes installation and removal a breeze.
This mount supports phones and tablets between 4-11 inches for enhanced compatibility. You also get a dedicated sun shade and a carry pouch with your purchase.

Hanatora Aluminum-Alloy 4.7-12.9 Inch Tablet Holder
The Hanatora tablet holder is crafted out of high-quality aluminum alloy to provide industry leading durability. The non-slip bottom along with a hollow aluminum build makes this holder lightweight yet sturdy. You can install phones and tablet between 4.7 to 12.9 inches comfortably using the provided clamp. The clamp features two methods of attachment which allows a wider compatibility.
The holder features an arm with 3 joints, allowing you to adjust the angle on-the-go. This holder comes with a neck lanyard to prevent accidental drops. The manufacturer also offers one year warranty along with money back guarantee in case you aren't satisfied.

RCGEEK Compatible with DJI Mavic
The RCGEEK mount features a dedicated remote controller for the DJI Mavic Mini and the Mavic 2 Pro. It features a foldable design which facilitates compact storage. RCGEEK has updated the aluminum shaft with flexible screws, which allows enhanced compatibility for wider phones and tablets.
You can use the 2-step adjustable shaft to change viewing angles as per your needs. This holder comes bundled with a lanyard in the box to ensure that your iPad stays safe.

Powerextra 4-12 Inch Adjustable Extender Tablet Holder
The Powerextra table holder mount supports tablet and smartphones between 4-12 inches in size. It can be easily attached to your drone's remote controller, providing a secure grip for your iPad. It comes bundled with a lanyard that can be attached to a belt or worn around the neck.
This mount also supports sun shade installation which helps reduce glare on your iPad's screen. Constructed from nylon, this holder provides high-strength material to bear the weight of your tablet securely. The quick-release bracket allows easy installation and removal using thumbscrews.

RCGEEK Compatible with DJI Mavic Mini 2 / Mavic Air 2 / Mavic 2 Pro
The RCGEEK Tablet Mount Extender is the only mounting solution you'll ever need. Crafted out of aluminum and high-quality ABS material offers lasting durability to this product. Adjustable mounts enable you to calibrate the perfect angle for your iPad. It features a foldable and compact design which makes transportation easy.
This mount comes with a free neck lanyard which prevents accidental damage to your iPad. The built-in remote controller offers enhanced functionality for your drone for simply maneuverability. This mount is compatible with a wide variety of DJI Mavic drones. You can mount up to a 7 inch tablet on this remote controller, giving you a live feed of your video capture.

Drone Pit Stop Tablet Holder?
The Drone Pit Stop Tablet Holder is designed to offer a sleek yet functional design. It allows you to mount smartphones and tablets with ease. Built out of resilient plastic allows this holder to be lightweight and durable. This holder is versatile as it allows you to adjust the height of the mount and a complete 360 degrees rotation.
The easy mount facilitates easy attachment and removal for your tablet or smartphone. The screen is presented at the top so that the remote controller remains in full view for added convenience. This mount is designed to further enhance the overall looks of your drone setup.

Boanju Tablet Mount Holder Foldable
This Tablet Mount Holder can attach to the remote control of your DJI Mavic drone. This mount can be used to attach smartphones and tablets ranging from 4 to 12 inches, which ensures a wide compatibility. The ABS plastic build along with an aluminum alloy bottom plate makes this mount highly durable.
You can adjust the height of the mount and rotate up to 360 degrees or 45 degrees in upwards and down direction. This product comes with a 1 year warranty which includes both returns and refunds, giving you an added peace of mind.

Crystalsky Monitor/Phone/Tablet Holder
The Crystalsky Bracket extender mount supports the DJI Mavic Spark, Air, Platinum and Pro. It features a CNC machined aluminum alloy base holder which will stand the test of time. You can mount a screen ranging from 3.5 to 5.5 inches diagonally.
This mount takes a different take on the design as it connects to the handles of your remote controller. This shifts the center of gravity or offers a better balance and added reliability.
The alloy body offers a minimalistic design which makes it convenient to carry in your backpack. It comes with a complimentary lanyard which ensures that your tablet and remote are protected.

O'woda Foldable 7-10? Tablet Holder?
The O'woda foldable tablet holder features a CNC aluminum bracket mount along with a plastic clip. This helps provide a balance between the overall weight and ease-of-use. This mount has been sandblasted along with laser engraving to offer a luxury finish.
You can use the built-in ball head to adjust the angle of your iPad up to 350 degrees. You don't need to spend additional money on a neck strap as this mount comes bundled with a lanyard. This mount comes with a quick-release feature and weighs just 91 grams.

Fstop Labs Remote Controller Device Holder
The Fstop Labs Remote Controller Device holder is a sturdy mount which enables you to attach your iPad or smartphone to the drone's remote controller. It supports devices between 4-10 inches and comes with an extended mount.
You also get neck strap accessories bundled with this product. Made from ABS plastic, this holder offers long-term durability while being incredibly lightweight. Enjoy 3 degrees of freedom as you can adjust the elevation and angle of your tablet to enhance visibility.
The modular parts ensure that you can simply swap out individual pieces in case of breakage, saving you money in the long run.

Best Mavic Pro iPad Mount Buying Guide
Why use an iPad mount?
Flying a drone comes with a steep learning curve. It significantly harder than driving a vehicle as you have to maintain the drone's position in all three dimensions. Additionally, since you only get to see the drone from afar, it might be harder to control.
A mount addresses these concerns as it provides an easy way to view the drone's point of view on your preferred tablet or smartphone. This way, you can quickly master the skill of flying a drone using visual feedback. What's more, in case you can't locate your drone, you can use the live feed to estimate it's surroundings which can help recover your drone.
Mounting a tablet vs. a smartphone.
While you can't go wrong with either choices. Mounting a tablet such as iPad offers you a more immersive and accurate experience as compared to a smartphone. Plus you won't need to unmount your device in case you need to attend a phone call. This ensures that you can track your drone's position at all times.

Frequently Asked Questions
Are expensive mounts worth the money?
You get what you pay for, so consider the investment that you have put in your tablet and drone. A higher quality product is less likely to break which will extend the working life of your setup.?
Lanyards are uncomfortable, is it necessary to use one?
Absolutely, you get used to it over time and the advantages that it offers outweigh the minor wearing inconvenience.?
Which material is better ABS plastic or aluminum?
While ABS plastic is cheaper and offers a lightweight solution, it's always advised to go for a metal-based mount. This is because it will last longer and absorb a higher amount of use without breakage.?
Last update on 2023-12-03 / Affiliate links / Images from Amazon Product Advertising API