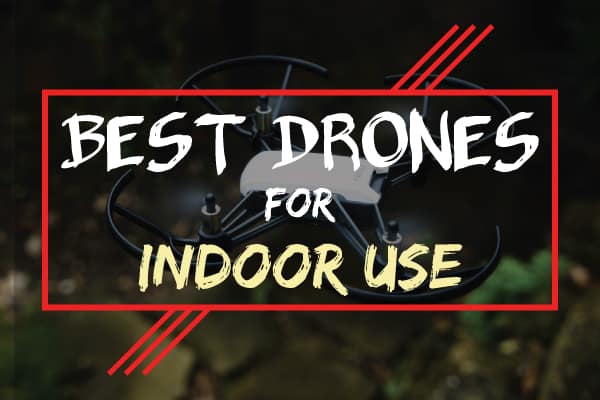 In this article, we're going to be taking a look at some of the best indoor drones across a variety of price ranges, enjoy.
Flying a drone is a fun activity that a lot of people practice as a hobby nowadays. So, it?s really not at all surprising why more and more drone innovations are being introduced.
Imagine flying a drone in the sky with a camera attached to it, giving you stunning airborne videos and photographs. Knowing you?re able to explore places and take amazing, high-quality photos is already an achievement in itself.
Unfortunately, flying your drone outside means you have to follow certain guidelines. One concern of most drone owners is the fact that this hobby is weather dependent.
Strong wind, storm, and heavy rain are just a few natural occurrences drone owners and flyers must keep in mind. With just a sudden gust of wind, it?s possible to lose control of your drone, leading it to crash to the ground. I think it?s safe to say that no one wants that to happen.
Good thing there?s a specific type of drone that you can fly indoors! Who says flying a drone is just an outdoor hobby? Truth is, it can be done indoors.
With an indoor drone, you can now continue doing your hobby, as well as continue practicing your flying skills without having to worry about the weather.
In this article, we?ll provide you with a list of some of the best drones for indoor use, specifically the best indoor quad copters and brands that you can find on the market.
Best Indoor Drones: Our Top Picks
??DJI Tello
– Our Top Rated Indoor Drone -Â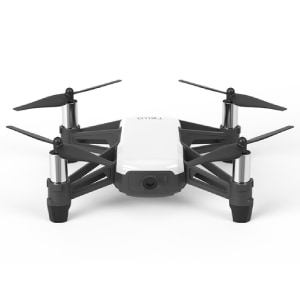 Our Rating:
Our overall best rated indoor drone
?Blade Inductrix
– ?Best Indoor Racing Drone -Â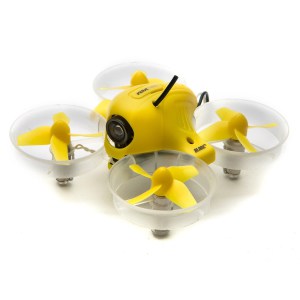 Our Rating:
Our best rated indoor racing drone
What to Look For In An Indoor Drone?
Before we proceed to our ?list, let?s first discuss what you need to look for in an indoor drone. So, if you want to get the best drone for indoor use, here are the attributes and features to look for.
Propeller Guards
First, you need to get one that has propeller guards. The reason you absolutely need propeller guards is because you?re bound to hit something if you?re going to fly your drone indoors. So, in order to protect the propellers from getting damaged, you?ll need some guards.
There are a few indoor drone brands that already include propeller guards in the package but a lot don?t, so you may need to buy a set separately. Most of them are made of durable plastic material and weigh around 4.23 ounces.
Flight Time
One of the most important factors that you have to consider when buying an indoor drone is the flight time. Flight time refers to how long it can stay in the air without losing its juice. Now, flight time is directly related to battery life.
Most indoor drones have an average battery life of around 10 minutes before you need to recharge the batteries again. The longest lasting drones last for about 30 minutes; however, they?re not really suited for indoor use.
A great way to double, or even treble your flight time is to buy a spare battery or two.
Price
Next, you have to consider the price range. Most often than not, the lower the price of the drone, the worse the quality will be. Believe it or not, there are indoor drones that are priced at $20, but these only last for around 5 minutes.
If you want a drone that has a decent flight time and a high quality build, then you might need to look at drones within the $200 to $300 price range.
Usually, the best best indoor drones are more expensive, but provide you with an overall better experience.
Skill Level
Lastly, you have to consider your skill level when choosing your drone. Indoor drones are categorized into three levels of difficulty, namely beginner drones, intermediate drones, and the advanced drones.
Beginner drones are good for children between 6 to 10 years old and are also good for those who don?t have any experience in flying. Also, beginner skill level drones have slow linear controls, making them easy to fly.
Intermediate drones are the ones that have more controls that allow you to curve your drone more. These drones can actually move like helicopters and can bank well if you know how to do so. These are the ones that usually have cameras that can record videos.
Lastly, there are the advanced level drones that have the most powerful motors. These are a bit easier to handle as compared to intermediate drones because of the size. These have very strong brushless motors that can go through even the windiest conditions.
Even if they are a bit easier to control because of size, the controls from the remote are a bit harder to get used to. It might take a bit more practice before you get the hang of using it.
?Reviews Of The 10 Best Drones For Indoor Use
?1. DJI Tello – Our Editors Choice
Specifications:
Flight Time: 13-minutes
Camera: 720p
Range: 100m
Features:
Multiple flight modes
Auto take off and landing
8D flips
Electronic image stabilization
Vision Positioning system (allows the drone to hover in place)
Low battery protection (warns you battery is low)
Programmable with scratch and SDK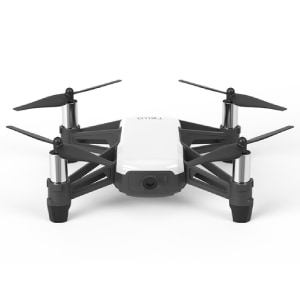 Our Rating:
?About
The Ryze Tello is one of the most flexible micro-quadcopters that you can buy. It is great for any skill level and most importantly, is versatile for both indoor and outdoor flying. It also has a long battery life considering the drones? tiny size, providing you with an awesome 13-minutes of flight time.
It also has a powerful image processor, allowing you to take high-quality videos and photos. This makes video transmission a breeze bringing you clear images from the top. With its 100m image transmission distance and 720p definition, the view will be absolutely stunning. Add a VR headset to that, and you?ll have yourself an incredible flying experience.
With Ryze Tech?s recent partnership DJI, you can guarantee that the Tello drone from Ryze Tech is equipped with flight stabilization technology, which is helpful for both beginner and experienced pilots. Because of its flight stabilization technology, you can actually perform a lot of flying stunts in midair without worrying about your drone toppling over.
Other than that, you?ll also have an easy time controlling your Ryze tech drone. The drone itself is piloted using the Tello app on your smartphone or tablet that works incredibly well.
Indeed, this drone from Ryze allows you to fly, learn, and create more applications using the Tello SDK. Overall, with its innovative and fun features, this drone is one of the best indoor mini drones for both adults and kids alike.
For anymore information of the Tello drone, check out our full in-depth review here.
?Pros:
check?Decent flight time
check?Comes with everything you need for an FPV flying experience
check?Good maximum range
check?Altitude hold
?Cons:
?2. Parrot Mambo FPV – Best Indoor FPV Drone
Specifications:
Flight Time: 10-minutes
Camera: 720p
Range: 100m
Features:
Comes with FPV headset
Racing & drift flying modes
Can be piloted via a smartphone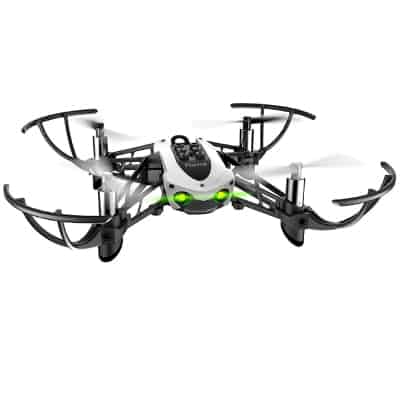 About
From the well-known drone manufacturer Parrot, the Parrot Mambo FPV is definitely one of the best indoor quad copters for FPV flyers. The great thing about the Parrot Mambo FPV is that it can be used by both pro quad copter pilots and hobbyists.
There are three modes of flying that you can choose from sport mode, film mode, and expert mode. It also boasts a 10-minute flight time, and just like the Ryze Tello, it can capture high-definition 720p images in 100m range.
The Parrot Mambo FPV is also known for having two really cool accessories unique to its model. It has the CANNON accessory which can shoot out small balls to up to 6 feet. The CANNON accessory makes you feel like you?re piloting a fighter plane and hitting targets from far away.
Another cool accessory of the Parrot Mambo FPV is the Grabber, which acts like a cargo claw. It can carry cargo weighing up to 4 grams while in the air. There is also a special button that you can use to release it. These two accessories make the Parrot Mambo one of the most unique drones around.
You can also connect your drone to your tablet or Chromebook and learn how to code. The drone supports all kinds of text coding such as Python and even bloc coding like Tynker.
Overall, the Parrot Mambo FPV gives you an amazing flying experience, making you feel like an actual pilot on a mission.
Not a fan of FPV drones? Good thing Parrot Mambo is available in three different options on Amazon. You can choose from Mambo FPV, Mambo Fly, and Mambo Mission. If you're into real drone racing, then the Mambo FPV is your best pick, but if you want a fun and more adventurous drone flying experience, I suggest getting the Mambo Mission instead.
?Pros:
check?Decent flight time
check?Comes with everything you need for an FPV flying experience
check?Good maximum range
check?Altitude hold
?Cons:
?3. Altair Aerial AA108 – Great Value For Money
Specifications:
Flight Time: 10-minutes
Camera: 720p
Range: 100m
Features:
Headless mode
Altitude hold
1-button take off & landing
Draw custom flight paths
Low battery alarm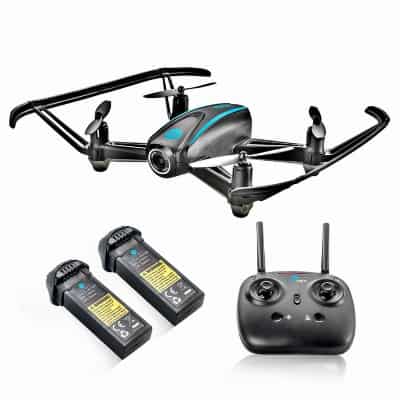 About
?The Altair Aerial is a fantastic drone for all skill types and can be used for both aerial video taking and play. Many consider this drone as one of the best drones for indoor flying because of its well-thought features.
First off, it has a 3-flight skill levels with a beginner mode, mid-level mode, and an advanced mode. This handy drone allows you to start out slow with its beginner mode, then allows you to work your way up to more difficult levels in just the flip of a switch.
To add to a beginner?s experience, the drone features a headless mode that helps to prevent pilots from experiencing disorientation.
Aside from the headless mode, it also features a Custom Route Mode, wherein you use your smartphone to create a unique flight path. The drone will then fly according to your chosen route without you having to pilot it. The great thing about this is that if ever a small gust of wind blows on it, the drone won?t be affected that much because of its high stability.
Finally, it?s got a great camera with 720p definition and a 120-degree wide angle lens. It also has a transmission distance of up to 100m and can last 10 minutes airborne.
Overall, this is one of the top indoor drones that?s amazing for any skill level pilot. With a brilliant flight time, solid control range and great futures, the Altair Aerial is definitely worth a consideration.
?Pros:
check?Don?t have to connect a smartphone to fly
check?A tonne of high quality features that are rare on such a cheap drone
check?Decent flight time
check?Includes an extra battery
?Cons:
?No GPS
times-circle?Live feed does has a maximum range of around 50m
?4. Blade Inductrix – Best Indoor Racing Drone
Specifications:
Flight Time: 7 minutes
Camera: No
Range: 90m
Features:
Comes ready to fly
SAFE technology allowing any skill level pilot to fly the drone
Brushed motors
Includes spare propellers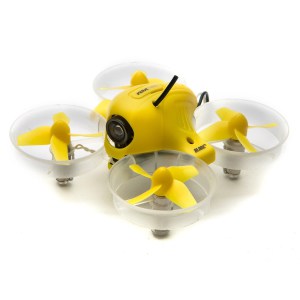 About
By far one of the best indoor mini drones with a gross weight of 24g, the Blade Inductrix and easy-to-use drone is specially designed for indoor use. Since it?s extremely easy to use, you can even fly it in small and tight spaces.
I love this drone so much, I've even included in both our articles on the best cheap racing drones and best drones with a camera under $150!
However, what this drone is really known for is its video transmission features. The Inductrix FPV sports is a 25mW video transmitter that connects to Fatshark and Raceband channels that allow you to race using FPV. The camera in itself sports high definition with a 100-yard transmission distance to boot.
Even though it has a lightweight, the drone features very strong 14,300Kv motors, that allow you to reach some pretty impressive top speeds.
To add to the total experience, it also includes a 4.3-inch monitor that can run for 1 and a half hours before running out of juice. It can also connect to 40 channels and MLP4 radio.
Lastly, it also sports a beautiful set of white and red LED light, making it light up beautifully in the sky and in a dark room. The lights also serve as an indicator as to which way the drone is facing.
One last reminder if you?re in the US and are planning on using FPV with this drone, you?ll need to get a HAM license. The government doesn?t allow video transmission unless you are licensed under the law. Just google the details on how to get a HAM license; there surely be enough references to get you started.
?Pros:
check?Affordable
check?Includes a USB charger
check?Easy to fly
check?Doesn?t require a smart phone
?Cons:
?No camera or FPV
times-circle?Can?t be flown outdoors
?5. Blade Nano
Specifications:
Flight Time: 7 minutes
Camera: No
Range: 90m
Features:
Comes ready to fly
SAFE technology allowing any skill level pilot to fly the drone
Brushed motors
Includes spare propellers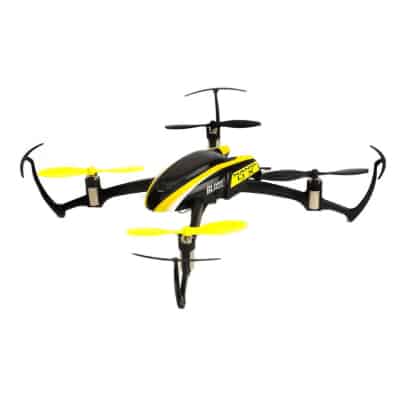 About
Many consider the Blade Nano as the ideal indoor drone because of its small size and high quality build.
The drone features great shock absorbing propeller guards that make the drone extremely durable, which of course is an important factor when lookin for the best indoor drone.
One downside to the Nano is that it makes use of brushed motors, meaning that they?re not as powerful as their brushless counterparts. This isn?t too bad though if you?re planning on using this drone for indoor use, as brushless motors can often mean the drone is harder to control.
The Blade Nano also uses SAFE technology that features sensors to keep it safe and steady even when in the air. It is the SAFE technology that allows it to have two options for flying: = speed mode and stability mode. This allows you to set the the drones top speed and agility to suit your skill level of piloting.
During the stability mode, everything powers down and the drone simply cruises in the air. This is similar to the autopilot feature of airplanes when the pilots want to take a rest.
In order to get into stability mode, all you have to do is let go of the sticks and the drone will automatically start cruising. You can do this if you feel like the drone is already out of control. Eventually, the drone will just hover back down by itself once it kicks in the stability mode.
Of course, being a mini drone, this doesn?t have a video camera attached to it. Nevertheless, it has a considerable 90m range and a 7-minute flight time? a good deal for its size.
I must say, this is the best drone for beginners who want to try out drone piloting but are afraid of crashing the drone.
?Pros:
check?Affordable
check?Includes a USB charger
check?Easy to fly
check?Doesn?t require a smart phone
?Cons:
?No camera or FPV
times-circle?Can?t be flown outdoors
Related Reading: The Best Drones For Travel Videos
?6. Holy Stone HS170
Specifications:
Flight Time: 6-8minutes
Camera: No
Range: 30-50m
Features:
Headless mode
6-axis gyro stabilisation
3D flips and rolls
3 different speed modes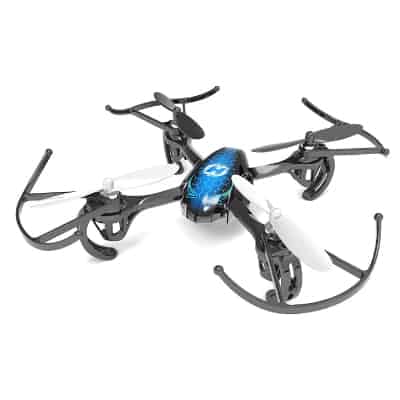 About
For those who are 14 or older, ?the Holy Stone HS170 is a fantastic affordable drone for indoor use. It is more of a mid-level quad copter that has a powerful motor system to keep it in the air. It?s also a lightweight drone that weighs 0.55 pounds, so it?s pretty easy to fly. Unfortunately, it has no camera and its control range is around 30 to 50 meters only.
What makes this drone a hit on the market is its innovative 6 axis gyro stabilization system for enhanced stability. This allows the drone to perform awesome aerial stunts as well as making the drone suitable for outdoors flying.
Since it is quite a small drone, its flight time is around 6 to 8 minutes. However, the charging time is only around 45 minutesto an hour with a current input of 0.5A to 1A, so it won?t be that long to charge. You can also double up the flight time by getting a spare battery, which fortunately are pretty cheap.
?Pros:
check?Great value for money
check?Suitable for any skill level pilot
check?Perfect for indoor flying
?Cons:
?Will have to buy batteries for the transmitter separately
7. Â Hubsan X4
Specifications:
Flight Time: 6-8 minutes
Camera: 2 megapixel
Max distance: 100 meters
Features:
Transmitter features built in 4.5inch screen
Headless mode
FPV goggles compatible
Beginner & expert speed modes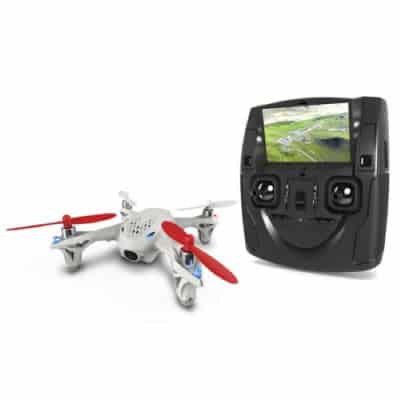 ?About
Those looking for a budget-friendly quad copter for first-time flyers will surely love this model.
?The Hubsan X4 is a beginner level quad copter that has some incredible features for a copter under the $100 price mark.
First of all, it has an amazing video transmitter that is able to relay it?s 720p footage to the 4.5-inch monitorthat?s built into the transmitter. As well as this the drone is able to capture 2 megapixel photographs, whilst that isn?t great, it?s better than nothing.
This drone takes video transmission experience to another level by also including audio output jack that can be used to connect some FPV goggles.
It is an ideal drone for novice and beginner pilots because of its 100m transmission distance and headless mode feature which allows beginners to have more control of the drone when they are piloting. It also comes with a feature that allows you to control the speed so that you won?t go faster than what you can handle. Talk about beginner-friendly drones, and this drone will surely come to mind.
Finally, it makes use of 3.7 volt 380mAh batteries. While the flight time may not seem very impressive, it?s quite good for a drone that size. Its flight time is 6 to 8 minutes, and its batteries only take around 30 minutes to charge, so it?s not so bad considering the charging time.
It is definitely a drone that I would recommend for beginners who are looking for one of the best drones for indoor use.
?Pros:
check?Great value for money
check?Easy to fly
check?Perfect for indoor use
?Cons:
?Only suitable for indoors
times-circle?Fair expensive for what it is
8. UDI U818A HD
Specifications:
Flight Time: 8 ? 10 minutes
Camera: 1280 X 720p
Max Range: 50 ? 100 meters
Features:
Built in prop guards
Includes a spare battery
One key 360-degree flips
2 speed modes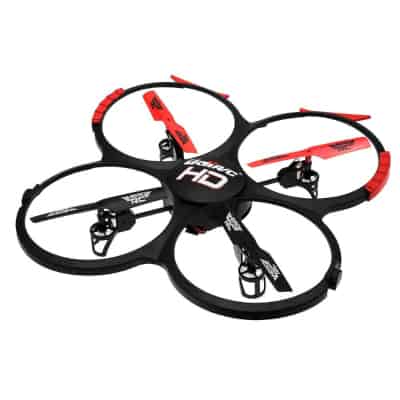 About
As UDI is one of the most well-known drone manufacturers, you can definitely expect top quality, even from a toy drone.
The UDI U818A is actually a beginner?s drone but perfect for practice if you want to improve your drone flying skills.
While it isn?t prone to crashes, its tough exterior will still protect the drone even if you do accidentally collide with an unseen object. The drone also comes with built in plastic propeller guards, that do a great job of protecting both the body and the drones? propellers.
As for the camera, it records high def 720p videos, which is pretty impressive for a drone costing less than 100 bucks.
What?s really impressive is its battery life. Unlike most toy-grade drones with 3 to 5 minutes flight time, this one has a flight time of 8 to 10 minutes. The package also includes an extra battery, so flying for another 8-10 minutes is a sure thing.
Other cool features of this drone include a 100m range and its flip feature that allows for some acrobatic stunts. It also has a headless modeand a return home function, which makes it very good for beginners who have yet to fly their first drone.
All in all, this drone is a really sweet deal ?and is one of the best indoor drones on the market.
?Pros:
check?Comes with a spare battery
check?Don?t need a smartphone to pilot the drone
check?Easy to fly
check?Very resilient
?Cons:
?Fairly big for an indoor drone
9. Parrot AR 2.0
Specifications:
Flight Time: 12 minutes
Maximum Range: 60 Meters
Camera: 720p
Features:
Automatic take off and landing
Return to home
Acrobatic flips
Headless mode
Absolute control mode (tilt the device to move the drone)
?About
The Parrot AR 2.0 is one of the best drones that you can buy if you?ve already mastered your beginner skills. It is an intermediate level drone that is also fantastic for novice flyers who want to level up their mastery.
Some of its cool features include a video stabilization function so that you can still shoot videos in HD even in bad weather. It sports a camera with 720p definition, which gives you a very clear picture from above. As for windy days, it can take winds that reach up to 15mph.
It also has a transmission distance of up to 60m. This is unfortunately less than other drones on our list, however is more than adequate for indoor flying.
Still, this is very easy to steer especially considering you pilot since you?re using your smartphone to control it. You can also control the drone by tilting your device, which is an awesome flight mode than Parrot have added. This does take a bit of getting used to, but is an extremely fun way to fly the drone.
Not only can your smartphone be used for piloting your drone, but it also serves as your monitor that displays a live feedback from the drones? camera. It even saves the video automatically in your phone memory, so the chances of losing your shots is minimized.
The Parrot also features a Styrofoam hull that makes it perfect for indoor use. The hull acts as propeller guards and thanks to it?s lightweight material, doesn?t hinder the drones? agility of flight time.
Although one of the larger models on our list, the Parrot AR 2.0 is one of the best indoors drones on the market. With a great camera, brilliant flight time and sturdy build, it really is a no briner.
?Pros:
check?Got a pretty decent camera
check?High quality
check?Good flight time
check?Easy to fly
?Cons:
?Fairly expensive
times-circle?Got large in size, need a big indoor space
Tips For Flying Indoors
Check out this awesome, in-depth guide about flying a drone indoors.
Don?t fly around children or pets
Make sure your drone has propeller guards
Take it slow if you?re a beginner pilot
Make sure you have permission to fly
Fly in the biggest room you can
Best Indoor Drones Round Up
Thanks for taking the time to read our list of the 10 best indoor drones. I hope that you?ve found it useful and now have an idea of what indoor drone to buy.
If you?ve got questions at all, please feel free to drop them in the comment section below.
Happy flying!