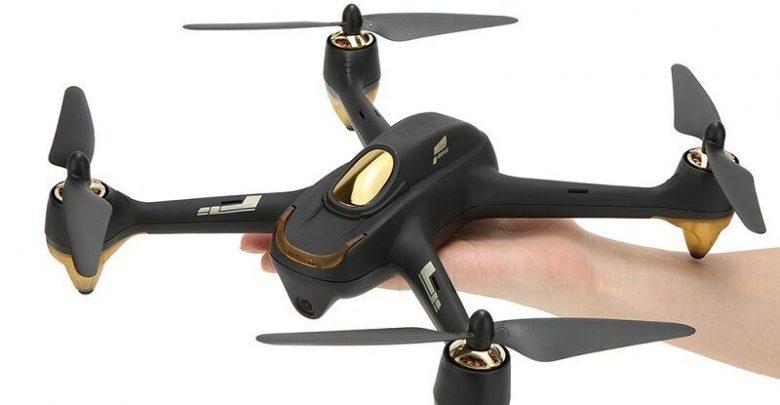 Hubsan might not be as popular as Holy Stone or DJI, but this brand is more than capable of going toe to toe with some of the strongest and most versatile mid-priced and budget drones on the market.
Although they?re yet to break through on the boutique drone market, their selection is basically geared towards beginners and intermediate-level drone pilots, so if you?re looking for a FPV drone, a racing drone, or a quality mid-priced quadcopter, feel free to browse our selection of the best Hubsan drones:
Best Hubsan Drones
Hubsan FPV Drones
Zino Pro
The first Hubsan drone in our review is the Zino Pro FPV drone. Essentially, this model is a professional drone equipped with a 4K camera, a 3-axis gimbal stabilization technology, ultra-long transmission distance, top-shelf long-lasting batteries, and a variety of convenient modes that either prevent crashing, losing the drone, or complement the hovering mechanism.
First and foremost, this drone offers 23 minutes of total flight time due to the fact that it?s packed with a 3S Lithium Ion 3000 mAh battery; the battery needs approximately 2.5 hours to completely recharge, and it?s fully replaceable.
Furthermore, the Zino Pro can reach up to 10 meters-per-second flight speed, and it utilizes premium GPS and GONASS technologies to hover and fly consistently and reliably. Although it?s slightly more expensive than average, it?s definitely one of the best FPV drones Hubsan has to offer.
Pros:
Top-shelf 4K camera
Loss-control failsafe & low-battery failsafe mechanisms
3-Axis gimbal stabilization
Long-lasting and fast-charging battery
Cons:
Zino 2
Hubsan?s Zino 2 is another professional drone that is substantially faster than Zino Pro, it sports an improved image processing chip, a stronger battery, and several brand-new flying modes and settings. It?s just a tad more expensive in comparison, but it?s much more versatile, and arguably better in pretty much aspect of performance.
Firstly, this drone features a nearly weightless frame that allows it to reach up to 20 meters-per-second while in sport mode. Alternatively, in ?Normal Mode? it can reach up to 12 meters-per-second or it can basically hover at 1 m/s while in Movie Mode, allowing you to take perfectly accurate images and clips.
While we?re at it, we should also mention that it features a 4K camera that supports 4K, 2.7K, 1080, and 720p resolutions just the same.
This drone features eight kilometres transmission distance, the aforementioned 3-axis gimbal stabilization, but it also boasts visual landing-support and ?orbiting? modes. It?s enhanced battery offers 33 minutes of total flight time, and it?s easily a drone that boasts superior aerial longevity within its price range.
Pros:
Superb flight time and speed
Ultra-robust brushless motor
High-quality built-in camera
GPS and GLONASS navigation and positioning technologies
Cons:
Protective features are somewhat lacking
X4 H502S
We recommend Hubsan?s X4 H502S if you?re on a cash-strapped budget while looking for a quality drone. Even though it?s not as strong or as versatile as some of the models we?ve just reviewed, it?s vastly superior to most, if not all budget drones on the market.
Essentially, this drone is supplied with a built-in GPS that assists tracking and positioning, but it also complements the auto return-home functions; it also rocks a built-in 720p camera, altitude hold mode, follow-me mode, and sturdy coreless motors.
As far as raw performance goes, the Hubsan?s X4 H502Soffers 12 minutes of total flight time, ultra-fast recharge time, and transmission distance of approximately 200 meters.
Pros:
Decent battery lifetime
HD camera
Convenient flying and hovering modes suitable for beginners
Practically weightless construction
Cons:
H109S X4 Pro Professional
No products found.
Hubsan?s H109S X4 Pro is, basically, the most advanced FPV drone this brand has to offer, although it?s also the most expensive model at the same time. It packs the most exquisite, most powerful features, and we recommend it to people who don?t consider money to be an issue and won?t settle for less than perfection.
This drone comes supplied with an Android-based transmitter that offers a 1 km transmission range, 21 minutes of total flight time, a built-in Full HD 1080p camera, a three-axis gimbal stabilization feature, waypoint setting, and numerous hovering/flying modes.
For comparison, the Hubsan?s H109S X4 Pro is the only FPV Hubsan drone in this section that has the ability to map flight waypoints, which essentially removes any and all limitations for aerial photography.
Pros:
One of the most versatile Hubsan FPV drones
Exceptional total flight time
Built-in Full HD camera
Waypoint mapping
Cons:
Hubsan Quadcopters
H107P X4 Plus
Hubsan?s quadcopters are generally cheap, and H107P X4 Plus is not an exception. Even so, this model is leagues above most ?toy-like? budget quadcopters, even though it pretty much looks like one.
Essentially, this is a 4.17-inch by 4.17-inch quadcopter that is supplied with a 520 mAh Li-Po battery, which offers approximately 11 minutes of flight time. Its transmission distance is roughly 100 meters, and it rocks built-in LED lights, as well as headless and altitude position-hold modes.
The main benefits of this drone is that it offers an easy way for beginners to grasp the basics of drone piloting, even if it?s just for fun or out of a hobby.
Pros:
Perfect drone for beginners
Petite and lightweight
11 minutes of total flight time
Headless and Altitude-hold modes
Built-in LED lights
Cons:
Short transmission range
Rather slow
H111 Nano Q4
The H111 Nano Q4 is typically a ?gift? drone. It?s arguably the simplest, most straightforward drone Hubsan has to offer, and even though its features are pretty weak, it?s incredibly easy to use and offers fast USB charging as compensation for its innately low versatility.
The H111 Nano Q4 is incredibly tiny as its dimensions measure roughly 1.8 inches by 1.8 inches and it weighs only 11.5 grams. It can be piloted for approximately 5 minutes, but as we mentioned before, it can be recharged in less than 30 minutes via USB cable. Its transmission distance is 50 meters, and it sports built-in LED lights and can perform 360 flips, as well as barrel rolls.
Pros:
Ultra small and portable
Practically weightless
Can perform cool stunts quite easily
Suitable for indoor and outdoor use
Cons:
Poor battery lifetime and transmission range
H502T X4 Star
We?re moving on to a bit more serious quadcopter drones with H502T X4 Star. Essentially, this is one of Hubsan?s better and more advanced quad racers that is vastly superior to our previous two picks.
First and most importantly, this drone offers 10 minutes of total flight time and 110-minute recharge time, it rocks a set of coreless motors, as well as a built-in 720P camera.
This drone also features altitude-hold and GPS positioning modes, although it lacks the three-axis gimbal stabilization that most FPV drones come outfitted with. To compensate for that, this model offers low-power failsafe and flight-control failsafe mechanisms that drastically increase its chances of returning safely if its battery is low or if the navigational keys (on either the app or the transmission pad) malfunction.
All things considered, this is a solid drone with a formidable performance that is available at a bargain price.
Pros:
Equipped with a HD camera
10 minutes total flight time
Decently fast recharge
GPS-positioning and altitude-hold mode
Flight control and low-power failsafe mechanisms
Cons:
No three-axis gimbal stabilization
H501C X4 Brushless Cam
Our final pick in this section is H501C X4, which is also the best Hubsan quadcopter drone at this very moment. It offers a compact, highly durable frame, exceptional battery lifespan, a decent transmission range, GPS-based navigation and positioning, and a built-in 1080p Full HD camera.
Overall, this quadcopter is a fast drone that can be used for various activities and occasions. It performs marvellously for taking aerial photos and clips, despite the fact that it doesn?t feature any form of stabilization features.
It promises 20 minutes of total flight time due to the fact that it?s supplied with a 2700 mAh Li-Po battery, although it needs more than three hours to recharge back to full strength.
The 1080p camera is easily one of the finest features that H501C X4 has to offer. It boasts accurate and fast image processing as well as the ability to take high-quality photos and clips in HD resolution.
Some of its most prominent flying modes are the auto return home mode and altitude-hold mode, both of which work in harmony with the built-in GPS system.
Pros:
20 minutes of total flight time
High-quality brushless motors
HD camera
Altitude-hold and auto return home modes
Cons:
Long battery recharge time
Hubsan Racing Drones
H122D X4 Storm
Hubsan offers only two racing drones currently ? the H112D X4 Storm and H123D X4 Jet. The X4 Storm is a more affordable option for people who want quality, but who don?t want to pay a fortune for it.
The H122D X4 Storm is a small, compact drone with dimensions that measure 3.7 inches by 3.7 inches; it?s practically weightless, but it?s also able to resist wind pretty easily and consistently.
One of its main downsides is that it offers only 6 minutes of total flight time, but it makes up for it with decently fast recharge time.
Its operational transmission range is approximately 100 meters, and it utilizes a built-in 720p HD camera to snap real-time FPV photos and videos. Considering it?s a budget drone, it?s pretty safe to say that it?s more than worth the buck.
H123D X4 Jet
Our last racing drone, as well as our last pick is the H123D X4 Jet. This is, in essence, a well-balanced racing drone that can perform cool stunts and tricks, take aerial photos and clips, fly for roughly 10 minutes straight, and blaze through the skies at supersonic speeds.
First and foremost, the X4 Jet?s dimensions are 5.07 inches by 4.37 inches, it is ultra lightweight, and it comes supplied with a formidable 980 mAh Li-Po battery that offers 10 minutes of total flight time. Its operational transmission range is 100 meters, and it rocks a built-in HD camera that boasts 5.8 GHz video and 2.4 Ghz photo transmission capabilities.
Sadly, it doesn?t feature any protective technologies or flying modes, but it?s built in such a way that it, in most cases, doesn?t even need them.
Pros:
Pretty fast
10 minutes of flight time with fast recharge
Can perform cool tricks and stunts
Equipped with a HD camera
Cons:
Low versatility
No flying modes or protective features
Hubsan Drones Buying Guide
Hubsan drones are designed in a similar fashion and are manufactured from essentially the same type of material. The only thing that you should be on the lookout for is what type of drone you?re looking for and how much you intend to spend on one.
This brand offers a wide selection of budget drones, a plethora of mid-priced ones, and only a handful of high-end models. As far as what types of drones Hubsan offers, you?ll get to choose between trail-blazing racers, first-person-view drones, and easy-navigation quadcopter drones. Regardless of which model you opt for in the end, all Hubsan drones are well worth the buck.
Frequently asked questions
What drones does Hubsan offer?
Hubsan drones are split in three different categories, including FPV drones, Racing Drones, and Quadcopters.
Are Hubsan drones good for beginners?
The vast majority of Hubsan drones are budget models; they offer a decent selection of mid-priced models, all of which are excellent for beginners and intermediate-level drone pilots.
Are Hubsan drones good for aerial photography/filmmaking?
Most Hubsan drones have at least a HD camera, so they might be terrific for taking aerial photos, but not exactly perfect for shooting clips.
Last update on 2023-12-03 / Affiliate links / Images from Amazon Product Advertising API