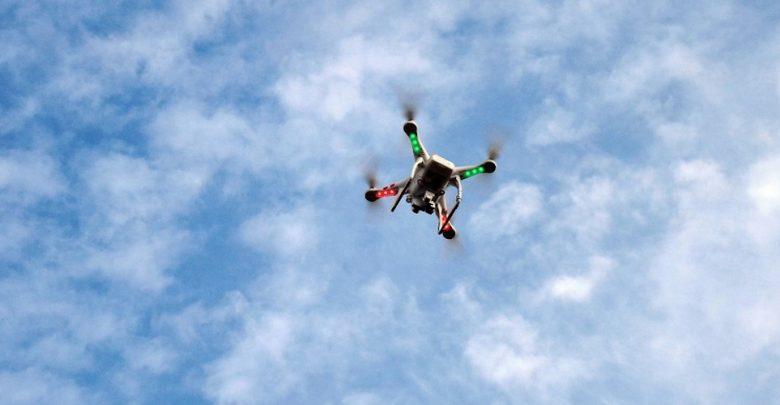 Things can look incredible from up above and many amazing drones can give you that bird's eyes view. While the regulations limit you to 400 feet, there are drones here that can allow you to go much higher with a waiver.
Here we?ve found a mix of drones that can reach that 400 feet figure along with some that can go far above it. We?ve completed reviews on each of them while also developing a buying guide and FAQs. Let?s find your perfect drone!
Best High Altitude Drones
Mavic 2 Pro
The Mavic 2 Pro is an exceptional drone for those looking for the maximum in performance and features. It has incredible video transmission of up to 8km with a maximum takeoff altitude of nearly 20,000 feet, showing it can easily cope with that thinner air.
The flight time here is also good at 31 minutes and that should allow you all the time you need to view the landscape from above. Many other features help to make this an exceptional drone such as the obstacle sensing to prevent accidents.
The camera here is also extremely impressive as you'll get video in high definition and can take pictures at up to 20MP. Added to that, it also has a 2x zoom. That quality along with the heights it can reach will add up to some incredible pictures.
Phantom 4 Pro V2.0
If you wanted your drone to be able to take exceptional images at a high altitude then this is going to be perfect. The 4K camera gives you immense clarity while it can also shoot at 60 frames per second to give you that intricate detail.
The 1-inch sensor will allow you to have plenty of control, even at high altitude. The long-range transmission system helps you to fly at impressive altitudes at the blades can cope easily with thin air, shown by the 20,000 feet maximum takeoff altitude.
Flight time here is good at 30 minutes and you have the option of altitude hold that will keep it statically in position. It?s a powerful drone and one that comes with an array of impressive features.
HUBSAN H501S
While not having the specifications of the previous two models, the Hubsan H501S can still reach impressive altitudes. It has a maximum flight radius and transmission distance of almost 1,000 feet, which is more than enough for most users.
The flying time is a little less here at 20 minutes but that is still plenty of time in the air. The camera is great at 1080P to capture those images in HD. The transmission is rapid too, allowing you to see those images in real-time.
The functionality here is excellent with a range of brilliant features. It will automatically return home while also offering you GPS positioning, a follow me option, altitude hold and orbiting. You?ll love using it and finding out everything it?s capable of.
Contixo F20
Contixo has also been able to make a drone on the lower end of the cost scale but still managing to provide impressive qualities. That includes a control range of up to 2,000 feet, allowing you to climb to impressive altitudes.
It also has brilliant features. They include automatic hovering, altitude hold, 1-key takeoff and landing along with automatic return and plenty more. It all comes pre-assembled, allowing you to use this drone almost immediately.
Camera quality is also good with the integrated 1080P resolution. Whether you are taking photos or capturing live video, the results are excellent. It also comes in a great carrying case that?ll allow you to keep your drone protected.
Mavic Air 2
As with all DJI models, this drone has exceptional specifications. It has a flight time of 34 minutes which should be long enough for you to complete any task. If it starts to run out of battery then it'll automatically return home.
It has exceptional video transmission and will give you a signal at up to 10km. Added to the maximum altitude of 16,000 feet, it makes for a drone that can cope easily with higher altitudes and expansive landscapes.
You?ll be able to use that altitude to get some epic shots with the 4k video. It also has an 8K hyper-lapse feature along with the ability to take panoramic shots. It's another brilliant drone from DJI and one that you can rely on.
Mavic Mini
Are you worried about having to carry a heavy drone around with you? If that sounds like you then you may like the idea of a drone that is small enough to fit in the palm of your hand while also being barely heavier than your smartphone.
Despite its small size, it still offers exceptional features. It?s able to transmit video up to 4 kilometers and has a maximum takeoff altitude of 10,000 feet. It?s able to do that while giving you real-time transmission for simple flying.
Photo and video are also remarkably good with this small drone. It can shoot with a resolution of 2.7K and they make recording and editing as simple as possible. This is all aided by a flight time of 30 minutes to ensure you get all the images you want at that high altitude.
Inspire 2
The Inspire 2 is a truly exceptional drone that has a long list of exceptional qualities. If extreme altitude is what you?re looking for then you can but blades for this model that can take it up to around 16,000 for those incredible views.
The flight time is a little lower than other models at up to 27 minutes but that?s due to the immense power it has. The control range is up to 7 kilometers and it can reach speeds up to an incredible 94 KM/H.
Perhaps the best feature here is the video resolution of 6K. That?ll give you crystal clear images no matter how far up you go. It?s a perfect drone for those who want to take the most beautiful pictures of any landscape you want.
Matrice 300 RTK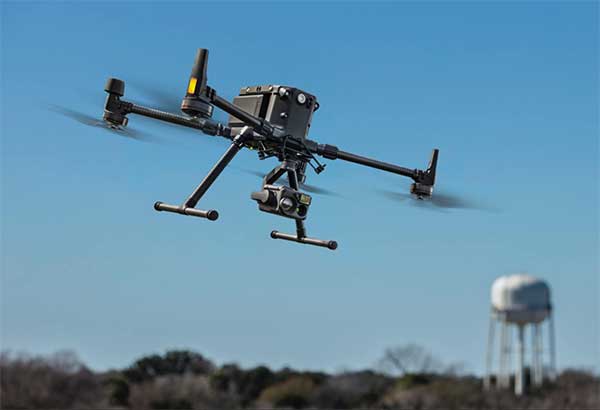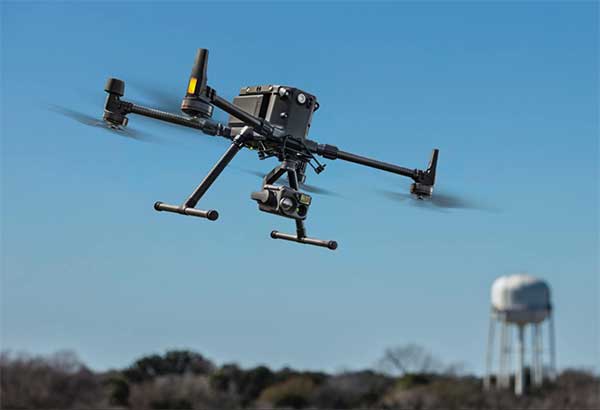 As well as the Inspire 2, the Matrice 300 RTK is another drone from DJI with exceptional features. That includes a 16,000 feet take off altitude and a transmission distance of up to 15 kilometers.
The most impressive feature of this drone is flight time. At 55 minutes you'll be able to climb to a great altitude and stay there for a long time. If you wanted to keep flying then the battery can also be swapped instantly, even when it?s hot.
It also has impressive weather protection with an IP45 rating, meaning you won?t have to worry about it once it starts raining. It can also operate in a wide range of different temperatures and features a camera that will give you high-definition HD images.
Potensic D58
If you don?t want to fly over the 400 feet limit, then Potensic has a range of great drones. This can go a little above that figure at around 500 feet which is still going to show you an incredible view from above with the excellent 1080P camera.
With those images, you're going to get crystal clear images, even from high up. You'll also get plenty of time in the air with the 36 minutes of flying time. It?s impressive battery power that will allow you to capture everything you want.
You?re able to control it easily via your smartphone which makes flying the drone very simple. That ease of use is increased with features such as the 90-degree adjustment that will help you get all the shots that you want at high altitude.
Potensic D85
Here we see another brilliant Potensic model that will give you endless hours of fun and allow you to fly all the way up to that altitude limit. At a maximum altitude of 500 feet, you should be able to capture all the images you need.
Transmission on this drone is exceptionally quick with the 5G connection to get those images in real-time. The camera can give you 2K clarity, allowing you to capture the landscape in exquisite detail.
Flight time is exceptional with 40 minutes available and you can get the most out of it with features such as path creation. You also get Potensic?s travel case that is highly durable and will keep that drone protected while you?re on the go.
Best High Altitude Drones ? Buying Guide
Regulations
The maximum altitude allowed in the US is 400 feet (120 meters) as regulated by the FAA. The reason for this limit is to protect larger aircraft that are in the sky. You can capture many magnificent images from this height and is more than enough for many users.
There is an exception to this rule. You?re allowed to fly 400 feet above the tallest structure within a radius of 50 feet of you. That means if you?re stood next to (or on top of) a 100-foot building, you can fly 500 feet above the ground.
You can also request a waiver from the FAA with clear detail about why you want to fly above that limit and why it will be safe. This process includes making detailed light logs and issuing a notice to airmen two days before your flight.
Budget
Your budget is going to be a primary consideration. Thankfully, you don?t have to spend too much to buy a drone capable of flying up to the 400 feet limit if that?s your primary buying reason. The higher-end drones will be able to fly above this, have incredible cameras and also a vast range of impressive features.
Range and transmission
At a certain point, your controller is no longer going to be able to communicate with the drone. It's important to know the limit of the range and stick to that. Most drones will offer a very strong signal while also having a rapid transmission that can give you images in real-time.
Flight time
Flight time is a key aspect of a drone but you?ll be surprised at just how much you can see with a flying time of 15-20 minutes. As we?ve already seen, most of the drones we?ve looked at here are capable of a lot more than that. If you need exceptional flight time then it?s a good idea to look for one that has a battery you can swap instantly.
Additional features
The number of features available on modern-day drones is phenomenal. One of the standard ones is the drone being able to return to you automatically once it's low on battery.
Other features include the ability to hover in a static position, automatically avoid obstacles and being able to draw your route before you get started. The importance of this will depend on what you're flying your drone for but it's great to look out for those extra perks.
FAQs
How high can a drone fly?
This is going to depend on many factors such as starting altitude, the design of the blades and the transmission capabilities. High-quality drones will be able to comfortably be able to fly at the 400 feet limit but others can go far above that.
What are the regulations for drone altitude?
Your maximum allowed altitude is 400 feet higher than the nearest structure within 50 feet. To fly higher than this, you?ll need a waiver from the FAA.
What happens if you fly a drone above 400 feet?
You?re most likely going to be fined a significant amount with around $1,000 being a common amount. If your flying is reckless, poses a security risk or a risk for a risk to larger aircraft then the punishment could be much more severe.
Will a drone show up on radar?
Yes, your drone will show up on radar and it can be tracked. This technology is also improving all the time, allowing the FAA to have a greater knowledge of everything that is in the air at one given time. It's never worth it to try and circumvent the rules.
Last update on 2023-12-03 / Affiliate links / Images from Amazon Product Advertising API