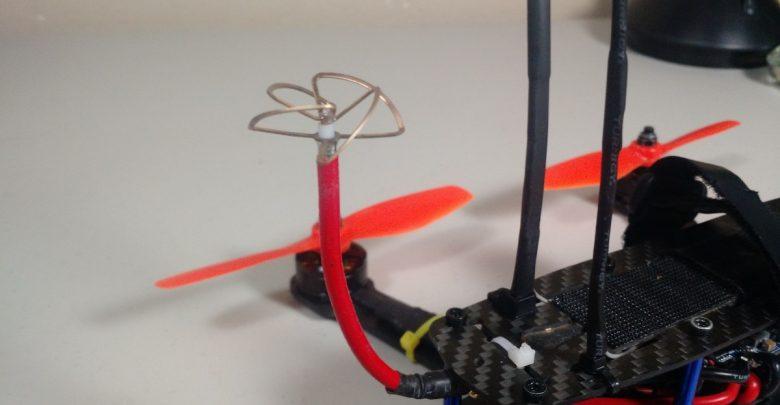 With the best FPV antenna for drones, you will get the best video signal between the camera and the receiver device (usually a pair of goggles). Understandably, you want an FPV antenna that delivers the results you wish to have. Luckily, there are several options on the market.
So, how do you pick the right antenna for your quadcopter? This article reviews the top 10 antennas in this category and provides you with a comprehensive buying guide. Why don't you read on for more?
Best FPV Antenna for Drones

Foxeer 2pcs FPV Antenna Lollipop
The Foxeer FPV Antenna has a reputation for exhibiting the highest standards, thanks to the manufacturer's exquisite artistry. It is also the best in the Foxeer range when it comes to the signal quality and class range.
It features an iRoot reinforcement design with 360 protection covering it all around. If you want an FPV antenna for drones with low feeder loss, you should buy this particular product. It is easy to install and bendable at any angle, and extremely easy to maintain.
The body features an imported PC+ABS material that can stand against high-strength impact. It is a lightweight antenna that weighs only 7.5g with a maximum length of 60mm.

Makerfire FPV Drone Antenna Mushroom
The 5.8G 7dBi FPV Antenna by Makerfire comes with an RP-SMA Male connector that goes directly into a corresponding female one. With a 5.8GHz frequency, it is one of the most powerful antennas in this category.
It produces two levels of gain, depending on whether you are using it as a mushroom antenna (7dBi) or a panel antenna (14dBi). For that reason, they are compatible with FPV goggles and other more advanced receivers. It is available on Amazon at an affordable price for drone users of all kinds.
Those who had used other FPV antennas previously said this particular product is much better than signal clarity. You would love the way they significantly improve your FPV flights.

Makerfire 2pcs 5.8GHz FPV Antenna
The Makerfire 2pcs 5.8GHz Antenna spreads its signal in an omnidirectional fashion, making it possible to fly your drones over a 360-degree angle. It has a 3dB vertical lobe with a 120-degree width, radiating its power over a wide area.
It comes with an RS-P, a male connector, which works with most FPV receivers. If you are looking for a durable FPV antenna for drones, you should buy this particular product featuring durable copper material. It weighs only 12 grams, making it a lightweight set of two antennas.
The pair of antennas are meant for use with a transmitter and a receiver, working at a 5.8GHz frequency. Most past users have given this product a 5-star rating in their reviews on Amazon.

Crazepony FPV Antenna
The Crazepony FPV Antenna comes in two ? one piece for the transmitter and the receiver. It has a maximum transmission frequency of 5.8GHz, which is the standard for devices in that category.
It has a 13dBi SMA male connector for both the transmitter and receiver. The flat (panel) antenna comes with a right-hand circular polarization (RHCP), blocking unwanted radio signals for a clearer signal. The copper wire antenna has a high-frequency PCB printed circuit board (PCB), connecting components using conductive pads and tracks.
Users have heaped praise on this product, saying it is performing better than some high-end FPV antennas. Going by their word, this antenna is worth buying.

iFlight 5.8g FPV Antennas
If you are looking for a durable FPV antenna with a more beautiful shape, you should get this particular product from iFlight. It comes in terms of two reliable RHCP 150 mm antennas that block out all unwanted radio waves, making the signal stronger.
This is the best pair of antennas for individuals who want to from their droves on a budget. Both the transmitter and receiver antennas have RP-SMA female connectors for quickly hooking onto your devices.
It is a compact pair of antennas, measuring 6 x 1.4 x 0.3 inches and weighing only 0.634 ounces. The impact-resistant FPV antenna for drones is ideal for long-range flights, thanks to the consistently strong signal.

Makerfire 5.8Ghz Mini FPV
Instead of buying an antenna separate from a pair of goggles, you might as well buy all of them in a single set. This particular product from Makerfire product includes a pair of FPV goggles, two antennas, and a built-in, high-capacity 1200mAh Lithium-polymer battery.
A built-in super-sensitive, 5.8GHz receiver comes with an advanced auto-search function that also displays the frequency on-screen. The good thing with the FPV antenna is that it provides a stable signal, enabling you to get footage from your drone from further than usual.
The product comes with a handbag, which makes it easy to carry. However, the manufacturers say you should confirm if the size is right enough for you before buying.

Foxeer FPV Antenna
The Foxeer FPV Antenna RP-SMA Pagoda operates on a 5.8GHz frequency bandwidth range of 5.5GHz to 6.0GHz. With such a wide range, there is no chance of you losing the signal along the way. Besides, the antennas have a return loss S11 of -24dB, which means the antenna reflects most of the power landing onto it.
Foxeer has been manufacturing FPV antennas for a long, and this newest pagoda version comes with impressive omnidirectional capabilities. It is 86mm long and weighs only 11.5g, which is lighter than you would expect.
Even better, the manufacturers stand by their product, providing a full guarantee (involving a full refund) if you aren't satisfied with it. It's not surprising that past users of this product say it is of the highest quality.

FatShark ImmersionRC 5.8GHz
The FatShark Immersion ImmersionRC antenna is one of the best, given that it is an improved version of the company's previous product. For that reason, the company has optimized the new design when it comes to the VSWR and the radiation pattern. It has a skew planar wheel design for better range and more robust performance regardless of the orientation.
If you are looking for a good pair of stock whip antennas, this product would do the trick. It comes with a high tolerance level, performing much better than other forms of hand-made devices. In addition to the RP-SMA connector, the device features the right-hand circular polarization (RHCP), blocking unwanted signals and strengthening the main one.

nidici Foxeer Lollipop 3 FPV U.FL Antenna
Here is another pair of premier FPV antennas from Foxeer, featuring 5.8GHz frequency, which is the industry standard. It comes with a return loss (S11) rating of 2.5dBi, ensuring little or no signal is lost along the way. With such a strong signal, you can use the antennas to fly long-range drones without an issue.
The right-hand circular polarization (RHCP) makes it possible for the antenna to block the unwanted signal while making the central signal clearer. Besides, it has a low feeder loss due to other devices between the transmitter and the receiver.
Its body features a durable PC+ABS material capable of withstanding high-strength impact such as that from a fall. Finally, you can bend the antenna at any angle if that would help you get a stronger signal.

FPVDrone 5.8GHz FPV Antenna
FPV antennas do not have to be long and heavy ? what matters is that they can perform the job without any issues. When it comes to that, the small-sized FPV antenna by FPVDrone is compact and weighs only 5.8g. Despite its size, the antenna is more durable than other similar products.
It comes in a complete pair with a transmitting and receiving antenna, helping you complete the connection for your drone. The antenna can produce a 5.8GHz frequency as well as one of the best return loss at 5dBi.
In addition to its durability, past users have praised the antenna for being affordable yet of the highest quality. You will also love that the antenna comes with a right-hand circular polarization for accurate signal delivery.

Best FPV Antenna for Drones ? Buying Guide
To fly a drone, you need a pair of the best possible antennas on the market. While most people understand the need for an FPV antenna, most don't know how to buy one. The following are some of the factors to consider before purchasing the best FPV antenna for drones.
1. Size & Weight
A good FPV antenna shouldn't be too large or heavy since that can negatively impact your drone's ability to fly. So, look for a compact, lightweight antenna that doesn't take too much space or weigh down the drone.
2. Polarity
The best FPV antennas for quadcopters should have a circular polarity ? whether it is left or right-handed. Right-hand circular polarity (RHCP) or left-hand circular polarity (LHCP) usually have a mushroom cup at one end of the coaxial cable. Regardless of the polarization you choose, the antenna will block unwanted signals while strengthening the main one.
3. Connector Type
The most common connector type for FPV antennas for drones is the RP-SMA or just SMA. You should always pick an antenna with a compatible connector to avoid disappointment. While at it, remember that SMA connectors are very common, meaning you won't be disappointed.
4. Performance
An FPV antenna has its performance in terms of its overall gain and what the manufacturer says in theory. That largely depends on the material selection and the precision with which the manufacturer made the antenna.
5. Durability
A racing quadcopter should have a durable body that can withstand all banging and abuse it has to go through. The best antenna material combines PC and ABS plastic since it can last for longer than others.

Frequently Asked Questions
What is the best FPV antenna for drones?
The best FPV antenna for drones is one with a connector that works for you. Since your drone will take hits, it should be small, compact, lightweight, and durable. Notably, the antenna should have the right polarity to ensure it blocks off all unwanted signals while strengthening the right one.
How do I mount an FPV antenna on my drone?
It would help if you mounted an FPV antenna perpendicular to the direction the camera is facing. With that, the antenna will always remain upwards when the drone is in flight.
What is an FPV antenna for drones?
FPV antennas for drones collect video signals from the camera, transmitting the same to the receiver, which could be a pair of goggles. They make it possible for you to view footage from your drone as it flies around.
Where to buy an FPV antenna for drones?
We recommend that you buy an FPV antenna for drones from Amazon, the largest online retailer. Not only does it have a large variety of FPV antennas, but it also offers unbeatable deals. If you are looking for an FPV antenna for droves to buy, we have reviewed some of the best.
How far can a 2.4GHz drone fly?
A 2.4GHz drone can fly up to a range of 1.6km, depending on obstacles and noisy environments.
Last update on 2023-12-03 / Affiliate links / Images from Amazon Product Advertising API