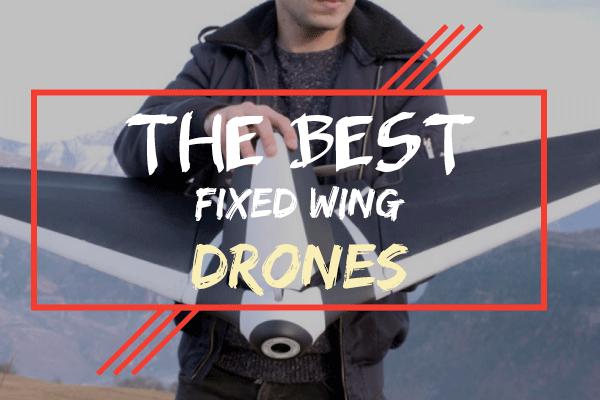 What Are The Best Fixed Wing Drones?
There is a plethora of different drone types out there that can be boiled down to two distinct categories ? fixed wing and rotary drones. Each has their own pros and cons and is better suited to different situations.
Fixed wing drones for example, are popular due to their lengthy flight times and high payload capacity. Their aerodynamic build allows them to stay in the air with more efficiency than a rotary drone.
Unfortunately, most fixed wing drones require a lot of room for taking off, however more advanced models are capable of taking off vertically. We?ve included some of these further down the list.
In this article we?re going to be taking a look at the 5 best fixed wing drones currently available. We will break each drone down providing you with all the information you need to make an informed decision.
?Top Fixed Wing Drone Comparison ?
| ?Name | ?Image | ?Flight Time | ?Max Range | ?Camera | ?Check Price |
| --- | --- | --- | --- | --- | --- |
| KKMOON F949 | | ?25-minutes | ?200m | ?No | |
| ?Parrot Swing | | ?7-minutes | ?200m | ?No | |
| ? XCraft X Plus One Hybrid | | ?20-minutes | ?2.4km | ?1080p | |
| ?Hubsan H301S Spy Hawk | | ?30-minutes | ?1km | ?1080p | |
| ?Parrot Disco | | ?45-minutes | ?1.9km | ?1080p | |
Best Fixed Wing Drones List
5. KKMOON F949: Incredibly Affordable, Not Great Quality
?Pros:
check

?Affordable

check

?Decent flight time

check

?Easy to assemble

check

?Great for leaning to fly
?Cons:
?Low quality material

?Average maximum range at best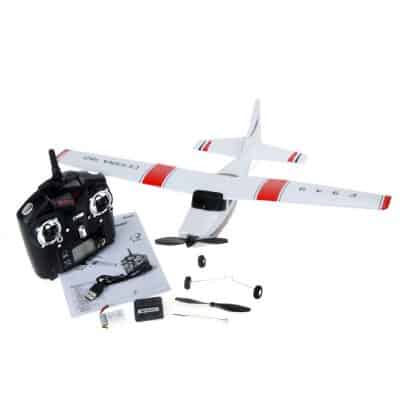 Specs
Wingspan: 500mm
Fuselage length: 393mm
Height: 132mm
Flight time: about 25 minutes
Charging time: 40~60minutes
Frequency: 2.4GHz
Control distance: 200m
Flying weight: 58g
Dimensions: 500 x 393 x 192mm(W x L x H)
Features
Design based upon Cessna-182 plane
3 coreless motors combination that provides strong power
Adjustable rudder volume size
About:
I think ?cheap and cheerful? is the best way to sum up the KKMOON F949. While it may not be rife with high quality features, it does a great job at providing a fantastic flying experience at an affordable price.
The KKMOON F949 sports a fixed wing plane build and was modelled on the Cessna-182, which is an American four-seat, single engine plane. It is controlled via a transmitter that is included with the drone and operates at a frequency of 2.4GHz.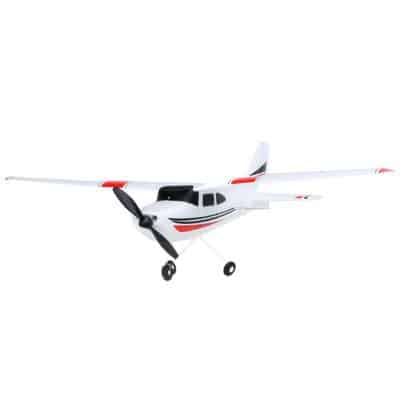 Considering how cheap the drone is, its 20 minute flight time is pretty staggering and a lot better than some other models on our list of the best fixed wing drones.
It also possesses a respectable, but not amazing maximum range of 200m. This isn?t too bad especially if you?re a beginner.
Unfortunately, you get what you pay for with rc vehicles and the KKMOON F949 is no exception. The build quality is not very good and it feels pretty cheaply made.
That is to be expected when you?re paying less than $60 for an rc plane, and although not built to a high standard, it?s specifications remain impressive.
If you?re looking for the best-fixed wing drone for beginners, then the KKMOON F949 is a solid option.
4. Parrot Swing: Great Value For Money ? Hybrid Drone
?Pros:
check

?Fast battery charging

check

?Both quad copter and fixed wing with seamless transition

check

?Fast top speed ? 20mph

check

?Affordable

check

?High quality build
?Cons:
?Short battery time, need spare batteries

?Average maximum distance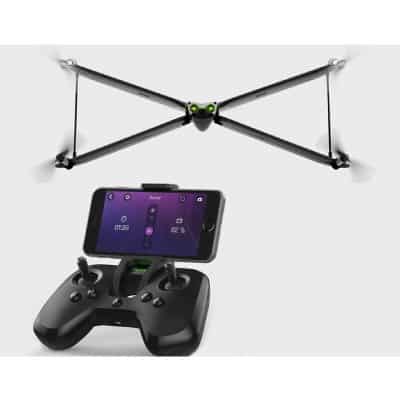 Specifications
Flight time: 7-minutes
Control distance: 200m
Charge time: 30-minutes
Dimensions: 32.5 x 12.6 x 12.1 cm
Weight: 73 grams
Features
Customizable piloting settings
2 modes ? quad copter mode & plane mode
Piloted with smartphone app & transmitter
About
Up next is the Parrot Swing; the first of two Parrot models on our list of the best fixed wing drones. The Parrot Swing sports an intriguing design, affordableprice tag and has been praised for both its practicality and ease of use.
The Parrots ability to be flown as both a quad copter and a fixed wing drone not only works incredibly well but is also a fantastic feature for such a budget friendly drone. In fact, the Parrot swing is the first mini drone that can automatically take off and land at a vertical angle and be flown as a plane.
When in quad copter mode, you can make use of the auto pilot feature for controlled and stable flights. Alternatively, crank up the pace in plane mode and enjoy flips, rolls and loops at top speed of up to 20mph.
The build of the drone is very high quality, being manufactured out of durable, lightweightmaterial.
The Swing?s controller sports a sleek, gamepad design for comfortable piloting. A smartphone can be mounted to the transmitter and connected to the drone for on screen setting adjustments and statistics.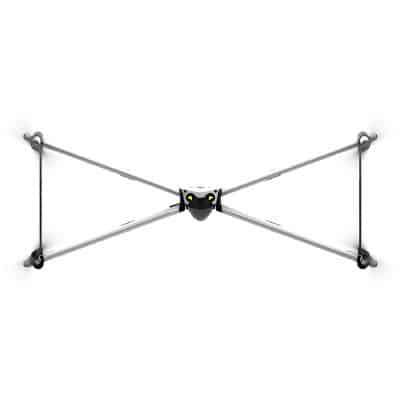 Unfortunately Parrot didn?t get it all right with the Swing; its 7-minute battery life is pretty disappointing. If you want to fully enjoy piloting the Swing, a spare battery or two will be needed; luckily they?re pretty inexpensive. There?s a silver lining here though in the form of the Swings quick 30-minute charge time.
The Parrot Swing is able to reach a maximum distance of 200m, which isn?t too bad considering it is a toy grade drone. Overall it is safe to say that the Swing is easily on of the best fixed wing drones around and is a great bang for your buck.
3. XCraft X Plus One Hybrid ? Versatile
?Pros:
check

?Can be used as both a quad copter and a fixed wing drone

check

?Can take off vertically

check

?Fast top speed

check

?Impressive range
?Cons:
?Expensive

?Steep learning curve

exclamation-triangle

?Not a fantastic flight time for the price you?re paying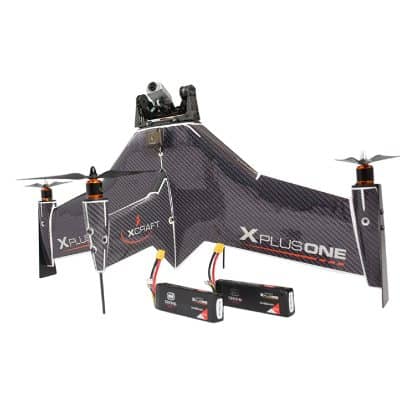 Specifications
Dimensions: 32.5 x 19 x 14 inches (82.55 x 48.26 x 35.56 cm)
Weight: 2.9 lbs (1350 g)
Max Speed: ? 60 mph (100 KM/H)
Range: Approx. 1.5 miles
Flight time: Approx. 20 minutes
Features
Hybrid design
Return to home
Comes with Run HD camera & is compatible with Go Pros
About
We?ve made it to the higher end models on our list of the best fixed wing drones. The XCraft X Plus One Hybrid is an incredibly versatile drone with some neat tricks up its sleeve.
The XCraft is able to take off vertically and once in the air, be flown as a regular fixed wing drone, hence the name hybrid.
This eliminates the need of you having to use a runway and gives you a lot more freedom as to where you can fly. Whilst flying, you can change between the two modes seamlessly depending on what you would prefer.
Landing is a slightly different matter and can be a pretty tricky task if you?re an inexperienced pilot. I would recommend watching the series of YouTube tutorials that XCraft have released before flying the drone.
The drone itself has a flight of 20 minutes, which isn?t fantastic considering how much it costs. Luckily there are three different buying options, basic, advanced and pro.
If you buy the pro package the drone comes alongside 2 extra batteries for extended flight experiences.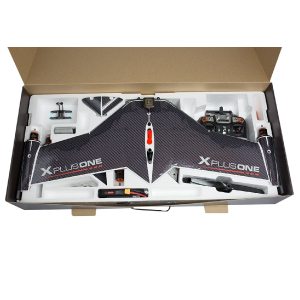 It?s safe to say the XCraft is a BEAST in the air, able to reach a top speed of 60mph (100kph) the X Plus One isn?t messing around. I would recommend getting the hang of piloting the drone before you really open it up though, as flying at these speeds can be dangerous.
Some videographers have taken to the XCraft due to its fast speed and ability to mount a Go Pro. The XCraft is the perfect drone if you?re looking to record some high-speed tracking shots. It also comes installed with a RunHD camera, however most prefer installing their own Go Pros.
Lets not forget to talk about the XCrafts? maximum range of 1.5 miles (2.4km). This is not only seriously impressive, but provides you with plenty of freedom in the air to really have some fun!
If you?ve got the budget, the Xcraft is easily one of the best fixed wing drones around.
2. Hubsan H301S Spy Hawk ? VERY Close Second
?Pros:
check

?Great flight time

check

?Comes with 1080p camera

check

?Can automatically return to home
?Cons:
?Camera does not record audio ? not many drone cameras do, but I have seen a few pilots who have wanted this, so I thought I would point it out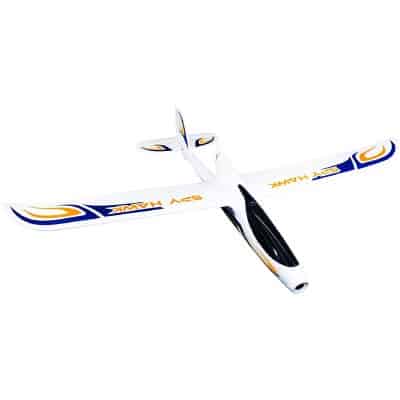 Specifications
Dimensions: 40.5 x 7.1 x 14.3 inches
Flight time: 30 minutes
Maximum range: 1km
Wing span: 1000mm
Length: 750mm
Camera: 1080p ultra-wide angle camera
Features
Automatic return to home
Position hold capabilities
GPS flight control system
About
The Hubsan H301S Spy Hawk was a close second on our list of the best fixed wing drones. It provides excellent value for money and is a fantastic drone for pilots looking to get to grips with fixed wing flying.
Hubsan themselves are a world-class quad copter manufacturer, so it is only fitting that they?ve produced such a fantastic fixed wing drone.
The drone comes installed with a 1080p HD wide-angle camera that can be used for FPV flying and comes equipped with a number of safety features.
These include auto return to home, GPS positioning and position hold. These safety features make the Hubsan a great fixed wing drone for beginners looking to dip their toes in drone piloting.
If you?re a beginner and worried about setting up your fixed wing drone, the Hubsan comes alongside a detailed manual that will walk you through the entire set up process.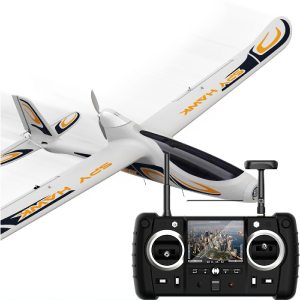 The H301S features a 30-minute flight time and a maximum range of 1km. Both of these are exceptional specifications made even more so by the drones cheap price tag.
Overall, it is pretty incredible how much you get for your money with the Hubsan H301S Spy Hawk as it?s easily one of the best fixed wing drones around.
Read Also: Best Commercial Drones
1. Parrot Disco ? The Best
?Pros:
check

?Comes with everything you need for FPV flying

check

?Easy to fly

check

?Incredible flight time

check

?Impressive maximum range

check

?High quality camera
?Cons:
?So fun you won?t want to stop flying it

exclamation-triangle

?Expensive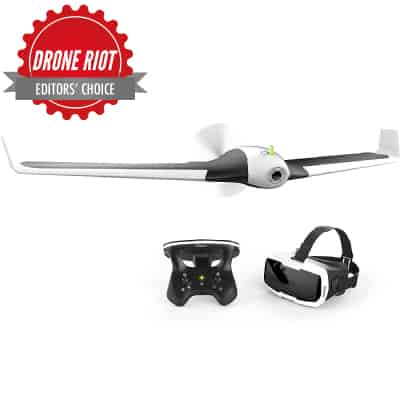 Specs
Dimension: 7 x 45.2 x 22.8 inches
Weight: 4lb
Flight time: 45 minutes
Maximum speed: 50mph (80kph)
Maximum range: 1.2 miles 1.9km
Camera: 1080p video & 14megapixel photos
Features
Comes with Sky controller
Comes with FPV goggles
Automatic take off and landing
Return to home function
Anti-stall system
About
Quite simply, this had to have the number one spot. The Parrot Disco is by far the best fixed wing drone currently available and is great for any experience level pilot.
What makes it so special?
Well to start, the Parrot Disco comes with everything you need for the perfect FPV flying experience. Alongside the drone you get a set of FPV goggles and a Sky Controller that work faultlessly alongside the Parrot application. Parrot has gone above and beyond with this drone, creating something far surpassing the toy drone category.
The Disco itself is able to reach a maximum distance of 1.2 miles and with its 2700mAh battery, is able to sustain a flight time of up to 45-minutes.
What?s more the Parrot Disco is extremely beginner friendly.
With safety features such as automatic take off & landing, return to home and an anti-stall system, even inexperienced pilots can have a great time piloting the disco.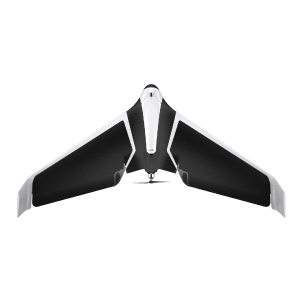 The Parrot continues to impress with its camera. With 1080p video shooting capabilities and able to shoot 14 megapixel photography, the Disco is fantastic for shooting aerial imagery. You?re able to store these files as RAW, JPEC and DNG formats.
To round up, you couldn?t really ask for more from a drone. The Parrot Disco exceeds all expectations and remains the best fixed wing drone out there, no matter your skill level.
?Still can?t decide between fixed wing and rotary drones? Maybe this will help.
?What Is A Fixed Wing Drone?
?Fixed wing UAVs consists of a rigid wing that has a predetermined airfoil that make flight capable by generating lift caused by the UAV?s forward airspeed. This airspeed is generated by forward thrust usually by the means of a propeller being turned by an internal combustion engine or electric motor. Control of the UAV comes from control surfaces built into the wing itself, these traditionally consist of ailerons an elevator and a rudder. They allow the UAV to freely rotate around three axes that are perpendicular to each other and intersect at the UAV?s centre of gravity
?Quest UAV
Types of Fixed Wing Drones
Fixed wing drones come in all shapes and sizes with a variety of wing types and airframe configurations. The illustration below by HeliGuy perfectly captures the diversity of fixed wing drones and how they differ from one another.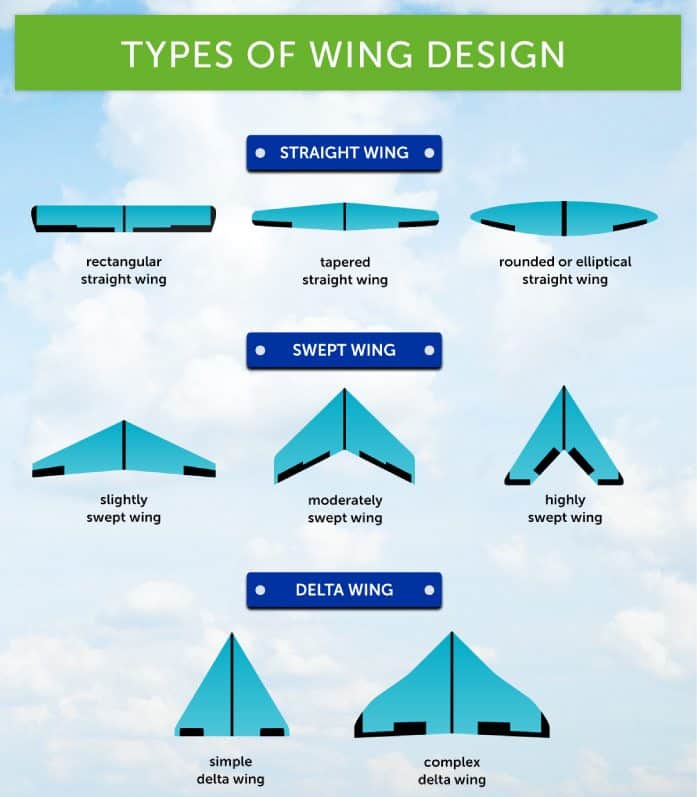 HeliGuy
What to Look For in a Fixed Wing Drone
Range
When deciding what fixed wing drone to go for, you should pay close attention to its maximum range. If you?re a beginner pilot, having a small range isn?t such a bad thing as it allows you to get used to controlling the aircraft.
However, if you?re more experienced and want to get the most out of flying, having a long maximum range is a must.
Flight Time
No one likes short flight times, they quite frankly suck. They mean you either have to limit the amount of time you can spend in the air, or you have to spend more money buying spare batteries. By having a drone capable of sustaining long flight times, you both improve your flying experience and save a bit of money.
Payload
If you?re looking to attach a third party camera and gimbal to your drone, you should pay close attention to its payload capabilities. Having a payload too heavy could be dangerous and will more than likely break your drone.
You should be aware that the more payload a drone carries, the shorter its flight time will be. If you?re planning on attaching items to your drone, make sure it has ample flight time.
Fixed Wing VS Rotary UAV
So, which is better fixed wing drones or rotary drones? Well, it really depends on what you?re looking to do with your drone. Below I will go over some of the major differences between the two so that you can decide which is better suited for your flying needs.
Taking Off
Unless you invest a good amount of money into an advanced fixed wing drone capable of vertical take off, you?re going to need a pretty open area to get your drone in the air.
This is probably the biggest difference between the two, as a rotary drone can take off vertically meaning you need far less room.
Maintenance
Fixed wing drones tend to have a much simpler structure than their rotary counterparts. This means that there tends to be a lost less maintenance involved, in terms of both money and time. That?s not to say it won?t need tweaking here and there, there?s just a lot less that can go wrong.
Efficiency
Similarly, due to its simple and more aerodynamic design, fixed wing drones are much more efficient when in the air. This allows them to generally have longer flight times than rotary drones, with perhaps DJI being an exception. Still though, even a DJI can?t compete with the Parrot Discos 45-minute flight time.
Fixed Wing Drones For Commercial Use
Now that you?ve found the best fixed wing drone for you, lets go over some ways you can put your new drone to commercial use.
Also, if you?re interested in making some money with you?re fixed wing drone, be sure to download our free eBook on 10 ways you can generate an income with your drone.
Pipeline Inspections
Many entrepreneurial pilots out there have put their fixed wing drones to good use carrying out pipeline inspections. Not too long ago, companies would be spending $2,500 a day on a helicopter team to carry out these inspections. Now, drones can do it just as efficiently, at a fraction of the price.
Mapping
Due to fixed wing drones being able to cover long distances over a prolonged period of time, they are perfect for aerial mapping. You can install specific software able to process and construct 2d and 3d maps from your aerial imagery.
Agriculture
As I previously mentioned, it?s fixed wing drones ability to stay in the air for such a long period of time that makes them perfect across a number of industries. Another great example is in agriculture. You can use your drone to inspect crop conditions over a fast amount of land extremely quickly, again at the fraction of the price this would have cost a few years ago.
Best Fixed Wing Drones Round Up
Thanks for taking the time to read our list of the best fixed wing drones currently available. I hope that you?ve found it helpful and as always, if you have any questions feel free to comment below.
Happy flying!
?Related Reading: