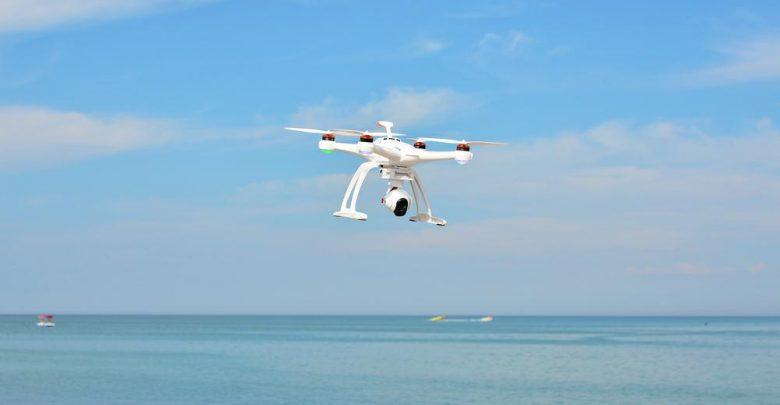 Have you ever wondered why drone advertisements and trailers are so short? The answer is quite simple ? the average flight time of a drone is merely 15 to 20 minutes. That?s not nearly enough to get started with having fun, so you?re probably looking for a drone model that can provide a little more than that.
Today we?ve handpicked ten models that offer superior batteries that can provide twice and even thrice as much flight time, so without any further ado, let?s dive into the reviews:
Best Drones with Longest Flight Time
DJI Phantom 4
DJI?s Phantoms are among the finest drones on the market, and we?ve decided to open up our review with the Phantom 4 as it offers up to 30 minutes of total flight time atop a myriad of top-shelf features, including a 4K UHD camera and a beautiful, highly robust body.
This drone features built-in gimbal stabilization software that enables the 4K camera to take superbly accurate photos or video clips.
The Phantom 4 also comes supplied with a highly intuitive and dedicated remote controller that sports a smartphone holder; obviously, this drone is app-friendly and can be piloted via DJI?s Phantom app. The only thing that you might not like so much about it is the fact that it?s pretty expensive.
DJI Phantom 3
If you?ve liked DJI?s Phantom 4 but don?t feel like spending a small fortune on a drone, we highly recommend that you check out the Phantom 3. Even though these two drones are merely a single generation apart, there are a lot of differences between them, the most important one being that the Phantom 3 is much more affordable.
Even though it offers some 7 minutes less in terms of total flight time (as opposed to Phantom?s 4 30 minutes), it works perfectly well up to the range of 5 kilometers and boasts exceptional Wi-Fi signal connectivity.
It comes outfitted with a HD camera (720p) that can render 4K footages at 30 frames-per-second, so it doesn?t lag too far behind Phantom 4 in terms of video quality. Basically, the DJI Phantom 3 is an excellent choice for people who are looking for a relatively inexpensive quality drone.
Hubsan Zino Pro 4K Drones with Camera
Hubsan?s Zino Pro is a mid-priced drone that rocks a 4K ultra HD camera capable of Panorama shooting, a built-in GPS system, gimbal correction, and a plethora of flying modes.
You?ll be able to map out waypoints for the Zino Pro to fly through, take off or land with a single button, and activate the ?headless? mode to simplify the piloting controls substantially.
In terms of total flight time, this drone offers approximately 23-25 minutes of aerial enjoyment. However, the main reasons why we?ve picked it are that it features a variety of failsafe protective features, a strong brushless motor, and an effective range of 4 kilometers.
All things considered, the Zino Pro drone is an exceptionally versatile 4K-cam drone that can be used for stealth surveillance and enjoyment just the same.
PowerVision PowerEye 4K Camera Quadcopter
PowerVision?s PowerEye quadcopter features not one, but two individual 4K cameras onboard. It also rocks the patented MFT system that allows you to connect a number of different lenses on each camera, ensuring customized optical performance in terms of video and photo shooting.
Furthermore, this drone is ?smarter? than most Wi-Fi drones in the sense that it rocks Object-Detection technology; this feature utilizes a variety of built-in sensors to determine the safest path free of obstructions within the range of up to 30 feet.
The PowerEye offers about 25 to 30 minutes of total flight time; this is not exactly exemplary if we consider that this is a high-end drone, but due to the fact that it comes supplied with bleeding-edge technologies and innovative features, we daresay that it packs quite a punch for the buck.
Rabing RC Drone
Rabing?s RC drone is supplied with a fully rechargeable 2800 mAh battery that offers 25 minutes of total flight time and rapid recharge time. The bundle includes a simplified drone piloting controller that sports two navigational joysticks and access to various flying modes, including POI mapping, Waypoint flight, GPS return, and gesture control.
On top of that, this is a compact and foldable drone that is absolutely ideal for people who want to enjoy in it while travelling.
Last, but certainly not least, Rabing?s RC drone is outfitted with a brushless motor and propellers, as well as numerous video editing options that can be accessed via Rabing smartphone app. Although it?s not the most affordable drone on the market, it?s certainly not expensive and holds huge value for the money.
Kizove SJRC F11 5G WiFi FPV GPS Drone
Next up is Kizove?s SJRC F11 5G foldable drone. It offers a fully adjustable HD camera (720p) that sports a 12-degree wide-angle field of view.
One of the best features that this drone comes supplied with is the brushless motor that offers a nearly noiseless performance and smooth operation at all times. Furthermore, the F11 SJRC rocks three selectable speeds that allow you to navigate through various wind conditions.
Kizove?s F11 comes outfitted with a 2500 mAh Lithium Polymer battery that offers 25 to 30 minutes of total flight time, as well as pretty fast recharge. Although this drone does not support the acclaimed ?headless mode?, it does offer a GPS-based ?return home? feature, automatic fixed-position hover mode, and a variety of protective features.
Le-Idea GPS Drone Idea 10
Here we have Le-Idea?s Idea 10 GPS drone. It comes supplied with a built-in GPS and a non-removable integrated 1080p HD camera. The GPS function allows you to map and chart waypoints and points of interest for your drone to visit regardless of the piloting instructions, and it offers several flying modes, such as the one-key return and the headless mode.
The Idea 10 sports a foldable, lightweight and highly durable design, but you?ll also receive a thoroughly padded hard-carry case that will allow you to bring your Idea 10 wherever you go quite easily.
This drone offers approximately 20 minutes of flight time, which is excellent for an entry-level budget drone.
Veho Muvi Q-Series Q-1 Professional Aerial UAV Quadcopter Drone
Veho?s Muvi Q-1 is a professional mid-priced quadcopter drone that rocks a plethora of top-shelf features and technologies.
First and foremost, it comes supplied with a 3D-axis gimbal correction technology that stabilizes the drone, allowing you to take footage with pinpoint accuracy. Sadly, the Muvi Q-1 does not feature a built-in camera, but you will be able to mount your own as long as it is compatible with the connector.
On the brighter note, this drone sports three selectable flight speeds (eco, drive & sport modes), and comes outfitted with a 6800 mAh battery. This battery is offers 20 to 25 minutes of flight time and charges substantially faster than other battery types.
Holy Stone HS720 Foldable GPS Drone
Holy Stone?s HS720 is a GPS drone packed with a 4K ultra HD camera that sports built-in Image Stabilization technology, 90-degree adjustable lenses, easy piloting, and GPS-assisted flight commands.
You will be able to take your Holy Stone HS720 up in the air for 26 to 30 minutes per charge, and you?ll also get to recharge its battery within less than an hour.
The operational range of this drone is slightly over 3,000 feet, but what makes this drone stand out from other budget and mid-priced models is that it sports reliable 2.4 GHz transmitters and antennas (built into the controller).
Speaking of which, you can choose between using a dedicated remote controller and using an app to pilot the HS720. Lastly, you?ll also receive a complementary carry case that can fit the drone, the remote controller, and the battery case inside.
JJRC H68 RC Drone
Our final pick is JJRC?s H68 RC Drone. Essentially, this is an entry-level low-cost drone that surpasses most mid-priced models in terms of flight time; namely, it offers a full hour of aerial fun, although the battery does require a bit of extra time to charge back to full health.
Some of the most notable features of this drone include the 720p wide-angle camera, the altitude hold paired with the 6-axis gyro technology, and the headless mode. This being said, it?s quite obvious that JJRC H68 is best suited for beginners and drone enthusiasts who are on a cash-strapped budget.
Best Drones with Longest Flight Time Buying Guide
Aside from the obvious (flight time), there are a couple of things you should keep in mind if you want to get the most value from your drone:
Battery recharge time
Battery lifetime is equally important as the amount of time it needs to recharge. For instance, if a drone can fly for an hour but needs 3 hours to recharge its batteries, it offers the same ?amount? of fun as a drone that can fly for 20 minutes and that needs an hour to recharge its battery.
Drone features
Drone?s quality is not measured by its ability to soar the skies for extended periods of time alone. Make sure to take into account all the features it comes supplied with, such as the camera, its built-in storage capacity, the quality and reliability of its Wi-Fi antennas, and such.
Sturdiness and protective features
Most people can get a bit too comfortable with the fact that their drone has a strong battery that they forget that it?s also limited. Protective features that are required to ensure the drone?s safety are either the ones that can shield it from physical damage (propeller guards, for example), or built-in mechanisms that prevent crash landings, as well as auto-return systems that are triggered when the battery is nearly dry.
Price
Budget is always a definitive factor, especially when we?re talking about drones. Namely, some of the top-flight-time drones are not necessarily the most expensive models, but on the other hand, the boutique-level drones do perform the best in this particular field. If you?re looking for a drone that can fly for an hour, know that even a budget model can cater to your needs.
Frequently asked questions
What feature affects the flight time of a drone?
Drones work on batteries (LiPo, LiHV, and Li-Ion, depending on the model), and their quality affects the amount of time a drone can spend airborne. Not just drones, but the controllers used to pilot them typically work on batteries too; if either battery runs out of power, you will lose connection to your drone.
Luckily, most drones can be piloted via smartphone apps, so the only thing that you need to concern yourself with is the battery within the drone itself. On a side note, most drone controllers feature several batteries, which means that they?ll always be able to ?outlast? the longevity of a single battery inside the drone itself.
Can drones fly beyond their flight time limit?
It is possible that drones can be used for longer than ?advertised?, but you should keep in mind that every manufacturer estimates the ?worst-case scenario?. That?s why the estimated flight time is always represented in ranges of ?x to y?.
On another hand, you might end up hearing a blip from your controller that the drone?s battery is about to die out before it hits the time limit. There are numerous factors that affect the quality of a battery, including how long it?s been in use, ambient temperature, and maintenance.
For example, if you?re flying drones at super-high altitudes, there?s a chance that the battery will dry out faster than expected.
How much time do drone batteries typically need to recharge?
It all depends on the battery type and quality. Li-Ion batteries, for example, take approximately 3 hours to recharge back to full health while AA batteries need between 3-4 hours. Certain brands ?modify? their bat?s chemistry, shortening their lifespan by a bit, but also reducing the recharge time in turn.
Last update on 2023-12-03 / Affiliate links / Images from Amazon Product Advertising API