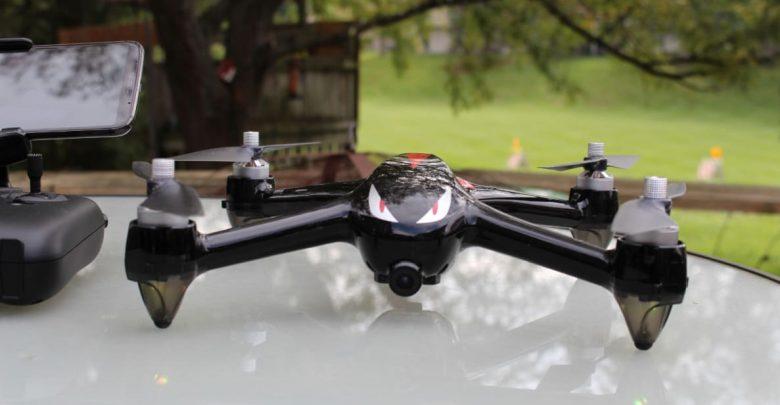 If you?ve learned the ropes of drone piloting skills with your budget model, you?ve probably decided that it?s time for an upgrade. The price point category of ?under $500? is pretty vast, and you can find pretty much anything here, from highly versatile toys to industrial copter machines packed with highly advanced cameras and engines. We?ve picked ten models that fit the bill, so browse away:
Best Drones under $500
DJI Phantom 3
Even though DJI?s Phantom 3 costs just slightly above $500, we couldn?t leave it out from our review as it is the finest mid-priced DJI drone built to date.
This drone packs a built-in 1080p camera, a set of four sturdy brushless motors, and offers up to twenty five minutes of flight time per charge. What makes this drone a cut above the rest is the fact that it features superior GPS-assisted flying modes and features. Advanced modes like POI mapping & Follow Me mode are just some of the cool settings you?ll get to enjoy.
All of the Phantom 3?s functionalities can be accessed via a downloadable app; you can even use your own smartphone as a remote controller. The only thing that most people didn?t like about it is the fact that the camera is not removable (hence it is not upgradeable either). If you are content with 1080p video and photo resolution, you?ll probably have a hard time finding a better drone for the money.
DJI Spark
The Spark is one of the smallest and most portable DJI drones (after Mavic Mini), and that?s precisely the reason why most people like it so much. This drone is light, yet it?s still more than capable of resisting harsh weather, wind, and air pressure at higher altitudes.
It can reach speeds up to 31 miles per hour, and its operational range is approximately 1.2 miles. We would love to see it with an upgraded battery as it offers only 16 minutes of flight time. However, the DJI Spark makes up for this with high-quality 12 MP 1080p built-in camera.
Furthermore, this drone features selectable and gesture-activated features, as well as numerous automatic (safety) modes, such as obstacle detection and the Failsafe feature. One of the most unique features of DJI Spark is ?subject tracking?, which basically allows you to lock in on people or objects from multiple angles.
DJI Mavic Air Quadcopter
The highly acclaimed DJI Mavic Air is, just like our top pick, a bit more expensive than average, but it is well worth every single cent. It comes supplied with a 32 megapixel 1080p FHD camera and is among the lightest foldable drones on the market.
Mavic Air can be operated from a range of 550 feet (at best), and it offers approximately 21 mins of total flight time per single charge. Even though it is compatible with the DJI app, it also sports a highly convenient remote controller that features an ergonomic design that feels very comfortable and intuitive when held.
The only thing that we thought could be improved is the built-in camera. Just like the situation is with most DJI drones, you won?t be able to replace or remove the camera that was already built into the DJI Mavic Air Quadcopter. This means that you?ll need to buy a new model if you?re looking to shoot 4K photos or videos.
At the end of the day, Mavic Air is still one of the finest drones that the money can buy; it rocks a premium-quality camera, superb effective range, and rocks a myriad of exceptional flying modes and settings.
DJI Mavic Mini
Essentially, DJI?s Mavic Mini is a quadcopter outfitted with a 2.7K 12-megapixel camera; it offers 30 mins of total flight time, and it boasts an effective range of 2.5 miles. To top it all, it?s incredibly petite in size and weighs next to nothing.
It also rocks a dedicated ergonomic controller that provides access to all the flying modes and speeds.
What makes DJI Mavic Mini so cool is the fact that it sports 360-degree propeller shields; these ?guards? provide substantial protection from physical damage, ensuring that your drone remains safe and sound at all times.
Last, but not least, the DJI Mavic Mini app features simplified recording templates and offer straightforward means of video (and photo) editing, which means that even beginners will be able to create fun, creative videos and clips in the easiest way possible.
Parrot BeBop 2 Drone
Parrot?s BeBop 2 builds a bridge between DJI?s top-end models and mid-priced consumer-grade drones made by various other brands. It rocks a 14 MP 1080p camera with a fish-eye lens that will allow you to take breathtaking photos and videos.
The BeBop 2 offers 25 mins of total flight time due to the robust 2700-mAh battery, and it sports a highly durable motor that can withstand wind and air pressure, even at ultra-high altitudes. Additionally, this drone features back LED lights that greatly enhance its visibility.
One of the best things about this drone is the Parrot?s patented Free Flight 3 application. It?s compatible with most smartphones and tablets, and it features easy controls and streaming capability.
Drone Clone XPERTS Drone X Pro
Next up is Drone Clone XPERTS? Drone X Pro model. Essentially, this is a foldable drone outfitted with a 4K camera that boasts 25 minutes of total flight time and a very simplistic Wi-Fi controller.
What makes this drone so interesting is that you?ll be able to map out POIs (points of interests) and even assign waypoints that your Drone X Pro will follow autonomously when you?re not piloting it.
Furthermore, it also rocks the ?follow-me? mode and can even be ?gestured? to take certain actions; by simply moving your hand you?ll be able to control its altitude, command it to snap a picture, or take a video clip. All things considered, it?s a very versatile drone laden with pretty unique features.
Ruko F11 Pro Drone 4K Quadcopter
Ruko?s F11 Pro is indeed a professional drone. It boasts superior flight time that even tops the performance of some of the strongest DJI drones, an Ultra HD camera, and numerous easy-to-use features and flying modes.
First and foremost, what makes F11 Pro so exquisite and unique is that it sports two 2500 mAh batteries that provide 30 minutes of flight time each. Since the drone needs only one battery (and has no space for the second), you?ll be able to quickly replace the one that ran out of juice for an instant bonus of another 30 minutes of fun.
The Ultra-HD 4K professional camera outfitted to this drone is capable of taking ultra-sharp, highly accurate photos and vivid videos with ease. Furthermore, due to the fact that F11 Pro features simplified controls and one-touch flying modes, it?s actually even perfectly suited for beginners too.
Aokesi X7 Drone
Aokesi?s X7 is one of the most stable and reliable drones you can find on the market. It features super-advanced 5G Wi-Fi technology with integrated dual-arranged transmitters and boasts an operational range of 1300 feet.
What?s more, it packs a 1680p HD 120-degree FOV camera; you will be able to adjust the angle of the camera while piloting the drone for improved vision and footage.
Among the most notable flying modes that will be at your disposal we include the Follow-Me mode, gesture mode, headless mode, FPV, one-key takeoff and landing, automatic return, POI mapping, 3D-View Mode, and many others. GPS-assist is probably the most interesting mode X7 has to offer, as it complements and enhances the performances of every other Wi-Fi-based flying mode.
Potensic D85 FPV Drone
Here we have Potensic?s D85 FPV drone. Basically, this is a beautiful drone that rocks a 2K camera, 5G Wi-Fi, and 40 minutes of total flight time. With its brushless motors it offers smooth and reliable operation, which is only complemented with the steady 5G wireless transmission.
Although you could get a drone with a 4K camera for the buck, the 2K High Display camera D85 comes supplied with is not one bit bad. You will be able to adjust the angle up to 130 degrees and take stunningly clear panoramic images or record videos and clips with a single touch of a button.
The controller is pretty great too; it?s a joystick-type controller that features simple settings and self-explanatory buttons. Although this drone doesn?t offer a myriad of flying modes and settings, it?s pretty versatile altogether. It even comes with a complementary hard case.
Altair Outlaw SE GPS Drone
Let?s wrap it up with Altair?s Outlaw SE GPS Drone. The Outlaw is supplied with a 1080p high-display camera, 5G Wi-Fi connectivity, and GPS-assisted flight modes, which means that it?s absolutely great for beginners who don?t mind spending some extra cash.
It features three separate ?return? functions, including the Failsafe feature, which will automatically return it to base if it goes out of bounds (operational range).
Speaking of which, you?ll be able to fly it in any direction as far away as 600 meters. The Outlaw?s battery provides approximately 15 mins of total flight time, but it takes substantially less time than average to recharge back to full health.
This drone features a multitude of interesting flying modes and features, such as ?Follow me?, altitude hold, one-touch takeoff, and such.
Drones under $500 buying guide
Planning to spend over $100 is considered as an ?investment? for most people. That being said, a drone right under $500 is definitely not a toy, and you?ll need to keep your eyes open for certain things if you want to get most value for your buck.
Price
There?s a big difference between a $100 drone and a $499 drone, mostly in terms of versatility. More expensive drones are more stable and reliable, they can be operated from further away, and they usually come packed with a ton of great features (like Follow-me mode, or barricade avoidance system).
The cheaper models aren?t ?bad? per se, though. There are numerous models that are packed with superb batteries and other exceptional features too. It varies from manufacturer to manufacturer.
Flight time & batteries
While budget drones will be able to provide some 15 minutes of fun, mid-priced drones usually offer at least twice as much. The average flight time of a drone under $500 spans from 25 minutes to 40 minutes, but there are exceptions on both ends.
Models that are closer to $200 generally offer less flight time (Altair?s Outlaw, for example, offers only 15 minutes) while models that are closer to $499 offer as much as a full hour.
Other factor that you should take into consideration is whether the model you want to buy features one or several batteries. Certain models are advertised to have ?more than 1 hour of flight time?, but that?s only true if we don?t neglect the fact that you?ll need to bring such a drone back several times to swap the batteries.
Durability
While durability is a crucial issue for budget drones, you shouldn?t fret too much about it when it comes to mid-priced models ? they?re sturdy by default. However, you can never be safe enough; look for models that sport propeller shields if you want to ensure your drone?s safety.
Frequently asked questions
How are $500 drones different from budget drones (<$50)?
Generally, mid-priced drones are faster, they can travel further; they sport more reliable Wi-Fi antennas, more versatile controllers, and so on. Certain models can even recognize hand gestures and perform actions based off of them.
Are DJI drones good for beginners?
While it might sound odd, the price range of ?under $500? is still considered as ?entry level? when we take the fact that there are models that cost well above $10,000 into account. That being said, $500 drones are beginner drones that perform slightly better than $50 ?toy? drones.
How much does an ?average? drone cost?
Some of the cheapest drones cost about $20 while some of the most expensive ones cost as much as $300,000 (EHang?s 184, more specifically speaking, is the most expensive industrial drone in the world). However, that shouldn?t be the reason to think that an ?average? drone is right in the middle; the average consumer ?grade drone costs $250 – $500.
Last update on 2023-12-03 / Affiliate links / Images from Amazon Product Advertising API