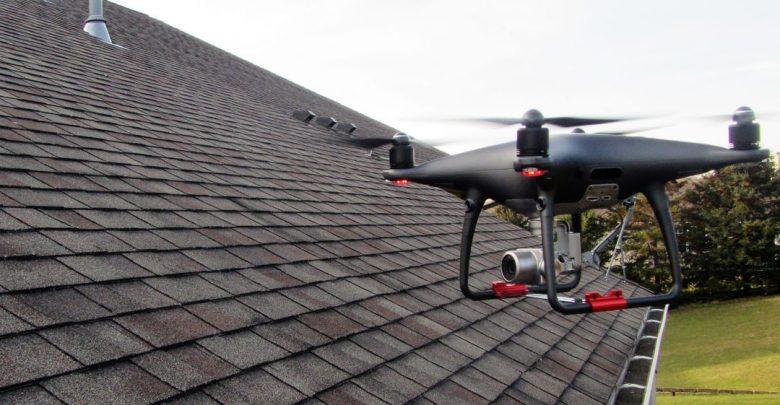 Roof inspections can be a difficult and dangerous job. Using a drone can allow you to do the job quicker and easier. You'll quickly be able to spot any area that needs attention and capture it with high-quality videos and pictures.
We?re here to help with the best drones for roof inspections. We?ve completed extensive reviews on the top 10 while looking at how the key features can help with those inspections. Along with this, we?ve also got a buying guide and FAQs to give you all the info you need. Let?s go!
Best Drones for Roof Inspections
Mavic 2 Pro
The Mavic 2 Pro ticks all the boxes on what makes a brilliant drone. It has incredible specifications and features. That includes having a maximum takeoff altitude of up to 6000 meters to survey any building that you want.
Camera quality here is very impressive as it?s able to take pictures at 20MP and can shoot videos in clear 1080P. Added to that, it also has a 2x optical zoom that?ll allow you to inspect any roof with clarity. You can also get the Mavic 2 Zoom which offers even greater zoom at up to 4x.
It?s not too heavy to carry around at just under 1kg to allow you to easily get from one location to the next. Added to those qualities, the drone is very easy to use and you?ll have no problems in getting the information you need.
Inspire 2
The Inspire 2 is another fantastic model from DJI and one that comes with some impressive specifications. It?s one of the pricier drones on the market but you?ll soon recognize that it gives you value for money with the features it has.
While the speeds of up to 95 km/h may not mean much for roof inspections, it does have a flight time of 27 minutes. The camera attached to it can shoot video with an amazing resolution of 6K with pictures of the highest quality, allowing you to inspect any roof in intricate detail.
There is also a hover function if you needed to see any spot in more detail. Added to that, the overall build quality is high with a tough aluminum shell. You can travel with it in the highest of confidence that it will last for many years.
Potensic D58
Potensic has made a wide range of great drones and this is a great example. The camera on it can video at 1080P to give you clear images that would be near impossible to get with traditional methods. You can get those images in real-time and with a wide field of view.
If you?re worried about flight times then this would be a good option with the 36 minutes you get from its two onboard batteries. It makes this drone ideal for those that need to inspect the roof on larger properties that require more time.
As with many high-quality drones, you?ll be able to control this with your smartphone attached to a controller and that makes it very easy to use. It also comes with a solid case and that is ideal for those who need to inspect roofs in several locations.
Potensic D85
Potensic has also made the D85 which also gives you exceptional quality for the cost. An instant 5G WiFi connection allows you to get an instant response in real-time. You?ll love the image clarity that you get with the 2K resolution and 130-degree shots.
For those looking for a long runtime, they?d be very impressed with the D85. At 40 minutes, you?re not going to be rushed. You can also design the route to follow a certain roof path and the drone will return to you once the battery starts getting low.
As with most Potensic drones, this one comes with a travel case that will give excellent protection against any bangs or drops. The package is going to give you everything you need to get started and become a master of those remote roof inspections. 
SNAPTAIN S5C WiFi FPV Drone
Think that all of these options so far are above your price range? Well, this is one that is ideal for those looking for something a little cheaper. You still get a 720p camera here which can survey a roof in good quality and show you any obvious issues.
While that camera resolution is lower than some other models we?ve looked at, a great feature is the altitude hold that will allow a stable image. That?s just one of a surprising amount of features on a lower budget drone.
You?ll be able to pick up how it works in no time at all with the simple controls. It has a transmission distance of 80 meters which may be a little low for some and a flight time of 16 minutes. Those specifications make it perfect you surveying smaller properties.
Mavic Air 2
The Mavic Air 2 is an excellent example of a high-quality drone for roof inspections. It has a flight time of 34 minutes which should allow you more than enough time to fully inspect a roof and get the images you need.
Those images are going to look razor-sharp with the camera that can capture images at 48MP and a camera that has 4K video quality. It all allows you to get all the images that you need in the detail required to make a correct judgment.
The maximum altitude on this drone is extremely high which should allow you to get a clear roof inspection on any building. The transmission is also rapid and will allow you to get video in real-time. The Mavic Air 2 helps to make roof inspections easier than ever.
Phantom 4 Pro V2.0
Many people fear their drone bumping into an object and breaking. Considering how much you invest in these drones, you don?t want anything to go wrong. With the 5-directional obstacle sensing here, you won?t have to worry about it.
Detail roof inspection requires high-quality imaging and you?ll get that here with the 4K camera. With that clarity, you won?t be left in any doubts as to the state of any roof. The still images are also going to be brilliant and easy to use.
Flight time is decent with 30 minutes available and you get all of the features that you'd expect with a premium quality drone. That includes being able to hold the aircraft in a position to get a close and detailed look at anything that may be a concern.
Hubsan X4
If you were to look at the specification of this Hubsan model, you?d be forgiven for thinking it?s a lot more expensive than it is. With a resolution of 1080P, you won?t be disappointed with the level of imaging that it has.
You can quickly see why this doesn?t have a premium price tag with its lower-quality chassis but it still manages to have a good level of durability. It will also automatically return home on a low charge so you don?t have to worry about crashes.
Another great feature is the immense stability to hold the craft stationery for close up shots. The battery life is okay at 20 minutes which should be long enough for most inspections. This drone is a great compromise between image quality and budget.
Contixo F20
Similar to the Hubsan model, this is another that offers you a good compromise. It has the same resolution of camera at 1080P and you can capture those images easily from your smartphone and simple to use controller.
You get a full range of features here including that all-important automatic hovering and altitude hold which makes controlling the drone for roof inspections a lot easier. It also has that automatic return for low battery protection.
If you wanted to get started straight away using your drone then this would be a good choice. Not only is it easy to learn how it works but it also comes preassembled. You?ll be able to get your roof inspection started a few minutes after getting it out of the box.
Mavic Mini
Portability is going to be important if you are traveling from one site to the next. You don't want to have to carry around something extremely heavy. The Mavic Mini is the answer as it weighs a little more than a smartphone at just 249 grams.
You?d be forgiven for thinking that a drone that fits in the palm of your hand would have poor specifications but it may surprise you. The camera is mind-blowing for its size with a 2.7k resolution and will give you images with fine detail.
In that small package, they have also managed to fit a battery powerful enough for 30 minutes of flight. Instant transmission is given for real-time control and you also get all the features you?d expect from DJI. It?s a small drone but mighty in many respects.
Best Drones for Real Estate ? Buying Guide
Budget
It?s important to know just how much you want to spend on a drone. As we see here, professional models can cost $1,000 and over but you can get much cheaper drones that still have impressive qualities. If you need a higher level of quality, then stretching your budget a little further can be a good idea.
Portability
The importance of portability will depend on where your roof inspections will be taking place and how you are transporting it. Most of these drones are very light and come with protective cases. That makes your life easy and gives you peace of mind that it won?t get damaged.
Range and transmission
Will you be surveying small domestic properties or large commercial properties? If it?s the latter then you?ll want a drone that won?t struggle with distance. Having a fast transmission will also allow you to see images in real-time which makes using your drone much easier.
Camera and video
If you're inspecting a roof then you want to be able to see any issue in clarity that allows you to make a clear judgment call. All of the drones we've looked at here have impressive cameras but some are sharper than others. Sometimes it's worth paying that little bit extra for quality.
Flight time
Drones don?t usually have a very long flight time but you can get a lot done in a short amount of time. That being said, a drone with 20 minutes of flying time may just not be good enough for you. Thankfully, there are drones here that can fly up to 40 minutes and you?ll be able to complete a thorough inspection in that time.
Additional features
One great feature to look out for is the ability to hover in one spot as this can allow you to get a long and detailed look at a specific part of a roof. Along with this, there are other great features such as automatically returning on low battery, drawing your route before flight and obstacle avoidance.
FAQs?
What drones do professionals use?
For commercial drone use, your needs are going to differ depending on the type of job you are doing. For roof inspections, you need to have a high-quality camera, be able to provide a stable image and a decent flight time. Any drones that tick these boxes are good enough for professional use. 
How much do drones charge for real estate photography?
Suing professionals from drone photography is expensive. You may find charges of over $1000 for high-quality video and hundreds of pounds for images. You?ll quickly realize that you?ll save a lot more money by getting a drone and taking the images yourself.
Are drones a waste of money?
For a commercial business, drones make a lot of sense. For roof inspections that are going to save you plenty of time and are also much safer than traditional methods. The ability to get a quick inspection will save money but also help you stand out from your rivals.
Do roof inspectors need a drone license?
Those who fly drones for commercial reasons will need to have a license. Previously you needed to have a pilot?s license but now it is a Part 107 certificate and involves passing a written test. It is fairly simple to do but there is a fee involved.
Is a drone for roof inspections a good investment?
Using a drone for roof inspections is going to make your life a lot easier. It?s a sound investment and you?ll soon find it to be an invaluable tool. The functionality on these machines is incredible and it?ll lead to some great results.
Last update on 2023-12-03 / Affiliate links / Images from Amazon Product Advertising API