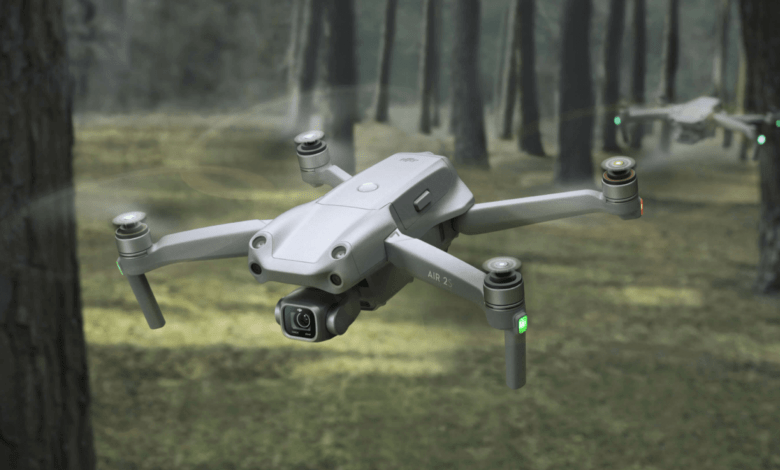 For more of a beginner-level crowd tempted with the idea of owning a drone, the range of the drone is the last thing on their mind. They are thinking of whether the drone comes with a bunch of cool features such as following them around, throwing and fly function, or flying off to their home address saved in drone settings through GPS. The range is more of an appropriate domain for expert users or those who use drones for the sake of exploration or going places that are don't conveniently can fit a person, and something compact such as a drone can do the exploring for them.
Understanding the concept of range
Most drones have an average range of 0.8-1.2 miles, and that is according to a lenient price point, say below $500. There are two different aspects when it comes to calculating the range of the drone. Are you asking how far the drone can fly off from the remote control, or are you asking about the ground that it can cover in terms of exploration before its battery runs out? If it is the latter, then drones can easily cover from 7-8 miles of ground before needing a charge, but in the case of flying off the range, it is the same as described earlier, which is at best 0.8-1.2 miles.
Following are some of the best drones for the longest range that you should try out;
DJI Air 2S
This very drone is a follow-up in the DJI Air series but is better in every aspect. It can be classified as an update made to the DJI Mavic Air 2, and the most primary enhancement is the 1-inch camera sensor that is bigger than any other drone in this class, a camera lover's dream come true if you will. It offers a 20MP camera which makes the Air 2S compete for the toe to toe with the DJI Mavic 2 Pro, but in contrast, the Air 2S is cheaper, smaller, and more compact than ever.
This drone is also better equipped with high-speed operations, racing, and chasing aerial objects. In terms of range, it can cover about 7.5 miles of the ground before needing a recharge which is pretty great for a drone this smaller and compact.
DJI Mavic 2 pro
It was introduced back in 2018, but it soon became one of the best-selling foldable drones introduced by DJI. It offers a remarkable design and functional update over the Mavic Pro. It offers a solid 1-inch camera sensor for the 4K video capture that takes place at a blazing speed of 100Mbps. To make your drone flight safe, it also offers stunning multi-direction obstacle avoidance sensors as it will take a hint at a solid surface approaching not only horizontally but also vertically. OcuSync2.0 enables the high connectivity of the drone towards remote control accessories. It also enables the drone to transmit a steady 1080p live stream that is exceptional in retaining the video's intended quality.
The overall ground range that it can cover before needing another recharge is about 6.2 miles which is pretty solid based on other exemplary features that it comes laced with.
Phantom 4 ProV2.0
This drone is beloved among the drone community for its extremely advanced flight system. It uses a combination of obstacle sensing technology and OcuSync2.0, which ensures that your transmission doesn't hinder your flight experience and the quality of the recording. It offers a single 1-inch 20MP sensor that comes with a mechanical shutter so you can have amazing quality images and a recording dimension of 4K/60fps, which gives your videos that authentic and vibrant boost that it requires to shine. It is not only an incredible filmmakers tool but offers a great range too, providing you with almost 6.4 miles of flight time before its battery needs juice, to begin with.
Inspire 2
This drone is built to take the meaning of exploration to a whole other level as it features an incredible industry level flight performance. The range of advanced features in this drone is something that makes it a promising option for ambient drone lovers. It offers a DJI Lightbridge system that ensures a steady transmission of the feed and reliability with little to no signal break. To have an amazing filming experience, you can stream the live feed from both the main and FPV camera at the same time. Isn't it extremely vigilant and also so enthralling at the same time?
It also supports an interchangeable camera system that can support up to 6K CinemaDNG, which means you can edit your video in a variety of codecs based on your own need and editing support. All of this makes this drone an incredible long-range option for drone lovers out there, covering nothing less than 6.8 miles of ground with a single charge.
DJI Mini 2
If you are a drone hobbyist, then DJI Mini 2 is an important thing to mention; it is the next generation for the super-compact drone market and is an exceedingly well improvement over the original Mini drone series. The most incredible improvement that this drone has over others of its class is in terms of the camera and the flight capabilities.
The overall weight of this drone is about 250 grams or less, but you still get a 4K camera with splendid recording functions as well. It offers a more durable design, immense power and modified connectivity. It seems like an important feature to include, and that is why you must know that it offers a 4X zoom which is important if you have to capture your object from a distance. The minimal range for this drone is about 6.2 miles before it ever requires a second charge.
In conclusion
It might be a small band of people that care about the long-range of drones, but it is an actively important feature to look for in your next drone purchase. Some of the best drones for the longest range also come packed with some of the unique features to improve your exploration and editing skills, but this shouldn't be made the base for purchasing the longest range drones.
Last update on 2023-12-03 / Affiliate links / Images from Amazon Product Advertising API