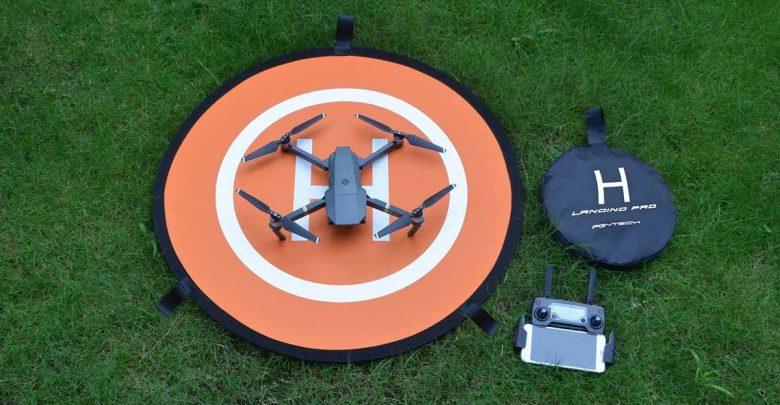 Drones are designed for outdoor use and when you are planning to fly your latest gadget, it always doesn't pan out as per expectations. You might face a lot of gravel and debris if you are in a non-urban environment. You might also notice that landing on concrete will cause damage to your expensive drone over time.
A landing pad remedies these issues by provided a safe platform to your drone. You can use a plethora of accessories to further enhance your experience such as landing nails and LED lights.
These landing pads come with a carrying case which can be used to store additional batteries, lenses, chargers, or other add-ons for your drone. Here are the best drone landing pads available on the market right now.
Best Drone Landing Pads

VCUTECH Drone Landing Pad
The VCUTECH Drone Landing Pad is the ultimate solution for your DJI Mavic drone. It features a rugged pad which is lab-tested for pressure and temperature resistance. Built fro, high-density PP EVA and foam, this landing pad is durable and long lasting.
It comes with a dedicated case which can be used to store additional batteries (up to 5), the remote controller, filters, power adapter and 2 SD cards. This ensures that you are always prepared for your next shooting adventure.

DJI Mavic 2 Pro Drone
The DJI Mavic 2 Pro drone bundle offers a refinement to DJI's offerings. It features a 20 megapixel Hasselblad lens and a remote controller. The drone landing pad is made out of high durable material which will stand the test of time.
The intelligent flight battery is long-lasting and reliable. You also get a power cable along with a 128 GB micro SDXC card. If you are looking to buy an all-inclusive drone kit, this is the choice for you.
It features several other accessories such as a 6-filter lens pack, small and large RC cable sliders and replacement control sticks. This ensures that your project won't be held back by unforeseen circumstances.?

PGYTECH Mavic AIR 2 Landing Gear
The PGYTECH Landing Gear is compatible with the DJI Mavic Air 2. It comes with extension legs which enable a safer landing for your drone. The legs weight a mere 21 grams which puts minimum strain on the overall battery life and does not affect the drone's flight performance.
The landing pad is 20×20 inch in side which makes it highly portable. The pad is constructed out of waterproof PU PVC material which is lightweight and resists stains. The manufacturer offers a 1 year refund policy with this product. If you are in the market for an economical drone pad, this is the one to choose.

O'woda Drone Landing Pad
The O'woda Drone landing pad is an elegant landing solution for your DJI Mavic drone. It features 4 dedicated red LED lights which make landing a breeze. It allows you to spot the pad from a distance. This pad is 43.5 inches in size and can be folded for easy transportation. Constructed out of nylon and rubber, this landing pad offers class-leading waterproofing abilities.
This landing pad features high-precision printing which ensures that it won't fade from extended sun exposure. It comes bundled with a storage bad, 8 reflective strips and a set of 3 nails. The large size of this pad makes landing easier for new and experienced users alike.

RCstyle Drones Landing Pads Universal
The RCstyle drone landing pad is a universal landing solution compatible with a wide variety of Mavic drones. The lightweight material is extremely portable and offers class-leading waterproofing. This landing pad offers a foldable design which allows for quick deployment. It features sun-protection which makes it resistant to fading over time.
This landing pad comes with a carrying case, a manual, 4 landing nails and a set of 7 reflective strips. These strips come in handy when you are flying during the night, ensuring that you can easily locate the pad for landing.
The nails are used to offer a landing solution for windy situations. The manufacturer offers attractive after-sales service which can fetch you a full refund within 45 days of your purchase.

Drone Landing Pad Waterproof
This drone landing pad is 40 inches in size and can be folded to take less than half the space. It supports all drones with wheelbase under 110 cm. Built from nylon, this heavy-duty landing pad offers extreme durability that includes sun and water proofing. This lightweight drone allows a reversible design which can be used for different landing situations.
The reflective strips on this drone makes it easy to land during night time. It comes bundled with 4 landing nails, a reflective strip and a storage bag which makes transportation easy while saving valuable space.

Weighted OR Anchored Waterproof Drone Landing Pad
This drone landing pad comes is double-sided, which makes it ideal for landing in different environments. It features 2 propellor fixing straps for added stability. This pad supports all DJI Mavic drones under 12 inches. The bright red color makes this pad easy to spot in darker landing situations.
The landing pad is constructed out of nylon, which offers waterproofing and exceptional dust resistance. It features a weighted/anchored surface attachment which helps the pad stay secure during windy days. It features a stash pocket which can be used for storing additional accessories.
A carrying bag is provided in-the-box which makes transportation easier.

Luminous Drone Landing Pad Glow
The Luminous Drone Landing Pad features a fast-fold design which is great for transportation. The 30 inch size makes it compatible with a wide variety of drones. The surface of this landing pad glows in the dark which ensures that you can easily land your drone without the use of reflective strips. This lightweight pad is waterproof and less likely to fade from sun exposure.
It comes bundled with a zippered pouch which makes it easy to carry. This landing pad protects your drone from dust, dirt and grime. Additionally, it is easy to clean, making it the go-to drone landing solution. It comes bundled with stakes which helps you secure the pad to the ground during strong winds.

Hoodman HDLP3 Drone Landing Pad
The Hoodman HDLP3 drone landing pad features a 13 inch carrying bag which makes it a easy to carry in your car or backpack. It features easy-set-up springs which make it sturdy on the ground. The perimeter cable features a 3.2 pound zinc coating which offers added weight. This pad shields your drone from blades of tall glass and pebbles.
You can use a wet towel to clean this rust-proof drone pad. Hoodman is a provider of drone and camera accessories for more than 33 years. The manufacturer offers a 1 year warranty against any defects. This pad is crafted with great attention-to-detail which makes it a compelling purchase.

WinPower 75cm Universal Drones Landing Pad
The WinPower universal drone landing pad supports a wide variety of drone types which ensures that you won't have to buy a new one when you upgrade your drone. \
This blue landing pad uses a high-reflective material which is a departure from the conventional reflective strips. This substantially enhances the pad's night visibility. Building from double-layer polyester, this landing pad offers strong resistance against water, sun, grass, snow and sand.?
This 30 inch drone pad comes in two colors, blue and orange. You get 3 landing nails, a carrying case and LED bulbs along with the landing pad to offer enhanced functionality. It comes with a portable bag made out of nylon material which makes it a convenient storage solution.

Best Drone Landing Pads Buying Guide
Choosing a landing pad
Although stability and water proofing is a standard feature among drone landing pads, you need to ensure that it matches the overall size of your drone. A stain resistant material along with sun-protection will ensure longevity and easy maintenance.
Effectiveness of landing pads
Drone landing pads are designed to protect your expensive gadget from the elements. Whether you are flying during dry or wet conditions, a landing pad will ensure that water and dust stay away from the take-off and landing zone. As drones use powerful rotors to take-off, a landing pad also prevents the lenses from dust which may significantly hinder your camera's shooting capabilities.

Frequently Asked Questions
Are reflective strips necessary for landing the drone?
While you can manage to land your drone without landing strips, they do help with overall visibility during foggy and darker conditions. It is specially useful when your drone is far away, you can use the strips as a beacon to safely land your drone.
What are landing nails used for? Will they damage the pad?
The nails provided with these landing pads allow you to secure the pad onto the ground, similar to a camping tent. This ensures that your landing pad would stay in place during strong winds. These drone pads are designed to be used with nails, which means that it won't damage your landing pad.
Last update on 2023-12-03 / Affiliate links / Images from Amazon Product Advertising API