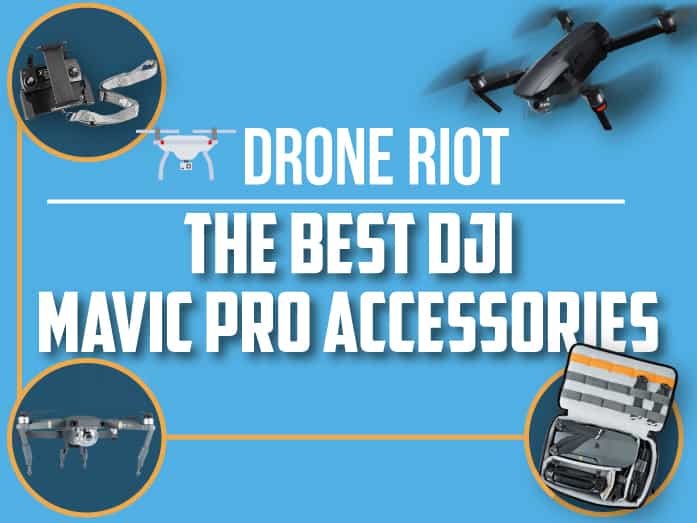 What Are The Best DJI Mavic Pro Accessories?
There?s no denying that:
The DJI Mavic Pro is one hell of a machine. It?s easy to fly, captures amazing footage and is packed full of high quality features.
BUT.
Having the right equipment can take your flying experience to the next level. That?s why we?ve compiled this list of the best DJI Mavic Pro accessories, designed to improve and aid your time in the air.
Of course, some accessories are more important than others. With that in mind, we?ve labelled what we deem as ?must have accessories? accordingly.
Best Mavic Pro Accessories List:
Spare Batteries ? A Must Have!
?First up on our list of the best DJI Mavic pro accessories is a spare battery (at least one!).
Although the Mavic sports a 27-minute flight time, having a spare battery or two is a must have.
27-minutes can go pretty quickly when you?re flying a drone and can be over before you know it. It?s a pretty rubbish feeling when you?ve got to stop filming when you?ve run out of batteries.
Having at least one spare battery will double your flight time and provide you with a lot of freedom in the air.
Knowing that you have spare batteries allows you take your time and pull of some awesome shots. If you?re not happy with them, you can always re-shoot with out the stress of running out of batteries.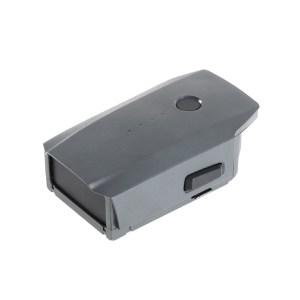 Although they?re expensive, having a spare battery or two is invaluable to any drone pilot. They?re definitely one of the best Mavic Pro accessories for any owner.
Filters ? A must have for filmmakers and photographers
?If you?ve got a DJI Mavic Pro, the chances are you?re looking to shoot some aerial photographs or videos.
It?s true that the Mavic Pro has an awesome camera, but it isn?t perfect. Having a set of ND filters can really take your footage to the next level.
If you?re flying on a sunny day, over exposure can completely ruin your shot. You can attach a neutral density (ND) filter to your drone to limit the amount of light that the camera picks up.
Similarly, when an ND filter is applied to your drones? camera, you?re able to reduce its shutter speed without the shot being over exposed. This allows you to shoot some awesome looking photographs with your drone!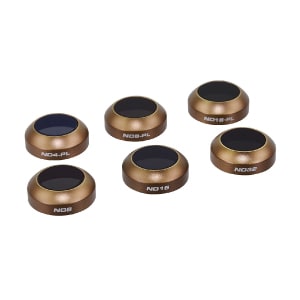 This set comes with 6 DJI Mavic Pro filters, consisting of:
ND4/PL
ND8/PL
ND16/PL
ND8
ND16
ND32
It?s safe to say ND filters are one of the best DJI Mavic Pro accessories for serious filmmakers and photographers.
?Read Also: Best DJI Mavic Pro Backpacks & Cases
Spare Propellers ? Must Have!
??Propellers are one of the most important parts of your drone. It?s extremely important that they're kept in top condition with out any scratches or damages.???
Even the slightest fault in your drones? propellers can have disastrous effects.
It?s always best to play it safe when it comes to propellers and having a spare set is a very, very good idea.
Although they?re important, they?re extremely fragile and tend to be easy to break. Luckily for us, spare propellers are pretty cheap, so it may be a good idea to pick up a few sets.
When mounting new propellers, take the time to make sure they are correctly fasted to the drone. They?re pretty easy to attach, but it is worth taking extra care whilst you?re doing this.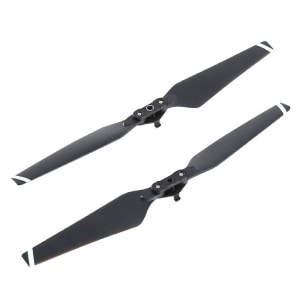 iPad Mini
?Being able to have a clear view of what your drone is recording is incredibly important for both filmmakers and photographers.
When I first started flying drones I used to use my smartphone to pilot my drone. That was until I got an iPad Mini. It makes it far easier to see the live feedback from your drones? camera, and allows you to shoot with more accuracy.
It is worth noting that the iPad Mini 4 comes in two varieties, WI-FI only and cellular and Wi-Fi.
Have a Wi-Fi only device means you can?t make use of the drones? follow me function. You?re also unable to change your home point once the drone has taken off. If you?re not interested in using these functions, then a Wi-Fi only model will be more than adequate and a bit cheaper.
If you?re looking to get the most out of your drone, then a tablet such as an iPad Mini is one of the best Mavic Pro accessories for you. If this doesn't take your fancy, be sure to check out our list of the best tablets compatible with the DJI Mavic Pro.
Tablet Holder + Lanyard
?If like me, you prefer piloting your drone with a tablet, you?re going to need a tablet holder.
If your tablet is longer than 6.8 inches and thicker than 0.34 inches, a tablet holder will be required.
Fortunately, they?re incredibly affordable and easy to attach to your transmitter.
No tools are required; you simply just place it inside your transmitters device clamps. The tablet holder is also mounted via a rotating gimbal that allows you to have the tablet at the desired angle.
This holder in particular is the number 1 best selling tablet holder for the DJI Mavic Pro. ?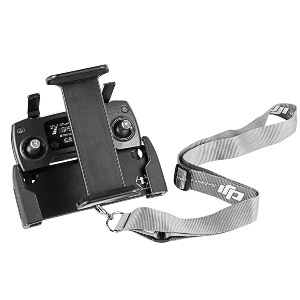 ?It?s built out of aviation aluminium-alloy and high quality ABS that is not only durable, but also incredibly lightweight.
The tablet comes alongside a lanyard that you can attach to your transmitter. This makes holding your controller a lot easier and also prevents you from dropping it on the floor (something I have unfortunately done).
Sun Shade ? A must have if your flying with a tablet!
?Flying in the sun is awesome, there?s nothing better than taking your Mavic out for a spin on a nice summers day.
Unfortunately, flying on a sunny day isn?t as easy as it may seem.
The sun creates a glare on the devices screen, which makes it hard to see what?s going on. This is especially true when flying with a tablet.
Having a sunshade for your device will combat this problem and provide you with a clear and undisturbed view of the screen.
This is particularly important for those of you who are looking to fly using FPV and are filming with your Mavic Pro. Glare on your screen will make it hard to see what you?re recording and you won?t know if you need to shoot it again.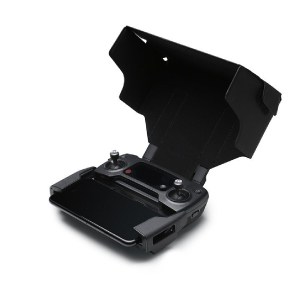 For anyone flying in the bright conditions, a sunshade is one of the best DJI Mavic Pro accessories.
DJI Mavic Pro Range Extender
?Another great accessory for your Mavic pro is a range extender. These Windsurfer extenders are lightweight, portable and provide a boost in your drones? maximum range.
It is worth noting that when you?re flying your drone, you should always keep it in line of site at all times. In fact, this is the law in most countries.
Before you fly it is always a good idea to brush up on the rules for your country/area.
These range extenders do much more than just increase your Mavic?s maximum control distance.
They allow your transmitter to establish a stronger connection to the Mavic Pro; this allows the live feedback to be more stable without lag or technical disturbances.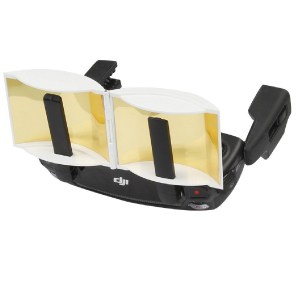 When you?re using these extenders, make sure they are facing the general direction of the Mavic Pro for maximum performance.
Landing Gear Extensions
?Up next on our list of the best DJI Mavic Pro accessories are Landing gear extensions. These are a great alternative to a landing a pad and have become a go to accessory for DJI Mavic Pro pilots.
These extensions raise the DJI Mavic Pro 5cm higher and are also designed to act as shock absorbers.
As I previously mentioned, the Mavic Pro rests tantalisingly close to the ground, which makes taking off in some areas dangerous.
These will protect your Mavic Pro from any unwanted bumps or shakes when landing.
Not only are they cheap, they?re also very lightweight. Weighing only 27.9grams, they will have virtually no effect on your Mavic flight time.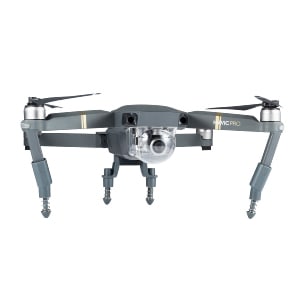 ?These landing gear extensions in particular have received an abundance of praise and have amassed a collection highly rated reviews on Amazon.
Backpack ? Must Have!
?No drone set up is complete with out a backpack or case. The Lowepro View Point BP 250 is an excellent example of a high quality backpack for your DJI Mavic Pro.
Lowepro are a world-renowned manufacturer of high quality camera accessories and equipment. The BP 250 is no exception.
This is actually a multi-purpose backpack and can be used to transport regular camera equipment, or even the DJI Spark.
Inside the backpack you can fit your DJI Mavic Pro, transmitter, 15? laptop, 10? tablet, spare propellers and charging cables.
The Lowepro BP 250 is designed with portability in mind. It weighs only 2.75lbs and is small enough to be used as carry on luggage for flights. This is great if you?re looking to go travelling with your Mavic Pro.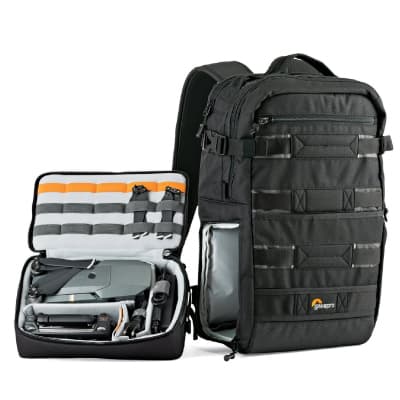 Costing less than $100, this really is one of the best Mavic Pro accessories around.
DJI Mavic Pro Hard Case ? Must have!
?If you?re looking for something a bit more heavy duty to protect your Mavic Pro, then this hard case is the perfect solution.
The Nanuk waterproof hard case is one of the best in the business and designed to provide your DJI Mavic Pro with the ultimate protection.
The outside of the case is manufactured using durable and high quality material that provides high impact resistance for your equipment.
The inside of the case is filled with custom coat foam to perfectly house the Mavic Pro and accessories.
It can be used to store the Mavic Pro, transmitter, 4 batteries, ND filters and charging cables. If you?re feeling creative, you can also cut your own custom holes into the shock absorbing foam.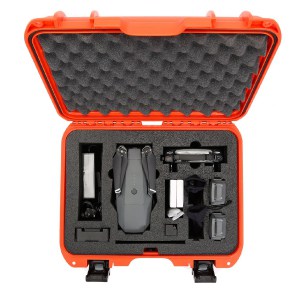 The Nanuk is IP67 waterproof rated, which means that it can be submerged in water at 3ft for half an hour with no adverse effect to the equipment inside. I doubt your going to be going swimming with your Mavic any time soon, but it?s nice to know that you can!
Also, if you?re not a fan of the color, you?ll be pleased to hear it is available in orange, yellow, black, silver, graphite and olive.
Joy Stick Protector ? Best bang for your buck
?When travelling with your Mavic Pro, it?s important that you take good care of both the drone and the transmitter.
Joystick protectors are a cost efficient way of ensuring that your joysticks stay in good condition.
Having a faulty joystick can be detrimental to your drone and travelling with your transmitter is an easy way to break it.
These protectors in particular cost less than 10 bucks and act as both a screen and joystick protector. You can travel easy knowing your equipment is safe.
SD Card ? Must Have!
?To rap up our list of the best DJI Mavic Pro accessories, we have a spare SD card.
?Especially with the Mavic Pro, it's important that you have an SD card that's good enough to store high quality footage.
The SD card featured in this article is a 64GB class 10 micro-SD card that is perfect for storing your Mavic?s 4k footage.
This is one of the most popular SD cards for Mavic Pilots due to its fast read and write speed and affordable price tag.
This is one of the best DJI Mavic Pro accessories for filmmakers and photographers who will be shooting on a regular basis.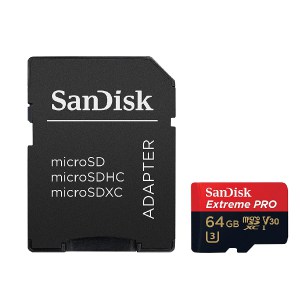 Best DJI Mavic Pro Accessories Round Up
If you would like to see any more information about the DJI Mavic Pro, you can head over to the DJI website.
Thanks for taking the time to read our article on the best Mavic Pro accessories. I hope that you?ve found it helpful and if you?ve got any questions feel free to comment them below.
Happy flying!