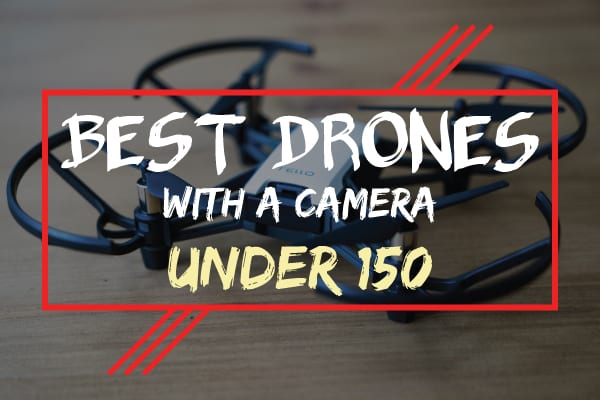 Our Number 1 Rated Camera Drone Under $150:
---
There's no denying the fact that there's an astronomical amount of camera drones out there. BUT, which ones are even worth considering?
Today, we're going to be taking a look at some of the best drones under $150 with a camera currently available. We'll be breaking down each model, taking a look at the good, the bad and the ugly.
We'll also be discussing what to expect from this sort of budget and what you should be looking for in these types of drones. If you've got any questions throughout out article, please feel free to comment below.
With a bit of luck, you'll leave this article knowing exactly which drone is right for you and where you can buy it from. 
Lets get to it.
Comparison of our Top Picks
List of the Top Drones With Camera Under $150
Ok it's crunch time. Lets start taking a look at these drones, bearing in mind that apart from our editors choice, the drones are listed in no particular order. We've also tried to cater to different needs, with some being racing drones and others being designed for FPV and aerial filming.
---
1. Ryze/ DJI Tello
At a Glance:
Noteworthy Features:
About
The Tello drone is manufactured by a company called Ryze Robotics, who worked alongside world-renowned drone manufacturer DJI to release their Tello drone. You could say in a sense that the drone has the best of both worlds, a fresh and innovative design by Ryze and the feature rich DJI technology inside the drone itself.
Who is the Drone Meant For?
As I mention in my full review of the DJI Tello, this little beast is designed for absolutely anyone who fancies flying a drone. It's beginner friendly with it's pre-installed propeller guards that protect the drone when you crash. With the drone being so small and agile it's also fun to play around with for more experienced pilots. 
Great Specs With Even Greater Features
In terms of specifications, you'll struggle to find a better drone at this price point (less than 100 bucks). The Tello sports a 720p camera boasts and incredibly respectable flight time of around 13-minutes, although I get slightly less than that on mine.
Due to the fact that the Tello connects to your smart device via a Wi-Fi signal, the maximum range of the drone is capped at around 100m. To be honest, the drone is so small that you'd struggle to see it beyond that point anyway, so it doesn't really matter too much.
I've had the Tello drone for a fair amount of time now, and til this day I can't believe how much fun this thing is to fly. In my opinion, this is by far one of the funnest beginner friendly drones you can get. One of the main reasons for this is the drones massive amount of flight modes, with the Tello offering 8 different take off and piloting modes for you to try. These consist of:
Incredibly Easy To Fly
The final thing I want to discuss is how easy the Tello drone is to fly. You've got an number of piloting options, the first one is using a smart device such as a phone or tablet. You fly the drone using the Tello app, which is extremely easy to use. I found the drone to be incredibly responsive without much delay between an input of a control and the drone responding accordingly.
You also have the option of flying the drone using some form of gamepad device. Although this will cost you slightly extra, it does provide the experience of flying a drone via an actual transmitter, and it'll make flying the drone a fair bit easier as well. 
The drone has a feature that is known as a Visual Positioning System, or VPS for short. There are 2 sensors located underneath the drone that are able to detect the floor. With this, the Tello is able to hover more accurately in position, without swaying from side to side.
All in all, this is a fantastic camera drone, well under the $150 price mark.
---
2. Parrot AR Drone 2.0
At a Glance:
Noteworthy Features:
About
Over the years, Parrot has been behind some of the most impressive drones on the market, ranging from budget friendly beginner drones, to high quality camera drones designed for professionals. Their AR Drone 2.0 has been around for some time now. It is often referred to as one of the best drones for beginners, thanks to its cheap price tag and ease of use. 
Specs & Features
Whenever I'm looking to get a new drone, there are a few key factors that I normally consider, depending on the type of drone I'm looking for. One such aspect is the drones' flight time, which is around 12-minutes for the Parrot AR 2.0. While 12-minutes may not sound that impressive, it's one of the longer flight times at the price bracket.
In terms of camera, the Parrot AR 2.0 shoots with a 
720p onboard camera
. Drones often use some form of gimbal stabilizer to keep the camera steady during flight. Unfortunately, at this price point, drones don't tend to feature a gimbal. Instead, Parrot has opted for 
digital stabilization.
It does work relatively well, however, don't expect world-class footage from this drone, or any other on the list (I'll discuss what to expect from these drones once we've made it through the list).
The footage is stored directly onto the device that you're using to pilot the drone, which means you don't have to worry about buying an SD card, which will save you a few extra bucks.
What Else Can it Do?
Similarly to the Tello drone we just discussed, the Parrot also has some tricks up it's sleeve. The drone is able to perform acrobatic flips in 4 different directions. To do this, all you have to do is push a button in a direction and the drone will perform a flip, with it then being able to return to the original height. This looks awesome and is a sure fire way to impress you're friends. 
Also, if you're wondering what the AR stands for, it's for Augmented Reality.  The application uses the feed from the drones camera, and places different games on top of this footage, which you can then use to play by piloting your drone.
---
3. Eachine E58
At a Glance:
Noteworthy Features:
About
Dubbed the 'mini Mavic Pro', I'm glad to tell you this isn't some cheap nock off DJI drone. I should correct myself, it is cheap, but it's definitely not a knock off. To be honest, when I first saw the drone I didn't have high expectations, however having owned and flown the Eachine a fair number of times, I can gladly say it's one of the best drones under $150 with a camera.
Although featuring some similar (identical) design elements, the Eachine is a fantastic camera drone in it's own right, especially when you take into consideration the price.
Specs
Due to the compact design of the E58 drone, the battery itself is fairly small, meaning it can only provide around 7-9 minutes of flight time. As alI always do, I found that it lasted slightly less than that (probably around 6-minutes).  
The Eachine E58 uses a Wii-Fi signal to connect the drone to the transmitter and smart device, meaning that i's maximum range stops at around 100m. To be honest, I've never flown the drone out of range when ever I've used it, however I doubt I've ever taken it that far due to the fact it's so small. If you do fly out of range, the drone should return to its' take off position automatically.
You've got two options when it comes to the drones' on board camera, either 0.3 megapixels or 2 megapixels, I went for the 2 megapixel option but it's really down to you. The 2 megapixel camera is able to shoot wide-angle 720p footage and can be tilted downward by 90-degrees manually.  
The footage can be stored either directly to the smart device used to control the drone, or onto a micro-SD card inserted directly onto the drone. I would recommend using an SD card, as this ensures the best possible quality.
Gotta Love The Features
Let be real, drones at this sort of price range are going to be toys and well, toys are meant to be fun. And that's exactly what the Eachine E58 is, incredibly fun. 
First of all, the drone has 3 different speed settings ranging from 30% maximum speed to 100% maximum speed. If you're a first time pilot I would recommend starting on 30% and working your way up. For such a tiny drone, this thing really opens up and reaches some incredible top speeds.
As well as this the drone features an altitude hold mode, headless mode and is able to perform acrobatic flips at the push of the button. Altitude hold mode is basically where the drone is able to continuously hover at the same height, without you having to input any controls. 
---
4. Altair AA108
At a Glance:
Noteworthy Features:
About
If you had to some up the perfect camera drone for beginners, especially under $150, the Altai AA108 couldn't fit the profile any better. It's affordable, durable and easy to fly. Not many drones companies out there provide the level of customer service that you can expect from Altair, as believe it or not, they don't actually have customer rales reps. 
Fear not! Instead, the two co-founders are directly responsible for talking with customers and helping them through any issues they may encounter. I really don't know how they do it, but they do. This is unbelievably refreshing when you take into account the some what bad reputation the drone industry has for handling their customers.
Anyway, enough about the company, lets take a look at the drone itself.
Specifications
In terms of specifications, the Aerial AA108 is respectable on all accounts. Featuring a wide-angle 720p camera, alongside a 10-minute flight time and a 100m maximum range. If the 10-minute flight time seems a bit short for you don't worry, Altair include 2 batteries alongside the drone, meaning you can get 20-minutes of air time, with absolutely no extra cost.
Features to Suit Any Skill Level
I love it when drone companies allow their drone to be flown by any skill level pilot and that's exactly the case with the AA108, with it's three different speed modes. Speed mode 1 is designed for kids and beginners, speed mode 2 is designed for intermediates and speed mode 3 is designed for those of you looking for a high speed flying experience.
The cherry on the cake though is in the form of it's altitude hold mode and headless mode, both perfect for beginners who have never flown a drone before. To be honest, altitude hold is great for any experience level pilot as it saves you having to keep the drone in place yourself. 
What's more, the drone can take off and land automatically, as well as return to its' take off position at the push of a button. All in all, the Altair AA108 is easily one of the top drones under $150 with a camera, suitable for any experience level pilot.
---
5. Altair 818 Hornett
At a Glance:
Noteworthy Features:
About
I'm not going to spend too much time talking about the company again as I just wrote about them, don't be lazy, scroll up! One thing worth discussing is that Altair Aerial teamed up with well known drone manufacturer UDI to put this bad boy together. If you're a drone enthusiast, you probably recognised the top of the drone as it looks strikingly similar to UDI's U818A (which believe it or not, is coming up next!).
Specs
In terms of on board specifications, the 818 Hornett is extremely similar to the AA108 we just discussed, where it differs is in size. The Hornett features a far bulkier build, larger batteries and more powerful motors, which in turn increases the drones' maximum flight time to around 15-minutes. When you take into account you get an extra battery with the drone, you've got yourself a whopping 30-minutes in the air. 
This is pretty much unheard of at this price range, especially when you consider the Mavic 2 has a 31-minute flight time and will cost you north of 1.5k! You can use this abundance of time to soar around the drones' 150m maximum range and recording 720p footage from the drones' camera.
Features
The Altair Hornett has all the tell tale features of a perfect drone for beginners, with a headless mode, altitude hold mode, automatic return to home and one button take off and landing, piloting the drone is a breeze.
Similarly to other Altair drones, the Hornett has three different speed settings designed for different experience level users. As always, if you're new to piloting a drone, I would recommend starting on the slowest setting and gradually progress to the fastest.
I think it's safe to say that Altair Aerial really know how to make a drone and thanks to their partnership with UDI, have produced one of the best drones under $150 with a camera.
---
6. UDI U818A HD
At a Glance:
Noteworthy Features:
About
A common theme amongst drones at this price point is their beginner and user friendly design. While this isn't the most user friendly drone on our list, it's definitely a great option for those of you who want to practice piloting a drone without much assistance from the drone itself.
In terms of overall price point and the build quality of the drone, the UDI U818A offers fantastic value for money and is well worth a consideration for anyone looking for a camera drone under $150.
Specs
Considering the ridiculously cheap price tag of the UDI, you get some fairly decent specifications, made better by the fact that the drone itself comes with a spare battery for a double flight time. The drones' onboard camera is able to shoot 720p HD footage that can be stored directly onto the 4GB Micro SD card than comes with the UDI U818A HD. 
In terms of flight time, you're looking at somewhere between 7-10 minutes depending on the conditions that it is flown in, and as I mentioned before, this is doubled by the additional battery. Where the UDI is somewhat let down is it's maximum range, capping at around 50m due to it's wifi connection. Although, you can't really ask for much more than that at this sort of price range, so it's in no way deal killer.
Features
One noticeable feature missing on the UDI is an altitude hold mode. This means that you will need to control the throttle at all times in order to keep the drone in the air. For people wanting an 'authentic' and as real as possible flight experience, then this shouldn't be an issue.
This will also train you to fly a drone without much assistance, which in my opinion, every drone pilot should be able to do. Even on these crazy expensive drones, things can still go wrong, so it doesn't hurt to know how to fly a drone properly.
Having said that, the UDI does posses some features ideal for beginners such as its' headless mode and the fact that it's equipped with a 6-axis flight controller. This helps to keep the drone flying level during flight and allows it to perform acrobatic manoeuvres at the push of a button.
One thing that's always surprising whenever you fly this drone and that's how damn tough it is. The built in propeller guards are incredible, if you crash into something you just kind of bump away without sustaining any damage. If you're a complete beginner and want a durable quad copter, look no further.
---
7. Potensic T25
At a Glance:
Noteworthy Features:
About
I've been a bit cheeky including this drone on our list, as it costs slightly more than $150 at the time of writing. Trust me, if it was under $150 I would definitely have made this our editors choice.
Potensic are well known for producing a tonne of affordable drones that continue to get better and better with each release. With their T25, they've continued to push these boundaries and have released an incredibly high quality drone that won't break the bank.
Specs
Where the Potensic really stands out is its' maximum range, standing out a whopping 300m. This provides you with ample room to record using the drones' 1080p HD camera, allowing you to capture some pretty epic stuff. Although the camera is 1080p, it still won't be professional standard footage, but it's as close as you can get at this price point.
You've got around 10-minutes flight time give or take depending on the weather conditions. While this isn't incredibly long, it's still ample time and can easily be doubled by getting a spare battery or two.
Features
Here's where the drone gets even more interesting thanks to it's impressive array of features. For example, the Potensic uses GPS positioning that allows the drone to hover accurately in place without swaying from side to side. Similarly, this GPS positioning allows the drone to take a recording of its take off location and then be able to return to the exact point at the push of a button.
Again, thanks to the drones use of GPS, the Potensic features a 'Follow Me Mode'. Providing you're using a cellular smart device, the drone is able to follow the GPS position of the transmitter without you needing to input any controls. 
You'll also have an easier time flying the Potensic in the wind thanks to it's 9-axis gyroscope. This provides a far more steady flight than the 6-axis gyroscopes seen on the other drones on our list. You'll be able to fly in heavier winds and still be able to comfortable pilot the drone.
Although not a camera drone under $150, it is incredibly close. Still, it truly deserves a place on our list, especially if you're willing to stretch your budget a little bit further.
---
8. Blade Inductrix FPV
At a Glance:
Noteworthy Features:
About
This is one of my all time favourite drones to fly on a rainy day (it's an indoor drone by the way). If drone racing is something you would like to try your hand out, then this is easily one of the best drones to start with.  It's fast, it's fun and comes ready to fly with all you need. We actually featured this as our editors choice of the best racing drones under $200 and I'll tell you why.
Amazing For Beginners
There's a few reasons why the Inductrix is perfect for beginners. Firstly, unlike many racing drones the Inductrix comes RTF (ready to fly), and FPV ready, which essentially means the drone is fully constructed with an FPV camera attached. Alongside the drone comes a transmitter, and FPV monitor and 1 LiPo battery. This saves you having to buy all the components separately, saving you both time and money.
Secondly, I don't know what this drone is made out of, but it's incredibly durable. The built in shell protects the propellers and the body of the drone from sustaining any serious damage if you crash, and considering how fast the drone is, a crash is inevitable at some point.
Specs
Due to the fact that the drone is so small and makes use of high powered motors, the battery can run out pretty quick, only lasting around 7-minutes. With this in mind, I would definitely recommend stocking up on a couple of spare batteries, as once you've flown this thing, you won't want to stop.
For such a tiny drone, having a 90m control range is pretty decent, especially because the drone is designed for indoor use. Unless you live in a warehouse, this should provide plenty of room to experience some awesome drone racing.
All in all this is a pretty incredible little drone that offers some of the funnest flight experiences to be had. Not bad for less than 150 bucks!
Criteria Used to Evaluate the Best Drones
Now we're going to take a look at the criteria used to evaluate these drones, and what you should be looking for when looking to invest in a drone.
Camera
As you're looking for a camera drone, you may want to make sure that the drone comes with a camera and you don't need to buy one separately. All of the models on our list come with a camera and everything else needed to get the drone up in the air. While the cameras at this sort of price level won't be the best, you can still get some capable of shooting in 720p. 
Flight Time
The longer the flight time the better, it's annoying when you have to stop flying because your battery has run out of juice. That's why I recommend getting a spare battery or two, no matter the drones' flight time. At this sort of price range your looking at anywhere between 7-15 minutes depending on the type of drone. If you're wanting longer than that, you may need to consider increasing your budget.
Maximum Range
The maximum control distance of the drone greatly determines the amount of freedom you've got in the air. While drones at this price point won't have the longest maximum range, it's still something worth considering. If a drone is flown via a Wi-FI connection, it's maximum distance is usually around the 100m at most.
Ease of Use
This really depends on your experience flying drones. If you've never flown a drone before, it's a good idea to get a a beginner friendly drone - something durable and easy to fly. It also helps if the drone has a number of different speed settings, as this will allow you to continue to develop your piloting skills are a high speed, without needing to buy a new drone.
Durability
Whether you're a pro pilot, or never flown before, things can always go wrong when flying a drone. With this in mind, I like to look for drones that feature a durable build. This may mean finding a drone with built in propeller guards, or even buying propeller guards separately. Take a look at the customer reviews of the drone, as most of the time there will be someone discussing the damage from a crash.
FAQ
Do I Need to Register My Drone?
This all depends on where you are located. In the US, if the drone weighs more than 250grams then it'll need to be registered with the FAA. Wherever you are, it's a good idea to check with your countries policy on registering your drone.
Are These Drones For Beginners?
I would say that all of the drones listed in this article can be flown by beginners, especially the models with different speed settings and headless mode.
Can I Make Money With These Drones?
Unfortunately, none of these drones are equipped with good enough cameras to be used commercially. You can always try, but I doubt someone would be willing to pay for this quality footage.
Round UP
Thanks for taking to time to read our article on the best drones under $150 with a camera. As always, feel free to ask any questions you have either by commenting below or via out contact page.
Happy flying!