Guides
Beginners Guide To Drone Racing: Everything You Need To Know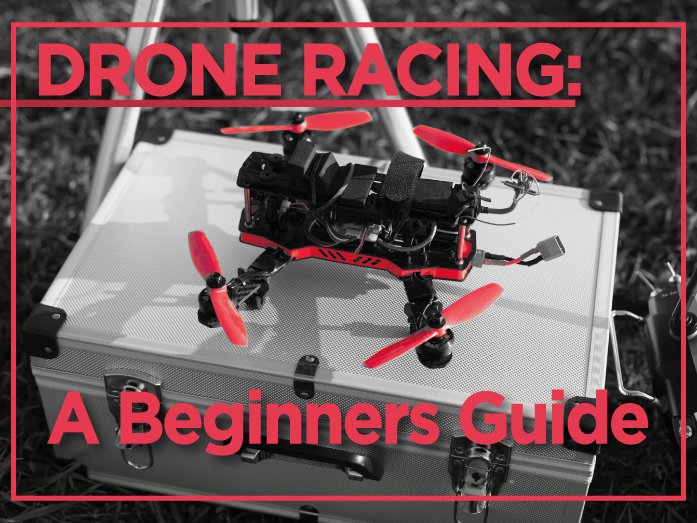 There?s no denying that,
FPV drone racing is on the rise. Racing leagues such as DRL (Drone Racing League) and D1 racing have both secured million dollar sponsorship deals with Allianz and DHL respectively.
The Drone Racing League is also aired on Sky Sports around the world, gaining new fans with each event.
It?s safe to say, the time to be a drone racer has never been better, but how does someone actually get into the sport/hobby?
We know it can be extremely daunting, that?s why we?ve put together this comprehensive beginners guide to drone racing; providing you with all the information you need to get started.
Before we get to it, check out the awesome video below to see what all this drone racing fuss is all about.
Beginners Guide To Drone Racing? What We Will Cover
Our guide to FPV drone racing is made for first time buyers looking to dip their toes in the drone-racing world. At the end of our guide you will know:
How drone racing works
The best drones for learning to fly FPV
What to look for in FPV racing drones
The best FPV racing drones for all experience levels
What is FPV Drone Racing?
?
First we must understand what FPV stands for:
FPV: First-Person-View ? Is when a drone is piloted using the live feedback from a camera mounted to the UAV, typically using a headset.
The principle of drone racing is simple, using a FPV headset and a transmitter to compete against one or more pilots, usually to see who can complete the circuit quickest.
Usually these races aren?t as simple as flying in a circle and seeing who can go the fastest; there are usually obstacles and gates that must be passed through.
To be able to perform in such demanding situations, the drones used are built specifically for speed and agility and as such, tend to have short battery lives.
Types of Drone Racing
Rotorcross
This is where two or more drone pilots race against each other around a course and are ranked by the position that they cross the line.
Drag Race
If you?ve ever watched one of the 1 billion Fast and Furious films, you?re probably aware of what a drag race is.
The principle remains the same with drones, where two or more UAV?s race over a short distance, usually around 100m. This is a great test of the drones? acceleration, top speed and the drone pilots reflexes.
Time Trial
When two or more drone pilots compete against each other to see who can compete a course the quickest.
Read Also: Best Drones Under $1000 / Best DJI Spark Case
Getting Started
Before you can go around racing these ridiculously fast quads, it is probably a good idea to gain an understanding of the basics of flying a drone.
It may sound boring and tedious, but learning to fly a drone is extremely fun. As well as this, there are a number of ways you can hone your piloting abilities for next to no money at all!
If you?re a bit of a gamer (like me), those years of sitting in front of the Xbox may come in handy! Piloting a drone requires many of the same motor skills that gaming often develops, so those thousands of hours you?ve racked up may come in handy!
If you?re not a gamer, don?t worry! Drone Racing League has a free simulator that you can download and is available on both Windows and Mac. This is a great way to practice drone racing, as you don?t have the worry of breaking your drone and buying a replacement.
?Another great way to get started is by buying a cheap FPV drone to practice on.
The word 'cheap' often implies low quality, but you?ll be pleased to know that there are some affordable drones out there that are perfect for learning to fly.
One such drone is the Hubsan X4, which is a great little drone to learn on. The transmitter also comes with a built in screen that you can use for FPV flying.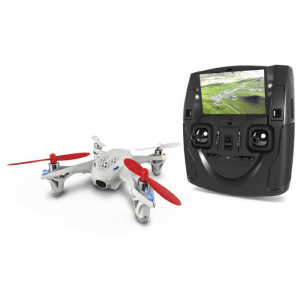 Tiny Whoop based drones are also great for learning on and seem to be all the craze these days. They?re super fast micro quad copters that are compatible with FPV goggles, causing drone pilots around the world to fall in love with them.
The Blade Inductrix FPV is the perfect example of this; it?s small, light and very, very hard to break! Watch the video below to see the Inductrix in action.
Related Reading:Best Drones For Travelling
Drone Racing Classes
Events typically categorise their races into classes that are defined by a number of the drones? specifications, including size and weight. The names of these classes will vary from event to event, however the classes listed below are for the MultiGP Drone Racing Championships.
If you would like to read a more on MultiGP drone racing, head over to this article.
Tiny Whoop Class
Tiny Whoop aircrafts are lightweight, fun, safe and affordable, making them a great racing drone for beginners.
Battery: 1s LiPo maximum
Propellers: 31mm maximum (must be completely surrounded by covers or ducts)
Motors: Brushed 6mm maximum
VTX: 24mW maximum
Weight: 35g max.
Micro Class
Micro Class racing drones are typically small yet extremely quick. They are also pretty quiet, suitable for both indoor and outdoor flying. Due to the fact that these drones tend to be fast and have exposed propellers, they are slightly more dangerous than the Tiny Whoop Class.
Battery: 2s LiPo maximum
Propellers: 66mm max.
Motors: Brushed or Brushless
VTX: 200mW max
3S Class
Suitable for all experience level pilots, and delivers a fun and thrilling piloting experience.
Frame (distance between diagonal motors): 305mm max.
Battery (number of LiPo cells): 3 cells
Weight (without battery): 800g maximum
Motors: Any electric motor
Video: 250mW max
4S Class
Designed for more experienced pilots, the 4S class demands a high skill level to compete in these events.
Frame: 305mm max
Battery: 4 cells
Weight: 800g maximum
Motors: Any electric motor
Video: 250mW maximum
Open Class
Anything goes! The open class is tailored to allow all drone types to compete against one another. No matter your drone configuration, you?re good to go! This makes for some incredibly fun and interesting races.
Frame: No Spec
Battery: No limit
Weight: 800g
Motors: No limit
Video: 250mW maximum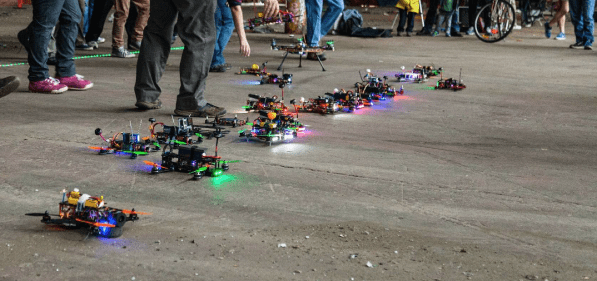 Drone Racing: Indoors VS Outdoors
Due to the unpredictable nature of weather, the majority of drone racing events take place inside. This is to make all conditions completely fair and to make sure that the event runs smoothly and on time (no one likes delays waiting for the rain to clear up!).
Drone meet ups however tend to be more casual and informal and are often hosted in outside venues. If you?re interested in finding a drone meet up or club near you, head over to Drone User Groups to find some fellow drone enthusiasts.
What Makes a Quad Copter?
Whether you go RTF or ARF (we?ll discuss the difference in just a moment), you?re drone will typically consist of the following parts:
Frame
4 motors
4 ESCs
4 props
Flight controller
Lithium-polymer (LiPo) battery
Video transmitter (vTx) and receiver (vRx)
Radio transmitter (Tx) and receiver (Rx)
Antennas
Battery straps
FPV goggles or monitor
On board camera for FPV
HD camera for recording (optional)
Of course, these are just the basics, you?re going to need a few extras to make the most of your drone and keep it functional for as long as possible. For example, it?s always a good idea to buy spare sets of propellers, batteries, motors and ESC?s.
This way, in the unfortunate event you crash your drone, you?ll more than likely have the required parts for repairs.
Some common tools that are required when maintaining a racing drone are:
LiPo charger
Soldering iron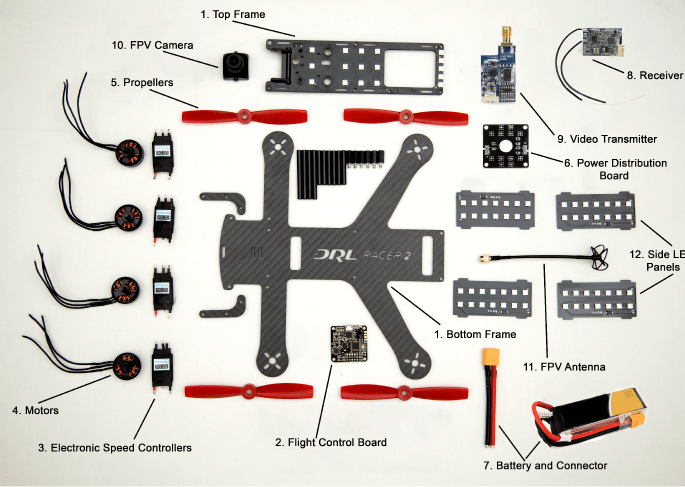 www.drlracingsimulator.zendesk.com
RTF VS ARF
You may have seen these two phrases thrown around the place, but what do they actually mean?
?RTF? Read-To-Fly ? The drone comes fully built, alongside a transmitter and can be up in the air extremely quickly. Usually, the only construction needed is mounting the propellers to the motors.
?ARF? Almost-Read-To-Fly ? These drones come in an array of states and configurations. Typically, the parts are bought separately or in a kit and are required to be constructed by the pilot. You will usually have to bind your own transmitter to the drone.
Some pilots will swear by building your first drone, whilst others will say it?s much easier to get a model ready to fly out of the box.
It is really just user preference, so I?ll let you decide on that one! You can also head over to our guide on the difference between ARF, RTF, BND and PNP for an even more in-depth break down.
What To Look For In A Racing Drone
Whether you?re looking for the best RTF racing drone or your own ARF drone kit, the following aspects should be considered.
Speed
Speed is an incredibly important factor to consider when buying your first FPV racing drone.
The drones? acceleration and top speed must be able to compete with the other pilots in your class. There?s more to racing than speed, but having a fast quad certainly helps.
Manoeuvrability
Equally as (maybe more?) important as your drones? speed and acceleration is its manoeuvrability. This is especially true in gated races, where the drone has to perform extremely acrobatic turns at high speeds.
A drones manoeuvrability is determined by the following components:
Control response time ? Determined by (flight controller & RC controller
Flight stability ? Determined by flight controller & flight control software
Predictable, smooth banking ? Determined by flight control software
Lift power ? Determined by motors, ESCs and props
Endurance/ Durability
The brutal truth of drone racing is that at some point or another, you?re going to crash your drone. Whether it renders the drone completely useless, or just breaks a couple of propellers, your drones? durability will play a massive factor.
Lighter aircraft tend to be more durable (and cause less damage when crashed) than larger drones, which is why they are recommended for beginner pilots.
This could be why we?ve seen a massive rise in popularity in Tiny Whoop drones. Their lightweight build paired with shielded propellers makes them one of the best FPV racing drones for beginners.
Flight Time
As I mentioned earlier on in this article, FPV racing drones are not designed with long flight times in mind.
Moreover, they are designed for short, quick outbursts of high power and speed. Drone races rarely last longer than 5 minutes and as such, you can expect your drone to be running pretty low after a 5-minute high speed battle.
How Much Does a Racing Drone Cost?
?Racing drones come in all shapes and sizes and can cost anywhere from $200 to $800+.
Of course, as with all drones you get what you pay for and if you spend the bare minimum, the chances are you won?t be able to keep up with the big players.
You also need to take into account the cost of FPV goggles, which cost around $250 to $500, as well as spare props, motors and batteries!?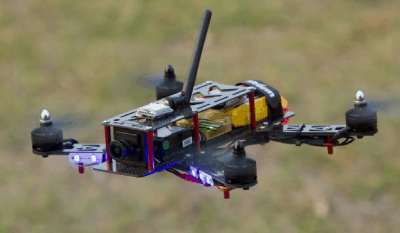 ?For a fully functioning, high quality drone racing set up, you can expect to pay a tidy sum of $1000+. That?s why it is recommended practicing on some of the cheaper drones we discussed earlier, so that you?re fully comfortable by the time you?re piloting more expensive aircrafts.
Best FPV Racing Drones ? Ready to Fly
Ok now it?s time to look at some of the best FPV racing drones you can buy. We?ll start off by looking at some ready to fly models at a few different price points, so hopefully you?ll see something that catches your fancy.
We've also got a whole article on the best racing drones under $200 if you want to head over and check that out.
Blade Inductrix ? Best FPV Racing Drone Under $200 For Beginners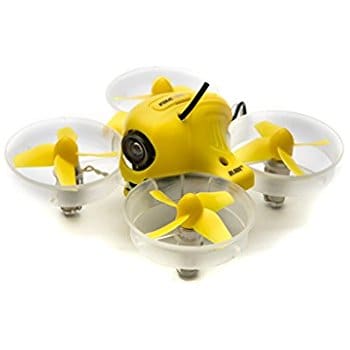 ?A fast, lightweight and easy to fly Tiny Whoop based drone. Comes with everything needed to practice FPV flying.
ARRIS XSpeed 250B V2 ? Best FPV Racing Drone For Intermediate Pilots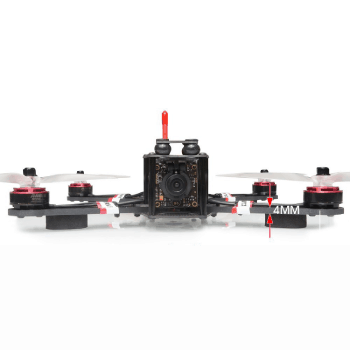 ?Both fast and agile, the ARRIS Xspeed 250B is a great drone for pilots looking to step up from beginner quad copters.
Best ARF Components
I will quickly go over the required components needed to put together your own drone. Below are some examples of what is required to get a drone put together. This should hopefully give you some idea as to how much it will cost.
Best Racing Drone Frames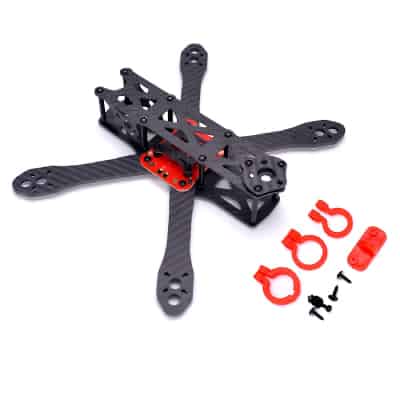 Best Motors For Racing Drones
Motors are an extremely important part of your drone and selecting which motors you will be using should be a well thought out process. Some of the most popular drone motors for FPV racing consist of:
A motors power is measured in KV; before we discuss what KV you should be looking for, it?s probably important to understand what the heck KV actually means.
?KV as we use it refers to the rpm constant of a motor ? it is the number of revolutions per minute that the motor will turn when 1V (one Volt) is applied with no load attached to the motor. In summary, we call it revs per volt ? but do not think you will obtain those revs when you attach a propeller; obviously the revs will be reduced because of the load.
Cool? now that?s out of the way we can take a loot at what sort of KV you should be looking for, depending on your drones weight:
1Kg and up ? 700-900KV
500g -1kg ? 900 ? 1300KV
Less than 500g ? 1300 ? 2300KV
As you can see, the more a quad weighs, the lower KV your motors should have.
Best Propellers For FPV Drone Racing
ESC?s
T-Motor ? Great quality for the price
Hobby-Ace ? Cheap if you buy 4 pieces
HobbyKing SS Series ? Lower quality and lower price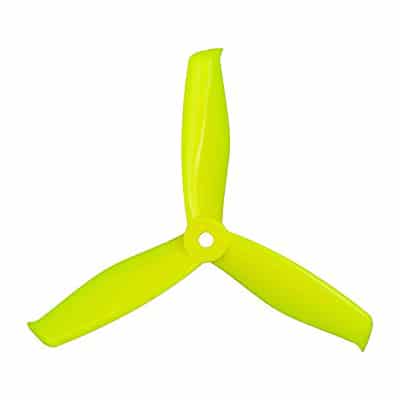 LiPo Batteries
Best FPV Cameras For Drone Racing
Of course, when you?re racing you want to have a good field of view and a clear display of what is going on. Your drones? FPV camera is a vital part of equipment and should be looked after accordingly. Some of the best FPV cameras for drone racing are:
RunCam Swift 2 ? 2.1mm lens, 165 degree FOV
RunCam Swift Mini ? 2.5mm lens, 130degree FOV
Crazy Pony FPV Camera ? 2.8mm wide angle lens
The Best FPV Goggles For Drone Racing
Using FPV goggles is the most common method of racing a drone. This is due to the fact that it puts your eyes right in the action and gives you an undisturbed view of your cameras live feed.
In order to pilot your drone using first person view, a few components are required:
A video transmitter and receiver
On board camera ? usually a FPV camera but some HD cameras can be used to display feedback to a head set
Antenna
The following are some of the best FPV goggles for drone racing:
FatShark HD3 ? The best, but expensive
Crazy Pony D2 ? Great For Beginners
Eachine EV800 ? Affordable, perfect for beginner drone pilots ? $89
Drone Racing Safety Tips
Of course, racing these machines around at incredibly high speeds does come with some safety issues. Follow the tips below to make sure you?re operating your drone safely.
General
Practice on a small, cheap micro copter to hone your piloting skills
Make sure the channel of your video receiver is not being used before you turn on your transmitter
Do not race in a public place. Keep your drone away from people as best as you can, if your drone were to crash into someone, it could do some serious damage.
Don?t fly whilst you?re under the influence
Events
Check that no one else is using the same channel as you before you turn on your transmitter ? most competitions have a sheet where each persons channel is allocated.
LiPo Cells
Don?t leave your cells unattended whilst you?re charging them
If you crash your drone, make sure your batteries are not damages, as they can set on fire.
DO NOT use damaged batteries
Propellers
When learning to fly, make use of prop guards
Make sure your propellers are not damaged before you fly, even if you think there is a small defect, always play it safe.
Don?t try and land your drone in your hand, the props can do some serious damage to your fingers (then you definitely won?t be able to fly).
Drone Racing Rules
Frequencies
Before your race gets underway, the organisers will provide the competitors with a list of channels that they can use. You should then chose one of these channels and make a note of it on the list. Before you turn on your transmitter, you should make sure that no one else is using the same channel as you.
General Rules
Your drone must:
Meet the selected classes criteria (we discussed this earlier)
Be flown strictly using FPV
Be able to take off and land vertically
Piloting Rules
A pilot should not touch or mess with another?s equipment
You must not step onto the track whilst a race is in progress (DUH!)
No pilots can be under the influence of alcohol or drugs
Don?t fly your drone near people (pilots, officials and spectators)
Beginners Guide To Drone Racing Round Up
Thanks for taking the time to read our beginners guide to drone racing! I hope that you?ve found it useful and if you have any questions, feel free to drop a comment below.
Happy flying!