Autel X-Star Premium VS DJI Phantom 4: Which is Better?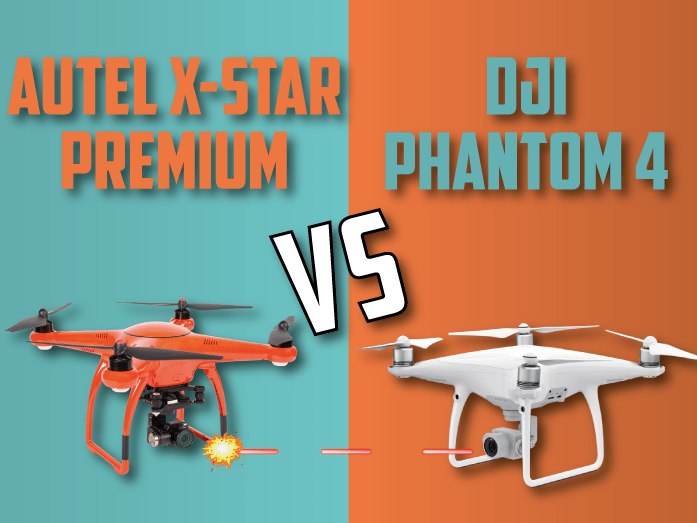 I think you'll agree with me when I say:
That sometimes it's almost impossible to decide what drone to buy. With the amount of high quality drones out there, distinguishing one from another can be a daunting task.
That's why we've put together this Autel X-Star Premium VS DJI Phantom 4 comparison, providing you with the ins and outs of each drone.
Both are fantastic drones, but lets see what makes them different.
---
Autel X-Star Premium VS DJI Phantom 4 Comparison
| | |
| --- | --- |
| | |
| | |
| | |
| Camera (Video): 4k @ 25fps, 2.7k @ 30fps, 1080p @ 120fps | Camera (Video): 4k @ 30fps, 2.7k @ 60fps, 1080p @ 120fps |
| Camera (Photo): 12 megapixels | Camera (Photo): 12 megapixels |
| | |
| Frequency: 2.400-2.483 GHz | Frequency: 902 MHz - 928 MHz |
| | |
| | |
| | |
| | |
| | |
---
Autel X-Star Premium VS DJI Phantom 4: Camera
One of the main reasons these two drones are so widely popular is their high quality cameras that deliver stunning aerial imagery.
Both drones are equipped with a 12-megapixel camera attached via a 3-axis motorised gimbal.
The DJI Phantom 4's camera features a 1/2.3" CMOS sensor, adjustable aperture ranging from f/28 to f/11 and a mechanical shutter, with its field of view being similar to that of a 24mm lens.
The camera itself is able to record video in 4k at 30fps, 2k at 60fps and 1080p at 120fps.
Moving onto the Autel X-Star premiums' camera, which is by far one of its greatest assets.
This is due to the fact that the gimbal and camera are easily detachable; by pressing a button both components separate from the drones' body.
This is fantastic for drone owners who are not interested in buying another drone in the future.
Autel release new cameras, you are able to improve your drones' camera quality without having to buy a new drone.
All you have to do is purchase the new camera and attach it to your X-Star Pro. ​
This is one of the major advantaged the X-Star Premium has over the DJI Phantom 4.

The X-Star Premiums default camera features a 108-degree field of view and is able to shoot 4k at 30fps, 2k at 60 fps and 1080p at 120fps.
Both of these cameras are fantastic in their own right, however Autel slightly edges over the Phantom 4 due to the fact that you are able to upgrade the camera.
I think that's enough talk about the cameras, lets see what they can do.
---
Autel X-Star Premium VS DJI Phantom 4: Battery & Flight Time
A drones' flight time can make or break your decision. Luckily, both of these drones are equipped with the long flight times that us drone pilots' love.
The Phantom 4's LiPo 4S 5350 mAh intelligent battery provides it with a staggering 27-minutes of flight time.
This is compared to the Autel X-Star Premium's 4900mAh battery that supplies the drone with a maximum flight time of 25 minutes.
Both of these are great flight times, however the DJI phantom 4 marginally beats the Autel by 3 minutes.
---
Autel X-Star Premium VS DJI Phantom 4: Maximum Flight Distance
A drones' maximum distance is what allows us the freedom to explore in the air. Countless times I've used my Phantoms' long range to find new locations and angles to shoot from.
The DJI Phantoms transmitter operates at a frequency of 902 MHz~928 MHz and is able to control the drone up to 5km away, which can always be boosted by using range extenders. This is significantly further than the X-Stars maximum range of 2km.
Although the Autel's maximum range isn't quite as far as the DJI's, 2km is still a fair amount of distance and will often provide more than enough room.
---
Autel X-Star Premium VS DJI Phantom 4: Build & Design
I think it's safe to say that visually, both of these drones are stunning; DJI and Autel have done a great job at designing fantastic looking quads.
The Phantom 4 sports the classic Phantom white, trimmed with grey and is manufactured using the highest quality materials.
The body itself is made using a magnesium skeleton that dramatically reduces its weight; giving it some much appreciated extra flight time.
The Phantom 4's rotors are made using carbon fibre, which again is a lightweight, yet durable material.
These high quality rotor arms allow the Phantom 4 to be enormously agile in the air, as well as being extra resilient to crashes.
The X-Star Premium primarily features a bold orange color, trimmed with black.
Unlike the DJI, the Autel is not manufactured using magnesium, which results in a heavier overall weight by 40g.
This is probably why the Autel has a slightly shorter flight time.
Still though, the build quality of the Autel is top notch and it is able to withstand a fair amount of beating.
---
​WANT TO MAKE MONEY WITH YOUR DRONE?
​Download our ​FREE ​eBook for 10 actionable ways you can generate an income with your drone today!​​​
Autel X-Star Premium VS DJI Phantom 4: Flight Speed
Both of these drones are built with brushless motors that provide them with a high power output. This means that they are able to reach some pretty impressive top speeds.
Often we're required to track a moving target with our drones and if your drone is unable to keep up, then your shot will most likely be ruined. Fortunately though, the Phantom 4's carbon fibre rotors and lightweight build allow it to soar at speeds up to 72.4kph (45mph) whilst in sport mode.
This is significantly faster than the Autels' top speed of 60kph (36mph), which is still pretty impressive.
Although the Phantom 4 is faster, I can't imagine needing a top speed higher than the Autels' 60kph very often. More often than not, it is slow smooth shot's that drone pilots are looking to shoot, so maximum speed does not often matter.
---
Autel X-Star Premium VS DJI Phantom 4: Intelligent Flight Modes
Intelligent flight modes are great as they allow pilots to capture some brilliant aerial footage easily, without having to pilot the drone themselves.
These are perfect for less experienced pilots, who may not be able to execute these manoeuvres to such a high standard manually.
The DJI Phantom 4 possesses your typical functions such as automatic take off and landings, as well as a one touch return to home feature. The Phantom 4 also has a range of intelligent flight modes, consisting of follow me, tap to fly, active track, point of interest and waypoints.
The Phantoms' forward facing obstacle avoidance sensors make the intelligent flight modes a bit safer, as it is able to detect an object it is going to crash into. ​​
​Unfortunately, this isn't present on the Autel. The good thing is though; these won't be needed often unless you're flying indoors.
Similarly to the Phantom, the Autel X-Star features automatic take off & landing and a one key return to home.
Unfortunately not quite as rife with flight modes as the Phantom, the Autel still has follow me, orbit and waypoints.
Although not an intelligent flight mode, the Phantom 4 also makes use of a visual positioning system (VPS) that allows it to hover in place precisely, which again the Autel does not feature.
Alternatively, the Autel X-Star Premium has what is called a Starpoint Positioning System that is able to measure the height of the drones altitude and optically track its positioning.​
---
DJI Phantom 4 VS Autel X-Star Premium: Price & Extras
Debatably one of the more important factors of our Autel X-Star Premium VS DJI Phantom 4 comparison is the price.
​DJI are known for ​sticking some pretty high price tags on their drones and the Phantom 4 is no exception. Luckily, with the release of the advanced and pro models the price has dropped a fair amount over the past half a year or so.

Alongside the drone you get the following; Remote Controller, 4 Propeller Pairs, Intelligent Flight Battery, Battery Charger, Power Cable, Manuals, Gimbal Clamp, USB OTG Cable, Micro USB Cable, Micro SD Card 16GB) and a Carrying Case × 1.
---
Useful Accessories
Below is a list of useful accessories for each drone. I'd highly recommend getting a couple of spare batteries and an SD card with plenty of space, especially if you're going to be shooting in 4k.
DJI Phantom 4 Useful Accessories:
Autel X-Star Premium Useful Accessories:
---
Autel X-Star Premium VS DJI Phantom 4: The Verdict
So we've made it to the end of our Autex X-Star Premium VS DJI Phantom 4 comparison. I can say with confidence that both drones have a lot to offer and are built to last.
The Phantom 4 slightly out does the Autel in most areas, such as flight time, range and speed. On the other hand, the Autel X-Star Premium is significantly cheaper.
In terms of value for money, the Autel has to take the cake. It has a more than enough flight time, its camera is easy to upgrade and it shoots stunning 4k footage. Head over to the Autel Robotics website for any more information on the X-Star Premium
In terms of overall quality I would say that the Phantom 4 is better, with its high quality build, ridiculous 7km range and 27-mintes of flight time, it truly is a beast. If you would like to see anymore information on the DJI Phantom 4, you can head over to the DJI website.
Not to mention the Phantoms' ease of us; the VPS position makes it hover in place with pinpoint accuracy and it feels slightly more responsive to controls than the Autel.
I'll let you decide if the extra couple of hundred bucks is worth the investment.
​Not happy with these two drones?
No worries!
Check out our full list of in-depth drone comparisons fore more options!.​