10 Best Drones Under $100 – 2017 Buyers Guide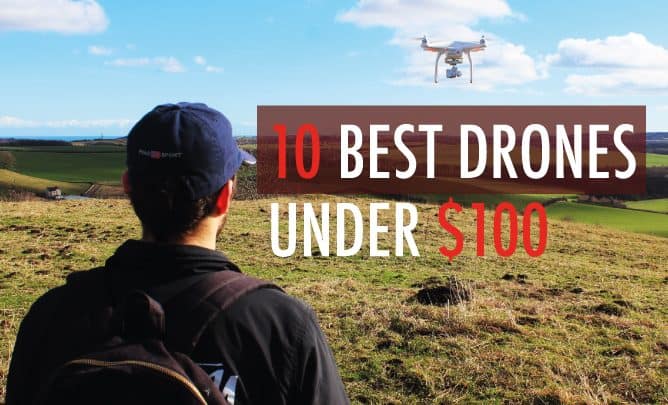 So, you're looking to get an affordable drone and don't know which one to buy?
You may be asking yourself "what's the best drone under $100 and where can I find it?"
If you're new to drones this can be a pretty daunting task. That's why we're here, to make the process a whole lot easier for you.
We're going to walk you through the 10 best drones under $100, giving you all the information you need to decide the right drone for you.
What To Expect For Drones Under $100
Before we begin:
It's probably best that we let you know what you're going to get from a drone under $100.
Most drones under $100 are what we call toy grade quad copters, meaning they're usually light, cheap and come with relatively few features.
That being said, as drones become more and more popular, we're seeing manufacturers deliver cheap and affordable quad copters with some great functions that are perfect for beginners who are learning how to fly.
Lets get into it.
Best Drones Under $100 List
1.) UDI U818A HD
Specs:
Flight Time: 8 – 10 minutes
Camera: 1280 X 720p
Max Range: 50 – 100 meters
UDI are a well-known drone manufacturer, whose U818A HD model has taken the toy drone world by storm. Having been around for a few years, the UDI U818A is a tried and tested quad copter that many people have come to love.
Lets take a look at why the UDI U818A is one of the best drones under $100.
Firstly, the U818A is the perfect drone for beginners or children as it comes with prop guards built into the drones' body.
These thin plastic prop guards are incredibly lightweight and absorb a lot of shock if the drone is crashed, making the U818A one of the most resilient drones under $100.
The UDI U818A is renowned for being super easy to fly; the drone is exceedingly responsive to the controller without any latency, and even if you do end up crashing, the chances are the U818A will survive.
Not only is the UDI extremely tough, it also allows the user to record 720p high definition footage of their flights. It's absolutely amazing that you are able to record HD aerial footage for less than a $100, fair play UDI!
The U818A has a flight time of 8-10 minutes, which for a toy grade quad copter, is extremely reasonable.
The best part?
You get a 'bonus' battery included in your purchase of the U818A, which essentially doubles your flight time to an incredible 16-20 minutes!
What are you going to do with all this flight time? Use it to explore the UDI's whopping 100m maximum range or perhaps enjoy the one key 360-degree flip feature for some fun acrobatic manoeuvres.
With a headless mode option and a one key return home feature, the UDI is extremely beginner friendly and the perfect drone to learn on.
You also have the choice of two speed modes to suit your experience level, if you're knew to flying, I would recommend starting off on the slower mode.
It's fair to say that the UDI U818A is an absolute bargain, not only due to its impressive features, but the fact that this drone is built to last. If you're looking to learn how to fly, then the U818A is one of the best drones under $100 for you.
---
2.) Hubsan X4
Specs:
Flight Time: 6-8 minutes
Camera: 2 megapixel
Max distance: 100 meters
Next on our list of the top drones under $100 is the Hubsan X4, which is an entry-level FPV quad copter. The X4 is such good value for money we actually featured it on our best drones under $200 article.
So what makes the Hubsan X4 such great value for money?
The X4's transmitter comes with a built in 4.5 inch screen that displays a live feedback from the 2 megapixel camera, making this a great option for anyone interested in FPV flying.
If you want to take your flying to the next level, the transmitter also as a video and audio output jack that can be connected to FPV goggles.
The 3.7V 380mAh battery provides the X4 with a 6-8 minute flight time. To be fair isn't great but considering how cheap the batteries are and the fact they only take half an hour to charge doesn't make it too big of a deal.
Its range of 100m is ample room for a beginner to practice in, especially when flying in FPV.
That's not all…
The drones' beginner and expert speed modes allow the pilot to fly at a pace they're comfortable with.
Headless mode also makes it easier for the pilot who may get the drones orientation confused.
It's easy to see why the Hubsan X4 deserves a spot on our list of the best drones under $100. If you're looking to try your hand at FPV drone flying, the X4 will provide the perfect starting block for you.
---
3.) Tarantula X6
Specs:
Flight time: 8-10 minutes
Camera: No
Max Distance: 100 meters
Next up is the Tarantula X6 (JJRC H16). The first thing you notice about this drone is its striking design – it's clear where its name came from.
The X6 comes in two versions, one with a camera and one without. With the camera attached the drone does cost a little more, but if you've got something like a Go Pro I would just use that
So, why's the Tarantula X6 one of the best drones under $100?
This is one of the only drones that can carry an action camera under $100, allowing you to record some pretty impressive looking footage from above.
Most drones in this price range don't have the power to carry a payload as heavy as a camera.
The drones' 6-axis gyro stabilisation keeps the drone level in the air and makes flying a lot easier for the pilot.
Its 7.4V 1200mAh LiPobattery provide the X6 with up to 8-10 minutes of flight time, which you can use to soar around the drones 100-meter flight range.
One of the best things about the Tarantula X6 is how easily it can be repaired. Its motors can be easily replaced in the event that they burn out and can bought on Amazon fairly cheaply.
To make the X6 easy to for beginners, you can chose to between 40%, 60% and 100% speed modes. When starting out you can start at 40% and work your way up to full speed once you're comfortable.
It's no wonder than the Tarantula X6 was one of the best selling drones in 2015 and continues to be one of the best drones under $100 to this day.
---
4.) Syma X5UW
Specs:
Flight time: 8-10 minutes
Camera: No
Max Distance: 100 meters
The X5UW is Symas latest release and is now their flagship X5 model. The X5UW features some pretty impressive upgrades from their older X5 models making this quad copter easily one of the best drones under $100.
So, what have Syma done with their latest X5 Model?
Altitude hold will keep the drone at the same height without you have to control the drones pitch.
The new and improved Syma GO app works on a smartphone device that connects to the transmitter.
The smartphone can be used as an FPV screen or as a virtual transmitter, which is pretty handy if your controller is dead (although takes some practice).
The drones' 720p camera records its footage straight onto the smartphone device, meaning that you don't have to purchase an SD card.
That's not all!
The Syma X5UW has a number of other features such as one key take off and landing, headless mode, one key flips and 2 speed modes!
With the new Gravity Control mode you can fly the drone by tilting your smart phone in the direction you want it to go.
I think its safe to say that Syma went all out when they made the X5UW. Not only have they packed so many high quality features into one device, they've done it for an incredibly affordable price. What do you think? – One of the best drones under $100 for beginners?
---
​WANT TO MAKE MONEY WITH YOUR DRONE?
​Download our ​FREE ​eBook for 10 actionable ways you can generate an income with your drone today!​​​
5.) JXD 510G
Specs:
Flight Time: 6-10 minutes
Camera: 720p HD 2.0 megapixels
Max distance: 50 meters
The 510G is the upgraded version of the 509G and other than its obvious aesthetic differences, its specifications remain pretty much the same.
The 510G is the upgraded version of the 509G and other than its obvious aesthetic differences, its specifications remain pretty much the same.
Its 700mAh battery gives the 510G a flight time of 6-10 minutes, which can vary depending on the wind conditions and how fast you're taking the drone.
Its 50-meter range isn't too bad, although not quite as far as its competitors.
It's height hold mode uses high density air pressure sensors to hold the drones height, meaning that you can release the left trigger and the its height will stay the same.
This is an extremely handy function and one that is becoming more and more common in toy grade drones.
The JXD 510G also has a one key return home function, headless mode and is able to perform acrobatic flips at the push of a button. These features make for both an easy and extremely fun flying experience.
You can record your flights using the drones' 720p camera and save them onto the 4GB SD card that's provided with the drone.
The JXD 510Gs transmitter comes with a 4.5inch screen, foldable sunshade and removable antenna. The live video feed is very lag free and makes it easy to fly FPV.
Just like its predecessor, the 510G is a fantastic drone and it one of the top drones under $100. Fun, easy to fly and rich with features, the JXD 510G is the perfect camera drone for beginners.
---
6.) Holy Stone F181
Specs:
Flight Time: 7-9 minutes
Camera: 720p
Max Distance: 100 meters
​Next up on our list of the best drones under $100 is the Holy Stone F181. With its great build quality, fantastic features and reasonably price tag, it's no wonder this was one of Amazons best selling drones.
As is now more common with toy grade quad copters, the F181 comes equipped with a one key return home, headless mode and altitude hold mode.
The Holy Stone is able to perform 360-degree flips in four directions at the push of a button.
Holy Stone have opted for a gamepad style controller, so any of you gamers out there should be able to pick this drone up pretty quickly.
The F818 boasts a respectable flight time of around 8 minutes and a maximum range of 100 meters. These may not sound like a lot, but for this price range are actually pretty impressive.
Want to know the best part?
The F181 comes with a bonus battery, so you're looking at a flight time of around 16-18 minutes, which for a toy grade drone is exceptional.
The batteries take around 80 minutes to charge, so make sure you leave plenty of time for charging.
The F181 has 720p shooting capabilities up to 30fps and can shoot 2 megapixel photographs. These are then stored onto the 2GB SD Card that comes with the drone.
Overall, it's clear to see why the Holy Stone F181 is such a popular drone. It's built to last those inevitable knocks that come with learning to fly a drone and will provide you with endless hours of safe and fun flying!
Without a doubt one of the best drones under $100 for beginners.
---
7.) MJX X400
Specs:
Flight Time: 10-12 minutes
Camera: 720p
Max Distance: 100 meters
Now moving onto the MJX X400 drone. This is an extremely well built, ready to fly quad copter with 720p shooting capabilities. The MJX X400 is currently the number one best selling toy grade drone on Amazon.
Lets have a look why.
Firstly, you can connect the transmitter to your smartphone to display a live feed from the camera, allowing you to fly in FPV.
You can take this a step further.
Using the drones VR capabilities, you can connect an FPV headset to the transmitter and immerse yourself in the flying experience. It's quite remarkable that such an affordable toy grade drone such as this offers this kind of flying experience.
The JJX X400 bears the typically features that we've come to expect from this level drone, such as headless mode, one touch return home and one key flips.
The drone itself is very easy to fly, with a rapid response time to the transmitters instructions and its 6-axis gyro stabilisation; any experience level is able to fly the X400.
You can also opt to fly the drone in either beginner mode or expert mode. Beginner mode slows down the drones' movements nicely, making it a lot easier to control.
When expert mode is active, the drone is able to reach pretty impressive speeds with surprising agility.
That's not all!
The MJX X400 is able to stay in the air for as long as 12 minutes and reach a distance of up to 100m, although it has been known to exceed this range! Let us know how far you've taken the MJX X400 in the comments below!
To sum it up, the MJX X400 is an awesome drone, whether you wanting a laidback flying experience or rapid FPV piloting, the MJX will deliver. What more could you want from a drone costing less than 100 bucks?
---
8. Tozo Q1012
Specs:
Flight Time: 5 – 7 minutes
Camera: 720p
Max Distance: 80-100 meters
When you look at the Tozo Q1012 it appears to be a high budget professional quad copter, rather than a toy grade drone.
With its sleek, minimal design that's both practical and aesthetically spectacular, the Tozo wouldn't look out of place next to a Mavic Pro.
To be honest, I still can't believe you can get such an awesome drone for less than $100!
First things first:
The Q1212s foldable design is by far one its most impressive features. When its rotor arms are folded into its body, the drone is only 122mm long and 94mm wide.
This makes it super easy for the drone to be transported from one place to another and without the risk of damaging one of the rotor arms.
Now lets look at some of its features….
Not only does the Tozo Q1212 have the basic headless and altitude hold mode that we'd expect, it also has one key take off and landing functions.
This is pretty uncommon in the price bracket and is a massive help for any beginners who don't want to do it themselves.
Your smartphone can be connected to the transmitter as an FPV screen, or can be used as a virtual controller. The transmitter itself is a gamepad design and is easy to use.
The drone boasts a 720p HD camera that performs fantastically at recording aerial footage and photographs.
The Q1212 has a pretty standard range of 80-100 meters. Unfortunately its 5-7 minute flight time is a bit short, however you can always buy spare batteries to extend it.
Overall, the Tozo Q1212 is one of the most advanced drones under $100 and is fantastic value for the money. The amount of awesome features this drone has paired with its fantastic design make this a must have for any beginner.
---
9.) Holy Stone HS170 Predator
Specs:
Flight Time: 6-8 minutes
Camera: No
Max Distance: 30-50 meters
The HS170 Predator is the second Holy Stone model on our list of the best drones under $100 and is significantly cheaper. In fact the HS170 is the cheapest drone on the entire list!
Not only is the HS170 incredibly affordable, its build quality is amazing for its price point. This thing is tough to break!
You also get a spare set of propellers so even if you do break one, you can replace it.
The HS170 Predator comes with three increasing speed modes for different experience level pilots.
HS170 also has a headless mode and can perform 360-degree flips.
It's pretty impressive that Holy Stone are able to offer these features for such a reasonable price!
The drone itself flies nicely, with a 6-axis gyro stabilisation to keep it level when flying.
Considering how little this H170 Predator costs, its 6-8 minute flight time is damn impressive, although its range is a little bit short at 30-50 meters.
If you're looking to invest in a drone, but don't have a massive budget then the HS170 Pradator is a great option for you.
You get a lot for you money and with a company like Holy Stone, you know it's going to last.
---
10.) Blade Nano
Specs:
Flight Time: 10 minutes
Camera: No
Max Distance: 100m
Blade is a reputable RC vehicle manufacturer who has been around for years. They've recently taken a stab at the drone market with their Nano quad copter.
The Nano is the perfect drone for beginners who want to learn the more complex elements of flying a drone.
​Its' lightweight plastic frame acts as a shock absorber, minimalizing any impact damage that may occur. The drone also has built in prop guards that make it perfect for flying indoors.
The Blade's controller makes use of their SAFE technology. This standards for Sensor Assisted Flight Envelope, which essentially means that the Nano's packed with sensors that help it keep level.
The Nano has two modes, stability mode and agility mode. Stability mode makes use of the Safe Technology we just discussed and means that you're not going to accidentally lose control of your drone.
Agility mode doesn't use the sensors and gives the pilot more control over the drone, allowing them to perform acrobatic flips and manoeuvres.
Although a very small drone, the Nano boasts and impressive maximum range of 100 meters and a flight time of 10 minutes.
Not many drones of that size are able to compete with that.
Overall the Blade Nano is a well-built, fun drone that is designed to endure a ridiculous amount of beating.​
If you're wanting to learn the ropes of flying a drone and want a quad copter that's going to last, the Blade Nano is for you.
The Blade Nano is easily amongst the best drones under $100.
---
Best Drones Under $100 Round Up
We hope you've found our list of the top drones under $100 helpful. If you're not interested in toy grade drones, check out our article on the best drones under $200.
If you have any questions or there's something you'd like us to review, please feel free to get in touch.