Manfrotto Aviator D1 Backpack
Overview
The Manfrotto Aviator D1 Backpack was released back in 2015 and is the first model in Manfrotto's Aviator collection, intended to safely carry the DJI Phantom models alongside a lot of equipment. The D1 is designed for drone pilots who are on the go and wish to bring their DSLR equipment with them. Not only does it offer a large amount of storage space, it comes at an incredibly low weight of 1.9kg, perfect for covering long distances. The Aviator D1 retails for £159.95 (199 USD).
Pros
Room for spare batteries and cables
Fits a DSLR, tripod and lens
Comes with a rainproof cover
Water resistant coating
Lightweight
Quick carry feature
Cons
Large compared to other drone bags
Too big for some airline carryon luggage
Tight fit for DJI Phantom 4 controller & batteries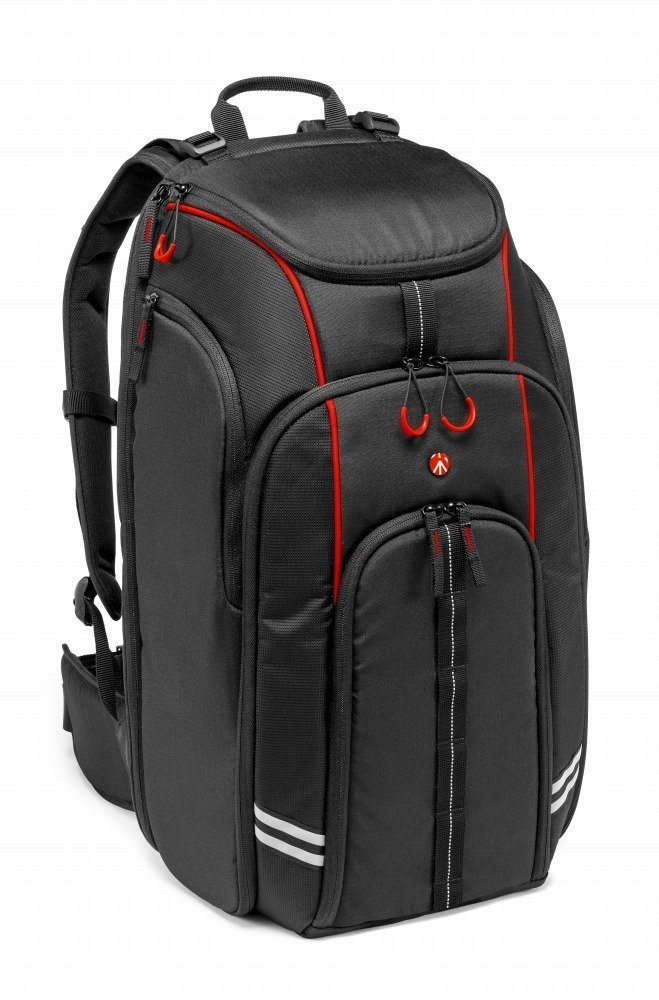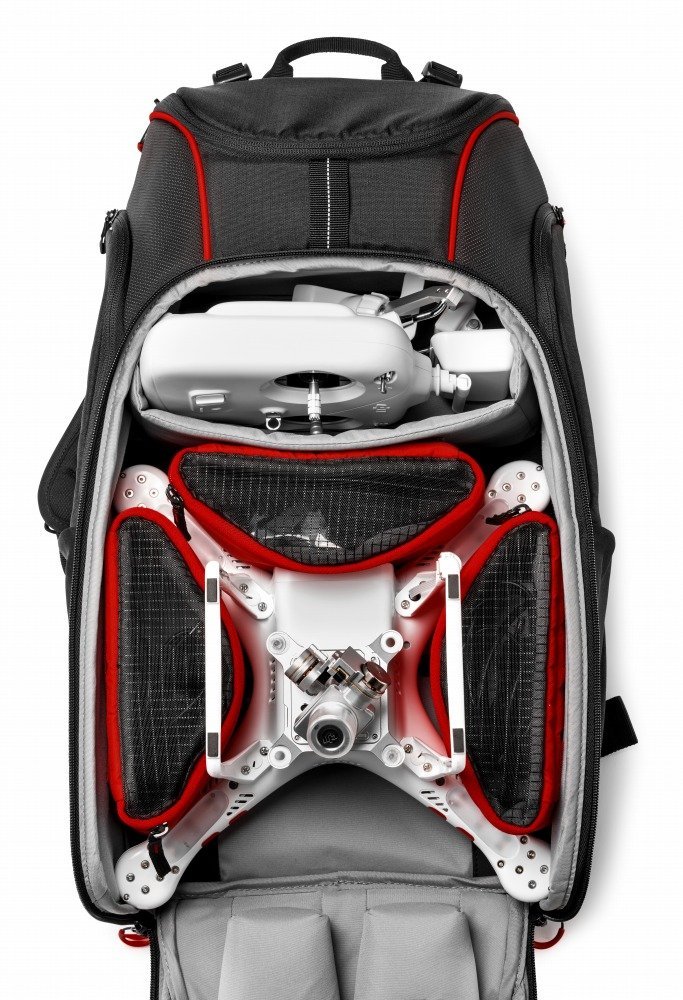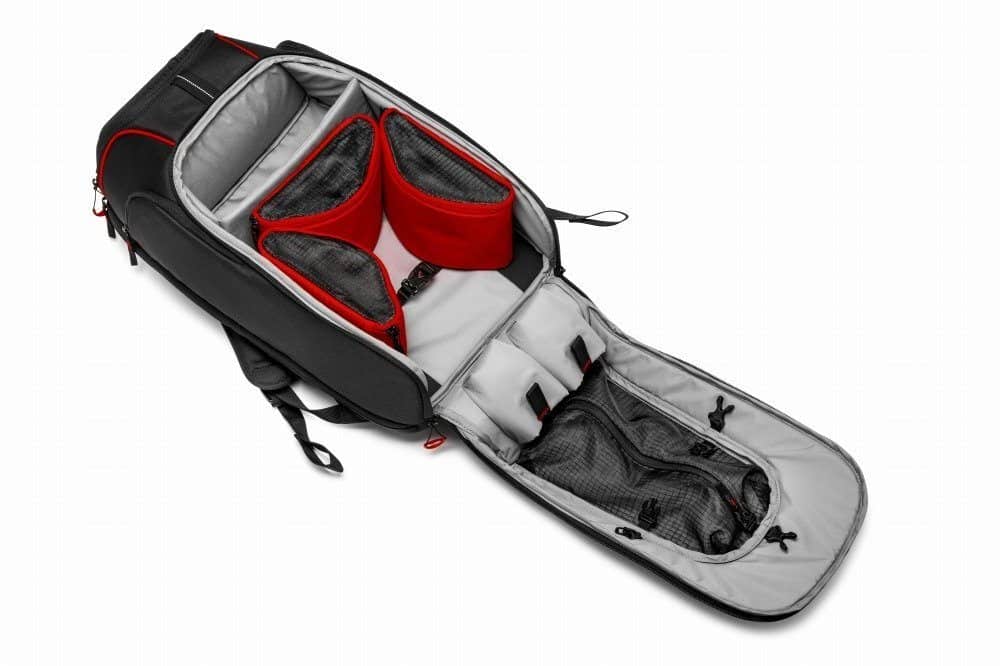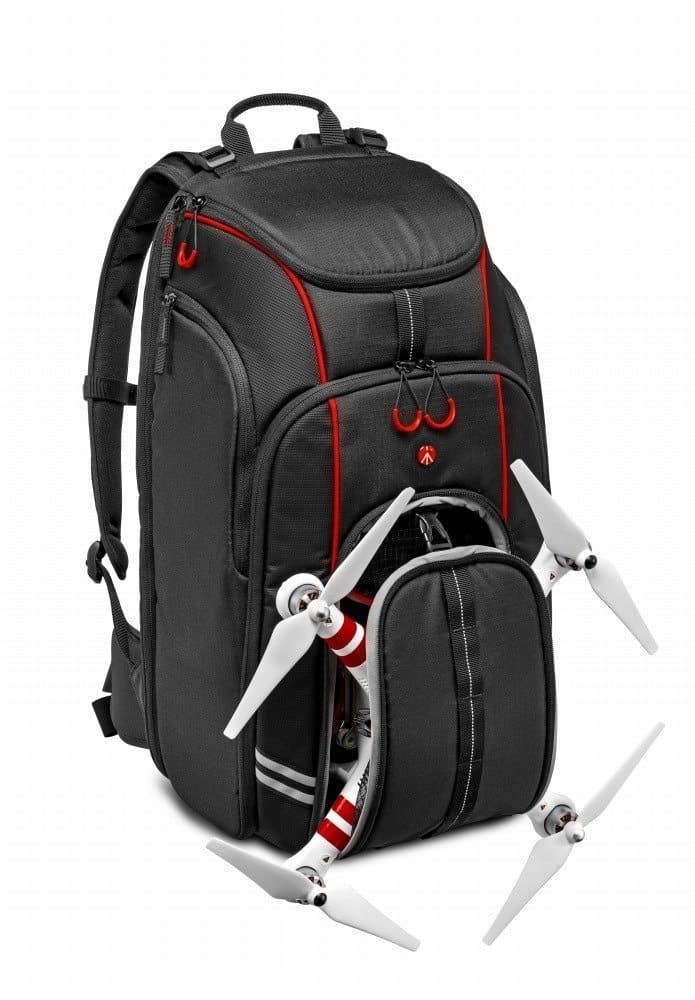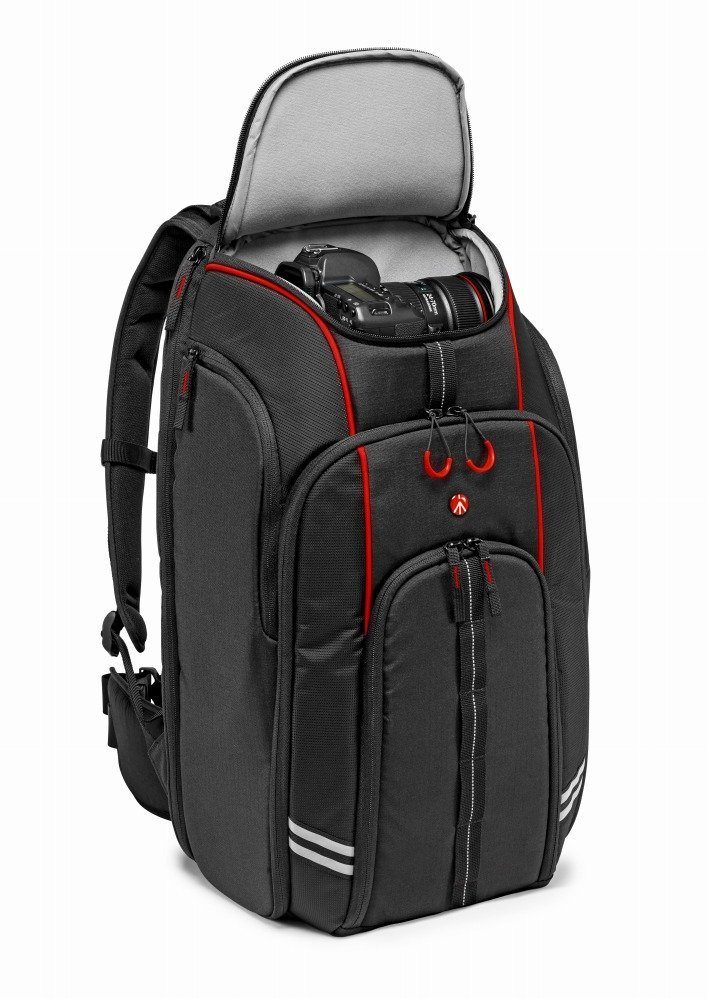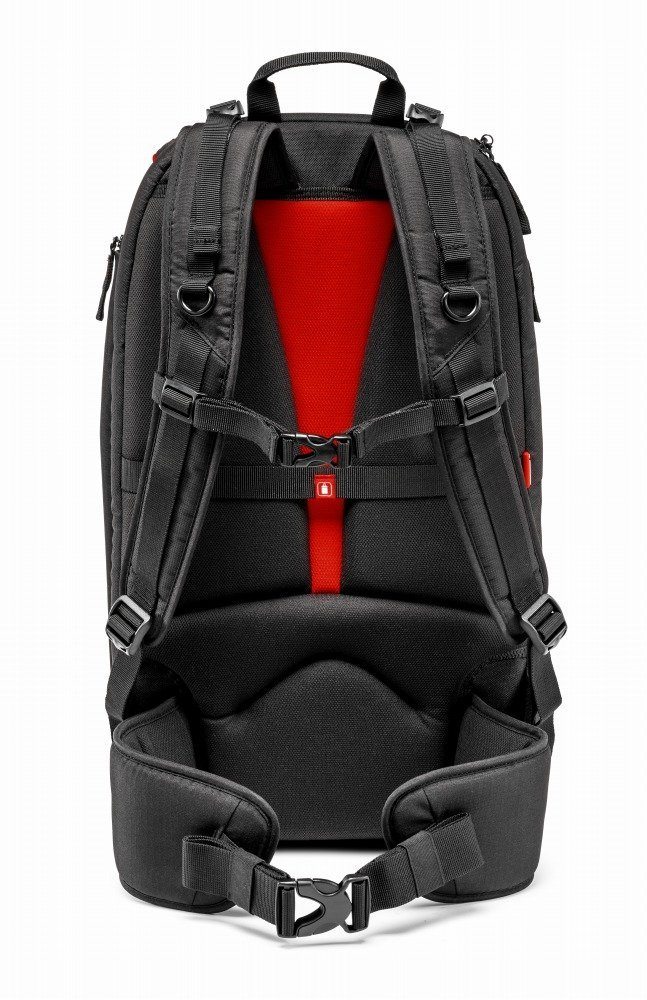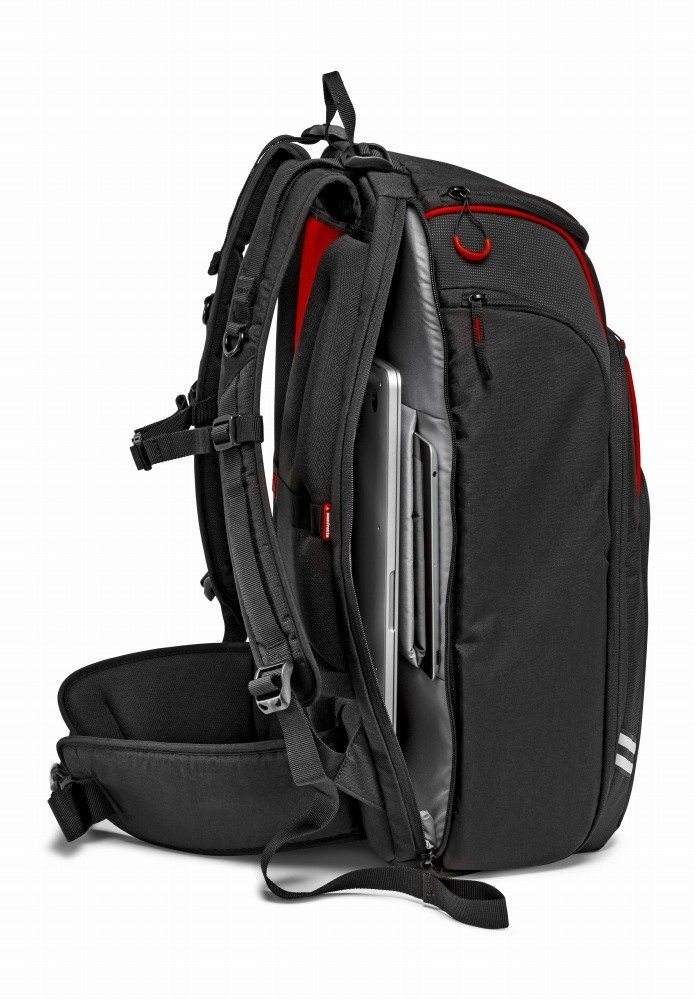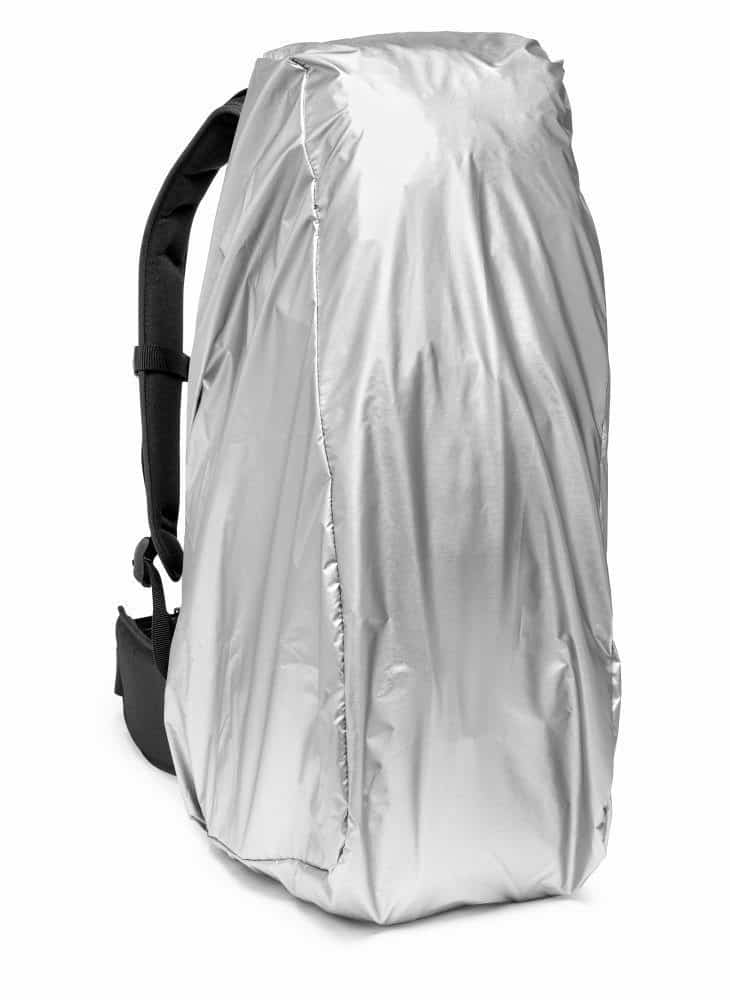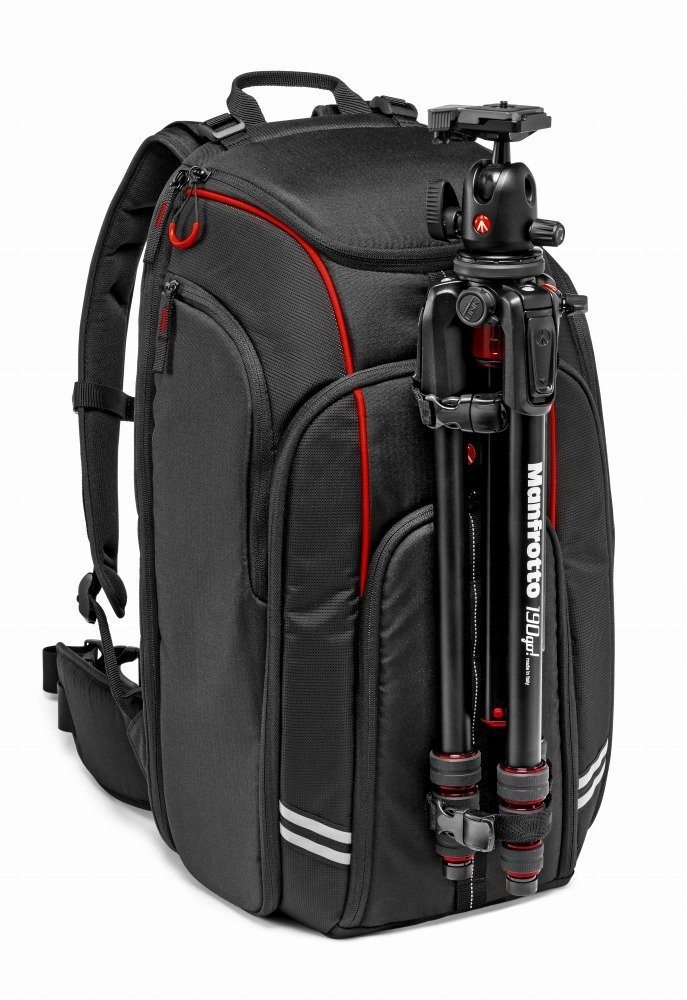 Main Features
Interchangeable Dividers– Both modular and easy to use, these dividers allow you to custom fit the inside of your bag around your gear by creating the exact size compartment for your gear.
Water Repellant– A specially applied coating to the fabric which keeps resistant to moisture.
External Tripod Connections– This bag comes with the option and proper connections to attach your tripod externally.
Tablet Compartment– Dedicated compartment for tablet.
RainProtector-Included fold out protector which when installed creates a barrier between the wet outside and dry inside of your bag.
Laptop Compatible– Protect your laptop during transport in the compartment.
Manfrotto Aviator D1 Backpack Break Down
Design
This backpack has an array of excellent features, making this one of the best bags on the market, currently placed at no. 2 on Amazons Best Sellers for drone backpacks. The D1 comes in the traditional Manfrotto black with red trimmings, which works spectacularly as always. Manfrotto received a honourable mention at the Red Dot Awards in 2016 for their design of the Aviator D1. The retail price of the Manfrotto D1 Backpack is £159.95 (199 USD).
The quick carry feature on the Manfrotto Aviator D1 allows the pilot to easily get out or put away their camera drone. The front of the bag has a zip, which can be opened to place the drone inside. The body rests inside the backpack, which is fastened to the bag with a clip, the propellers popping out of the sides. This feature is great for those who need to change location quickly or just can't be bothered to take the propellers off.
The Aviator Backpack has an external tripod hook that secures the tripod to the outside of the bag. This is perfect for those of you who are looking to get some still shots from the ground to complement your aerial footage.
Storage
The Manfrotto Aviator D1 Backpack has fantastic storage space for your drone accessories, so if you are planning on bringing a lot of equipment with you, this could be your ideal bag. The D1 has a selection of cleverly placed compartments all over the bag, for example there are pockets stitched into the inside of the backpack that can be used for propellers and batteries. Note that the battery compartments are designed for the Phantom 3 drones, however the Phantom 4 batteries can be placed in other sections of the backpack.
There is a specific controller compartment located at the top of the bag; again the Phantom 4 controller is a much tighter fit than the Phantom 3's, the antenna of the P4 controller presses slightly against the bag when it is zipped up. If you have a DJI Phantom 4 Drone – this shouldn't put you off buying the D1, just something to bear in mind. I have also heard that when an iPad mount is attached, it will struggle to fit (comment below if your iPad mount fits the D1). The Manfrotto Aviator has 3 removable semi-circular sections that the drone rests between; these are then attached to the bag with Velcro to prevent them from moving around. There is a section located at the top of the bag that is able to fit a small to medium sized DSLR, this will struggle to fit larger DSLR's such as the Canon 5D. There is really no shortage of storage with the Manfrotto D1, which is great as with some other bags you can only bring the bare essentials.
Located at the back of the bag is a compartment that fits both a laptop up to 17" and an iPad. Being able to bring both a tablet and a laptop is a fantastic feature that really shows the thought Manfrotto put into designing this bag.
The Manfrotto D1 can typically fit:
1 Medium sized drone (all phantom models)
Controller
3 Batteries (if 1 is inside drone)
1 DSLR
2 Lenses
Laptop (up to 17")
Tablet
Cables + Charger
Spare propellers
Tripod
Protection
It seems as though most of the thinking behind the Aviator D1 went into optimising its space rather than protection. Don't get me wrong this is a sturdy backpack that will keep your drone safe in most situations; I just wouldn't be sitting on it any time soon. The Manfrotto D1 Backpack also comes with a fold out rain protector to keep your equipment safe in wet conditions. As an added safety measure, Manfrotto have added water resistant coating to the fabric, so if you've just spent a ton of money on a DJI Phantom 4, you don't need to worry about being caught out in the rain.
Comfort
The Aviator D1 has a waist and chest strap, which comes in extremely handy when covering long distance by foot with all of your equipment. Considering the size of the bag and amount of storage space, Manfrotto Backpack is extremely lightweight, only weighing 1.9kg, compared to the Lowepro DroneGuard BP 450 Backpack, which weighs 2.8kg. Despite being lightweight, it's still large, meaning that it may not fit as your carryon luggage on all airlines. Check out this guide to hand luggage sizes.
Price
Retailing at £159.99 (199 USD), which admittedly seems a large investment, but when considering the amount you most likely spent on your drone, this is definitely worth it. Value for money wise, this is a great deal. You can't go wrong with a reliable brand like Manfrotto, plus the amount space for equipment makes this a no brainer.
Thanks for reading the Manfrotto Aviator D1 Backpack Review, if you would like to leave anything please comment below and we'll get back to you as soon as we can. Check out our other drone backpack reviews here.
Specs
| | |
| --- | --- |
| Drone model | All DJI Phantom Models |
| Carryon Luggage | No |
| Weight | 1900 g |
| Collection/Series | Aviator |
| Types of Gear | Drone, DSLR |
| Number of Lenses | 2 |
| Tripod Connection | Yes |
| Storage for personal items | Yes |
| Color | Black |
| Material | Nylon, RipStop, Synthetic Fabric |
| External Height | 56 cm |
| External Length | 34 cm |
| External Width | 23 cm |
| Internal Height | 54 cm |
| Internal Length | 30 cm |
| Internal Width | 16 cm |
| Laptop Compartment Height | 54 cm |
| Laptop Compartment Length | 30 cm |
| Laptop Compartment Width | 2.5 cm |
| Drone Compartment Height | 41 cm |
| Drone Compartment Length | 30 cm |
| Drone Compartment Width | 16 cm |
| Remote Case Height | 11 cm |
| Remote Case Length | 21 cm |
| Remote Case Width | 12 cm |
| Type of Bag | Backpack |
| Camera Insert Height | 13 cm |
| Camera Insert Length | 26 cm |
| Camersa Insert Width | 15 cm |
| Water Repellent | Yes |
Manfrotto Aviator D1 Backpack Review
Design

Storage

Protection

Comfort

Price
Summary
Overall Manfrotto has delivered a great bit of kit with the Aviator D1 Backpack. Its lightweight and simple design makes it the perfect drone bag for photographers and filmmakers shooting whilst on the move. The backpacks quick carry feature is a massive time saver, meaning you can quickly get moving once you've got your desired shot. Although a tight fit with the DJI phantom 4 controllers, it's certainly still worth a consideration. The Manfrotto D1 Backpack is definitely a top contender for the best drone backpack out there.